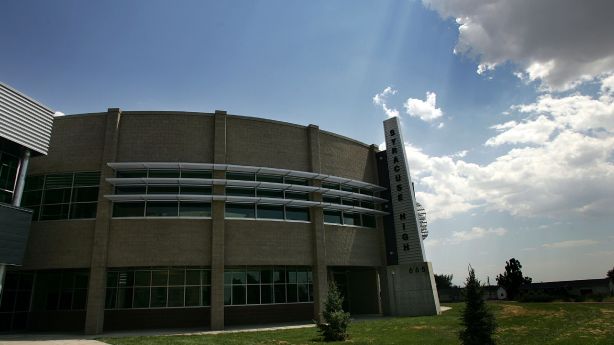 3 more high schools moving online as Syracuse, Weber, Copper Hills coronavirus cases rise
SYRACUSE — Three more high schools are moving to online instruction as the state of
SYRACUSE — Three more high schools are moving to online instruction as the state of Utah battles an ongoing surge of coronavirus cases.
Syracuse High School will shift to remote schooling for at least two weeks, the school announced Wednesday in a letter to parents and the community signed by principal Jed Johansen. Later in the day, Weber also announced a move to online learning, beginning Thursday, through Nov. 18.
The Jordan School Board held an emergency meeting Wednesday evening, when it was determined that Copper Hills High School would move to online learning "due to the rapid increase of active COVID-19 cases." The district reported 35 active cases at the school Wednesday, with an additional 119 individuals in quarantine, according to the Jordan School District COVID-19 dashboard.
Syracuse High School
The Titans will move to a "soft closure" beginning Thursday, Nov. 5, according to the letter. It is anticipated that Syracuse will return to in-person instruction on Thursday, Nov. 19.
"To allow teachers time to prepare for this transition, there will be no instruction tomorrow, Nov. 5," the letter adds. "Please have your student check Canvas regularly for class information."
All Utah High School Activities Association-sanctioned competitions will continue during the 14-day soft closure unless teams and groups exceed the state's requisite of three cases per class/team that would require a 14-day quarantine. That means Syracuse's second-round Class 6A state volleyball match against Davis at 6 p.m. Thursday is still on.
Syracuse High School will be on a soft closure from Thursday, November 5th to Thursday, November 19th. All…

Posted by Syracuse High on Wednesday, November 4, 2020
Weber High School
Weber became the third major high school in the Weber School District to shift to online learning when the Warriors announced a move Wednesday.
Roy closed its doors to the classroom Oct. 14 before returning to the classroom Oct. 28. Bonneville is in the midst of a two-week classroom suspension that started Oct. 29 and is scheduled to run through Nov. 12.
"We will continue to work closely with officials from the Weber Morgan health department in monitoring this situation and making any necessary adjustments," district spokesperson Lane Findlay said in a statement. "We would also like tot remind everyone to please be vigilant in following current health guidelines, including wearing masks when physical distancing isn't possible."
Copper Hills High School
The Grizzlies will shift to online learning beginning Thursday with a "virtual learning day" similar to the school's schedule for Friday at-home learning days. The Jordan School District anticipates keepING Copper Hills classrooms closed to students through Tuesday, Nov. 24.
Students who need to retrieve items from lockers and other school areas at Copper Hills may do so Thursday and Friday from 9 a.m. to 1 p.m. That includes checking out school-issued Chromebooks, where necessary.
"We eagerly await the return of students following the Thanksgiving Break," Copper Hills' administration wrote in a letter to the community. "We would like to reiterate the importance of the protocols that have been outlined by the health department."
The rise in case counts comes as state lawmakers are calling on the Salt Lake City School District to reopen schools in the midst of the pandemic.
"It's not occurring in the schools and this is what we're finding in Utah," Sen. Todd Weiler, R-Woods Cross, told the SLC school board recently. "We're often told that we need to follow the science. This is from the CDC and Dr. (Anthony) Fauci's, his office, telling us 'Get your kids back in school.'"
The new closure comes a day after Northridge High in nearby Layton announced its own transition to remote learning, and just days after Ben Lomond and Bonneville made similar shifts as case counts rise in the northern area of the Wasatch Front.
Davis County reported its 9,456th case of COVID-19 Wednesday, with 419 hospitalizations and 43 deaths. The nearby Weber-Morgan Health Department reports 7,691 cases with 386 hospitalizations and 36 deaths.
Davis School District reported 148 confirmed positive cases during its most recent report through Oct. 31, according to the district's COVID-19 dashboard. The district added that 368 students were in quarantine, an increase of 75 from the previous report.
Northridge led the district's most recent count with 20 positive cases, and 28 in quarantine, while Farmington High was also above the 15-positive test limit with 20 confirmed cases, in addition to 28 in quarantine.
×
Related Links
More stories you may be interested in