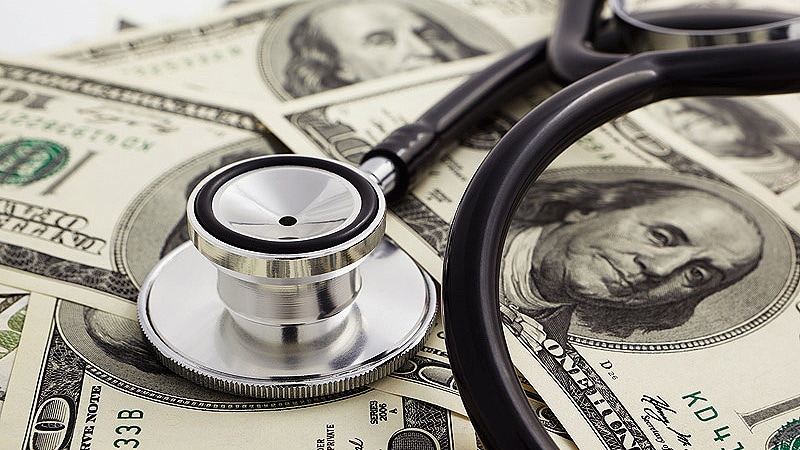 Acute Care Measure Could Reduce Hospital Readmission Penalties
About one in four hospitals would see their penalty status change under the Hospital Readmissions
About one in four hospitals would see their penalty status change under the Hospital Readmissions Reduction Program (HRRP) if penalties were determined using "excess days in acute care" (EDAC), a more comprehensive measure of hospital use after discharge, instead of looking only at 30-day readmissions.
The EDAC measure captures all days spent in acute care settings within 30 days of discharge, including emergency department (ED) visits, observation stays, and unplanned readmissions.
In the study, published online October 13 in Annals of Internal Medicine, half of hospitals in the highest-performing group under the more blunt 30-day readmissions measure would fall to a lower-performing group if EDAC were used.
Conversely, a similar number of low-performing hospitals would jump to a higher stratum.
"We know that linking the 30-day readmission measure to penalties under the HRRP has led to intensified efforts to treat patients in the ED or as observation stays," said lead author Rishi Wadhera, MD, MPP, MPhil Beth Israel Deaconess Medical Center, Boston. "While this makes hospitals' readmission rates look lower, it's not clear that these shifts are actually good for patient care."
Given the $3 billion in penalties assessed by Centers for Medicare & Medicaid Services (CMS) under the HRRP since its implementation in 2012, a switch to EDAC could help pull some struggling hospitals back from the brink.
Of particular concern, said Wadhera, is evidence showing that small rural and less resourced hospitals might be taking the brunt of those penalties.
"Large hospitals have the capacity and infrastructure to treat patients in the ER or place them in observation status, such that these encounters won't count as readmissions. Small rural hospitals don't have that capacity and may be unfairly penalized," he suggested.
This new study compared the impact of the standard 30-day readmissions measure with the EDAC measure in 3173 hospitals that participated in the HRRP in 2019.
Because of ongoing concerns regarding unintended consequences associated with the 30-day readmissions measure, including a possibility of increased mortality among patients admitted with heart failure and pneumonia, there have been numerous calls from the clinician and health policy communities, including a recent one in JAMA from Ashish K. Jha, MD, MPH, Brown University School of Public Health, Providence, Rhode Island, to replace the metric with a more comprehensive measure of hospital use.
EDAC was developed for CMS and has been publicly reported since 2017, but is not included in the HRRP. Like the 30-day readmissions measure, however, it does not fully adjust for risk factors like frailty and medical complexity.
The EDAC measure would diminish the perverse incentive to avoid readmitting patients who come back to the hospital.
"One advantage of the EDAC measure is that it's comprehensive and less gameable, because it counts all hospital encounters after discharge, including ED visits, observation stays, and/or readmissions. The EDAC measure would diminish the perverse incentive to avoid readmitting patients who come back to the hospital and allow for fairer comparisons of hospital performance," said Wadhera.
"But at best, switching from 30-day readmissions to the EDAC measure would be a small, incremental step forward, and would not address other major issues like inadequate risk adjustment. The HRRP is a deeply flawed program and it's time for CMS to move on," he added.
Value-Based Care Needs a "Course Correction"
"Although the EDAC measure captures the use of acute care hospital resources, both it and the readmissions metric are poorly designed to measure quality of care and patient safety," writes Saul N. Weingarten MD, MPP, PhD, Tufts University, Boston, in an editorial.
He said the continued use of the readmissions measure as an indicator of quality of care or as a means to determine reimbursement is "empirically suspect."
In comments to theheart.org | Medscape Cardiology, J. Michael McWilliams, MD, PhD, from Harvard Medical School, Boston, was appreciative of these efforts to better understand the impact of alternative payment models.
"Quality measurement is important for evaluation and monitoring progress, so the authors should be applauded for trying to move the science of measurement forward," he said.
He's not sold, however, on the EDAC fix, and thinks that given the "intractable problems" with HRRP, the way forward "is not to try to fix the readmissions measure but rather to abandon the program. We need to start taking about other ways to improve quality and stop expending so much energy on attempts to make pay-for-performance programs work," he said.
It appears that the CMS might agree. Around the same time the Wadhera report was released, CMS Administrator Seema Verma told a virtual audience that the Center for Medicare & Medicaid Innovation (CMMI) needs a "course correction in model design and portfolio selection if value-based care is to advance."
Her comments were made during an online event hosted by the CMS Health Care Payment Learning & Action Network, a group of public and private healthcare leaders working to provide thought leadership, strategic direction, and ongoing support to accelerate adoption of alternative payment models (APMs).
In her comments, reported by Home Health Care News, Verma said that of the 54 payment models developed by CMMI since its formation, only five have been shown to offer significant cost savings.
But the fixes, she suggested, revolve around making models more often mandatory and designed in ways that shift the financial risk to participants. There is also a need for better benchmarks to measure value, she said.
"It's been a very disappointing decade for pay-for-performance programs like the HRRP. CMS wants to believe that linking payment to performance on quality measures has resulted in marked improvements in care, but a large body of evidence suggests otherwise," said Wadhera.
"Policymakers and front-line clinicians need to work together to create more innovative approaches to motivate improvements in care delivery," he added.
The authors reported no conflict of interest.
Ann Intern Med. Published online October 13, 2020. Abstract, Editorial