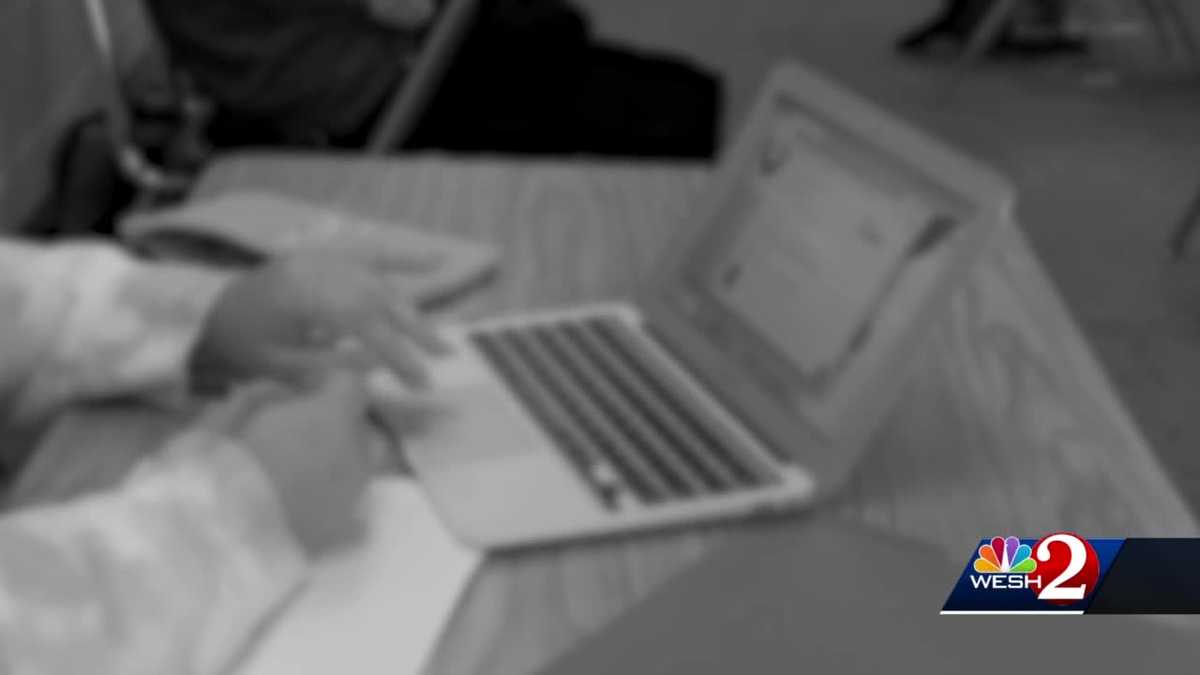 Advice on how students can succeed with virtual school
Teachers give advice on how students can improve remote learning experience Updated: 6:46 AM EST
Teachers give advice on how students can improve remote learning experience

Hide Transcript
Show Transcript
HAVE SEEN AND HOW TEACHERS SAY YOU CAN MAKE SURE YOUR ONLINE STUDENT WILL BE SUCCESSFUL. HADAS: BEFORE THE PANDEMIC, YOU PROBABLY SIGNED ON TO THESE VIDEO CHATTING PLATFORMS TO CATCH UP WITH FRIENDS FAR AWAY, MAYBE OCCASIONALLY FOR WORK. GENERALLY, AN UNEVENTFUL WAY TO COMMUNICATE. WITH THOUSANDS OF CHILDREN IN CENTRAL FLORIDA NOW SIGNING ON FOR SCHOOL, WESH 2 HAS LEARNED THINGS HAVE SOMETIMES VEERED A LITTLE OFF COURSE. >> KIDS JUST SHOWING ME TOYS. LOOK WHAT I GOT THIS WEEKEND. OK, LET'S PUT THAT DOWN, LET'S FOCUS ON GET YOUR MATH BOOK OUT. >> THERE WAS AN ELEMENTARY SCHOOL STUDENT WHO WAS EATING HER TOENAILS ON SCREEN AND THE TEACHER COULDN'T DO ANYTHING TO STOP HER. >> KIDS GETTING SPANKINGS OR GETTING DISCIPLINED ONLINE BECAUSE THEY'RE NOT PAYING ATTENTION. >> I'VE HEARD STORIES ABOUT KIDS TAKING THE COMPUTER INTO THE BATHROOM WHERE THEIR DAD'S SITTING ON THE TOILET. HADAS: GRACE DALEY TEACHES SEVENTH GRADE STUDENTS IN MARION COUNTY. SHE SAYS HER REMOTE CLASSES HAVE BEEN PRETTY UNEVENTFUL. COUNTYWIDE, THAT HASN'T ALWAYS BEEN THE CASE. >> ONLINE ETIQUETTE, OR NETIQUETTE AS IT'S CALLED, IS IMPORTANT AND ESSENTIAL FOR US ALL. HADAS: MCPS RELEASED THIS VIDEO, LARGELY BECAUSE OF INCIDENTS INVOLVING ADULTS IN THE BACKGROUND. TO NAME A FEW, A NURSING MOTHER, A TOPLESS GRANDMOTHER, AND PARENTS GIVING THEIR KIDS ANSWERS OFF-CAMERA. >> PARENTS, REMEMBER OTHER STUDENTS SEE YOU WITH YOUR CHILD, SO BEING FULLY DRESSED AND APPROPRIATELY INVOLVED ARE KEY FACTORS TO KEEPING EVERYONE FOCUSED ON CLASS WORK. HADAS: VOLUSIA COUNTY SCHOOLS TELLS ME THEY'VE HAD SIMILAR ISSUES, AND EVEN SOME REPORTS OF STUDENTS SLEEPING WHILE SIGNED ON. SUMTER COUNTY SCHOOLS SAYS IN SOME CASES, THE DISTRICT REMOVED A STUDENT FROM THE E-LEARNING OPTION AFTER REPEATED DISRUPTIONS. THE TEACHERS WE TALKED TO SAY, WHEN IT COMES TO THESE VIRTUAL, REMOTE LEARNING OPTIONS, THE IMPORTANT THING FOR PARENTS TO REMEMBER IS THAT THE TEACHER ISN'T THERE, SO THEY NEED YOU TO BE ENGAGED. >> WE NEED THE PARENTS ESPECIALLY THE YOUNGER KIDS TO BE US YOU ARE OUR REPLACEMENT. HADAS: SHANIECE CAESAR TEACHES STUDENTS FROM KINDERGARTEN THROUGH THIRD GRADE IN BREVARD COUNTY. >> WE'RE HAND OVER HAND TEACHING THEM HOW TO WRITE LETTERS. WE'RE HAND OVER HAND SHOWING THEM OK, THIS IS THREE, THIS IS TWO, USE THE MANIPULATIVES THE COUNT BLOCKS ADD THREE PLUS TWO. WE NEED YOU GUYS TO DO THAT. HADAS: IF YOU'RE CONSIDERING TAKING YOUR CHILD'S LEARNING VIRTUAL, OR IF YOU PLAN TO KEEP IT GOING, HERE'S WHAT THE TWO TEACHERS WE SPOKE TO RECOMMEND. HAVE A DEDICATED LEARNING SPACE FOR THEM. IF YOU CAN'T BE THERE WITH THEM, TRY TO FIND SOMEONE ELSE WHO CAN. CHECK THEIR WORK, JUST TO MAKE SURE THEY DID IT. AND REMEMBER, THE OTHER STUDENTS CAN SEE AND HEAR YOU. SO IF YOU'RE AROUND WHEN YOUR CHILD IS SIGNED ON, KEEP YOURSELF MUT
Teachers give advice on how students can improve remote learning experience
School looks different for everyone this year, especially for students and teachers who are doing it all online for the first time.There's no denying that the first semester of remote learning has been eventful for many people.WESH 2's Hadas Brown has details about unexpected experiences that people in some school districts have gone through, and advice from Central Florida teachers about how students can be successful.Related: Florida to allow students to continue with remote learning in spring semester
ORLANDO, Fla. —
School looks different for everyone this year, especially for students and teachers who are doing it all online for the first time.
There's no denying that the first semester of remote learning has been eventful for many people.
WESH 2's Hadas Brown has details about unexpected experiences that people in some school districts have gone through, and advice from Central Florida teachers about how students can be successful.
Related: Florida to allow students to continue with remote learning in spring semester