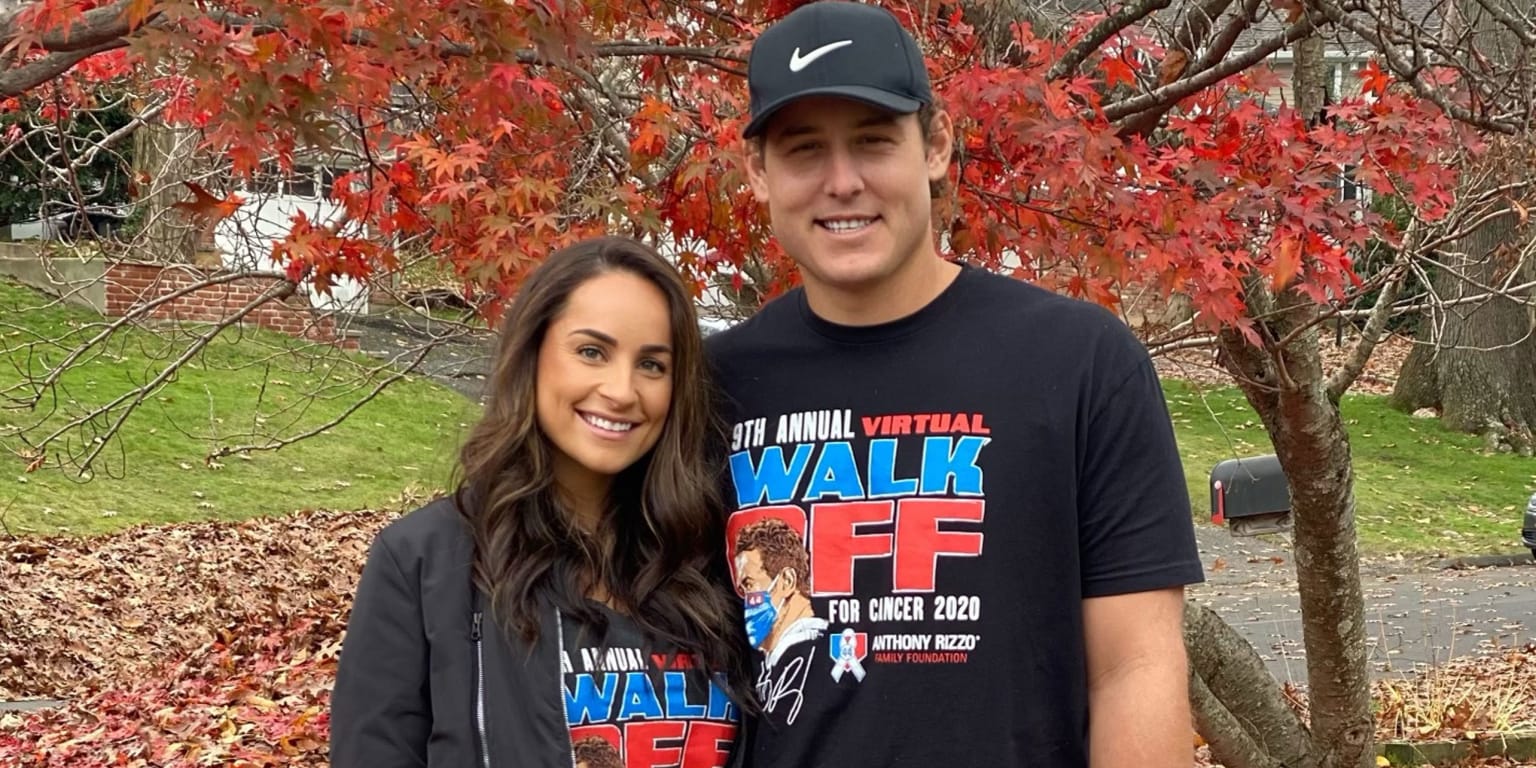 Anthony Rizzo Family Foundation Thanksgiving plans
CHICAGO — The group photo was going to be a little different this year. After
CHICAGO — The group photo was going to be a little different this year. After Anthony Rizzo held a Zoom discussion earlier this month with families taking part in his foundation's Walk-Off for Cancer, a screenshot was taken of the grid.
It has been a year defined by adjustments for
CHICAGO — The group photo was going to be a little different this year. After Anthony Rizzo held a Zoom discussion earlier this month with families taking part in his foundation's Walk-Off for Cancer, a screenshot was taken of the grid.
It has been a year defined by adjustments for people around the globe due to the COVID-19 pandemic, and it was no different for everyone involved with or impacted by the Anthony Rizzo Family Foundation. The work may have been altered some due to circumstances, but it did not stop.
"We really are hopeful," said Abby Suarez, the executive director of Rizzo's foundation. "We have seen more love and appreciation for our families and the work we're doing, and are seeing people really come together to band together to make a difference."
The primary goal of Rizzo's foundation is to care for pediatric cancer patients and their families. It is something that hits home for the Cubs' first baseman, who overcame Hodgkin's lymphoma after being diagnosed in 2008 and established the foundation four years later.
Thank you to everyone who joined us for the Ninth Annual Walk Off For Cancer! Together we raised more than $850,000 to support pediatric Cancer Families. We missed seeing you all in person but these photos have made our day! THANK YOU! pic.twitter.com/cWJodB19TS

— A. Rizzo Foundation (@RizzoFoundation) November 15, 2020
The ongoing pandemic created obstacles for the foundation's usual operations, but it opened up new avenues for helping families impacted by pediatric cancer.
For Thanksgiving, the foundation raised money to help send warm meals to families and staff at Lurie Children's Hospital in Chicago, as well as delivering meals around Chicagoland and in Rizzo's home state of Florida. Rizzo did not want families already dealing with the stress of cancer treatment for their kids to also worry about preparing a Thanksgiving feast.
"If someone has to be in the hospital for Thanksgiving," Rizzo said during the recent Zoom call, "to be able to deliver meals is something that goes a long way."
Rizzo also noted that partnering with local restaurants has been a priority during the pandemic, as businesses have been forced to contend with stay-at-home guidelines. When baseball shut down in March and went on a three-month break, Rizzo's foundation tackled a new and daunting initiative along those lines.
The foundation served more than 10,000 meals during the shut-down period to workers and patients at 30-plus hospitals across six states. Beyond meals, the organization supplied more than 27,000 PPE masks and distributed around 200 COVID-19 care packages for families in need.
.@ARizzo44 was SOOOO excited to be back with the children @LurieChildrens today. To keep the visits as normal as possible, Anthony pre-signed items that were then delivered by our @RizzoFoundation Child Life Specialists along with our normal care packages. (1 of 2) pic.twitter.com/0tPF8RvGfp

— A. Rizzo Foundation (@RizzoFoundation) September 16, 2020
With coronavirus cases on the rise, the foundation is looking into picking up its hospital meal program again to some degree.
More than $1 million was raised this year, as Rizzo's foundation had to move its usual events to virtual formats. The annual Cook-Off for Cancer in May was changed to an online "Chef's Series." The Walk-Off event earlier this month went virtual as well, allowing participants to do their own 5K from wherever they lived.
"We've been getting photos from everywhere: Florida, New Jersey, Chicago, California, Indiana," Suarez said. "It's been really fun to see people doing kind of their own small walks with their families."
The Walk-Off event raised more than $850,000, and Suarez noted that there was a 95 percent return rate for the foundation's sponsors. That continued support even in difficult circumstances has helped the foundation's ability to keep pressing forward with its goals.
More than $175,000 in financial grants went to families this year, and Rizzo provided hundreds of autographed items and personalized letters to send to kids going through cancer or other non-profits.
Rizzo also still found ways to conduct visits with kids at Lurie Children's Hospital this year, even if he could not be there in person like usual.
Another round of COVID care packages are on their way to our Cancer families who are in desperate need of supplies to keep them and their children safe during these unprecedented times.

Make a $100 donation and sponsor a care package for a family in need.https://t.co/E8WwWHpOou pic.twitter.com/wbMo9hid3I

— A. Rizzo Foundation (@RizzoFoundation) September 15, 2020
"Anthony did virtual hospital visits," Suarez said. "They took Anthony around on an iPad and kind of simulated a regular hospital visit. … The child life specialists carried around [a box with gifts] and delivered to each kid and then surprised them with Anthony on the iPad."
Given the difficulties that 2020 has presented, Rizzo took a lot of pride in the work his foundation has been able to pull off this year.
"We have really been making an impact," Rizzo said in the Zoom call. "And we've really been helping a lot of families, especially through these tough times. And I'm really proud of everything that this foundation has done. And I'm really grateful for everyone's generosity."
Jordan Bastian covers the Cubs for MLB.com. He previously covered the Indians from 2011-18 and the Blue Jays from 2006-10. Read his blog, Major League Bastian and follow him on Twitter @MLBastian.