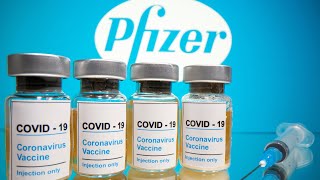 Back to normal by Spring? Everything we know about the Pfizer Covid-19 vaccine
But Sir John Bell, regius professor of medicine at Oxford University and a member of the
But Sir John Bell, regius professor of medicine at Oxford University and a member of the Government's vaccine taskforce, said that other vaccines were now likely to become available in the near future.
"I am really delighted with this result – it shows that you can make a vaccine against this little critter. Ninety percent is an amazing level of efficacy," he told BBC Radio 4's The World at One.
"It rolls the pitch for other vaccines because I can't see any reason now why we shouldn't have a handful of good vaccines."
Asked if people could look forward to a return to normal life by the spring, Sir John replied: "Yes, yes, yes, yes. I am probably the first guy to say that but I will say that with some confidence."
Is the vaccine safe? 
The vaccine is still early the stages, having only been studied for a matter of months.
We do not yet know if it is able to prevent severe cases of Covid-19, how long it will protect against infection or if it prevents people from carrying the virus without symptoms.
According to previous data, it does cause side effects, including aches and fevers. 
William Gruber, Pfizer's senior vice president of vaccine clinical research and development, has told Stat News that he believed the side effect profile was comparable to standard adult vaccines, but probably worse than Pfizer's pneumonia vaccine, Prevnar, or a flu shot.
The results have not been peer-reviewed by outside scientists or published in a medical journal, and even Pfizer and BioNTech have not been given further details about how the vaccine performed by the independent monitors overseeing the study.
Who will be vaccinated first?
The Joint Committee on Vaccination and Immunisation (JCVI) has examined data on who suffers the worst outcomes from coronavirus and who is at highest risk of death.
Its interim guidance says the order of priority should be:
Older adults in a care home and care home workers
All those aged 80 and over and health and social care workers, though they may move up the list
Anyone 75 and over
People aged 70 and over
All those aged 65 and over
High-risk adults under 65
Moderate-risk adults under 65
All those aged 60 and over
All those 55 and over
All those aged 50 and over
The rest of the population, with priority yet to be determined.