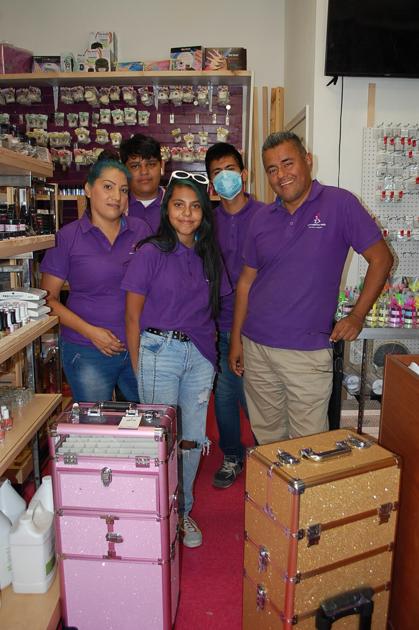 Banning's oldest commercial building, finally fully occupied | News
Ranae Burks-Wiltz, founder of Polly's Petals Floral Shop. BY DAVID JAMES HEISS, Record Gazette BY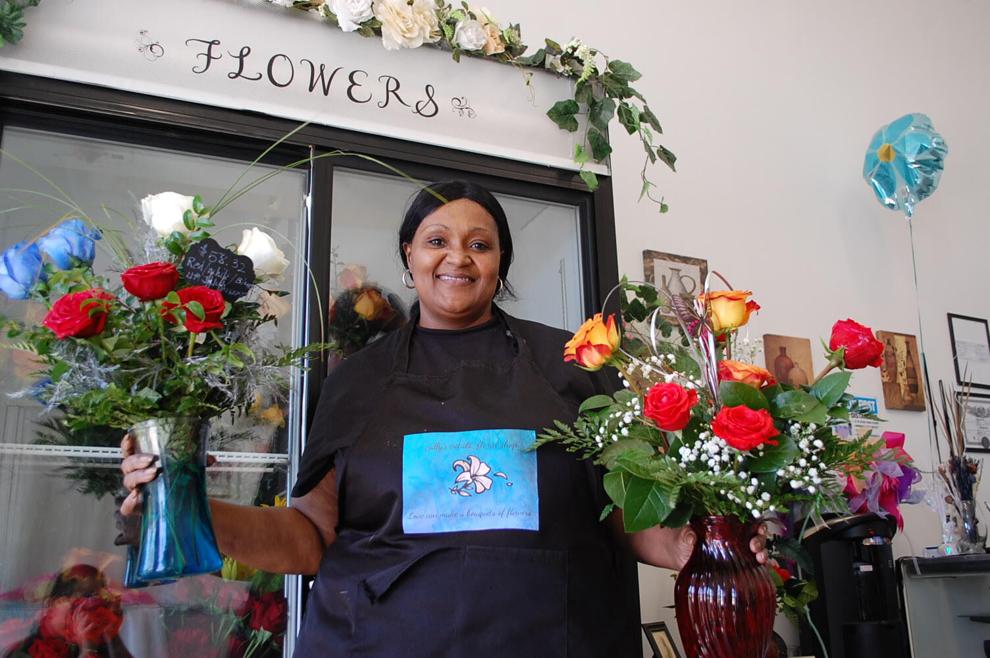 BY DAVID JAMES HEISS
Record Gazette
For years, Banning's oldest building sat relatively vacant, minus some vagrants who may have called it home.
The Reid Building, built in 1884 on Livingston Street when it was the town's main thoroughfare, has experienced a renaissance, and is after years of dormancy fully occupied by a variety of mom-and-pop businesses — a relief for the building's owner Yolanda Graciano of Riverside, who owns a couple of residential properties in Banning.
The Reid Building was her first foray into commercial real estate, and came with some hiccups a couple of years ago when the city put a halt to her renovation efforts after residents and members of the San Gorgonio Pass Historical Society made a fuss when it looked as though she was going to completely alter the historic building.
According to Pedro Hernandez, the contractor who was working on the building at the time, the Reid Building was technically two buildings that Graciano wanted to combine as one.
A few features of the buildings, including west-facing doors and a faux partition, were not part of the original structure when it was a general store.
The added partition was already torn down before the city intervened.
Graciano had no idea when she bought the property the historic value it held.
She went to check out the then unoccupied building at the recommendation of a real estate agent, and saw potential.
"I wanted to change the look, since it had been affected by homeless" individuals, said Graciano, who primarily speaks Spanish and was interviewed through a translator. "I liked the fact that it was at the center of the city, and that it's located close to the high school and city hall, with a lot of potential traffic. It's a busy enough street" to attract enterprise.
Graciano and her sister Rosario De La Torre invested in the property, and hired Hernandez to rehabilitate it, including the removal of hazardous materials such asbestos, which the city required her to undertake.
Now all six units are occupied, including a florist, a barber shop, a nail design supply store, a bail bonds firm, a tutoring firm and a dental hygienist shop.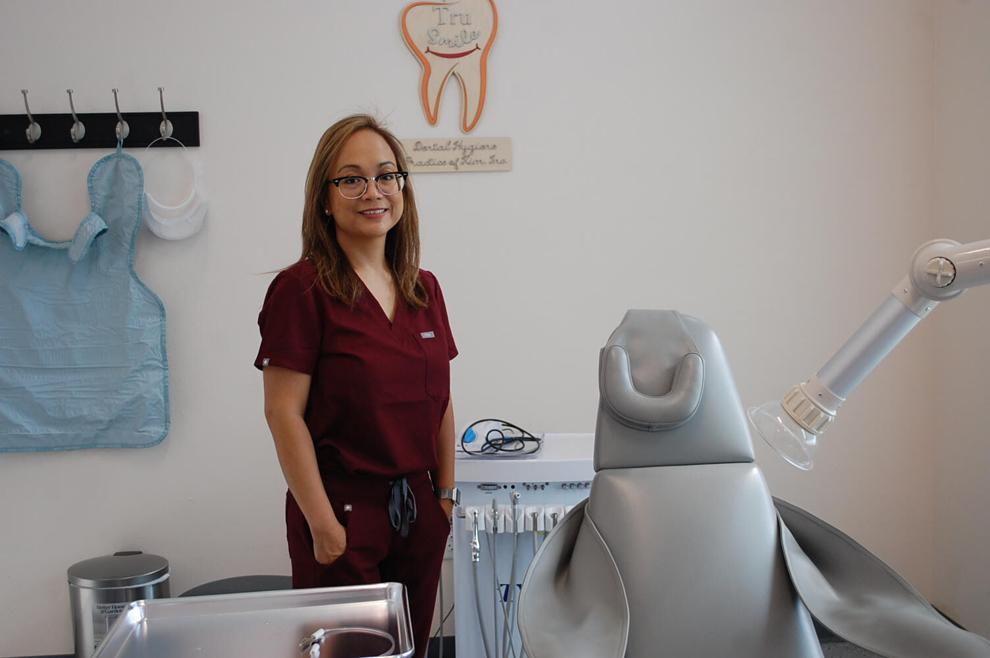 Toi Ranae Burks-Wiltz, a 1995 Banning High School alumna, was one of the first tenants, opening Polly's Petals Floral Shop — so named in deference to her grandfather's pet name for her.
"I've been in Banning all my life," Wiltz says. "Even before it was renovated and sold to Yolanda, I'd inquired about leasing here. Yolanda was nice, her price was reasonable."
And, Wiltz gets to fulfill a dream of floral design, and has found a niche in wedding and funeral arrangements, and had roses available in time for graduations.
"Business has been a little slow, but people are still discovering that there's a flower shop here," she says.
Polly's Petals, located in unit 6, is open Wednesday through Saturday from 10 a.m. to 5 p.m. Her shop may be reached at (951) 665-2160.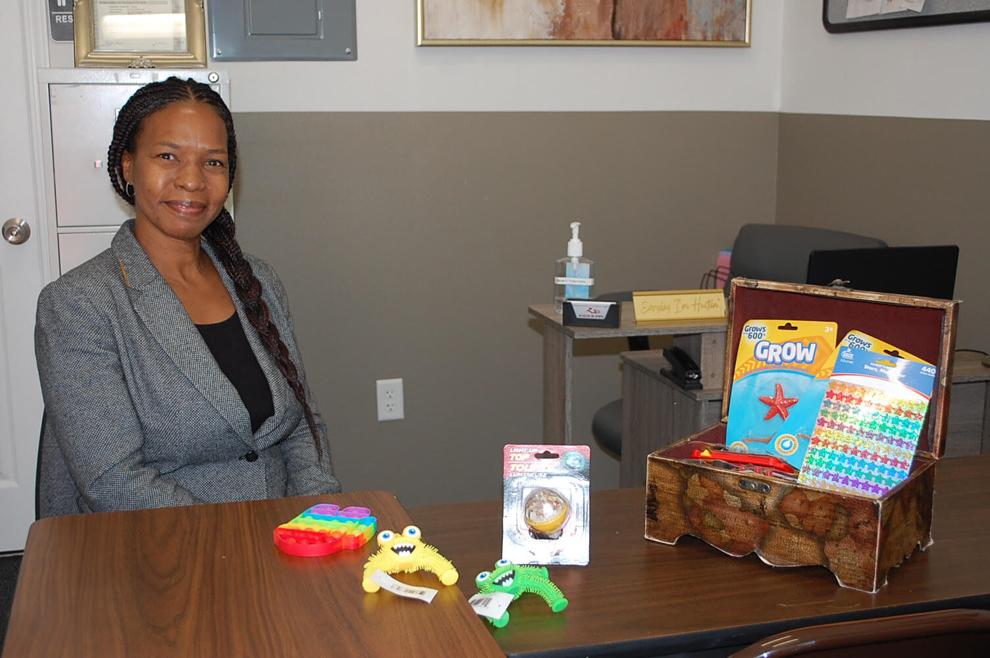 Banning substitute teacher Haleii Poullard considers herself to be a woman of faith.
She wanted to open her own tutoring firm, and she "prayed on it."
"I drove around and, when I found this building, knew one of these units was going to be mine," Poullard says. "I didn't know which one, but I just knew."
While she works with anyone needing tutoring, she appreciates helping the more "challenging" students, "because it never gets boring," she says. "It's fun when they retain more."
She officially opened her tutoring service at the Reid Building in April.
"I help children pre-kindergarten through seniors in high school, and those getting their GEDs," she says. "My specialties are general education and reading; I have a little weakness when it comes to math, but they refresh my memory when they come in here working on calculus."
She credits eighth-grader Makayla Cash, one of her students, for inspiring her to launch Kids R PPL 2, when Makayla point blank told her "Do what you always tell us to do: stop talking about it just do it: open your own business."
Poullard promises "outside the box thinking" in order to help her clients learn. "I concentrate on the whole child mentally, and provide a safe environment for them to bring out their creativity."
Since Poullard teaches on the side, her tutoring services are provided by appointment.
Kids R PPL 2 can be reached at (909) 278-0395.
Miguel Antunez's sister-in-law found an announcement in a Facebook group that the Reid Building was welcoming prospective tenants.
They saw a perfect opportunity for their primarily online nail design and salon supply business to have a retail outlet, and plan to open as soon as the city has given them its final approval.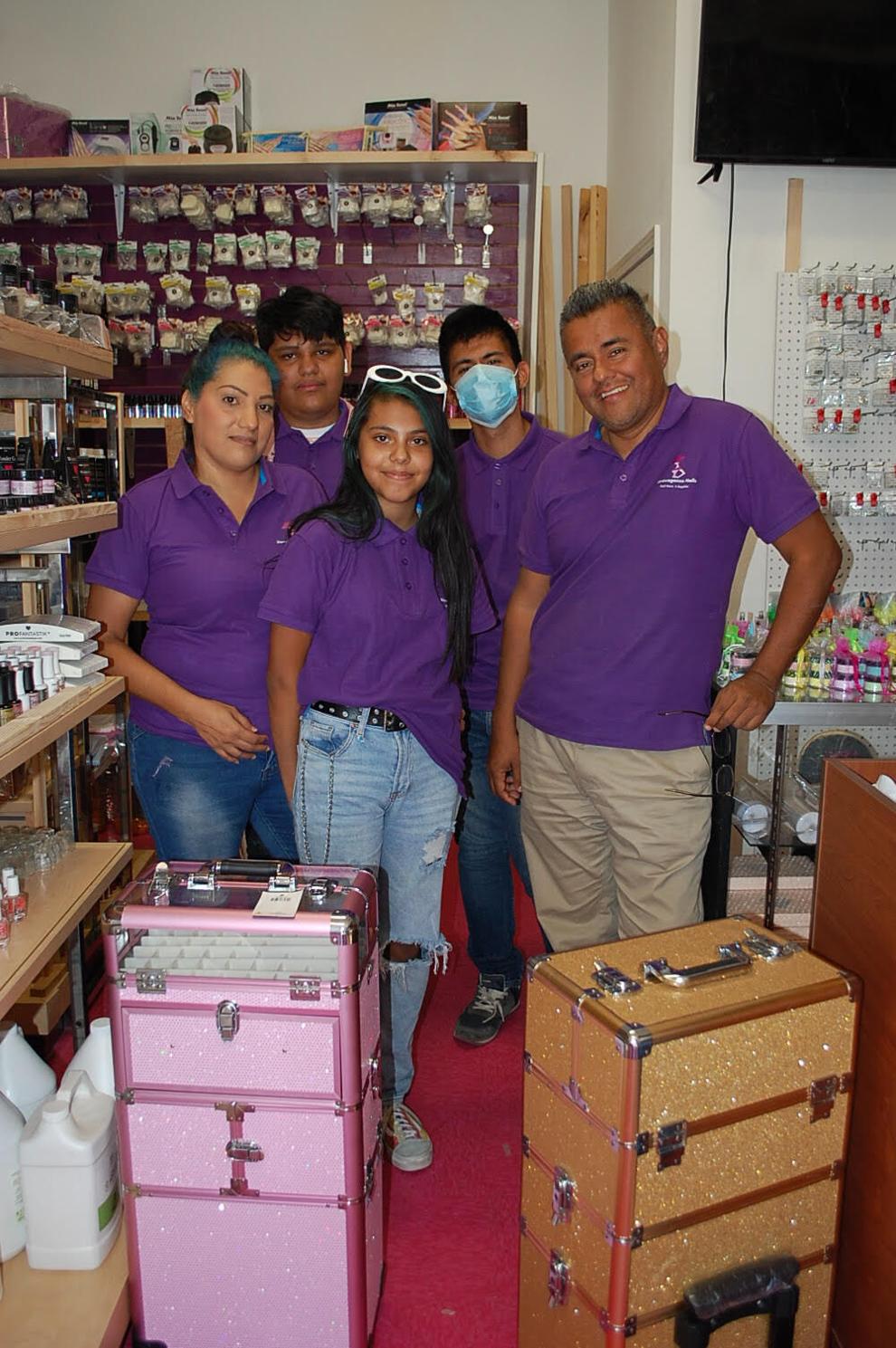 When Nail Extravaganza does open for retail business, they will be a Monday-through Saturday operation, open from 9 a.m. to 6 p.m.
For now, their glitters, brushes, crystals, polishes, gels, stickers, monomers and acrylic powders are also available for shipping online at nailextravaganza.com .
"It's a convenient location, because we live in the city," Antunez says. "Customers have been requesting our products" and encouraging the family to open an in-person store.
He praises the city, whose inspection and business approval services seemed to slow down a bit during the pandemic, for being "willing to work with us," and he is enthusiastic about catering to professionals — and beginners — involved with the nail designing industry.
Nail Extravaganza may be reached at (909) 246-8574, and is located in Suite 1.
In Unit 5, Maria Antonnette Kim has opened her TruSmile Dental Hygiene Practice, Inc.
Though she signed a lease back in October 2020, her business opened officially in February, after her approval to accept MediCal, along with insurance programs Delta Dental and Cigna.
"I'm not a dentist," she clarifies right away. "I'm a registered dental hygienist in alternative practice," providing preventative care and referrals to dentists. She just doesn't perform the surgical procedures that scare clients away.
Instead, she focuses on the less invasive oral prophylaxis (regular teeth cleanings), dental sealants, scaling and root planing (referred to as "deep cleaning"), teeth whitening, fluoride application and oral cancer screening.
She has her own portable x-ray machine and ultrasonic cleaning equipment, and can travel to patients who are disabled.
During the week, she teaches dental hygiene at one of her alma maters, Concord Career College, so most of her appointments are taken on weekends between 8 a.m. and 8 p.m., and during the week between 6:30 p.m. and 9 p.m.
"There is a need for dental hygiene in underserved areas, and I strongly feel that Banning is an underserved area," she says.
Her mantra is "to provide dental hygiene care to all who need or want it."
Her office number is (951) 922-4975, and appointments can be made via e-mail (which she promises to check regularly) at [email protected] .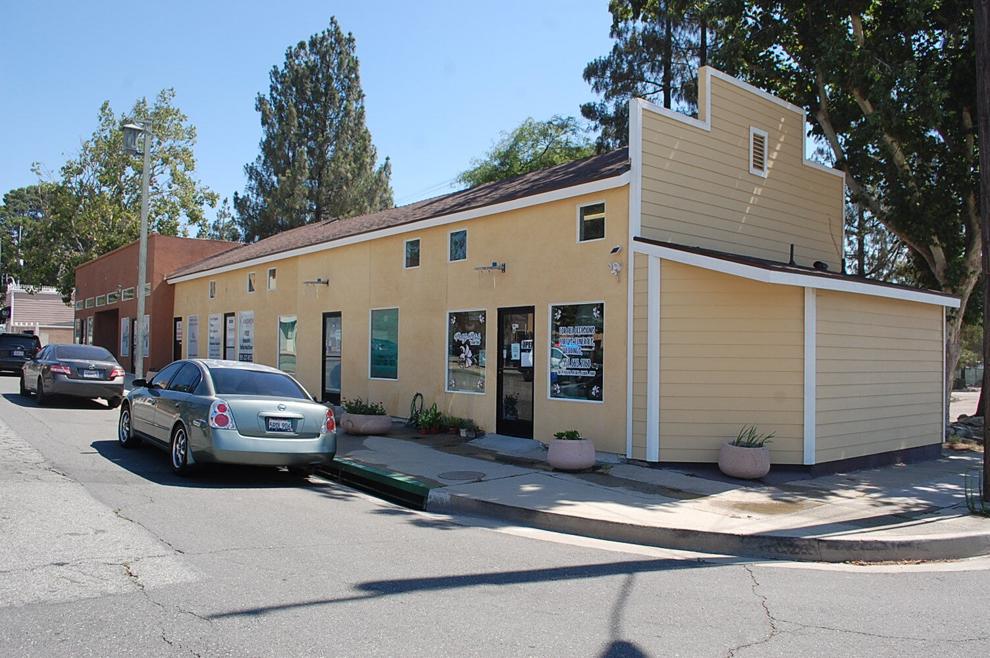 The Reid Building, formerly called the Henderson Building, was a mercantile exchange.
Charles A. Reid took over the location from the conclusion of the former W.S. Hathaway & Co. in 1894, according to historian Pat Murkland, who points out that Reid was a prominent figure, having served nearly 25 years on the school board, and was instrumental in pioneering the local Methodist church.
In its latest incarnation, the Reid Building is now in the hands of Yolanda Graciano, and is once again a commercial space at the corner of San Gorgonio Avenue and Livingston Street.
"It is an honor to own that building because of its history," even if she had to discover it after she bought it, Graciano says. "I'm proud to have been able to change the aspect of what it was before, and give life to a building that was abandoned."
Staff Writer David James Heiss is a board member of the San Gorgonio Pass Historical Society. He may be reached at [email protected] , and messages may be left at (951) 849-4586 x114.