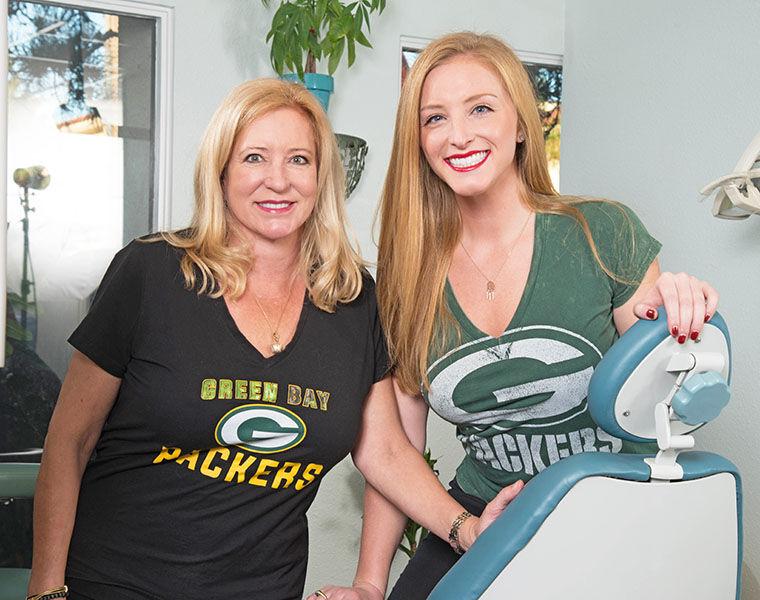 Celebrating 30 Years At Advanced Dentistry With A Smile | Coronado Home and Business
Mother-daughter duo Dr. Suzanne Popp and Dr. Natalie Bailey recently celebrated the 30th anniversary of
Mother-daughter duo Dr. Suzanne Popp and Dr. Natalie Bailey recently celebrated the 30th anniversary of Advanced Dentistry in Coronado. Popp bought the practice from Dr. Joseph Drazek (who had been there since 1972) when she moved to San Diego after completing undergraduate and dentistry studies at Marquette University in Milwaukee. "We have a couple patients here that were joking recently about who's been a patient here the longest," Popp mentions. "One has been coming here since 1975!"
Popp knew she wanted to work in a healthcare profession since she was young, and at 10 years old she decided that she would be to become a dentist. "I always had that focus to be a dentist then, and in high school and even in college. A lot of family and friends said I shouldn't or couldn't, but I ended up getting in [dentistry school] after two years of college and graduated in 1987."
Popp's daughter followed in her footsteps, attending Marquette as well. When asked about that similar path, Bailey was the first to speak up. "I think it's a lot different," she mused while Popp responded, "Natalie's class had a lot more fun than we did." Bailey agreed, "Yeah, they kind of tormented you, didn't they?" When Popp attended dental school she recalls that only about 15% of the students were women. "Some people really liked that women were there, but others did not."
They laugh about having had some of the same professors however, and when it came to choosing dentistry as a career as well, Bailey's admiration for her mother is clear – even if it wasn't always her plan. "When I was little I did not want to do what my mom did. I was a rebellious child," she laughs. "But in high school I'd shadow her and I really liked what she did – making people smile and seeing how helping people smile improved their sense of self."
Seeing the way her mom had ownership of her practice was something else Bailey noticed and respects. "Mom bought Advanced Dentistry 30 years ago and owned her own business, which was maybe less common at that time than it is today, and I wanted to do the same."
Over the last 30 years Popp and Bailey have seen the profession advance thanks to technology and an ever increasing knowledge about health and the human body. "There's so much more we can do, and it's faster, easier, less painful, and less time consuming for us and patients," Popp says. "We can make crowns in the office these days, we have software that can show someone what their smile can look like with the work we can do for them." Bailey has noticed her view of the profession change over the years as well since growing up around the space. "I think growing up I saw dentistry just more like the cosmetic part, and now I see it more focusing on patient's health. There are so many things about it and oral health that most people don't realize how much it affects the body."
One thing that has remained a constant at Advanced Dentistry, even when Dr. Drazek owned the practice, is a focus on preventative care. "We were some of first dentists to take on a preventative approach to stop things like having to fix or removed damaged teeth," Popp explains. "If a person has inflammation in their gums, we know that can be linked to heart disease…so really we're looking at dentistry as treating the whole body, not just the mouth."
Popp is also a big believer in constant learning. "If you're not learning, you're dumbing," she says with conviction. She, Bailey, and the rest of the Advanced Dentistry staff took the eight weeks they were closed due to COVID-19 earlier this year as an opportunity to keep researching best practices for their patients, such as the benefits of fluoride for preventative oral health care. "We had a lot of time to do research and study things and do more online training during COVID. Fluoride really helps strengthen teeth as you get older when gums and teeth roots can shrink and expose teeth, and people can't brush or floss as well." If they can prevent patients from having to deal with loosing teeth one by one down the road, that's their goal. "It all comes down to healthy people and getting them out of pain or even just more confident with their smile," Bailey agrees.
The learning around the office extends beyond dentistry and into business and marketing as well, as that's not something dentist school teaches but is still very necessary for many dentists, both Popp and Bailey mention. Aside from the rewarding nature of her work with patients, Popp also finds joy in being able to be a mentor. "I feel fulfilled by working, and another thing I enjoy about this career is that I can mentor younger people in my practice and different people who've worked in my office and help them to grow in their careers whether they're with us for long time or a short time." Bailey chimes in with agreement, "Honestly so many of my dental friends from the Midwest look to my mom for advice as most don't have parents in the business."
One such way Popp has done this is through an in-office business book club that Popp has had great feedback on from team members who are thankful for helping them grow in their own careers. "Our work family is very important. One of my employees been with me 21 years, others for 5-6 years and they really are like family."
Popp recalled a couple of memorable instances in her time at Advanced Dentistry, seeing young people catch the dentistry bug, so to speak. "I had one young man who's aunt and uncle lived in Coronado and in eighth grade he thought wanted to be dentist. He would come in and shadow me and now is he is a dentist and that's pretty exciting." Another time involved a patient of theirs. "I fixed a tooth for foster girl and now she wants to be a dentist and recently a 15 year old shadowed Dr. Bailey and now he wants to be a dentist," Popp says happily. "It's giving back and promoting our profession, which I think is import."
"I have a specific case right now," Bailey mentions, "where [my patient] doesn't like her smile. She retired and moved here a few years ago and I proposed, 'Why don't we do something for your front teeth? After all these years you deserve a smile that you want.'" Her patient believed she did deserve that for herself, a reason Bailey knows exactly why she's a dentist. "She's finally going to get that [smile], and that self-confidence is what does it for us."
Popp remembered a recent patient who had previously had a bad dental experience elsewhere and worked with them to overcome their anxiety. "[She] had a panic attack on the way to her appointment and we just walked and talked her through her anxiety," she says. "She was truly scared and couldn't help it, but I told her from day one, 'if we can get you back to not having such a visceral fear, that is success for me, even if it takes extra time.'" Seeing patients get themselves healthy and getting treatment plans is what Popp sees as one of most rewarding aspects of her job and why she loves it. "Just the gratitude of someone who hates their teeth and way they look and then being able to restore their smile? We had one patient who started just smiling without abandon after we helped her."
When it comes to working together, the mother-daughter team has worked their way through the complicated parts of sharing a workspace with family over the past two years since Bailey joined the practice as a dentist. "You have to make sure you take the time to kind of have the business side of it and then the family side of it," Bailey notes. "And not to get too frustrated with each other," she laughs. Popp adds, "We're mother/daughter so the issues along with that do come up – some funny, some not – but end of day we're business partners and family, so we deal with it."
"My mom will sometimes say, 'would you ask another doctor in the same manner you're asking me?' And I think to myself, 'oh, I wouldn't' so I learn to be more professional that way," Bailey mentions. "My brother will text me to see if I asked my mom something and can't understand how family stuff isn't talked about when I'm with her all day at work but when we're at work, we're two doctors at work," she adds. While they keep things professional, Bailey mentions they make sure not to take it too seriously as they know their patients love that they're a mother-daughter team as well.
The two refer to each other as Dr. Popp and Dr. Bailey when at work, and make sure to set aside time to simply be a mother daughter outside of work to find that balance. "The other day," Popp mentions, "Natalie asked me if we could do something just mother-daughter." Bailey agrees, adding, "We have to set aside time to remember we're mother-daughter, too."
While the two have had to make adjustments during the pandemic, they're happy to be back at work while following health guidelines right now. "One of the most recent things … people don't know when to take their masks off," Popp laughs. They love being able to give back to the community through their work and in what small ways they can help their patients in these uncertain times, such as picking up older patients who are in need of a ride to their appointments right now, or delivering retainers and even cookies to patients around town.
Bailey adds of her mother, "She is grateful for the opportunity to serve Coronado's dental needs. She is also grateful to be able to give back to the local charities and help in worldwide issues, such as the reusable and rewashable sanitary napkins project in Ethiopia run by The Sue Project, of which Dr. Popp is a founder."
And while Dr. Popp has no intentions of retiring any time soon, she hopes her daughter will want to take over ownership of Advanced Dentistry in a few years while continuing to work alongside her.
Advanced Dentistry is currently open Monday-Thursday from 8:30am-5pm and is accepting new and existing patients. You can learn more about the practice at www.drpopp.com, or contact them via phone at 619-435-4444.