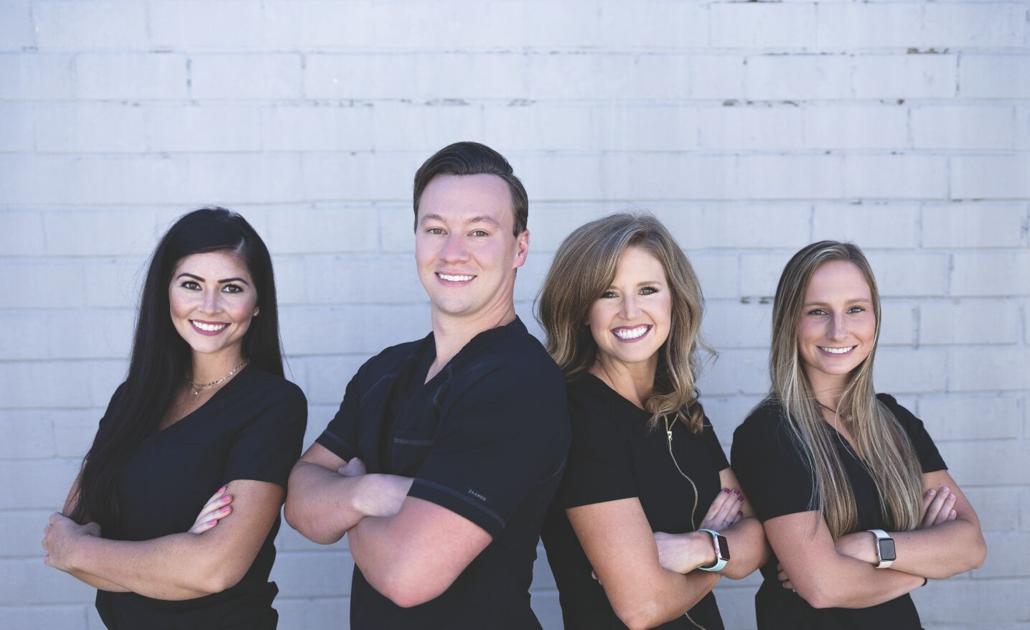 Comfort and technology key to husband and wife dental team | News
Stephen, middle left, and Lauren Raines, middle right, are the dentist and hygienist at Raines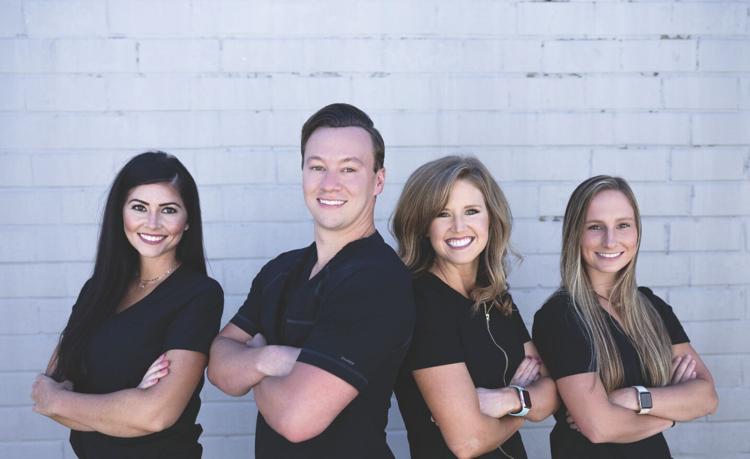 Raines Family Dental, located at 216 E. Carpenter St. in Benton, is run by a husband and wife team who have brought technology into the practice while seeking to provide comfort to even the most nervous patients.
Dr. Stephen Raines is the dentist at the practice and Lauren Raines is the hygienist.
After delaying the opening due to COVID-19, Raines Family Dental has been open since May.
"We were glad we could start in May," Stephen said, adding the two-month delay gave them more time to prepare for opening.
The pair is still making additions to the practice. They are working to add a lab where they will be able to make needed items, such as crowns, in house instead of sending them to be done. By making them in-house, in most cases, patients will be able to receive their crown work in one appointment instead of having to return to the office to have the crown fitted later.
Stephen is proud to offer digital impressions instead of the standard impression that requires patients to deal with a gooey, thick material sitting in their mouths. With the digital impressions, Stephen uses a small hand-held scanner that looks like any other dental tool to scan the teeth with special detail paid to the area all around the crown tooth. With the scan, he is able to create a true 3-D image of the tooth and gums. He said that image is actually more accurate than a traditional impression. He can scan the mouth in about five minutes.
Stephen enjoys how a cosmetic dentistry can change a person's appearance and give them more confidence.
Instead of the usual uncomfortable X-ray method used by most dentists, Stephen offers two more comfortable options.
The first is a handheld X-ray machine that can be used in any of the bays and feed information back to the computers.
The second is a free-standing machine that can do panoramic, bite wings and 3-D CT scans. Stephen said this extra layer of detail helps make a better diagnosis.
Both Stephen and Lauren attended Ouachita Baptist University and completed their dental work at the University of Tennessee.
Lauren said her interest in working in the dental field was actually sparked in the same office where the pair are now working.
It was previously the practice of Dr. Tom Phelan and Dr. Jim Phelan, a father-and-son duo of orthodontists Lauren visited while growing up in Arkadelphia.
She visited them for braces.
"They gave me a lot of confidence," Lauren said.
She said the fact they ended up opening their practice in the same office is a coincidence. Stephen said they stumbled upon the location and it was perfect for their needs. It had been a dental office before so was ready for them.
Stephen grew up around dentistry. His father was a dentist in Camden.
The couple chose Benton to live because it is a fast-growing area with good schools while keeping the tight knit community feel.
"People in this community are wonderful and they have been very good patients," Lauren said.
There are two bays for Lauren to conduct hygiene work and two for Stephen's dental practice.
Along with Stephen and Lauren, the practice has a front desk worker who also serves as an assistant and another assistant — Cambri Evans and Clara Garner.
The main effect the practice has felt from the COVID-19 pandemic has been having to push opening back two months.
They have also had to require masks with employees wearing face shields when a procedure might result in more spray.
It has not affected their cleaning because, as Stephen pointed out, the dental industry has always had to be fastidious about infection control and cleaning. All tools are sterilized and surfaces are cleaned between each patient.
They also added air filters to each space as an extra precaution to protect their patients.
"I think that has been a good addition," Stephen said.
Raines Family Dental serves adults and children. They offer all the traditional dental services, including crowns, bridges, implants, Invisalign and veneers. They even offer Botox for migraine and cosmetic purposes.
For cosmetic procedures, Stephen offers virtual consultations. The patient can upload their photo to the practice's website and he will create a video for that patient to show what the practice can do for them.
While COVID-19 has held them back from becoming as involved with community organizations as they want to be, they are still plugged in to their faith at Summit Church. Stephen is on the worship team and Lauren is on the host team.
Raines is also a member of the Benton Area Chamber of Commerce.
"We are really passionate about what we do," Stephen said of the business' dental work.
He added that he believes people who love what they do, do their work better.
The pair takes pride is the fact they have been able to help many patients who were anxious about seeing a dentist and make them comfortable.
The practice accepts most insurance, other than Medicaid.
They also offer a membership where patients pay per month and receive cleanings, X-rays and discounts on procedures.
They can offer financing options as well.
The office is open 8 a.m. to 4 p.m. Monday, and 7:30 a.m. to 4 p.m. Tuesday through Thursday.