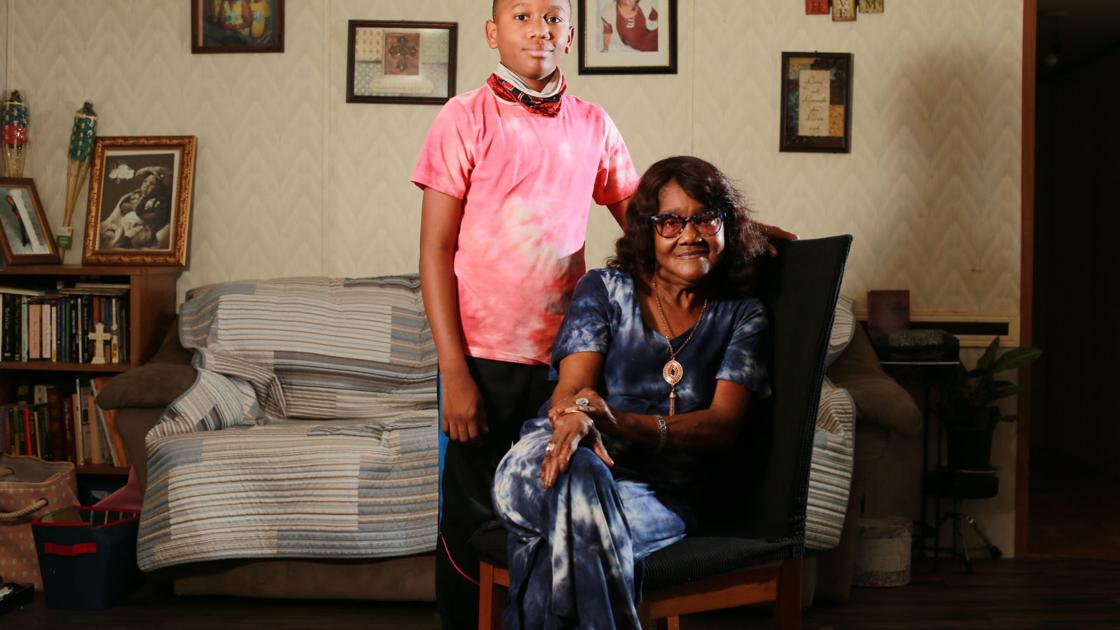 'COVID is for real': Mother's life changes after losing her daughter to COVID-19 | News
Editor's Note: The Human Impact is an ongoing series about marginalized people in our communities
Editor's Note: The Human Impact is an ongoing series about marginalized people in our communities and the disproportionate impact of COVID-19 upon them.
CALEDONIA • Rebecca Vance did not get to see her daughter during the final moments of her life.
Less than a month passed between Monique Moore calling her mother to tell her she was diagnosed with COVID-19 and her death on June 25 at Baptist Memorial Hospital-Golden Triangle. She didn't see her during that time. Not once.
"She was there 21 days," Vance said. "No visits, period. I even pleaded with them. I said, 'Just let me just peep at her. I'll put on whatever y'all need me to put on.' But they said they couldn't do it. Hospital regulations. Couldn't even see her. That hurt me too. It hurt me. It really, really hurt me."
Like many hospitals across the state, Baptist Memorial has regulations against allowing visitors in rooms with COVID-19 patients, although some make exceptions for end-of-life cases.
Despite it being a necessary step, it was hard for Vance to take.
Director of Public Relations and Internal Communications Ayoka Pond said Baptist Memorial Health Care, which includes several locations throughout the Mid-South, does not have a specific end-of-life visitation policy. Depending on the situation, in-person visits may be allowed if possible; if not possible, they try to arrange virtual visits, such as using Facetime or similar programs.
On that day in early June, when Moore called her mother to tell her she had been diagnosed with COVID-19, it instantly filled Vance with a mother's worries. She feared her daughter, who already struggled with underlying health issues, wouldn't be able to recover from the disease.
"I was just worried … in a state of (worry)," Vance said.
Moore, 37, had back surgery in January. While she was recovering, Vance traveled back and forth from her apartment in Columbus to her daughter's home in Caledonia before deciding to move in until April. Vance took her grandson to live with her over the summer while her daughter remained in Caledonia.
When COVID-19 hit, Moore limited herself to only attending semi-frequent doctor's appointments for pain management, meeting with surgeons and orthopedic doctors. On the day Moore first felt sick, she had just come from the doctor.
"Later on she just called and told me she was feeling bad and she was going to go to the hospital. She went to the hospital, had tests did, and after that they told her about the COVID. One day later, she couldn't breathe," Vance said.
Vance, 64, was surprised to hear her daughter's COVID-19 diagnosis because "she didn't go anywhere." Vance purchased her daughter's groceries, leaving them on the steps of her home. Moore was especially careful because she had lupus, high blood pressure and kidney issues, all listed as underlying conditions that put individuals at higher risk of contracting a severe case of COVID-19. Even death.
These are conditions that also disproportionately impact Black Mississippians. Hypertension is the leading underlying condition among COVID-19 deaths for Black Mississippians, attributing to 844 deaths as of Nov. 29.
"She knew she had a low immune system. She knew she had other illnesses, so she just stayed in. She did not go anywhere," Vance said.
Underlying health conditions run in the family. Vance, a Chicago, Illinois native, originally moved to Mississippi in 1975 after receiving a diagnosis for rheumatoid arthritis, a chronic inflammatory disorder that causes joint pain. A doctor advised her she might feel better in a warmer climate, and she initially called Holly Springs home before moving to Columbus in 2000. The move was a straightforward choice for Vance's family; they often visited the area during United Negro College Fund banquets and liked the area, and since her husband was from West Point, it wasn't far from his home.
Her daughter was a senior in high school when they moved, and she graduated with honors from Columbus High School before attending the Mississippi University for Women. Vance worked as a fifth grade teacher until she retired, and her daughter followed in her footsteps by becoming a special education teacher.
Moore "did everything," her mother said: She was a youth minister at Fourth Street Missionary Baptist Church, taught Sunday school, sang in the choir and worked with the youth choir. Moore was part of a lupus group and liked to attend lupus events, and she often worked with Relay for Life.
Moore was also the mother to her 12-year-old son, Devaun Rolle, often prioritizing her son's education. She moved to Caledonia because she thought the county school would be less crowded than the city school she initially enrolled him in. She moved into a home initially owned by Rolle's father, Derrick Rolle.
"When COVID hit, I had to change a lot of stuff," Vance said.
She started staying in. Her own doctor's appointments moved to being mainly over the phone. Vance was accustomed to having regular doctor's appointments to treat her arthritis, but said during COVID-19, she was unable to get her regular treatment so her arthritis "got out of hand."
"It's still out of hand, and so it changed my routine a lot. Then I had to be running back and forth down here, had to drop groceries off, had to drop off house supplies," Vance said. "It had me doing a lot of running, trying to stay safe, and then trying to do what I needed to do too, that was hard. That was hard. I still haven't got back out there full force."
Despite Moore's best efforts, she contracted COVID-19 and was in the hospital the entire time she battled the disease. Vance had to take care of everything for her grandson, and her life instantly changed. She now was responsible for getting her grandson to school, and she moved from her own apartment in Columbus to her daughter's home in Caledonia so he wouldn't have to change schools.
After Moore died, her family fixed their attention on burying her. Though she had insurance, Moore said the family couldn't access those funds. Since Moore only had the policy for about two years, and her son was the primary beneficiary, the money was put in a trust fund. Moore's paternal and maternal extended family paid for the funeral themselves out of pocket. The family opted for a graveside funeral service.
In the aftermath of her daughter's death, Vance has settled into a new routine as her grandson's primary caregiver. She began moving from Columbus to Caledonia in July, a slow process that is still ongoing. She spends most of her days cooking, cleaning and taking care of the house.
For Vance, her daughter's death is proof of the seriousness of COVID-19 and the need to be cautious. The Mississippi State Department of Health has warned that hospitalizations have reached a record high in Mississippi, with 1,008 COVID-19 hospitalizations reported among patients with confirmed infections and 107 with suspected infections as of Nov. 29. ICU bed occupancy is also high – 238 as of Nov. 29.
Even with her daughter's underlying conditions, Vance never imagined Moore would be among the thousands of Mississippians who have succumbed to the disease.
"I would have never thought in a million years it would have got my daughter," Vance said. "This COVID is for real. (The community) need(s) to wear their mask, they need to social distance, take care of themselves. Stay in if you don't have to go out, and when you go out, make sure you protect yourself. Protect you, yourself, your children, your husband, your wife, everybody."
Vance notes that COVID-19 has affected her grandson's education. When the virus first hit in March, Rolle's school sent students home with school packets to turn in. While Rolle is back to attending physical classes, his school has taken a hybrid model where he attends school in person every day except Wednesday, when he completes work online. On days they do have in person class, students wear masks and social distance. While his school provided him with a computer to complete his online work, Vance said they don't have internet access in their home and often have to travel to her place in Columbus to complete it there.
The emotional consequences of her daughter's death remains. Her grandson has experienced tragedy several years before when an aneurysm killed his father, Derrick Rolle, in December 2018. He was only 36 years old.
With the death of his mother, Vance said her grandson undergoes weekly grief counseling, while she relies on a combination of prayer, true friends, her sister and family.
Vance said she's received community support and has a support team in Caledonia who helps pick her grandson up from school, helps him with his homework, helps Vance with house upkeep, cutting the grass, keeping up the lawn and bringing groceries. Since her daughter bought the home outright, Vance doesn't pay any rent, but she notes there has been one woman who has been paying the utility bill ever since she moved here.
That support team has been crucial, Vance said.
"It really helps having my family and my support team to help me," she said. "It's just a joy. It's just a tremendous help. It means a lot to me, because some of the stuff they help me with, I don't even know if I'd be able to make it if I didn't have their help with it."
Even with the support, there are days when her daughter's death lingers hard on Vance. In some ways, Vance feels like she hasn't even really seen or dealt with COVID-19 since her daughter was in the hospital the entire time she had the virus.
There's a sense of unreality about Moore's death, even as Vance struggles with the very real consequences of it.
"I never did even get to see her. I don't even know what she looked like … after she passed," Vance said. "My thing is me dealing with the death, dealing with her gone. Now, that's been hard, and I'm still dealing with it, but I'm hanging in there."