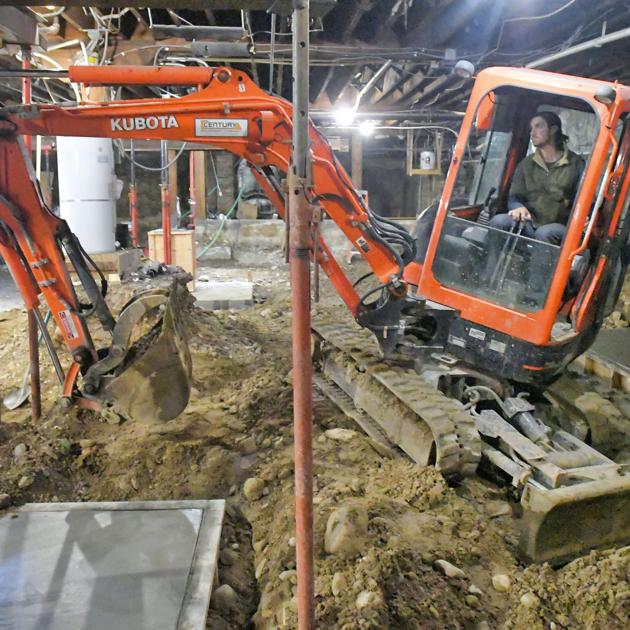 Digging downtown: Renovated building to feature brewpub, concept eatery | Local News
Residents hoping for a more vibrant nightlife in downtown Logan will be able to check
Residents hoping for a more vibrant nightlife in downtown Logan will be able to check several items off their wish list when a historic building renovation is completed this summer.
The 121-year-old building at 25 W. Center St. that currently houses The Waffle Iron and The Crepery restaurants will have two additional tenants: Logan's first brewpub plus an international food court with seven separate open kitchens and food providers. Space will also be available in the renovated and expanded basement for what developer Tony Johnson envisions as a "speakeasy" style tavern, though no tenant has committed to move there.
The two new businesses, Prodigy Brewing Co. and the Center Street Urban Market, are both already advertising online, and their names appear on Google Maps.
Johnson, who has done several historic renovations in Logan — most notably the conversion of the old Borden condensed milk factory on 300 South into apartments and offices — owns the Center Street building and is spearheading the renovation. He said the two new tenants could begin operations as early as mid-July.
"It seems like Center Street is really starting to come alive with a lot of interest in this building as well as other buildings on the street," Johnson said. "And it's the right time. The mayor (Holly Daines) has done a great job obviously with the improvements that were done on Center Street, and there is a lot of momentum downtown."
As with his other recent renovations, Johnson is getting some tax relief though a National Parks Service program set up to encourage historic rehabilitation projects. The building at 25 W. Center St. was constructed in 1900 and was the original home of the Consolidated Wagon and Machine Co., which built horse-drawn wagons and farm implements. Many locals will also remember it as the longtime home of Glauser's Restaurant.
Major elements in the renovation include lowering the basement by three feet with new footings and columns to support the structure; construction of a "building core" on the north side that will accommodate an elevator, staircase and restrooms; and adding a rooftop garden.
The brewpub will occupy the space currently held by The Crepery and include outdoor seating in the alleyway just east of the building, while The Crepery will move to the middle space formerly occupied by Belle Bridal and Formal Gowns. The Waffle Iron will stay in its spot on the west side of the building, and the food market will go on the second floor. The basement and rooftop will be used in various combinations by the tenants.
"We will be opening up a chunk of the main floor in the building so that you are able to see down into the basement space and be able to then see the tanks and other equipment that's utilized in the brewing process. It's actually quite intriguing how that all works," Johnson said.
Prodigy Brewing is a joint venture of Utah State University business professor Jason Smith and two longtime friends from the Midwest, a pilot and a dentist. Specific brews and menu items are still being developed.
"The founders are simply investors and owners. We will have a chef, and we're in the process of finalizing that hire right now. The menu will be upscale pub fare, a pretty limited menu, and then we hope to have a separate kind of late-night menu as well," said Smith's wife, Kristin, who is handling publicity for the brewpub.
There are no current plans to bottle and market Prodigy's craft beer in stores, although it could be sold to other restaurants in the valley, Smith said.
The Center Street Urban Market is a project dreamed up by USU women's tennis coach Sean McInerney, who has enlisted USU softball coach Steve Johnson to be his vice president of operations. McInerney describes the market as "not like a food court because it's a little bit more high end" and says although each eating area will have its own unique design, customers will be able to order dishes from any of the kitchens at their table.
All of the kitchens will be run by already-successful vendors. The list so far includes Romo's Mediterranean Grill, Urban PI Artisan Pizzeria, Pollo Azteca, Stacked Pancakes, and Stirs, a cereal restaurant started in Midvale. The market will also have an American-style bistro and a "Lantern Room" with a sushi bar.
"Most restaurants have to buy too much space. What they truly love is the idea of cooking and preparing and doing what their passion is, and so we're taking that out of their hands, and we're letting them just pay for the space they use to produce their food menu items, which gives you a high-level food product," McInerney said.
The tennis coach, who moved to Cache Valley from Milwaukee three years ago with his wife, Maggie, said one of his motivations for starting the urban market is to help make downtown Logan more vibrant, and toward that end he also hopes to stage comedy nights, mystery theater presentations and other entertainment at the new business.
But his vision doesn't stop there.
"I want to bring Center Street back to Logan as a social district," he said. "I'm actually meeting with Mayor Daines and the director of economic development this week, because I want to create an entire Center Street social district where there are trolleys that run there, where people can hop on and hop off and really help the businesses."
The opening of a brewpub downtown has been talked about in Logan for years and seen as a key element in making the district more in step with the times. Proponents have argued it would attract people at night and give the theater and concert crowds somewhere to go after shows. Kristin Smith said Prodigy Brewing's owners still haven't decided on closing times.
Until 2008, city law prohibited commercial beer production like that undertaken at brewpubs. After the law was changed, the Logan Downtown Alliance reported being contacted by several of Salt Lake City's popular craft-beer producers about a possible move to Logan, but it has taken another 13 years for a brewpub project to come to fruition.
Smith said Prodigy has secured a Logan liquor license along with city and federal consent for the brewing operation. They applied this week for a state manufacturing license.