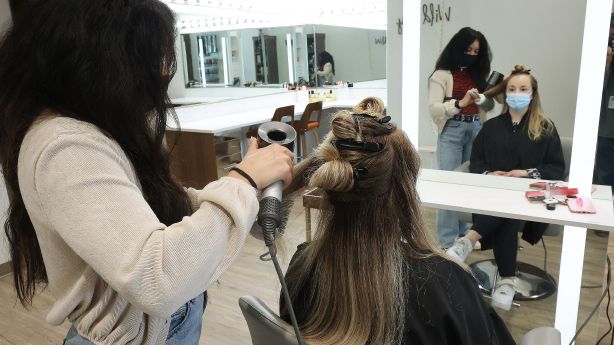 Do Utah licensing laws discriminate? Experts say many licenses unnecessary
Kyra Scott, left, styles Cassie Stringham's hair at Wild Ivy Blow Dry Bar in American
Kyra Scott, left, styles Cassie Stringham's hair at Wild Ivy Blow Dry Bar in American Fork on Jan. 28, 2021. After a debate during this year's legislative session about whether hairstylists should be able to blow dry and style hair without a license, national and local experts are weighing in on occupational licensing reform. (Jeffrey D. Allred, Deseret News)
SALT LAKE CITY — After Gov. Spencer Cox's first executive order called for state agencies to review all professional licensing requirements, both the University of Utah and Utah State University are looking at potential moves lawmakers could make to pave the way for more Utahns to enter the workforce.
Laws too often become "cluttered messes" that close down opportunities for people to work, said Josh Smith, research manager with the Center for Growth and Opportunity at USU, during an online symposium co-hosted by the universities on Thursday.
Cox's executive order requires all state agencies to review all occupational licenses to remove unnecessary barriers and limit government regulation. The agencies are tasked with submitting recommendations to the governor by June 30. In response to Cox's order, lawmakers during the recent general session debated a handful of bills that proposed removing licensure barriers for those in fields ranging from hair care to health care.
Ed Timmons, an economist at St. Francis University and a nationwide adviser on occupational licensing, noted that an estimated 16% of workers in the state hold licenses to work in their fields.
"And just to think of that in terms of other labor market institutions, about 1.5% of workers receive the minimum wage nationally. And think about all of the time and the oxygen that gets devoted to that topic (compared) to occupational licensing," Timmons said.
He said professional licensing "has consequences for workers" and consumers. It raises the prices of services, Timmons said, and can create labor market insufficiencies.
In the 1950s, about 5% of workers were licensed, he said. That means Utah has seen a "threefold increase" in the percentage of workers that need licensing. Doctors, dentists, lawyers and those in similar fields are understandably licensed, he said, but stringent requirements have been spread to other occupations where the benefits are "hard to justify" in fields like barbering, massage therapy and genetic counseling.
Advice for lawmakers discussed
Timmons encouraged a "fresh start initiative" that would allow an independent entity to review occupational licensing in Utah and come up with a list of recommendations for lawmakers.
"And legislators would only be able to vote on the entire package, and this would hopefully insulate the process from certain professions or certain reforms being carved out," Timmons said.
Professional licensing boards, which govern requirements, often present conflicts of interests as they are mostly made up of industry members, Timmons said.
Smith noted that 75% of licensing boards in Utah are "dominated" by members of the industry they represent.
Board members "stand to potentially face some losses if licensing laws are removed or licensing laws are significantly scaled back," Timmons said.
It's not enough to make sure members of the public have seats on licensing boards, as members of the board who have a vested interest in the industry are more likely to participate in decision-making, Kleiner said. More government oversight of boards also needs to take place, he said.
Utah leaders should also strengthen the state's sunrise examinations — reviews that take place within a certain time frame of a new law's passage — to make sure that the appropriate regulatory measures get used from the onset, according to Timmons.
"Because once licensing's on the books, it's extraordinarily difficult to remove," he said.
Timmons urged lawmakers not to think of licensing as the only form of regulation. In many cases, licensing requirements have been written "as a tool of keeping disadvantaged individuals out," he said.
For example, some licensing laws require that applicants meet English proficiency standards, or that they pass an exam that's only written in English, according to Timmons.
Traditionally, people with criminal records have also not been allowed to practice. Even if they've faced minor, misdemeanor charges, they've been kept out of entering fields that require professional licensing, said Morris Kleiner, professor and a chairman of the Humphrey School of Public Affairs at the University of Minnesota.
He said his university is looking at changes in statute over time affecting criminal records, as well as the idea of giving people a second chance to enter licensed fields.
Lawmakers should also look at removing geographic barriers to workforce entry and allow those who received their license in another state to practice in Utah, according to Kleiner.
Cosmetology industry case study
During the recent general session, a heated debate arose about whether those who only blow-dry and style hair should be able to do so without a license. The bill prompted outcry from the cosmetology industry, which contended it would risk the public's health and safety. The Legislature passed a compromise bill that requires those who want to work without a license to undergo health and safety training.
Michael Bednarczuk, senior research analyst with the Institute for Justice, performed a study on the cosmetology industry in Utah. He said the requirements do not appear "to help students or the public."
"If anything, it's only helping cosmetology schools," Bednarczuk said.
Utah's requirements for gaining a cosmetology license include 1,600 hours of education and the passage of two exams. But Bednarczuk said his team found that many cosmetology schools "do a poor job of graduating students on time, or even graduating them at all."
The costs of attending the schools "rarely pay off" in earnings after graduation, he said, and data suggests that state licensing requirements serve as a main driver of the length of programs.
"Mandating that aspiring beauty workers complete costly and lengthy schooling might make sense if it were essential for public safety, but there are good reasons to think it isn't," he said, explaining that most services are safe.
State law also doesn't specify how much time cosmetology schools should devote to health and safety, according to Bednarczuk, and some schools spend "just a few hours" covering health and safety.
Issues with the cosmetology industry in Utah align with nationwide observations, the researcher said.
Bednarczuk urged lawmakers to look at niche practices that can be exempt from licensure and praised the Legislature for recently allowing those who only blow-dry or style hair to work without a license.
×
Related Stories
More stories you may be interested in