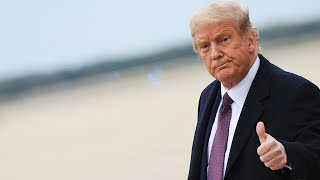 Donald Trump heads to hospital after testing positive for coronavirus
Since March, Mr Trump has taken a relaxed approach to the pandemic – so it
Since March, Mr Trump has taken a relaxed approach to the pandemic – so it may come as no shock that this translated to his staff.
The first set face masks were delivered to the White House in February, as the virus began to spread from Wuhan, but some West Wing staffers allege they were discouraged from wearing them.
"If you have the whole West Wing running around wearing masks, it wasn't a good look," one administration official told CNN. 
According to the anonymous official, the West Wing wanted to "portray confidence and make the public believe there was absolutely nothing to worry about". 
Others have claimed that a memo to White House employees from May, ordering them to wear masks in the building except when sitting at their desks, has been largely ignored. 
The president's own family have also often taken a largely lax approach to mask wearing.
During Tuesday's debate, First Lady Melania was spotted wearing a white mask, but no other member of the Trump family in attendance, including the president's children Ivanka, Don Jr., Eric, and Tiffany Trump, opted to.
Before testing positive, White House staffer Hope Hicks was also seen without a mask as she boarded Marine One on Wednesday. 
She walked to the president's helicopter with fellow top presidential advisers, such as Stephen Miller, Dan Scavino and Jared Kushner, who each also neglected to wear one.