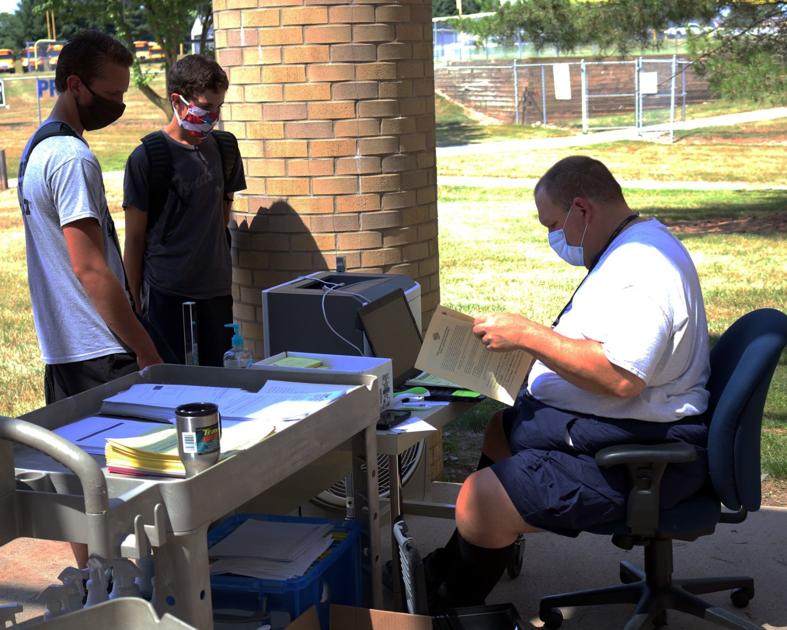 Fairfield AD Mark Hofer in hospital due to COVID-19; 'I'm lucky to be alive' | Sports
ELKHART — Fairfield Athletic Director Mark Hofer is currently in the ICU unit of Elkhart
ELKHART — Fairfield Athletic Director Mark Hofer is currently in the ICU unit of Elkhart General Hospital battling COVID-19, he confirmed in a phone interview with The Goshen News Monday afternoon.
Hofer said he was "lucky to be alive." He also said, depending on how much medicine doctors will need to administer to him, he hopes to be home in three to five days. After leaving the hospital, though, Hofer will have to remain on blood thinners, meaning he will be away from his job for an indefinite period of time.
"It's been scary," Hofer said. "Quite honestly, there's some things that I have to evaluate in my life, in terms of what I'm doing. I mean, I'm 58 now. There are just some things I have to look at pretty closely; I'm not exactly Tiny Tim, obviously, although through this — if I'm looking at the weight correctly — I've dropped about 30 pounds since I started this. Not that I recommend that as a diet plan."
Hofer detailed how the situation developed to where he ended up in the hospital late Saturday night. He said he was a close contact of someone who tested positive for COVID at the beginning of the month, forcing him into quarantine. After a few weeks of not showing any symptoms, Hofer started developing a serious fever. He went and took a COVID-19 test Oct. 13. On Oct. 16, Hofer's results came back positive.
Along with Hofer testing positive, his wife, Joyce, and two of his children also tested positive. The family set up Hofer's room as an isolation spot for him.
Things didn't make a serious turn south until this past Saturday, Oct. 24, when Hofer fell in his room.
"I had a rough time this past Saturday," Hofer said. "I don't know what exactly happened, but during the morning, I completely passed out in my bedroom. It took probably about a half hour before I could get ahold of my wife in the living room and let her know what was going on because I was on the floor. I still don't know what exactly happened."
Instead of going to the hospital right away, Hofer decided to stay home. He listened to the Fairfield volleyball regional games online, and following the conclusion of the regional championship game at night, he started experiencing the same feelings he had in the morning.
Joyce called 911. Hofer was taken to Goshen Hospital.
"I don't want to say I went blind; it wasn't that, but I could not see," Hofer said of his experience Saturday night. "All I could see were the bright yellows, reds, greens — I could not see anybody. EMS was phenomenal; they got me in there fast. They did C.T. scans because I thought I may have had a concussion, but they also did it on my chest."
Doctors found a large blood clot near Hofer's lungs, which inhibited his ability to breathe. They wanted to move Hofer into ICU, but none were available at Goshen Hospital. Fortunately for Hofer, a room was available at Elkhart General Hospital. Hofer was rushed over there early Sunday morning and put into ICU.
"Before we left, they put a line from my groin up to my heart so they could give me some special clot-buster medicine to try and break the clot up," Hofer said. "My breathing, by that point, was much, much better in terms of the oxygen they were giving me. My blood oxygen level when I left home was around 85, which is not good. By the time I was at (Elkhart), it was up to 100. So, very lucky."
Hofer said he's had a problem Sunday night because doctors have him on blood thinners, which is leading to some bleeding issues. One of his hands is swollen as well from hospital staff trying to place an IV into it. He said the pain was near a 9.5 out of 10 before doctors helped bring down the swelling.
Doctors told Hofer that he may have had a heart attack Saturday, which led to all of the issues. If it wasn't for his wife calling 911 at night, things could've gotten potentially fatal for Hofer.
"They told me (Monday) that if my wife had not called 911, there's a decent chance I would've died," Hofer said.
Assistant Athletic Director Tim Fritz will serve as the interim AD in Hofer's absence.
Hofer is the second local athletic director to be sent to the hospital this year due to COVID-19 complications. West Noble High School AD Tom Schermerhorn was put on a ventilator back in April following his positive test, but was able to recover and make it home after a few weeks in the hospital.
Both Fairfield and West Noble play in the same conference, so Hofer and Schermerhorn have gotten to know each other over the years. Hofer said Schermerhorn has been a big help these past couple of weeks, along with everyone else in the Fairfield community.
"We've talked quite a bit, even since I've been in the hospital," said Hofer of Schermerhorn. "He's probably one of the guys I'm tightest with within the AD community. But everyone's stepped up and sent me messages and prayers. It means so much."