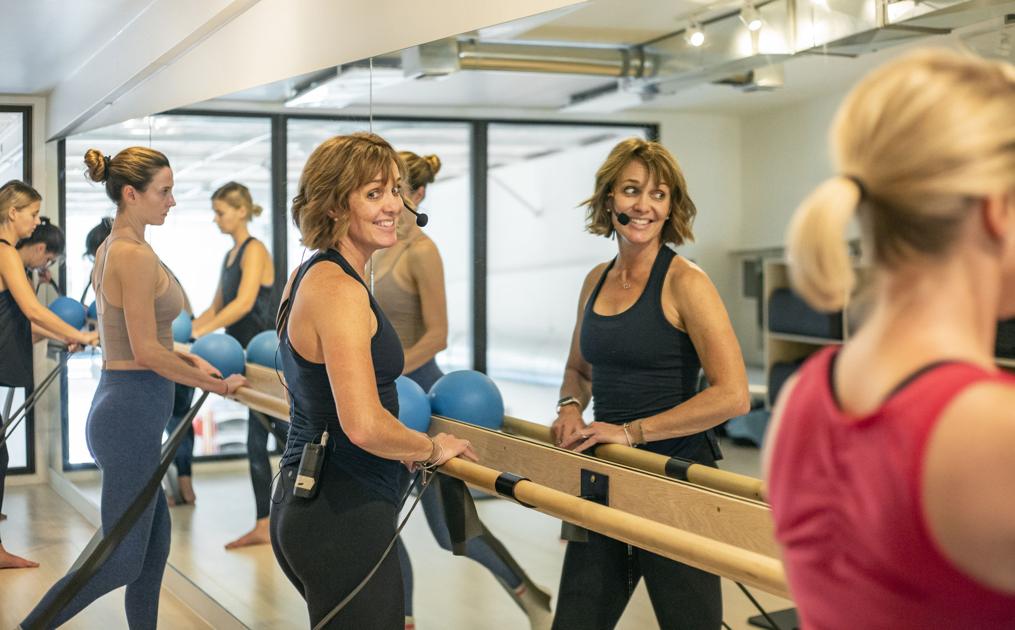 Fitness companies pivot | Jackson Hole Woman
E ven in the best of times, owning a yoga studio or a fitness gym
E ven in the best of times, owning a yoga studio or a fitness gym is rarely an economic windfall.
Due to the changes wrought by the coronavirus pandemic, many of these businesses are now struggling to stay open, even as the community and physical well-being they offer is seen as more important than ever before.
"This industry is a hustle," said Julie Guttormson, the owner of VIM, a group fitness gym in Jackson. "You don't just go to work and people come knocking on your door. It is a constant hustle."
Guttormson has been teaching group fitness classes for 28 years. For a long time it was a hobby. She worked in a corporate job until almost a decade ago, when she had a stroke. At that time she decided to shift her focus, centering fitness in her life again. She opened her first fitness studio, Revolution Indoor Cycling, in Jackson in 2012 and rebranded the business as VIM last fall.
For most of Guttormson's current instructors and for herself before she owned the business, teaching group fitness classes was one of many jobs she held because it was worth it. One of her instructors is also a lawyer, one owns her own business, some are mothers and many are young women living in Jackson working three jobs and trying to make VIM fit as their fourth.
"They all make time because it is somewhat of a win-win," she said. "It's a self-serving job because we love what we do and it brings joy to other people, but it also brings joy to you."
For Carey Clark, owner of Core Changes in Jackson, being able to share the joy and well-being she gets from fitness classes with her students is a big part of why she loves the job.
"It's never just about the money, it's about how you make people feel," Clark said.
In the yoga industry, too, deciding to pursue a career as an instructor is more about following a passion than a paycheck, said Neesha Zollinger, the owner of Akasha yoga studio in Jackson. She has been teaching yoga for over 20 years. Before becoming a mom and owning Akasha, Zollinger supported herself in her yoga career by traveling to major European cities and teaching yoga workshops.
"If you want to be making money in yoga, you have to be on it," she said.
Innovating in uncertain times
In March, when yoga studios and gyms in Jackson and across the country closed their doors to slow the spread of the coronavirus, the challenges of owning a small fitness business took on a whole new level of urgency.
In the six months since, each of these women has had to change how she does business in order to stay afloat and stay true to the original mission of her work.
"We're all getting very used to pivoting," said Louise Sanseau, the owner of Inversion yoga studio.
As the initial dust of quarantine and closing up shop has settled, yoga studios and gyms are now having to look to winter, thinking about how to weather not just a couple of months but the foreseeable future.
Sanseau had the additional challenge of moving Inversion to its new location at the end of March. Since then Inversion has diversified the kinds of classes it offers, adding Pilates and conditioning to the schedule. And like most studios, it is offering online classes as well as smaller in-person classes.
For Sanseau and many others, transitioning to online classes is an imperfect solution. Trish Fairbanks, owner of Pursue fitness gym, said it would be fairly easy for her to post videos of her workouts online for her students to do from home, but that doesn't allow for the dedicated education and individualized training that Pursue is founded on.
"The human interaction alone is so valuable, and being able to see the nuances of what's going on in the body – you can't see that over a computer screen," Fairbanks said.
Most of her classes are full and have a waitlist, but she can't safely increase the class sizes, nor can her staff accommodate more classes each day. Pursue has an open gym that gives its members 24-hour access to workout space and equipment, which she hopes will take some pressure off the group fitness classes.
Adi Amar, owner of the Teton Yoga Shala, is also questioning how well online yoga classes replace hosting classes in person.
"There is a significant amount of people that just don't resonate or gravitate to the online method, and teaching yoga online is also questionable," Amar said. "We have to really be responsible leaders if we're offering this work online, and there are natural challenges that come with that platform."
While many people think of yoga as the postures, the traditional yoga teachings include seven different aspects beyond the physical poses, ranging from meditation and breath work to suggested moral guidings and dedicated study of oneself. These more nuanced elements of a yoga practice are harder to provide over Zoom.
Starting before the coronavirus outbreak, Amar and the instructors at the Teton Yoga Shala taught a significant number of private and semiprivate yoga classes, and they are looking to that option more now to help pay the bills.
Even as it becomes harder to sustain their businesses, these women are more committed than ever to doing so.
The community connection and physical well-being that drew them to make careers out of yoga or group fitness decades ago are still convincing them today.
"People need to find joy now more than ever," Guttormson said.
Coming to a group fitness class offers the physical benefits of exercise but also the emotional benefits of seeing friends and accomplishing something hard with a community around you, she said.
"For many people it could be the best time of their day," Guttormson said. "I hold that very sacred, because it's so much more than just giving a kickass workout."
The physical yoga practice is important, Amar said, because moving through yoga postures releases certain endorphins and neurotransmitters that help improve people's moods.
"But I am seeing people, especially right now, very curious about the internal practices, because people are so stressed, and people are suffering from so much anxiety," she said. "With the uncertainty of this world right now, I think people are really starting to seek an internal steadiness and an internal pleasantness that can really be experienced through breath work and meditation."
At Inversion, Sanseau is seeing more people gravitate toward her Bikram and Ashtanga vinyasa classes, as well as the meditation and yin yoga classes. These modalities revolve around the same postures each class, so they are dependable and steadying, she said.
"People are desiring an antidote to this manic world," Sanseau said.
At VIM, Guttormson has also witnessed a change in what her students value right now.
"That's the interesting part about coaching right now, is everyone is just happy to be there," she said.
"Nobody walks in and is like, 'This better be the best damn workout ever or I'm never coming back.' They're just so happy to be with people and in an environment that they feel comfortable in."
The studios are important gathering spaces, Zollinger said, and the yoga teachings themselves can help people weather challenges.
"These are hard times," she said. "And [the yoga] is not just to stick our heads in the sand and get away, it's actually to get stronger so we can look in the face of adversity and show up with light in the world."