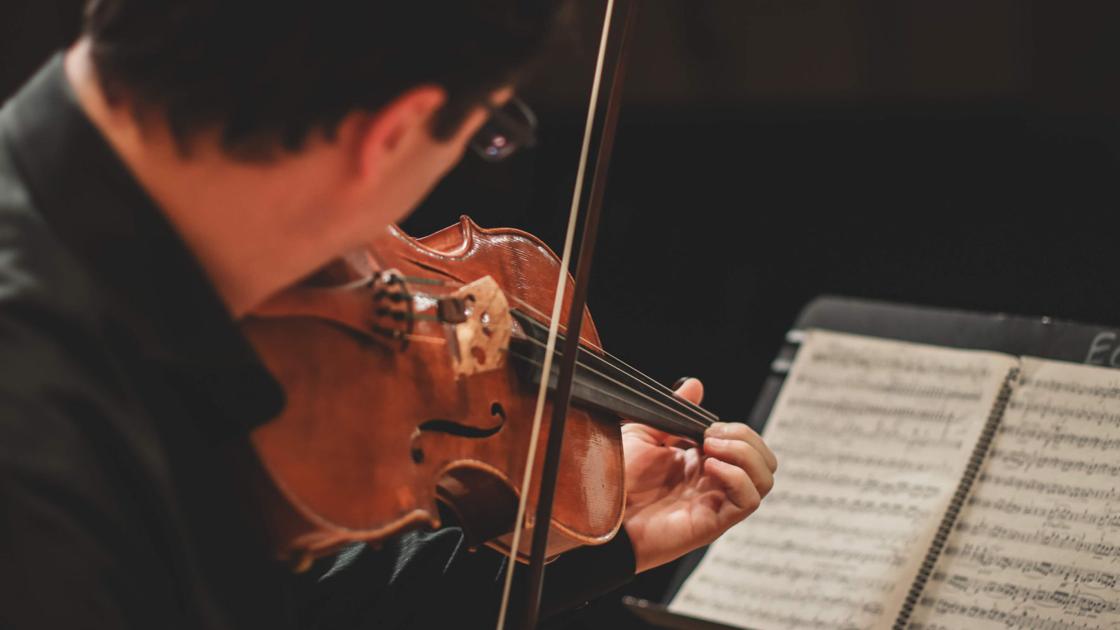 Four Seasons Chamber Music Festival opens virtual season | News
The shift from in-person to online events during the 2020 pandemic is taking the annual
The shift from in-person to online events during the 2020 pandemic is taking the annual Four Seasons Chamber Music Festival from East Carolina University's Fletcher Hall to concert-goers' own homes.
In residence at the ECU School of Music, the festival has presented more than 330 public concerts and 550 master classes, including two performances at Weill Recital Hall at Carnegie Hall and a six-concert tour of Israel, over the past 20 years.
The change to a virtual format will allow the audience to interact directly with musicians performing in week-long residencies this fall, including a celebration of Beethoven's 250th birthday.
"We've worked hard to come up with a season that we think will be unbelievably exciting and full of great music," said Ara Gregorian, Four Seasons artistic director and ECU professor of music. "It's really designed to bring people into what we do as musicians and to have ways of interacting with musicians."
Each residency offers added extras ranging from backstage Zoom rooms where audience members can talk with artists to master classes with ECU students.
"Nearly all of our events have opportunities for personal interaction between artists and audience members," said John Holloway, managing director. "We feel like this is important because it helps eliminate the barrier between the audience and musicians, and has a special intimacy considering everyone is joining these sessions from their own homes."
Residency events include:
Children's shows in partnership with The Concert Truck , a mobile concert hall for classical music;
Next Gen Day — master classes featuring ECU students performing for guest artists;
One-on-one interviews with artists that are audience-led;
FS In Depth — Similar to a lifelong learning course, but in a less academic way, the audience can listen to more iconic pieces and artists;
Insight into the repertoire being performed and designed to help listeners enjoy the concert more;
Virtual Backstage — audience members can join Zoom rooms immediately following concerts to talk with musicians and ask questions.
This year, there's a special focus on Four Seasons Community, an initiative that aims to make music accessible to everyone, Holloway said.
The Four Seasons Community includes a mini-series with The Concert Truck as well as a partnership with Lullaby Dreams, led by ECU faculty member and Four Seasons violinist Hye-Jin Kim, which provides music and storytelling to patients at Maynard Children's Hospital.
Additionally, concerts are available on demand in all patient rooms at Vidant Cancer Care and on LCD screens throughout the Greenville hospital.
Remaining Fall 2020 Events
Oct. 25-Nov. 1: Oktoberfest – Nightly miniature concerts, courses, events and classes.
Nov. 15-22: Four Seasons Features – Beethoven Turns 250, celebrating Beethoven's 250th birthday (December 1770); Concerts on Nov. 20 and Nov. 22, events throughout the week.
Dec. 6-13: Goldberg Variations; Concerts on Dec. 11 and Dec. 13, events throughout the week.
Tickets for the entire fall season are $120 per household. Individual residency tickets are $40 per household. Concerts take place at the Four Seasons digital concert hall.
Associate professor appointed to National Science Foundation
An ECU associate professor will serve as the director of the National Science Foundation's (NSF) Engineering of Biomedical Systems program, shaping the way the foundation funds biomedical engineering research over the next two years.
After a national search, ECU Department of Engineering faculty member Stephanie George was appointed to the program director position within the NSF's Division of Chemical, Bioengineering, Environmental and Transport Systems. The program provides opportunities for creating fundamental and transformative research projects that integrate engineering and life sciences techniques to solve biomedical problems.
The position allows George to make recommendations about which NSF research proposals receive funding.
"Working with the NSF offers me the unparalleled opportunity to impact my field's research enterprise on a national level and to engage with researchers and other agencies," George said. "I hope I can bring a unique perspective by offering knowledge of the challenges facing rural communities, particularly those in eastern North Carolina, and the impediments researchers face when reaching out to underserved populations.
"As a new researcher, I knew that the NSF funded basic science research, but I only thought of the NSF as a funding agency. As my involvement with NSF advanced, I realized the foundation was not just about funding science. It's about driving innovation, creating positive change, and investing in diversity and inclusion to produce better science."
George's appointment began on Sept. 14 and may be renewed for another two years after her first term is complete. George will remain in her faculty position with the university, with a grant from the foundation covering her salary.
George joins fellow faculty member Chris Balakrishnan in the program director role after the Department of Biology associate professor was tabbed for the position last year with the foundation's Evolutionary Process Cluster.
"The appointments of Drs. George and Balakrishnan to director positions at the NSF over the past two years is indicative of the stature of faculty at ECU and of the national recognition that they receive," said Michael Van Scott, interim vice chancellor for research, economic development and engagement. "Many ECU faculty serve in leadership roles both on and off campus, helping to shape the future through the generation, dissemination and application of knowledge and expertise."
During her 10 years at ECU, George's research has focused on applying engineering techniques to cardiovascular health, from understanding how the forces produced from pumping blood affects blood vessel walls to developing new imaging processes. Her research will continue during her appointment.
George has secured more than $2.3 million in funding during her research career, including $1 million as a principal investigator.
In addition to her role as co-director for the ECU biomaterials research cluster, George was the principal investigator for the university's Biomedical Engineering in Simulations, Imaging and Modeling Research Experiences for Undergraduates. The REU program exposes students to cutting edge research using advance computations models used in biomedical engineering.
Learn more about George's research work online.