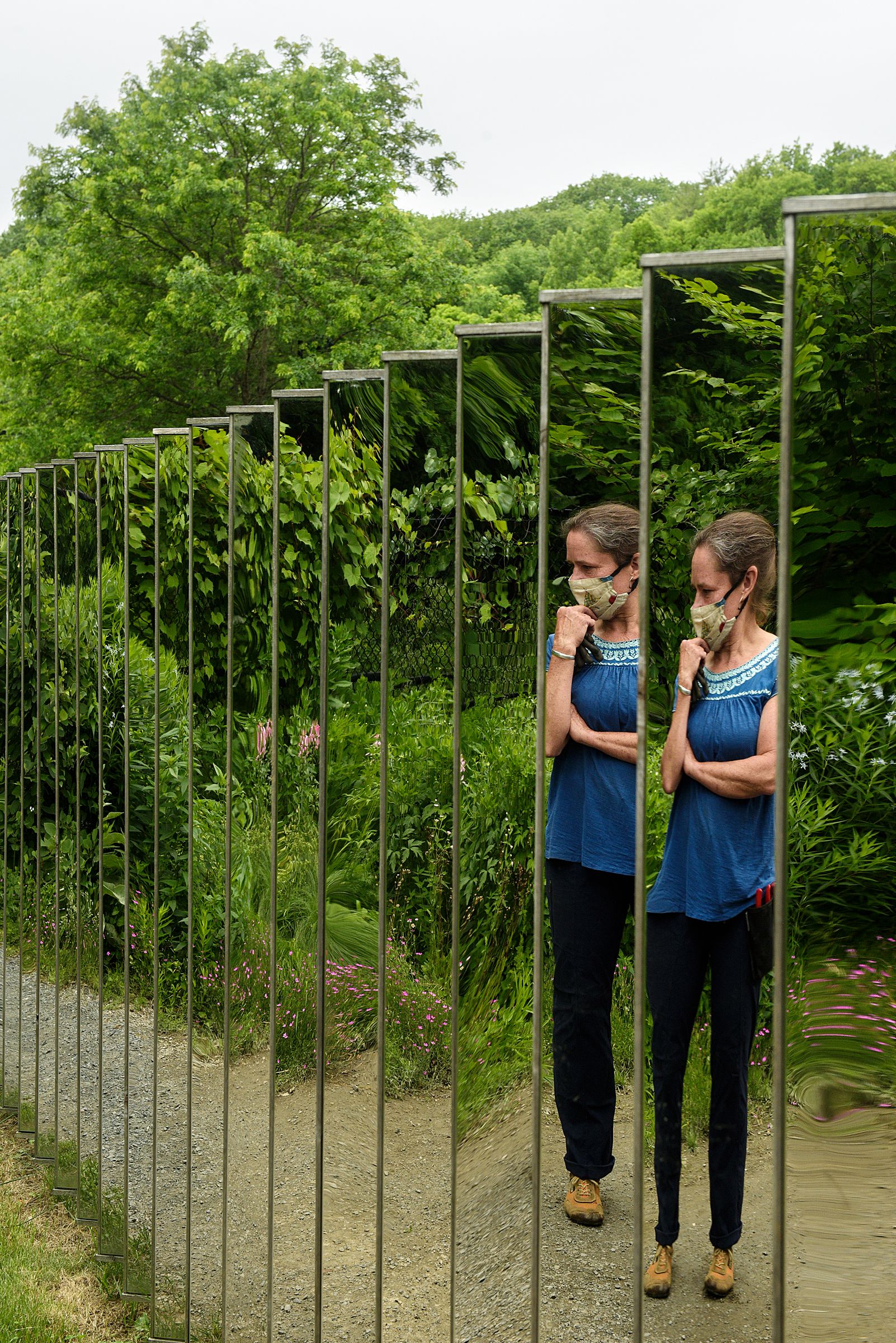 Growing better gardens | Enterprise
By FRANCES MIZE – Jul 16, 2021 Anne Fayen, of Strafford, is the horticulturist and
Anne Fayen, of Strafford, is the horticulturist and landscape designer at the Montshire Museum where she has worked for more than 10 years. Fayen was instrumental in establishing the museum's Woodland Garden of native plants and trees and has focused recently on outdoor exhibits adding plants to indoor spaces and exhibits. "I hope that I'm making an impact on how people perceive the landscape," she said at the museum on Friday, June 25, 2021. (Valley News – James M. Patterson) Copyright Valley News. May not be reprinted or used online without permission. Send requests to [email protected].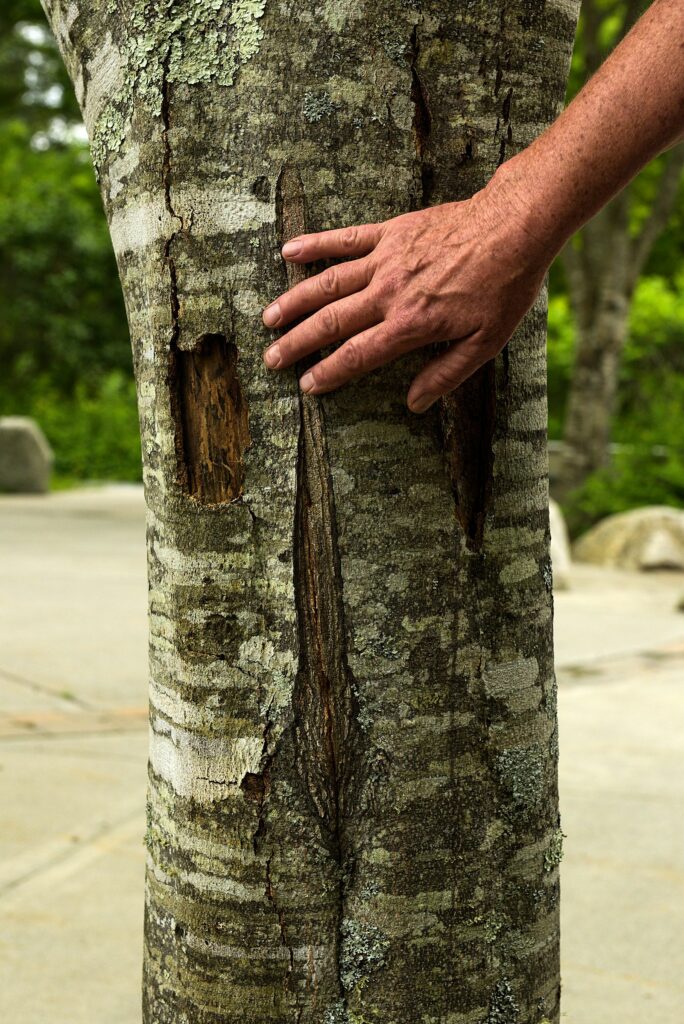 Anne Fayen, of Strafford, the horticulturist and landscape designer at the Montshire Museum, stops to touch the wounds in the bark of a yellowwood tree on the museum's patio in Norwich, Vt., Friday, June 25, 2021. "We think of these as kind of potted plants," she said of the yellowwoods ringing a paved area near the building. Recently, three of the trees were removed to allow others more access to nutrients in their limited space. (Valley News – James M. Patterson) Copyright Valley News. May not be reprinted or used online without permission. Send requests to [email protected].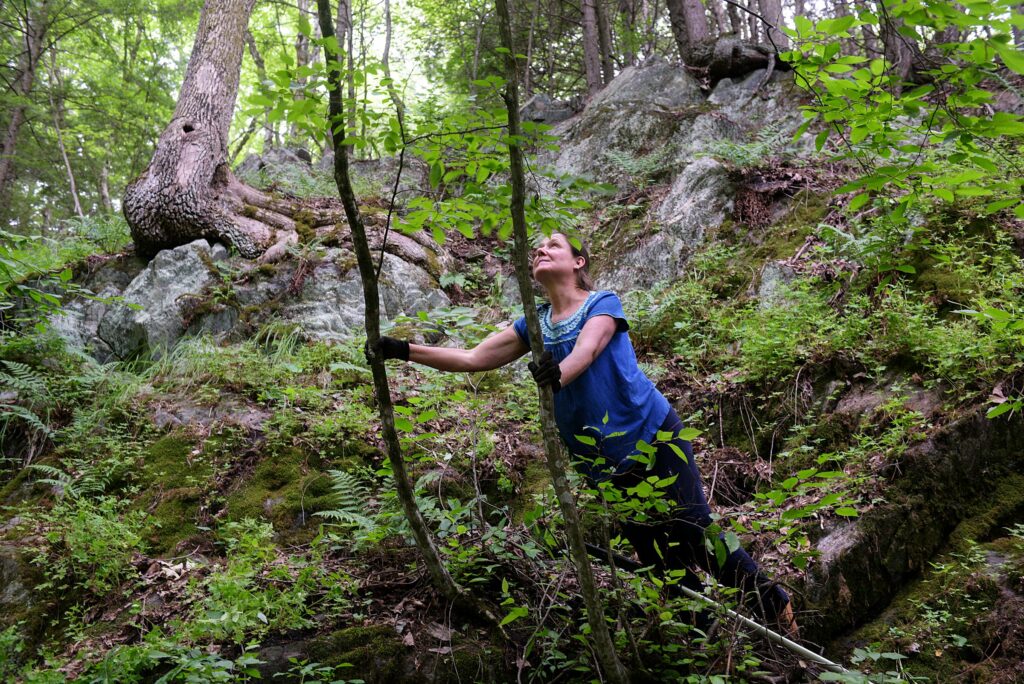 While working along the Montshire Museum's Woodland Garden trail, horticulturist and landscape designer Anne Fayen, of Strafford, tries to shake a caterpillar nest out of a tree in Norwich, Vt., on Friday, June 25, 2021. "I love that this is my job," said Fayen while climbing around the ledges to clean up fallen branches. (Valley News – James M. Patterson) Copyright Valley News. May not be reprinted or used online without permission. Send requests to [email protected].
Valley News Correspondent
NORWICH — Anne Fayen's most recent project is a hedge of tropical plants arranged in the atrium of the Montshire Museum of Science.
"I've always been wary of these kinds of potted houseplants," Fayen said. "They remind me of going to the dentist."
But this carefully considered display is nothing like the wilting decor of a waiting room. Fayen has worked professionally with plants for more than 40 years, and as an employee of the Norwich-based museum for around 10.
While her official title is now that of "horticulturist," Fayen started at the museum as the in-house native plant specialist.
Her first major design at the Montshire was the Woodland Garden, a walking path just off the museum's driveway created to aid visitors in identifying native plants and encourage their cultivation.
Farther into the property, the Grow Native garden features native shrubs such as witch hazel and black chokeberry as substitutes for invasives that homeowners might be tempted to plant, like the burning bush, which looks nice but can run wild and dominate a landscape.
In the past four years, the Montshire has spent on average $14,000 annually for horticultural supplies and gardeners. Over time the nature of Fayen's work has changed. Rather than orienting her time toward particular projects, Fayen started overseeing all 110 acres of the Montshire property. This included trails and general land management like forestry.
"The biggest challenge is just trying to get to everything that I want to," Fayen said. "Learning to prioritize."
Fayen's first piece of advice to home gardeners is to take stock of what plants are growing on their land.
"It's always helpful to know what you've got." Fayen then advises the same growing ratio that she pursues at the Montshire: cultivating around 70% native and 30% non-native plants.
While there is rarely much of a significant difference in cost between purchasing native and non-native species at a nursery, a native plant may be more likely to flourish — assuming that it is well-matched with the conditions of the garden.
"It is essential to add that healthy soil is key to the success of any planting," Fayen said. "I think the real reward comes in supporting the resilience of nature, and the very important work of mitigating habitat loss."
And in general, Fayen just wants to see fewer manicured lawns.
"Lawn is not serving nature," she said. "A nice way to think about it is if you just have a little bit of lawn, then you can really take care of it."
The museum's emphasis on native cultivation meant that Fayen also spends a lot of time thinking about invasive species.
"Initially, the message was that all invasive species are bad and you should go to any length to get rid of them. Now I see them as nature's response to a degraded landscape," Fayen said. "It's like a Band-Aid. Nature is just using what's there to get something going on the ground."
Apart from the help of Joan Waltermire, her native plants mentor when she first started at the Montshire, Fayen is self-taught.
"It was bottom-up. I learned from the plants themselves rather than being taught from an upper level."
Fayen began working with plants a few decades back on an herb farm in Norwich. "I very much have a love of plants that get used," said Fayen after mentioning burdock, a plant eaten in Japanese culture but that she is constantly battling to weed out of the Montshire property.
"I tend to be reticent about maligning a whole group of plants. I try not to get totally bent out of shape over things I can't control."
"I think of it like weeding a garden," said Fayen. "And I've got a big garden here."
Fayen also has been tapped to do landscape design alongside specific exhibits at the museum.
Most recently she arranged a series of prehistoric plants like royal fern and scouring-rush horsetail, sourced from nurseries like Claussen's Greenhouses in Colchester, Vt., and the Gardener's Supply in Lebanon. Edgewater Farms supplied selections for an exhibit she curated about pollinator plants.
Prior to taking a job with the Montshire, Fayen did private landscaping, "but I love to work in a more public way," she said. "Now more people can benefit from what I do."
"In a wild space, having evidence of human intentionality is what helps make it a garden. I'm not altering much. I'm just accentuating what's already there."
Frances Mize can be reached at [email protected].