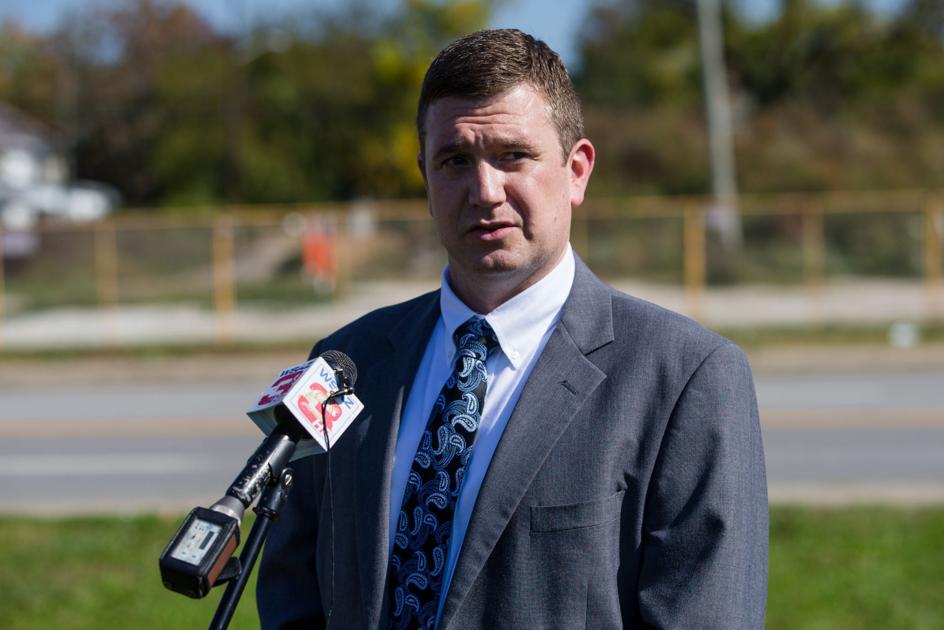 Hal Greer Boulevard Corridor Management Plan moving forward | News
HUNTINGTON — Calling it a major first step for the Fairfield area of Huntington, a
HUNTINGTON — Calling it a major first step for the Fairfield area of Huntington, a management plan to improve the Hal Greer Boulevard corridor between Washington Boulevard and 3rd Avenue is moving forward, Mayor Steve Williams said during a news conference Wednesday afternoon in the grassy lot behind White Way Cleaners.
"This project is a giant boulder being dropped into the Fairfield neighborhood," Williams said. "It is only fitting that Hal Greer Boulevard, which is the main artery to downtown Huntington and Marshall University, receive needed improvements to enable and support the coming Fairfield community revitalization so that it is safer for all users."
The plan's goal is to make it safer for motorists, pedestrians and bicyclists and more conducive to redevelopment, Williams said.
"It's going to enable other development to occur," he said. "But we must get this done first."
The plan calls for realigning of portions of the roadway, widening of sidewalks, installation of new lighting, reconfiguration of stop lights, elimination of two stop lights, construction of a pedestrian crossing near Cabell Huntington Hospital and the addition of a two-way cycle track, which will be protected from traffic by additional parallel parking.
Fairfield neighborhood leaders and residents said the improvements are much needed.
Tonia Kay Page, current city councilwoman for the Fairfield area in District 5, said there were three priorities for the community.
"The safety of our children crossing the street was No. 1," she said. "They are supposed to be widening the sidewalks, they are supposed to redo the traffic lights and they are also supposed to put better lighting in our area because this is a main road. Sometimes when you are coming in, it's hard to even see where you are at. Those were the three main things we looked at, and now that they are getting done we are happy because it will be safer to walk up and down 16th Street."
Sandra Clements, a former city councilwoman for Fairfield, said the beauty of the project is that residents were involved.
"This is truly a community-led project," she said. "Everyone had an opportunity to take a look at the project and offer input. I am very happy that we had the community involved so that they can become a part of what will happen in the future."
During the formation of the plan, there were at least four opportunities for the public to speak directly with consultants from Stantec Inc., a project management firm, and the project team. Public meetings were held throughout the process to present ideas and gather feedback.
"It is equally pleasing to see that the Fairfield community has had a strong voice in the development of the Hal Greer Corridor Management Plan," said MaRia Hill, chairwoman of the Fairfield Community Development Corp. "Our residents have sought a safer corridor for all users for many years now."
Teresa Johnson, a City Council candidate for District 5, said she appreciated the hard work of the community.
"This didn't just happen overnight," she said. "There was a lot of hard work put in by this community and everyone involved with the plan. We are looking forward to seeing bigger and better things for the Fairfield community. We have been talking for a long time about changes here in this community, and the change is getting ready to come. Not just seeing it in a meeting, but seeing it with your eyes. That is so important that people living here in this area see things are getting done. That's what people really want."
In addition to the public meetings, there was an opportunity for the public to be engaged and offer comments or feedback online at completehalgreer.com. The website included project updates, information about public meetings, an online survey and an interactive map. It remains active and can be used to view the final plan and design recommendations.
Williams said the plan is the product of intensive collaboration and communication between the city of Huntington, Fairfield residents, the KYOVA Interstate Planning Commission, Marshall University, Cabell Huntington Hospital and the West Virginia Division of Highways.
"The Corridor Management Plan is essential to the future development and resiliency of our region," said Chris Chiles, executive director of the KYOVA Interstate Planning Commission.
Chiles said the plan will make it safer for all users of the corridor, including pedestrians and bicyclists. He said it also addresses stormwater issues.
"KYOVA fully recognizes the positive impact of this project, and we are completely committed to its timely completion," he said.
Chiles said engineering work should be completed by spring 2021 and construction is slated to begin in summer 2021.
"We expect it to be completed sometime in the fall to winter of 2022," he said.
The estimated cost of the project for engineering, design and construction is $9.93 million. More than 80% of the cost will come from KYOVA through federal Surface Transportation Block Grant Program funds, according to Chiles. The remaining matching funds will come from the city of Huntington, he added.