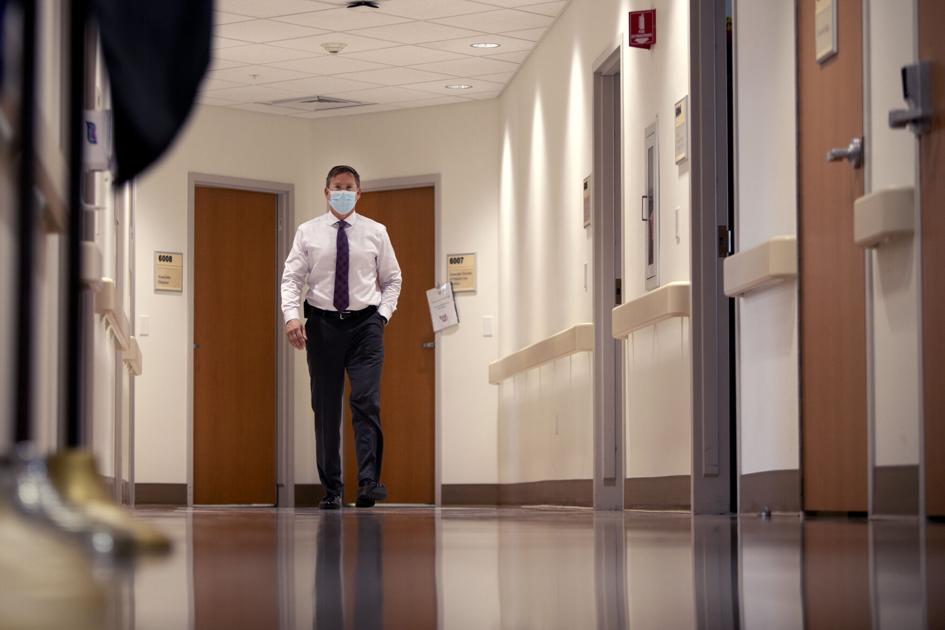 Head of Western Colorado VA Health Care reflects on veteran care | Western Colorado
Rick Salgueiro became the director of the Veterans Affairs Western Colorado Health Care System in
Rick Salgueiro became the director of the Veterans Affairs Western Colorado Health Care System in late May, months into the COVID-19 pandemic.
Prior to taking the job, he had never been to the state of Colorado.
"My wife and I are building a home in the community and are really happy to put roots down here," he said. "Our average living time in an area has been about 1.5 years, so we plan to be anchored here for some time."
Salgueiro retired after 20 years in the Army in 2008, and he said it "seemed like a natural progression for me to continue public service in VA."
As the new leader of Veterans Affairs in the community, Salgueiro knows one challenge will be to engage with all the veterans in the community.
"It's a very large geographic area with four facilities in extremely rural communities. It's a constant mission to ensure we engage them and provide guidance and support to gain the benefits that they worked so hard to get," he said.
The disconnection between veterans and their benefits is one he has known firsthand.
"One time I happened upon a Koren War veteran and we were talking, and he said he tried to get health care and he was told he wasn't eligible because he didn't serve long enough in the war. I thought that didn't sound right," Salgueiro said. "We ended up getting him enrolled, fitted him for hearing aids, and set him up with access to a number of programs."
Too often Salgueiro has seen veterans not get the benefits they earned because they didn't know or were misinformed.
"That was the case for this one fellow," he said.
After losing a close friend in Iraq, Salgueiro has remained passionate about Veteran Affairs ever since.
"I think about what his sacrifice meant to this country every day. I know what soldiers and their families have to go through and what sailors and Marines have to go through," he said.
Salgueiro wants to see a decrease in veteran suicides in the community and knows that it won't be an easy battle to fight. Six veteran suicides have been reported to the VA Western Colorado Health Care System this year compared to two last year.
"Veteran suicide is a nationwide issue," Salgueiro said. "When one veteran dies of suicide, it's an absolute tragedy."
Salgueiro said there is a full-time suicide prevention coordinator for the VA, and suicide will continue to be an issue he looks to address.
"The suicides we look at, oftentimes the veteran isn't connected to our system and not enrolled in mental health support," he said. "Part of our job is to reach out and connect with veterans so we can get our arms around them. It's important for us to try to reach those veterans that aren't getting their care within the health care system."
After serving in the Veterans Affairs Hospital in Syracuse, New York, Salgueiro is excited to continue his work on the Western Slope.
"I'm accountable for everything Grand Junction VA is responsible for," Salgueiro said. "This is a health care delivery system responsible for 20,000 veterans, covering an area of 47,000 square miles. We have a $125 million annual budget, and I'm accountable for all of it."
As VA Western Colorado Health Care System director, Salgueiro is responsible for 18 counties.
Salgueiro has been in the community since May 27 and has been impressed with how Grand Junction treats its veterans.
Among his priorities as VA director will be to improve veteran satisfaction with the hospital in the community.
"Our latest score was 90.4 out of 100. The national average is 89," he said. "My aim is to make it the best in veteran quality of care in the next 12 months. Our goal is to be the best of the West."
Before COVID-19, the VA Western Colorado Health Care System worked with about 950 patients a day in areas like primary care, mental health, pharmaceuticals, preventive care and more.
"There are a wide range of services that we provide: foundational, primary and mental health, and specialty services.," he said.
During COVID-19, those appointments shifted with approximately 50% of face-to-face appointments converted to telehealth.
"We've been taking care of veterans, but doing it differently in different ways," he said.
Veterans Affairs mobile apps that provide veterans the ability to refill prescriptions online, as well as see medical and lab results, have also become more popular these past few months.
"That's been very helpful," he said.
While telehealth has increased during the pandemic, the number of face-face-appointments have started to increase as health restrictions have eased.
"Up to 40% of our visits are being done face to face," Salgueiro said.