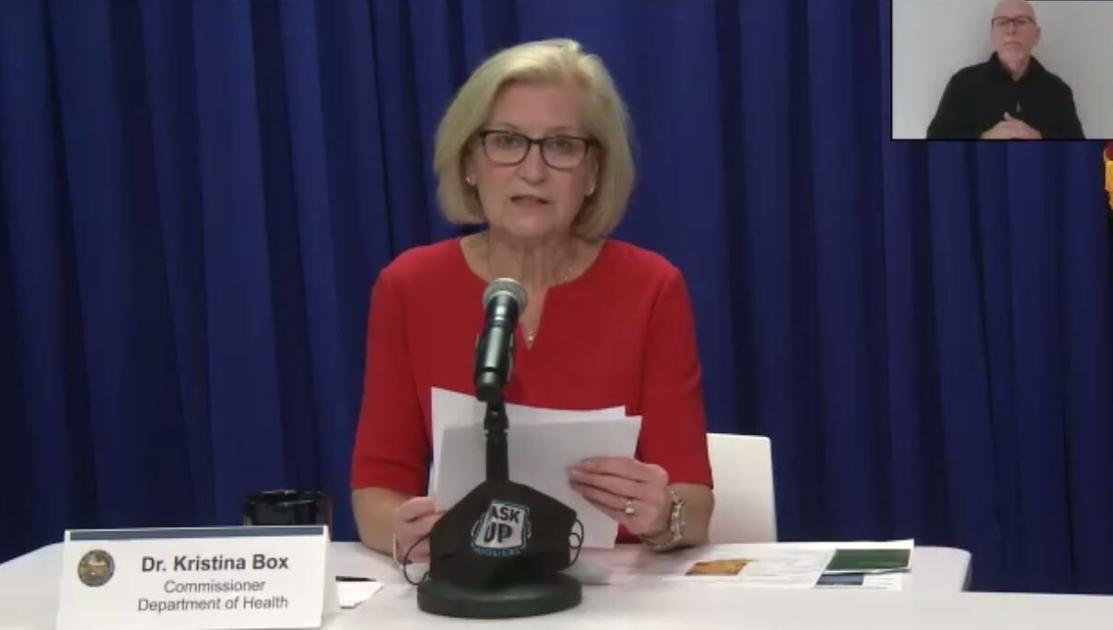 Health workers plead with Hoosiers, 'Stay home for Thanksgiving' | News
INDIANAPOLIS — Hospital representatives, nurses and doctors shared their heart-wrenching stories from the front lines
INDIANAPOLIS — Hospital representatives, nurses and doctors shared their heart-wrenching stories from the front lines in a bid to persuade Hoosiers to limit their Thanksgiving celebrations as Indiana fights against a surge of COVID-19 hospitalizations.
With a record-breaking 3,040 Hoosiers hospitalized, the weekly state press conference Wednesday dedicated a portion of the one-hour airtime to sharing stories from health care workers across the state.
Sarah Paturalski, a nurse at Memorial Hospital in South Bend, told about the emotional toll of caring for rapidly deteriorating patients and being the stand-in family member to dying patients.
"This pandemic has stretched us and squeezed us in a way that we have never, ever experienced before," said Paturalski, the vice president of nursing and clinical services. "Death and dying has always been part of health care; we've dealt with that … but deaths in the numbers we're seeing with COVID is not what we're used to."
To help nurses handle the stress and trauma of the virus claiming one Hoosier daily, Paturalski said the hospital system brought on-site crisis counselors to the hospital.
"We are no longer the front line of attack for this," Paturalski said. "We are the last line of defense."
Across the state, in rural Seymour, Eric D. Fish, a doctor and the CEO of Schneck Medical Center, said the center could no longer accept patients from smaller, critical access hospitals nearby. Health care workers quarantining after exposure or leaving because of burnout have created staffing challenges.
"Some have had to stay home with their children whose schools have transitioned to online learning (so) we've attempted to create … "Clubhouse Schneck" so that our staff can continue to come to work and their kids can virtually learn," Fish said.
The staffing shortage means that other, non-emergency care, such as preventative breast cancer screenings, are postponed indefinitely.
Dr. Kris Box, the state health commissioner, warned that, if Hoosiers don't abide by the statewide mask mandate or practice social distancing, cases and deaths will continue to skyrocket.
This week, according to the state's color-coded map documenting community spread, only one county had moderate spread, 70 had high spread and another 21 had extremely high spread.
"The map you're seeing now is concerning, but if you look at the cases per 100,000, it's even more worrisome," Box said. "With that single metric, our entire state is in the red."
Students returning from college should quarantine from family members for two weeks even if they receive a negative test result from their university before leaving campus, Box said.
For Thanksgiving, Box urged households to keep celebrations small and wear masks indoors. Family members at risk shouldn't join big gatherings, and long-term care residents, some of whom have been isolated since the pandemic began in March, shouldn't leave their facilities.
Black Friday shopping and crowded stores are both categorized as high-risk activities by the Centers for Disease Control and Prevention, Box said.
"Whether you're looking at a holiday celebration or a wedding, be willing to make the hard choices now to protect the people that you love," Box said. "There will be more than 5,000 empty seats at Indiana's Thanksgiving tables this year because of COVID-19. Let's all make those hard choices to prevent that number from growing."
Despite the numbers, Gov. Eric Holcomb declined to do more than he did last week – when he limited gathering sizes based on county metrics reported by the state after weeks of inaction. Instead, he said local entities would continue enforcing the mask mandate and gathering limits at their discretion.
"We are starting to see more and more communities, local government entities, apply more restrictions or enforce guidelines and recommendations," Holcomb said. "Those local actions are proof that this is working and will work in that local environment."
Holcomb joined the briefing by phone from home, where he was quarantining with first lady Janet Holcomb after members of their security detail tested positive. He said he would take a test later this week to account for the virus' incubation period.