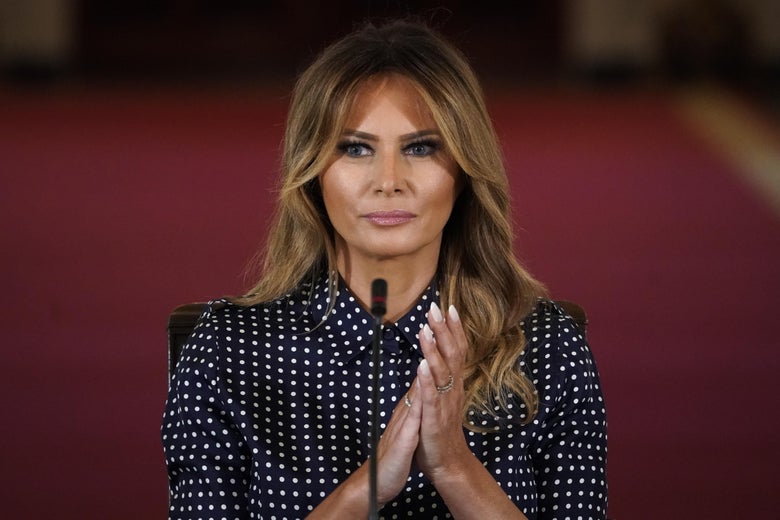 Her diary reveals Barron Trump tested positive, but also much more about her.
First Lady Melania Trump attends an event in the White House in September. Drew Angerer/Getty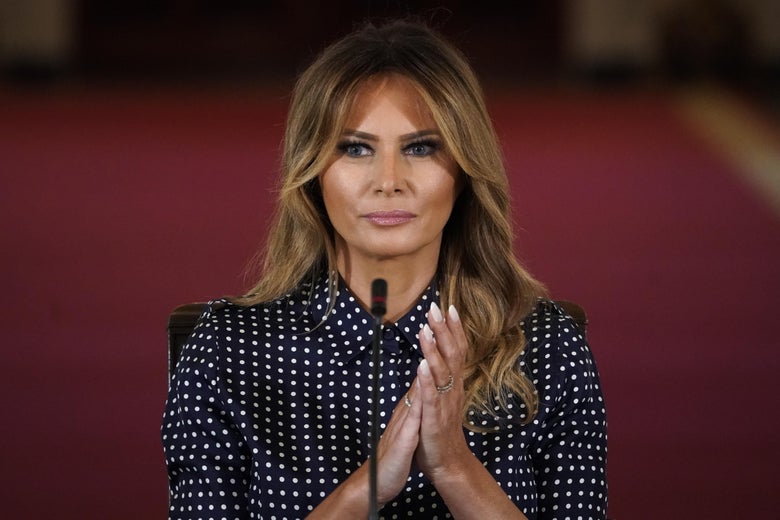 Melania Trump has opened up about her brush with the pandemic on the White House's website—in a bizarrely breezy post titled "My personal experience with COVID-19."
The actual piece of news in this slice-of-life diary entry is that the first son, Barron Trump, also had the coronavirus, testing positive at some point after his parents did. That a minor in the White House (or wherever Barron lives) quietly had COVID is not a huge revelation, especially because he did not exhibit symptoms and has since tested negative. Melania, who has not been out campaigning, also reported that she has now tested negative herself. This is a good outcome.
But her dispatch is more notable because it offers us a window into how she thinks about COVID-19, and herself—or at least, how she wants us to think she thinks about those things. The results are both a little disturbing and, if you are in right frame of mind for it, darkly funny.
Melania details her experience with symptoms, mostly aches and fatigue. While her husband went to Walter Reed, "I chose to go a more natural route in terms of medicine, opting more for vitamins and healthy food," she—or a spokesperson—writes. Yes, it seems the First Lady willed a salad into curing her of a novel pathogen. More likely is that the president's illness was significantly worse than hers. With a mild case of COVID, the medical advice is to tend to symptoms, keep an eye on things, and then ride it all out at home. (In her case, "home" is the White House, a location with its own medical unit and to caretakers—which, to her credit, she acknowledges.)
"It was an unfamiliar feeling for me to be the patient instead of a person trying to encourage our nation to stay healthy and safe," continues Melania. "It was me being taken care of now, and getting first-hand experience with all that COVID-19 can do." Her main effort in taking care of America is probably her "Be Best" initiative. To jog your memory, this is the thing that is in part about "teaching our children uplifting, positive, and respectful online interactions," and how they can "avoid negative social media interaction." That effort from the White House does not, on balance, seem to be going well.
Melania goes on to say that she has "thought about the hundreds of thousands of people across our country who have been impacted by this illness," which is a straight-up misstatement of magnitude. The number of people who have been impacted by this illness is: everyone! It's everyone. And if we're going just with confirmed cases—not even loved ones of those people, and likely to be a lowball of the actual number of cases—it is, at this time, 8 million people, i.e., many, many hundreds of thousands.
With President Trump away at the hospital, Melania says she had time to reflect—useful because "with the election fast approaching, it has been easy to get caught up in so much negative energy." Ultimately, she writes that she hopes that "COVID-19 will be another obstacle we will be able to tell future generations we overcame," followed by a paragraph that reads like a not-so-subtle rib of her husband:
I encourage everyone to continue to live the healthiest life they can. A balanced diet, fresh air, and vitamins really are vital to keep our bodies healthy. For your complete well-being, compassion and humility are just as important in keeping our minds strong. For me personally, the most impactful part of my recovery was the opportunity to reflect on many things—family, friendships, my work, and staying true to who you are.
The responsibility to make COVID-19 be an obstacle "we overcame" falls, of course, not on the American government, but to each American to maintain "the healthiest life they can," and for good measure, function with "compassion and humility." Closing out her note offering those suffering from COVID-19 nothing more than thoughts and prayers, it seems that she's hoping that compassion and humility is extended, specifically, to her.
Readers like you make our work possible. Help us continue to provide the reporting, commentary, and criticism you won't find anywhere else.
Join Slate Plus
'));else {
if (!0 === d.b.getConfig("enableSendAllBids")) return;
p.native = {
title: (t = e.native).products[0].title,
body: t.products[0].description,
sponsoredBy: t.advertiser.description,
icon: t.advertiser.logo,
image: t.products[0].image,
clickUrl: t.products[0].click_url,
privacyLink: t.privacy.optout_click_url,
privacyIcon: t.privacy.optout_image_url,
cta: t.products[0].call_to_action,
price: t.products[0].price,
impressionTrackers: t.impression_pixels.map(function (t) {
return t.url;
})
}, p.mediaType = h.c;
}
} else e.video ? (p.vastUrl = e.displayurl, p.mediaType = h.d) : p.ad = e.creative;
c.push(p);
}), c;
},
onTimeout: function onTimeout(t) {
T() && Criteo.PubTag.Adapters.Prebid.GetAdapter(t.auctionId).handleBidTimeout();
},
onBidWon: function onBidWon(t) {
T() && Criteo.PubTag.Adapters.Prebid.GetAdapter(t.auctionId).handleBidWon(t);
},
onSetTargeting: function onSetTargeting(t) {
T() && Criteo.PubTag.Adapters.Prebid.GetAdapter(t.auctionId).handleSetTargeting(t);
}
};
function T() {
return "undefined" != typeof Criteo && Criteo.PubTag && Criteo.PubTag.Adapters && Criteo.PubTag.Adapters.Prebid;
}
function C(t) {
return f.deepAccess(t, "mediaTypes.banner.sizes") || t.sizes;
}
function A(t, e) {
return Array.isArray(t[0]) ? t.map(function (t) {
return e(t);
}) : [e(t)];
}
function S(t) {
return t[0] + "x" + t[1];
}
function I(t) {
return void 0 === t[0] && void 0 === t[1] ? "2x2" : t[0] + "x" + t[1];
}
function R(t) {
return void 0 !== f.deepAccess(t, "params.video") && void 0 !== f.deepAccess(t, "mediaTypes.video");
}
function x() {
try {
var t,
e,
r,
i,
o,
n = "criteo_fast_bid",
s = "// Hash: ",
a = y.getDataFromLocalStorage(n);
null !== a && (t = a.indexOf("n"), (e = a.substr(0, t).trim()).substr(0, s.length) !== s ? (f.logWarn("No hash found in FastBid"), y.removeDataFromLocalStorage(n)) : (r = e.substr(s.length), i = a.substr(t + 1), Object(p.verify)(i, r, g, b) ? (f.logInfo("Using Criteo FastBid"), (o = document.createElement("script")).type = "text/javascript", o.text = i, f.insertElement(o)) : (f.logWarn("Invalid Criteo FastBid found"), y.removeDataFromLocalStorage(n))));
} catch (t) {}
}
Object(i.registerBidder)(s);
},
382: function _(t, e, r) {
"use strict";
Object.defineProperty(e, "__esModule", {
value: !0
});
var a = r(383),
p = r(384);
e.verify = function (t, e, r, i) {
var o = new a.BigInteger(a.b64toHex(e)),
n = new a.BigInteger(a.b64toHex(r)),
s = o.modPowInt(i, n);
return a.removeExtraSymbols(s.toHexString()) === p.Sha256.hash(t);
};
},
383: function _(t, e, r) {
"use strict";
var i;
Object.defineProperty(e, "__esModule", {
value: !0
});
var o = (g.prototype.toHexString = function () {
if (this.s < 0) return "-" + this.negate().toHexString(); var t, e = !1, r = "", i = this.t, o = this.DB - i * this.DB % 4; if (0 < i--) for (o < this.DB && 0 < (t = this[i] >> o) && (e = !0, r = c(t)); 0 <= i;) { o < 4 ? (t = (this[i] & (1 << o) - 1) << 4 - o, t |= this[--i] >> (o += this.DB - 4)) : (t = this[i] >> (o -= 4) & 15, o <= 0 && (o += this.DB, --i)), 0 < t && (e = !0), e && (r += c(t)); } return e ? r : "0"; }, g.prototype.fromHexString = function (t) { if (null !== t) { this.t = 0, this.s = 0; for (var e = t.length, r = !1, i = 0; 0 <= --e;) { var o = p(t, e); o < 0 ? "-" == t.charAt(e) && (r = !0) : (r = !1, 0 == i ? this[this.t++] = o : i + 4 > this.DB ? (this[this.t - 1] |= (o & (1 << this.DB - i) - 1) << i, this[this.t++] = o >> this.DB - i) : this[this.t - 1] |= o << i, (i += 4) >= this.DB && (i -= this.DB));
}
this.clamp(), r && g.ZERO.subTo(this, this);
}
}, g.prototype.negate = function () {
var t = T();
return g.ZERO.subTo(this, t), t;
}, g.prototype.abs = function () {
return this.s < 0 ? this.negate() : this; }, g.prototype.mod = function (t) { var e = T(); return this.abs().divRemTo(t, null, e), this.s < 0 && 0 < e.compareTo(g.ZERO) && t.subTo(e, e), e; }, g.prototype.copyTo = function (t) { for (var e = this.t - 1; 0 <= e; --e) { t[e] = this[e]; } t.t = this.t, t.s = this.s; }, g.prototype.lShiftTo = function (t, e) { for (var r = t % this.DB, i = this.DB - r, o = (1 << i) - 1, n = Math.floor(t / this.DB), s = this.s << r & this.DM, a = this.t - 1; 0 <= a; --a) { e[a + n + 1] = this[a] >> i | s, s = (this[a] & o) << r; } for (a = n - 1; 0 <= a; --a) { e[a] = 0; } e[n] = s, e.t = this.t + n + 1, e.s = this.s, e.clamp(); }, g.prototype.invDigit = function () { if (this.t < 1) return 0; var t = this[0]; if (0 == (1 & t)) return 0; var e = 3 & t; return 0 < (e = (e = (e = (e = e * (2 - (15 & t) * e) & 15) * (2 - (255 & t) * e) & 255) * (2 - ((65535 & t) * e & 65535)) & 65535) * (2 - t * e % this.DV) % this.DV) ? this.DV - e : -e; }, g.prototype.dlShiftTo = function (t, e) { for (var r = this.t - 1; 0 <= r; --r) { e[r + t] = this[r]; } for (r = t - 1; 0 <= r; --r) { e[r] = 0; } e.t = this.t + t, e.s = this.s; }, g.prototype.squareTo = function (t) { for (var e = this.abs(), r = t.t = 2 * e.t; 0 <= --r;) { t[r] = 0; } for (r = 0; r < e.t - 1; ++r) { var i = e.am(r, e[r], t, 2 * r, 0, 1); (t[r + e.t] += e.am(r + 1, 2 * e[r], t, 2 * r + 1, i, e.t - r - 1)) >= e.DV && (t[r + e.t] -= e.DV, t[r + e.t + 1] = 1);
}
0 < t.t && (t[t.t - 1] += e.am(r, e[r], t, 2 * r, 0, 1)), t.s = 0, t.clamp(); }, g.prototype.multiplyTo = function (t, e) { var r = this.abs(), i = t.abs(), o = r.t; for (e.t = o + i.t; 0 <= --o;) { e[o] = 0; } for (o = 0; o < i.t; ++o) { e[o + r.t] = r.am(0, i[o], e, o, 0, r.t); } e.s = 0, e.clamp(), this.s != t.s && g.ZERO.subTo(e, e); }, g.prototype.divRemTo = function (t, e, r) { var i = t.abs(); if (!(i.t <= 0)) { var o = this.abs(); if (o.t < i.t) return null != e && e.fromHexString("0"), void (null != r && this.copyTo(r)); null == r && (r = T()); var n = T(), s = this.s, a = t.s, p = this.DB - C(i[i.t - 1]); 0 < p ? (i.lShiftTo(p, n), o.lShiftTo(p, r)) : (i.copyTo(n), o.copyTo(r)); var u = n.t, c = n[u - 1]; if (0 != c) { var d = c * (1 << this.F1) + (1 < u ? n[u - 2] >> this.F2 : 0),
h = this.FV / d,
f = (1 << this.F1) / d, l = 1 << this.F2, m = r.t, v = m - u, y = null == e ? T() : e; for (n.dlShiftTo(v, y), 0 <= r.compareTo(y) && (r[r.t++] = 1, r.subTo(y, r)), g.ONE.dlShiftTo(u, y), y.subTo(n, n); n.t < u;) { n[n.t++] = 0; } for (; 0 <= --v;) { var b = r[--m] == c ? this.DM : Math.floor(r[m] * h + (r[m - 1] + l) * f); if ((r[m] += n.am(0, b, r, v, 0, u)) < b) for (n.dlShiftTo(v, y), r.subTo(y, r); r[m] < --b;) { r.subTo(y, r); } } null != e && (r.drShiftTo(u, e), s != a && g.ZERO.subTo(e, e)), r.t = u, r.clamp(), 0 < p && r.rShiftTo(p, r), s < 0 && g.ZERO.subTo(r, r); } } }, g.prototype.rShiftTo = function (t, e) { e.s = this.s; var r = Math.floor(t / this.DB); if (r >= this.t) e.t = 0;else {
var i = t % this.DB,
o = this.DB - i,
n = (1 << i) - 1; e[0] = this[r] >> i;
for (var s = r + 1; s < this.t; ++s) { e[s - r - 1] |= (this[s] & n) << o, e[s - r] = this[s] >> i;
}
0 < i && (e[this.t - r - 1] |= (this.s & n) << o), e.t = this.t - r, e.clamp(); } }, g.prototype.drShiftTo = function (t, e) { for (var r = t; r < this.t; ++r) { e[r - t] = this[r]; } e.t = Math.max(this.t - t, 0), e.s = this.s; }, g.prototype.subTo = function (t, e) { for (var r = 0, i = 0, o = Math.min(t.t, this.t); r < o;) { i += this[r] - t[r], e[r++] = i & this.DM, i >>= this.DB;
}
if (t.t < this.t) { for (i -= t.s; r < this.t;) { i += this[r], e[r++] = i & this.DM, i >>= this.DB;
}
i += this.s;
} else {
for (i += this.s; r < t.t;) { i -= t[r], e[r++] = i & this.DM, i >>= this.DB;
}
i -= t.s;
}
e.s = i < 0 ? -1 : 0, i < -1 ? e[r++] = this.DV + i : 0 < i && (e[r++] = i), e.t = r, e.clamp(); }, g.prototype.clamp = function () { for (var t = this.s & this.DM; 0 < this.t && this[this.t - 1] == t;) { --this.t; } }, g.prototype.modPowInt = function (t, e) { var r = new (t < 256 || e.isEven() ? d : f)(e); return this.exp(t, r); }, g.prototype.exp = function (t, e) { if (4294967295 < t || t < 1) return g.ONE; var r, i = T(), o = T(), n = e.convert(this), s = C(t) - 1; for (n.copyTo(i); 0 <= --s;) { e.sqrTo(i, o), 0 < (t & 1 << s) ? e.mulTo(o, n, i) : (r = i, i = o, o = r); } return e.revert(i); }, g.prototype.isEven = function () { return 0 == (0 < this.t ? 1 & this[0] : this.s); }, g.prototype.compareTo = function (t) { var e = this.s - t.s; if (0 != e) return e; var r = this.t; if (0 != (e = r - t.t)) return this.s < 0 ? -e : e; for (; 0 <= --r;) { if (0 != (e = this[r] - t[r])) return e; } return 0; }, g.prototype.am1 = function (t, e, r, i, o, n) { for (; 0 <= --n;) { var s = e * this[t++] + r[i] + o; o = Math.floor(s / 67108864), r[i++] = 67108863 & s; } return o; }, g.prototype.am2 = function (t, e, r, i, o, n) { for (var s = 32767 & e, a = e >> 15; 0 <= --n;) { var p = 32767 & this[t], u = this[t++] >> 15,
c = a * p + u * s;
o = ((p = s * p + ((32767 & c) << 15) + r[i] + (1073741823 & o)) >>> 30) + (c >>> 15) + a * u + (o >>> 30), r[i++] = 1073741823 & p;
}
return o;
}, g.prototype.am3 = function (t, e, r, i, o, n) {
for (var s = 16383 & e, a = e >> 14; 0 <= --n;) { var p = 16383 & this[t], u = this[t++] >> 14,
c = a * p + u * s;
o = ((p = s * p + ((16383 & c) << 14) + r[i] + o) >> 28) + (c >> 14) + a * u, r[i++] = 268435455 & p;
}
return o;
}, g);
function g(t) {
null !== t && this.fromHexString(t);
}
function T() {
return new o(null);
}
function C(t) {
var e,
r = 1;
return 0 != (e = t >>> 16) && (t = e, r += 16), 0 != (e = t >> 8) && (t = e, r += 8), 0 != (e = t >> 4) && (t = e, r += 4), 0 != (e = t >> 2) && (t = e, r += 2), 0 != (e = t >> 1) && (t = e, r += 1), r;
}
e.BigInteger = o, e.nbi = T, e.nbits = C;
for (var n = [], s = "0".charCodeAt(0), a = 0; a <= 9; ++a) { n[s++] = a; } for (s = "a".charCodeAt(0), a = 10; a < 36; ++a) { n[s++] = a; } for (s = "A".charCodeAt(0), a = 10; a < 36; ++a) { n[s++] = a; } function p(t, e) { var r = n[t.charCodeAt(e)]; return null == r ? -1 : r; } e.intAt = p; var u = "0123456789abcdefghijklmnopqrstuvwxyz"; function c(t) { return u.charAt(t); } e.int2char = c; e.b64toHex = function (t) { for (var e = "", r = 0, i = 0, o = 0; o < t.length && "=" != t.charAt(o); ++o) { var n = "ABCDEFGHIJKLMNOPQRSTUVWXYZabcdefghijklmnopqrstuvwxyz0123456789+/".indexOf(t.charAt(o)); n < 0 || (r = 0 == r ? (e += c(n >> 2), i = 3 & n, 1) : 1 == r ? (e += c(i << 2 | n >> 4), i = 15 & n, 2) : 2 == r ? (e += c(i), e += c(n >> 2), i = 3 & n, 3) : (e += c(i << 2 | n >> 4), e += c(15 & n), 0));
}
return 1 == r && (e += c(i << 2)), e; }, e.removeExtraSymbols = function (t) { return t.replace(/^1f+00/, "").replace("3031300d060960864801650304020105000420"https://r.search.yahoo.com/,""); }; var d = (h.prototype.convert = function (t) { return t.s < 0 || 0 <= t.compareTo(this.m) ? t.mod(this.m) : t; }, h.prototype.revert = function (t) { return t; }, h.prototype.reduce = function (t) { t.divRemTo(this.m, null, t); }, h.prototype.mulTo = function (t, e, r) { t.multiplyTo(e, r), this.reduce(r); }, h.prototype.sqrTo = function (t, e) { t.squareTo(e), this.reduce(e); }, h); function h(t) { this.m = t; } var f = (l.prototype.convert = function (t) { var e = T(); return t.abs().dlShiftTo(this.m.t, e), e.divRemTo(this.m, null, e), t.s < 0 && 0 < e.compareTo(o.ZERO) && this.m.subTo(e, e), e; }, l.prototype.revert = function (t) { var e = T(); return t.copyTo(e), this.reduce(e), e; }, l.prototype.reduce = function (t) { for (; t.t <= this.mt2;) { t[t.t++] = 0; } for (var e = 0; e < this.m.t; ++e) { var r = 32767 & t[e], i = r * this.mpl + ((r * this.mph + (t[e] >> 15) * this.mpl & this.um) << 15) & t.DM; for (t[r = e + this.m.t] += this.m.am(0, i, t, e, 0, this.m.t); t[r] >= t.DV;) {
t[r] -= t.DV, t[++r]++;
}
}
t.clamp(), t.drShiftTo(this.m.t, t), 0 <= t.compareTo(this.m) && t.subTo(this.m, t); }, l.prototype.mulTo = function (t, e, r) { t.multiplyTo(e, r), this.reduce(r); }, l.prototype.sqrTo = function (t, e) { t.squareTo(e), this.reduce(e); }, l); function l(t) { this.m = t, this.mp = t.invDigit(), this.mpl = 32767 & this.mp, this.mph = this.mp >> 15, this.um = (1 << t.DB - 15) - 1, this.mt2 = 2 * t.t; } function m(t) { var e = T(); return e.fromHexString(t.toString()), e; } e.nbv = m, o.ZERO = m(0), o.ONE = m(1), i = "Microsoft Internet Explorer" == navigator.appName ? (o.prototype.am = o.prototype.am2, 30) : "Netscape" != navigator.appName ? (o.prototype.am = o.prototype.am1, 26) : (o.prototype.am = o.prototype.am3, 28), o.prototype.DB = i, o.prototype.DM = (1 << i) - 1, o.prototype.DV = 1 << i; o.prototype.FV = Math.pow(2, 52), o.prototype.F1 = 52 - i, o.prototype.F2 = 2 * i - 52; }, 384: function _(t, e, r) { "use strict"; Object.defineProperty(e, "__esModule", { value: !0 }); var i = (S.hash = function (t) { t = S.utf8Encode(t || ""); for (var e = [1116352408, 1899447441, 3049323471, 3921009573, 961987163, 1508970993, 2453635748, 2870763221, 3624381080, 310598401, 607225278, 1426881987, 1925078388, 2162078206, 2614888103, 3248222580, 3835390401, 4022224774, 264347078, 604807628, 770255983, 1249150122, 1555081692, 1996064986, 2554220882, 2821834349, 2952996808, 3210313671, 3336571891, 3584528711, 113926993, 338241895, 666307205, 773529912, 1294757372, 1396182291, 1695183700, 1986661051, 2177026350, 2456956037, 2730485921, 2820302411, 3259730800, 3345764771, 3516065817, 3600352804, 4094571909, 275423344, 430227734, 506948616, 659060556, 883997877, 958139571, 1322822218, 1537002063, 1747873779, 1955562222, 2024104815, 2227730452, 2361852424, 2428436474, 2756734187, 3204031479, 3329325298], r = [1779033703, 3144134277, 1013904242, 2773480762, 1359893119, 2600822924, 528734635, 1541459225], i = (t += String.fromCharCode(128)).length / 4 + 2, o = Math.ceil(i / 16), n = new Array(o), s = 0; s < o; s++) { n[s] = new Array(16); for (var a = 0; a < 16; a++) { n[s][a] = t.charCodeAt(64 * s + 4 * a) << 24 | t.charCodeAt(64 * s + 4 * a + 1) << 16 | t.charCodeAt(64 * s + 4 * a + 2) << 8 | t.charCodeAt(64 * s + 4 * a + 3) << 0; } } var p = 8 * (t.length - 1) / Math.pow(2, 32), u = 8 * (t.length - 1) >>> 0;
for (n[o - 1][14] = Math.floor(p), n[o - 1][15] = u, s = 0; s < o; s++) { for (var c = new Array(64), d = 0; d < 16; d++) { c[d] = n[s][d]; } for (d = 16; d < 64; d++) { c[d] = S.q1(c[d - 2]) + c[d - 7] + S.q0(c[d - 15]) + c[d - 16] >>> 0;
}
for (var h = r[0], f = r[1], l = r[2], m = r[3], v = r[4], y = r[5], b = r[6], g = r[7], d = 0; d < 64; d++) { var T = g + S.z1(v) + S.Ch(v, y, b) + e[d] + c[d], C = S.z0(h) + S.Maj(h, f, l); g = b, b = y, y = v, v = m + T >>> 0, m = l, l = f, f = h, h = T + C >>> 0;
}
r[0] = r[0] + h >>> 0, r[1] = r[1] + f >>> 0, r[2] = r[2] + l >>> 0, r[3] = r[3] + m >>> 0, r[4] = r[4] + v >>> 0, r[5] = r[5] + y >>> 0, r[6] = r[6] + b >>> 0, r[7] = r[7] + g >>> 0;
}
for (var A = new Array(r.length), g = 0; g < r.length; g++) { A[g] = ("00000000" + r[g].toString(16)).slice(-8); } return A.join(""); }, S.utf8Encode = function (e) { try { return new TextEncoder().encode(e).reduce(function (t, e) { return t + String.fromCharCode(e); }, ""); } catch (t) { return unescape(encodeURIComponent(e)); } }, S.ROTR = function (t, e) { return e >>> t | e << 32 - t; }, S.z0 = function (t) { return S.ROTR(2, t) ^ S.ROTR(13, t) ^ S.ROTR(22, t); }, S.z1 = function (t) { return S.ROTR(6, t) ^ S.ROTR(11, t) ^ S.ROTR(25, t); }, S.q0 = function (t) { return S.ROTR(7, t) ^ S.ROTR(18, t) ^ t >>> 3;
}, S.q1 = function (t) {
return S.ROTR(17, t) ^ S.ROTR(19, t) ^ t >>> 10;
}, S.Ch = function (t, e, r) {
return t & e ^ ~t & r;
}, S.Maj = function (t, e, r) {
return t & e ^ t & r ^ e & r;
}, S);
function S() {}
e.Sha256 = i;
}
}, [380]);
pbjsChunk([187], {
481: function _(e, r, t) {
e.exports = t(482);
},
482: function _(e, r, t) {
"use strict";
Object.defineProperty(r, "__esModule", {
value: !0
}), t.d(r, "spec", function () {
return m;
});
var b = t(0),
y = t(2),
h = t(3),
i = t(11),
l = t.n(i),
a = t(483),
n = t.n(a),
s = t(1);
function v(e) {
return (v = "function" == typeof Symbol && "symbol" == _typeof(Symbol.iterator) ? function (e) {
return _typeof(e);
} : function (e) {
return e && "function" == typeof Symbol && e.constructor === Symbol && e !== Symbol.prototype ? "symbol" : _typeof(e);
})(e);
}
var o = [y.b, y.d],
g = 100,
w = 300,
x = 3600,
I = !0,
P = {
JPY: 1
};
function p(e) {
var r = {};
return r.id = e.bidId, r.ext = {}, r.ext.siteID = e.params.siteId, !e.params.hasOwnProperty("id") || "string" != typeof e.params.id && "number" != typeof e.params.id ? r.ext.sid = "".concat(e.params.size[0], "x").concat(e.params.size[1]) : r.ext.sid = String(e.params.id), e.params.hasOwnProperty("bidFloor") && e.params.hasOwnProperty("bidFloorCur") && (r.bidfloor = e.params.bidFloor, r.bidfloorcur = e.params.bidFloorCur), r;
}
function d(e) {
return Array.isArray(e) && 2 === e.length && n()(e[0]) && n()(e[1]);
}
function c(e, r) {
if (d(e)) return e[0] === r[0] && e[1] === r[1];
for (var t = 0; t < e.length; t++) { if (e[t][0] === r[0] && e[t][1] === r[1]) return 1; } } function u(e, r, t, i) { var a = []; if (window.headertag && "function" == typeof window.headertag.getIdentityInfo) { var n, s = window.headertag.getIdentityInfo(); if (s && "object" === v(s)) for (var o in s) { !s.hasOwnProperty(o) || !(n = s[o]).responsePending && n.data && "object" === v(n.data) && Object.keys(n.data).length && a.push(n.data); } } var d, p = {}; p.id = e[0].bidderRequestId, p.imp = t, p.site = {}, p.ext = {}, p.ext.source = "prebid", e[0].schain && (p.source = { ext: { schain: e[0].schain } }), 0 < a.length && (p.user = {}, p.user.eids = a), document.referrer && "" !== document.referrer && (p.site.ref = document.referrer), r && (r.gdprConsent && ((d = r.gdprConsent).hasOwnProperty("gdprApplies") && (p.regs = { ext: { gdpr: d.gdprApplies ? 1 : 0 } }), d.hasOwnProperty("consentString") && (p.user = p.user || {}, p.user.ext = { consent: d.consentString || "" })), r.uspConsent && b.deepSetValue(p, "regs.ext.us_privacy", r.uspConsent), r.refererInfo && (p.site.page = r.refererInfo.referer)); var c = {}, u = r && r.bidderCode || "ix", m = h.b.getConfig(u); if (m) { if ("object" === v(m.firstPartyData)) { var f = m.firstPartyData, y = "?"; for (var l in f) { f.hasOwnProperty(l) && (y += "".concat(encodeURIComponent(l), "=").concat(encodeURIComponent(f[l]), "&")); } y = y.slice(0, -1), p.site.page += y; } "number" == typeof m.timeout && (c.t = m.timeout); } return c.s = e[0].params.siteId, c.v = i, c.r = JSON.stringify(p), c.ac = "j", c.sd = 1, 8.1 === i && (c.nf = 1), { method: "GET", url: "https://as-sec.casalemedia.com/cygnus", data: c }; } var m = { code: "ix", gvlid: 10, supportedMediaTypes: o, isBidRequestValid: function isBidRequestValid(e) { if (!d(e.params.size)) return b.logError("ix bidder params: bid size has invalid format."), !1; if (!c(e.sizes, e.params.size)) return b.logError("ix bidder params: bid size is not included in ad unit sizes."), !1; if (e.hasOwnProperty("mediaType") && !b.contains(o, e.mediaType)) return !1; if (e.hasOwnProperty("mediaTypes") && !b.deepAccess(e, "mediaTypes.banner.sizes") && !b.deepAccess(e, "mediaTypes.video.playerSize")) return !1; if ("string" != typeof e.params.siteId && "number" != typeof e.params.siteId) return b.logError("ix bidder params: siteId must be string or number value."), !1; var r, t, i = e.params.hasOwnProperty("bidFloor"), a = e.params.hasOwnProperty("bidFloorCur"); return !!(!i && !a || i && a && (r = e.params.bidFloor, t = e.params.bidFloorCur, Boolean("number" == typeof r && "string" == typeof t && t.match(/^[A-Z]{3}$/)))) || (b.logError("ix bidder params: bidFloor / bidFloorCur parameter has invalid format."), !1); }, buildRequests: function buildRequests(e, r) { for (var t, i, a = [], n = [], s = [], o = null, d = 0; d < e.length; d++) { (o = e[d]).mediaType !== y.d && !b.deepAccess(o, "mediaTypes.video") || (o.mediaType === y.d || c(o.mediaTypes.video.playerSize, o.params.size) ? s.push(function (e) { var r = p(e); r.video = b.deepClone(e.params.video), r.video.w = e.params.size[0], r.video.h = e.params.size[1]; var t = b.deepAccess(e, "mediaTypes.video.context"); return t && ("instream" === t ? r.video.placement = 1 : "outstream" === t ? r.video.placement = 4 : b.logWarn("ix bidder params: video context '".concat(t, "' is not supported"))), r; }(o)) : b.logError("Bid size is not included in video playerSize")), o.mediaType !== y.b && !b.deepAccess(o, "mediaTypes.banner") && (o.mediaType || o.mediaTypes) || n.push((i = void 0, (i = p(t = o)).banner = {}, i.banner.w = t.params.size[0], i.banner.h = t.params.size[1], i.banner.topframe = b.inIframe() ? 0 : 1, i)); } return 0 < n.length && a.push(u(e, r, n, 7.2)), 0 < s.length && a.push(u(e, r, s, 8.1)), a; }, interpretResponse: function interpretResponse(e, r) { var t = []; if (!e.hasOwnProperty("body") || !e.body.hasOwnProperty("seatbid")) return t; for (var i, a, n, s, o = e.body, d = o.seatbid, p = 0; p < d.length; p++) { if (d[p].hasOwnProperty("bid")) for (var c = d[p].bid, u = JSON.parse(r.data.r), m = 0; m < c.length; m++) { var f = function (r, e) { if (r) return l()(e, function (e) { return e.id === r; }); }(c[m].impid, u.imp); i = c[m], a = o.cur, n = f, s = void 0, s = {}, P.hasOwnProperty(a) ? s.cpm = i.price / P[a] : s.cpm = i.price / g, s.requestId = i.impid, s.dealId = b.deepAccess(i, "ext.dealid"), s.netRevenue = I, s.currency = a, s.creativeId = i.hasOwnProperty("crid") ? i.crid : "-", b.deepAccess(i, "ext.vasturl") ? (s.vastUrl = i.ext.vasturl, s.width = n.video.w, s.height = n.video.h, s.mediaType = y.d, s.ttl = x) : (s.ad = i.adm, s.width = i.w, s.height = i.h, s.mediaType = y.b, s.ttl = w), s.meta = {}, s.meta.networkId = b.deepAccess(i, "ext.dspid"), s.meta.brandId = b.deepAccess(i, "ext.advbrandid"), s.meta.brandName = b.deepAccess(i, "ext.advbrand"), t.push(s); } } return t; }, transformBidParams: function transformBidParams(e) { return b.convertTypes({ siteID: "number" }, e); }, getUserSyncs: function getUserSyncs(e) { return e.iframeEnabled ? [{ type: "iframe", url: "https://js-sec.indexww.com/um/ixmatch.html" }] : []; } }; Object(s.registerBidder)(m); } }, [481]); pbjsChunk([184], { 493: function _(e, t, r) { e.exports = r(494); }, 494: function _(e, t, r) { "use strict"; Object.defineProperty(t, "__esModule", { value: !0 }), r.d(t, "spec", function () { return l; }); var s = r(0), d = r(3), n = r(1), a = r(9); function g() { return (g = Object.assign || function (e) { for (var t = 1; t < arguments.length; t++) { var r = arguments[t]; for (var n in r) { Object.prototype.hasOwnProperty.call(r, n) && (e[n] = r[n]); } } return e; }).apply(this, arguments); } var o, i, c, u = Object(a.b)(), l = { code: "kargo", isBidRequestValid: function isBidRequestValid(e) { return !(!e || !e.params) && !!e.params.placementId; }, buildRequests: function buildRequests(e, t) { var r, n = d.b.getConfig("currency"), a = n && n.adServerCurrency || "USD", o = {}, i = {}; s._each(e, function (e) { o[e.bidId] = e.params.placementId, i[e.bidId] = e.sizes; }), 0 < e.length && e[0].userId && e[0].userId.tdid && (r = e[0].userId.tdid); var c = g({}, { sessionId: l._getSessionId(), requestCount: l._getRequestCount(), timeout: t.timeout, currency: a, cpmGranularity: 1, timestamp: new Date().getTime(), cpmRange: { floor: 0, ceil: 20 }, bidIDs: o, bidSizes: i, prebidRawBidRequests: e }, l._getAllMetadata(r, t.uspConsent)), u = encodeURIComponent(JSON.stringify(c)); return g({}, t, { method: "GET", url: "".concat("https://krk.kargo.com"https://r.search.yahoo.com/,"/api/v2/bid"), data: "json=".concat(u), currency: a }); }, interpretResponse: function interpretResponse(e, t) { var r = e.body, n = []; for (var a in r) { var o = r[a], i = void 0; o.metadata && o.metadata.landingPageDomain && (i = { clickUrl: o.metadata.landingPageDomain }), n.push({ requestId: a, cpm: Number(o.cpm), width: o.width, height: o.height, ad: o.adm, ttl: 300, creativeId: o.id, dealId: o.targetingCustom, netRevenue: !0, currency: t.currency, meta: i }); } return n; }, getUserSyncs: function getUserSyncs(e) { var t = [], r = l._generateRandomUuid(), n = l._getClientId(); if (e.iframeEnabled && r && n) for (var a = 0; a < 5; a++) { t.push({ type: "iframe", url: "https://crb.kargo.com/api/v1/initsyncrnd/{UUID}?seed={SEED}&idx={INDEX}".replace("{UUID}", n).replace("{SEED}", r).replace("{INDEX}", a) }); } return t; }, _readCookie: function _readCookie(e) { if (!u.cookiesAreEnabled()) return null; for (var t = "".concat(e, "="), r = document.cookie.split(";"), n = 0; n < r.length; n++) { for (var a = r[n]; " " === a.charAt(0);) { a = a.substring(1, a.length); } if (0 === a.indexOf(t)) return a.substring(t.length, a.length); } return null; }, _getCrbFromCookie: function _getCrbFromCookie() { try { var e = JSON.parse(decodeURIComponent(l._readCookie("krg_crb"))); if (e && e.v) { var t = JSON.parse(atob(e.v)); if (t) return t; } return {}; } catch (e) { return {}; } }, _getCrbFromLocalStorage: function _getCrbFromLocalStorage() { try { return JSON.parse(atob(l._getLocalStorageSafely("krg_crb"))); } catch (e) { return {}; } }, _getCrb: function _getCrb() { var e = l._getCrbFromLocalStorage(); return Object.keys(e).length ? e : l._getCrbFromCookie(); }, _getKruxUserId: function _getKruxUserId() { return l._getLocalStorageSafely("kxkar_user"); }, _getKruxSegments: function _getKruxSegments() { return l._getLocalStorageSafely("kxkar_segs"); }, _getKrux: function _getKrux() { var e = l._getKruxSegments(), t = []; return e && (t = e.split(",")), { userID: l._getKruxUserId(), segments: t }; }, _getLocalStorageSafely: function _getLocalStorageSafely(e) { try { return u.getDataFromLocalStorage(e); } catch (e) { return null; } }, _getUserIds: function _getUserIds(e, t) { var r = l._getCrb(), n = { kargoID: r.userId, clientID: r.clientId, crbIDs: r.syncIds || {}, optOut: r.optOut, usp: t }; return e && (n.tdID = e), n; }, _getClientId: function _getClientId() { return l._getCrb().clientId; }, _getAllMetadata: function _getAllMetadata(e, t) { return { userIDs: l._getUserIds(e, t), krux: l._getKrux(), pageURL: window.location.href, rawCRB: l._readCookie("krg_crb"), rawCRBLocalStorage: l._getLocalStorageSafely("krg_crb") }; }, _getSessionId: function _getSessionId() { return o = o || l._generateRandomUuid(); }, _getRequestCount: function _getRequestCount() { return i === window.location.pathname ? ++c : (i = window.location.pathname, c = 0); }, _generateRandomUuid: function _generateRandomUuid() { try { var e = new Uint8Array(16); crypto.getRandomValues(e), e[6] = -177 & e[6] | 64, e[8] = -65 & e[8] | 128; var t = Array.prototype.map.call(new Uint8Array(e), function (e) { return ("00" + e.toString(16)).slice(-2); }).join(""); return t.slice(0, 8) + "-" + t.slice(8, 12) + "-" + t.slice(12, 16) + "-" + t.slice(16, 20) + "-" + t.slice(20); } catch (e) { return ""; } } }; Object(n.registerBidder)(l); } }, [493]); pbjsChunk([110], { 677: function _(e, r, t) { e.exports = t(678); }, 678: function _(e, r, t) { "use strict"; Object.defineProperty(r, "__esModule", { value: !0 }), t.d(r, "FASTLANE_ENDPOINT", function () { return o; }), t.d(r, "VIDEO_ENDPOINT", function () { return l; }), t.d(r, "SYNC_ENDPOINT", function () { return a; }), t.d(r, "spec", function () { return h; }), r.hasVideoMediaType = c, r.masSizeOrdering = S, r.determineRubiconVideoSizeId = C, r.getPriceGranularity = j, r.hasValidVideoParams = k, r.hasValidSupplyChainParams = T, r.encodeParam = w, r.resetUserSync = function () { R = !1; }; var g = t(0), i = t(1), b = t(3), u = t(2); function v(e, r) { return function (e) { if (Array.isArray(e)) return e; }(e) || function (e, r) { if ("undefined" == typeof Symbol || !(Symbol.iterator in Object(e))) return; var t = [], i = !0, n = !1, o = void 0; try { for (var a, s = e[Symbol.iterator](); !(i = (a = s.next()).done) && (t.push(a.value), !r || t.length !== r); i = !0) { ; } } catch (e) { n = !0, o = e; } finally { try { i || null == s.return || s.return(); } finally { if (n) throw o; } } return t; }(e, r) || function (e, r) { if (!e) return; if ("string" == typeof e) return n(e, r); var t = Object.prototype.toString.call(e).slice(8, -1); "Object" === t && e.constructor && (t = e.constructor.name); if ("Map" === t || "Set" === t) return Array.from(e); if ("Arguments" === t || /^(?:Ui|I)nt(?:8|16|32)(?:Clamped)?Array$/.test(t)) return n(e, r); }(e, r) || function () { throw new TypeError("Invalid attempt to destructure non-iterable instance.nIn order to be iterable, non-array objects must have a [Symbol.iterator]() method."); }(); } function n(e, r) { (null == r || r > e.length) && (r = e.length);
for (var t = 0, i = new Array(r); t < r; t++) { i[t] = e[t]; } return i; } function y() { return (y = Object.assign || function (e) { for (var r = 1; r < arguments.length; r++) { var t = arguments[r]; for (var i in t) { Object.prototype.hasOwnProperty.call(t, i) && (e[i] = t[i]); } } return e; }).apply(this, arguments); } function p(e, r, t) { return r in e ? Object.defineProperty(e, r, { value: t, enumerable: !0, configurable: !0, writable: !0 }) : e[r] = t, e; } function x(e) { return (x = "function" == typeof Symbol && "symbol" == _typeof(Symbol.iterator) ? function (e) { return _typeof(e); } : function (e) { return e && "function" == typeof Symbol && e.constructor === Symbol && e !== Symbol.prototype ? "symbol" : _typeof(e); })(e); } var o = "https://fastlane.rubiconproject.com/a/api/fastlane.json", l = "https://prebid-server.rubiconproject.com/openrtb2/auction", a = "https://eus.rubiconproject.com/usync.html", d = { FASTLANE: { id: "dt.id", keyv: "dt.keyv", pref: "dt.pref" }, PREBID_SERVER: { id: "id", keyv: "keyv" } }, f = { 1: "468x60", 2: "728x90", 5: "120x90", 8: "120x600", 9: "160x600", 10: "300x600", 13: "200x200", 14: "250x250", 15: "300x250", 16: "336x280", 17: "240x400", 19: "300x100", 31: "980x120", 32: "250x360", 33: "180x500", 35: "980x150", 37: "468x400", 38: "930x180", 39: "750x100", 40: "750x200", 41: "750x300", 42: "2x4", 43: "320x50", 44: "300x50", 48: "300x300", 53: "1024x768", 54: "300x1050", 55: "970x90", 57: "970x250", 58: "1000x90", 59: "320x80", 60: "320x150", 61: "1000x1000", 64: "580x500", 65: "640x480", 66: "930x600", 67: "320x480", 68: "1800x1000", 72: "320x320", 73: "320x160", 78: "980x240", 79: "980x300", 80: "980x400", 83: "480x300", 85: "300x120", 90: "548x150", 94: "970x310", 95: "970x100", 96: "970x210", 101: "480x320", 102: "768x1024", 103: "480x280", 105: "250x800", 108: "320x240", 113: "1000x300", 117: "320x100", 125: "800x250", 126: "200x600", 144: "980x600", 145: "980x150", 152: "1000x250", 156: "640x320", 159: "320x250", 179: "250x600", 195: "600x300", 198: "640x360", 199: "640x200", 213: "1030x590", 214: "980x360", 221: "1x1", 229: "320x180", 230: "2000x1400", 232: "580x400", 234: "6x6", 251: "2x2", 256: "480x820", 257: "400x600", 258: "500x200", 259: "998x200", 264: "970x1000", 265: "1920x1080", 274: "1800x200", 278: "320x500", 282: "320x400", 288: "640x380" }; g._each(f, function (e, r) { return f[e] = r; }); var h = { code: "rubicon", gvlid: 52, supportedMediaTypes: [u.b, u.d], isBidRequestValid: function isBidRequestValid(e) { if ("object" !== x(e.params)) return !1; for (var r = 0, t = ["accountId"https://r.search.yahoo.com/,"siteId"https://r.search.yahoo.com/,"zoneId"]; r < t.length; r++) { if (e.params[t[r]] = parseInt(e.params[t[r]]), isNaN(e.params[t[r]])) return g.logError("Rubicon: wrong format of accountId or siteId or zoneId."), !1; } var i = m(e, !0); return !!i && ("video" !== i || k(e)); }, buildRequests: function buildRequests(e, u) { var n, r = e.filter(function (e) { return "video" === m(e); }).map(function (e) { e.startTime = new Date().getTime(); var r, t, i = { id: e.transactionId, test: b.b.getConfig("debug") ? 1 : 0, cur: ["USD"], source: { tid: e.transactionId }, tmax: b.b.getConfig("TTL") || 1e3, imp: [{ exp: 300, id: e.adUnitCode, secure: 1, ext: p({}, e.bidder, e.params), video: g.deepAccess(e, "mediaTypes.video") || {} }], ext: { prebid: { cache: { vastxml: { returnCreative: !1 } }, targeting: { includewinners: !0, includebidderkeys: !1, pricegranularity: j(b.b) }, bidders: { rubicon: { integration: b.b.getConfig("rubicon.int_type") || "pbjs" } } } } }; "rubicon" !== e.bidder && (i.ext.prebid.aliases = p({}, e.bidder, "rubicon")), t = "function" != typeof e.getFloor || b.b.getConfig("rubicon.disableFloors") ? parseFloat(g.deepAccess(e, "params.floor")) : "object" !== x(r = e.getFloor({ currency: "USD", mediaType: "video", size: A(e, "video") })) || "USD" !== r.currency || isNaN(parseInt(r.floor)) ? void 0 : parseFloat(r.floor), isNaN(t) || (i.imp[0].bidfloor = t), i.imp[0].ext[e.bidder].video.size_id = C(e), function (r, t, e) { if (!r) return; "object" === x(b.b.getConfig("app")) ? r.app = b.b.getConfig("app") : r.site = { page: I(t, e) }; "object" === x(b.b.getConfig("device")) && (r.device = b.b.getConfig("device")); t.params.video.language && ["site"https://r.search.yahoo.com/,"device"].forEach(function (e) { r[e] && (r[e].content = y({ language: t.params.video.language }, r[e].content)); }); }(i, e, u), function (e, r) { "object" === x(e.imp[0].video) && void 0 === e.imp[0].video.skip && (e.imp[0].video.skip = r.params.video.skip); "object" === x(e.imp[0].video) && void 0 === e.imp[0].video.skipafter && (e.imp[0].video.skipafter = r.params.video.skipdelay); "object" === x(e.imp[0].video) && void 0 === e.imp[0].video.pos && ("atf" === r.params.position ? e.imp[0].video.pos = 1 : "btf" === r.params.position && (e.imp[0].video.pos = 3)); var t = A(r, "video"); e.imp[0].video.w = t[0], e.imp[0].video.h = t[1]; }(i, e); var n, o = _(e, "PREBID_SERVER"); o && g.deepSetValue(i, "user.ext.digitrust", o), u.gdprConsent && ("boolean" == typeof u.gdprConsent.gdprApplies && (n = u.gdprConsent.gdprApplies ? 1 : 0), g.deepSetValue(i, "regs.ext.gdpr", n), g.deepSetValue(i, "user.ext.consent", u.gdprConsent.consentString)), u.uspConsent && g.deepSetValue(i, "regs.ext.us_privacy", u.uspConsent), e.userId && "object" === x(e.userId) && (e.userId.tdid || e.userId.pubcid || e.userId.lipb || e.userId.idl_env) && (g.deepSetValue(i, "user.ext.eids", []), e.userId.tdid && i.user.ext.eids.push({ source: "adserver.org", uids: [{ id: e.userId.tdid, ext: { rtiPartner: "TDID" } }] }), e.userId.pubcid && i.user.ext.eids.push({ source: "pubcommon", uids: [{ id: e.userId.pubcid }] }), e.userId.lipb && e.userId.lipb.lipbid && (i.user.ext.eids.push({ source: "liveintent.com", uids: [{ id: e.userId.lipb.lipbid }] }), i.user.ext.tpid = { source: "liveintent.com", uid: e.userId.lipb.lipbid }, Array.isArray(e.userId.lipb.segments) && e.userId.lipb.segments.length && g.deepSetValue(i, "rp.target.LIseg", e.userId.lipb.segments)), e.userId.idl_env && i.user.ext.eids.push({ source: "liveramp.com", uids: [{ id: e.userId.idl_env }] })), !0 === b.b.getConfig("coppa") && g.deepSetValue(i, "regs.coppa", 1), e.schain && T(e.schain) && g.deepSetValue(i, "source.ext.schain", e.schain); var a, s = y({}, e.params.inventory, b.b.getConfig("fpd.context")), d = y({}, e.params.visitor, b.b.getConfig("fpd.user")); g.isEmpty(s) && g.isEmpty(d) || (a = { bidders: [u.bidderCode], config: { fpd: {} } }, g.isEmpty(s) || (a.config.fpd.site = s), g.isEmpty(d) || (a.config.fpd.user = d), g.deepSetValue(i, "ext.prebid.bidderconfig.0", a)); var c = g.deepAccess(e, "fpd.context.pbAdSlot"); return "string" == typeof c && c && g.deepSetValue(i.imp[0].ext, "context.data.adslot", c), e.storedAuctionResponse && g.deepSetValue(i.imp[0], "ext.prebid.storedauctionresponse.id", e.storedAuctionResponse.toString()), g.deepSetValue(i.imp[0], "ext.prebid.auctiontimestamp", u.auctionStart), { method: "POST", url: l, data: i, bidRequest: e }; }); return !0 !== b.b.getConfig("rubicon.singleRequest") ? r.concat(e.filter(function (e) { return "banner" === m(e); }).map(function (e) { var i = h.createSlotParams(e, u); return { method: "GET", url: o, data: h.getOrderedParams(i).reduce(function (e, r) { var t = i[r]; return g.isStr(t) && "" !== t || g.isNumber(t) ? "".concat(e).concat(w(r, t), "&") : e; }, "") + "slots=1&rand=".concat(Math.random()), bidRequest: e }; })) : (n = e.filter(function (e) { return "banner" === m(e); }).reduce(function (e, r) { return (e[r.params.siteId] = e[r.params.siteId] || []).push(r), e; }, {}), r.concat(Object.keys(n).reduce(function (r, e) { var t, i; return t = n[e], i = 10, t.map(function (e, r) { return r % i == 0 ? t.slice(r, r + i) : null; }).filter(function (e) { return e; }).forEach(function (e) { var i = h.combineSlotUrlParams(e.map(function (e) { return h.createSlotParams(e, u); })); r.push({ method: "GET", url: o, data: h.getOrderedParams(i).reduce(function (e, r) { var t = i[r]; return g.isStr(t) && "" !== t || g.isNumber(t) ? "".concat(e).concat(w(r, t), "&") : e; }, "") + "slots=".concat(e.length, "&rand=").concat(Math.random()), bidRequest: e }); }), r; }, []))); }, getOrderedParams: function getOrderedParams(e) { var r = /^tg_v/, t = /^tg_i/, i = ["account_id"https://r.search.yahoo.com/,"site_id"https://r.search.yahoo.com/,"zone_id"https://r.search.yahoo.com/,"size_id"https://r.search.yahoo.com/,"alt_size_ids"https://r.search.yahoo.com/,"p_pos"https://r.search.yahoo.com/,"gdpr"https://r.search.yahoo.com/,"gdpr_consent"https://r.search.yahoo.com/,"us_privacy"https://r.search.yahoo.com/,"rp_schain"https://r.search.yahoo.com/,"tpid_tdid"https://r.search.yahoo.com/,"tpid_liveintent.com"https://r.search.yahoo.com/,"tg_v.LIseg"https://r.search.yahoo.com/,"dt.id"https://r.search.yahoo.com/,"dt.keyv"https://r.search.yahoo.com/,"dt.pref"https://r.search.yahoo.com/,"rf"https://r.search.yahoo.com/,"p_geo.latitude"https://r.search.yahoo.com/,"p_geo.longitude"https://r.search.yahoo.com/,"kw"].concat(Object.keys(e).filter(function (e) { return r.test(e); })).concat(Object.keys(e).filter(function (e) { return t.test(e); })).concat(["tk_flint"https://r.search.yahoo.com/,"x_source.tid"https://r.search.yahoo.com/,"x_source.pchain"https://r.search.yahoo.com/,"p_screen_res"https://r.search.yahoo.com/,"rp_floor"https://r.search.yahoo.com/,"rp_secure"https://r.search.yahoo.com/,"tk_user_key"]); return i.concat(Object.keys(e).filter(function (e) { return -1 === i.indexOf(e); })); }, combineSlotUrlParams: function combineSlotUrlParams(n) { if (1 === n.length) return n[0]; var i = n.reduce(function (r, t, i) { return Object.keys(t).forEach(function (e) { r.hasOwnProperty(e) || (r[e] = new Array(n.length)), r[e].splice(i, 1, t[e]); }), r; }, {}), o = new RegExp("^([^;]*)(;\1)+$"); return Object.keys(i).forEach(function (e) { var r = i[e].join(";"), t = r.match(o); i[e] = t ? t[1] : r; }), i; }, createSlotParams: function createSlotParams(e, r) { e.startTime = new Date().getTime(); var t, i = e.params, n = A(e, "banner"), o = v(i.latLong || [], 2), a = o[0], s = o[1], d = b.b.getConfig("rubicon.int_type"), c = { account_id: i.accountId, site_id: i.siteId, zone_id: i.zoneId, size_id: n[0], alt_size_ids: n.slice(1).join(",") || void 0, rp_floor: .01 < (i.floor = parseFloat(i.floor)) ? i.floor : .01, rp_secure: "1", tk_flint: "".concat(d || "pbjs_lite"https://r.search.yahoo.com/,"_v3.23.0"), "x_source.tid": e.transactionId, "x_source.pchain": i.pchain, p_screen_res: [window.screen.width, window.screen.height].join("x"), tk_user_key: i.userId, "p_geo.latitude": isNaN(parseFloat(a)) ? void 0 : parseFloat(a).toFixed(4), "p_geo.longitude": isNaN(parseFloat(s)) ? void 0 : parseFloat(s).toFixed(4), "tg_fl.eid": e.code, rf: I(e, r) }; "function" != typeof e.getFloor || b.b.getConfig("rubicon.disableFloors") || (t = e.getFloor({ currency: "USD", mediaType: "banner", size: "*" }), c.rp_hard_floor = "object" !== x(t) || "USD" !== t.currency || isNaN(parseInt(t.floor)) ? void 0 : t.floor), c.p_pos = "atf" === i.position || "btf" === i.position ? i.position : "", e.userId && (e.userId.tdid && (c.tpid_tdid = e.userId.tdid), e.userId.lipb && e.userId.lipb.lipbid && (c["tpid_liveintent.com"] = e.userId.lipb.lipbid, Array.isArray(e.userId.lipb.segments) && e.userId.lipb.segments.length && (c["tg_v.LIseg"] = e.userId.lipb.segments.join(","))), e.userId.idl_env && (c["tpid_liveramp.com"] = e.userId.idl_env)), r.gdprConsent && ("boolean" == typeof r.gdprConsent.gdprApplies && (c.gdpr = Number(r.gdprConsent.gdprApplies)), c.gdpr_consent = r.gdprConsent.consentString), r.uspConsent && (c.us_privacy = encodeURIComponent(r.uspConsent)); var u = y({}, i.visitor, b.b.getConfig("fpd.user")); Object.keys(u).forEach(function (e) { null != u[e] && "keywords" !== e && (c["tg_v.".concat(e)] = "object" !== x(u[e]) || Array.isArray(u[e]) ? u[e].toString() : JSON.stringify(u[e])); }); var p = y({}, i.inventory, b.b.getConfig("fpd.context")); Object.keys(p).forEach(function (e) { null != p[e] && "keywords" !== e && (c["tg_i.".concat(e)] = "object" !== x(p[e]) || Array.isArray(p[e]) ? p[e].toString() : JSON.stringify(p[e])); }); var l = (i.keywords || []).concat(g.deepAccess(b.b.getConfig("fpd.user"), "keywords") || [], g.deepAccess(b.b.getConfig("fpd.context"), "keywords") || []); c.kw = Array.isArray(l) && l.length ? l.join(",") : ""; var f = g.deepAccess(e, "fpd.context.pbAdSlot"); "string" == typeof f && f && (c["tg_i.dfp_ad_unit_code"] = f.replace(/^/+/, "")); var m = _(e, "FASTLANE"); return y(c, m), !0 === b.b.getConfig("coppa") && (c.coppa = 1), e.schain && T(e.schain) && (c.rp_schain = h.serializeSupplyChain(e.schain)), c; }, serializeSupplyChain: function serializeSupplyChain(e) { if (!T(e)) return ""; var r = e.ver, t = e.complete, i = e.nodes; return "".concat(r, ",").concat(t, "!").concat(h.serializeSupplyChainNodes(i)); }, serializeSupplyChainNodes: function serializeSupplyChainNodes(e) { var t = ["asi"https://r.search.yahoo.com/,"sid"https://r.search.yahoo.com/,"hp"https://r.search.yahoo.com/,"rid"https://r.search.yahoo.com/,"name"https://r.search.yahoo.com/,"domain"]; return e.map(function (r) { return t.map(function (e) { return encodeURIComponent(r[e] || ""); }).join(","); }).join("!"); }, interpretResponse: function interpretResponse(d, e) { var c = e.bidRequest; if (!(d = d.body) || "object" !== x(d)) return []; if (d.seatbid) { var r = g.deepAccess(d, "ext.errors.rubicon"); Array.isArray(r) && 0 < r.length && g.logWarn("Rubicon: Error in video response"); var o = []; return d.seatbid.forEach(function (n) { (n.bid || []).forEach(function (e) { var r = { requestId: c.bidId, currency: d.cur || "USD", creativeId: e.crid, cpm: e.price || 0, bidderCode: n.seat, ttl: 300, netRevenue: !1 !== b.b.getConfig("rubicon.netRevenue"), width: e.w || g.deepAccess(c, "mediaTypes.video.w") || g.deepAccess(c, "params.video.playerWidth"), height: e.h || g.deepAccess(c, "mediaTypes.video.h") || g.deepAccess(c, "params.video.playerHeight") }; e.id && (r.seatBidId = e.id), e.dealid && (r.dealId = e.dealid); var t, i = g.deepAccess(d, "ext.responsetimemillis.rubicon"); c && i && (c.serverResponseTimeMs = i), g.deepAccess(e, "ext.prebid.type") === u.d ? (r.mediaType = u.d, (t = g.deepAccess(e, "ext.prebid.targeting")) && "object" === x(t) && (r.adserverTargeting = t), e.ext.prebid.cache && "object" === x(e.ext.prebid.cache.vastXml) && e.ext.prebid.cache.vastXml.cacheId && e.ext.prebid.cache.vastXml.url ? (r.videoCacheKey = e.ext.prebid.cache.vastXml.cacheId, r.vastUrl = e.ext.prebid.cache.vastXml.url) : t && t.hb_uuid && t.hb_cache_host && t.hb_cache_path && (r.videoCacheKey = t.hb_uuid, r.vastUrl = "https://".concat(t.hb_cache_host).concat(t.hb_cache_path, "?uuid=").concat(t.hb_uuid)), e.adm && (r.vastXml = e.adm), e.nurl && (r.vastUrl = e.nurl), !r.vastUrl && e.nurl && (r.vastUrl = e.nurl)) : g.logWarn("Rubicon: video response received non-video media type"), o.push(r); }); }), o; } var t = d.ads; return "object" !== x(c) || Array.isArray(c) || "video" !== m(c) || "object" !== x(t) || (t = t[c.adUnitCode]), !Array.isArray(t) || t.length < 1 ? [] : t.reduce(function (e, r, t) { if ("ok" !== r.status) return e; var i, n, o, a, s = Array.isArray(c) ? c[t] : c; return s && "object" === x(s) ? (i = { requestId: s.bidId, currency: "USD", creativeId: r.creative_id || "".concat(r.network || ""https://r.search.yahoo.com/,"-").concat(r.advertiser || ""), cpm: r.cpm || 0, dealId: r.deal, ttl: 300, netRevenue: !1 !== b.b.getConfig("rubicon.netRevenue"), rubicon: { advertiserId: r.advertiser, networkId: r.network }, meta: { advertiserId: r.advertiser, networkId: r.network } }, r.creative_type && (i.mediaType = r.creative_type), r.creative_type === u.d ? (i.width = s.params.video.playerWidth, i.height = s.params.video.playerHeight, i.vastUrl = r.creative_depot_url, i.impression_id = r.impression_id, i.videoCacheKey = r.impression_id) : (i.ad = (o = r.script, a = r.impression_id, "n
nnx3c!-- Rubicon Project Ad Tag --x3en
nn
nn")), n = v(f[r.size_id].split("x").map(function (e) {
return Number(e);
}), 2), i.width = n[0], i.height = n[1]), i.rubiconTargeting = (Array.isArray(r.targeting) ? r.targeting : []).reduce(function (e, r) {
return e[r.key] = r.values[0], e;
}, {
rpfl_elemid: s.adUnitCode
}), e.push(i)) : g.logError("Rubicon: bidRequest undefined at index position:".concat(t), c, d), e;
}, []).sort(function (e, r) {
return (r.cpm || 0) - (e.cpm || 0);
});
},
getUserSyncs: function getUserSyncs(e, r, t, i) {
if (!R && e.iframeEnabled) {
var n = "";
return t && "string" == typeof t.consentString && ("boolean" == typeof t.gdprApplies ? n += "?gdpr=".concat(Number(t.gdprApplies), "&gdpr_consent=").concat(t.consentString) : n += "?gdpr_consent=".concat(t.consentString)), i && (n += "".concat(n ? "&" : "?"https://r.search.yahoo.com/,"us_privacy=").concat(encodeURIComponent(i))), R = !0, {
type: "iframe",
url: a + n
};
}
},
transformBidParams: function transformBidParams(e) {
return g.convertTypes({
accountId: "number",
siteId: "number",
zoneId: "number"
}, e);
}
};
function _(e, r) {
var t,
i = 0 < arguments.length && void 0 !== e ? e : {}, n = 1 < arguments.length ? r : void 0; if (!n || !d[n]) return null; var o = d[n]; var a = function () { var e = g.deepAccess(i, "userId.digitrustid.data"); if (e) return e; var r = window.DigiTrust && (b.b.getConfig("digiTrustId") || window.DigiTrust.getUser({ member: "T9QSFKPDN9" })); return r && r.success && r.identity || null; }(); if (!a || a.privacy && a.privacy.optout) return null; var s = (p(t = {}, o.id, a.id), p(t, o.keyv, a.keyv), t); return o.pref && (s[o.pref] = 0), s; } function I(e, r) { var t = b.b.getConfig("pageUrl"), t = e.params.referrer ? e.params.referrer : t || r.refererInfo.referer; return e.params.secure ? t.replace(/^http:/i, "https:") : t; } function A(e, r) { var t = e.params; if ("video" === r) { var i = []; return t.video && t.video.playerWidth && t.video.playerHeight ? i = [t.video.playerWidth, t.video.playerHeight] : Array.isArray(g.deepAccess(e, "mediaTypes.video.playerSize")) && 1 === e.mediaTypes.video.playerSize.length ? i = e.mediaTypes.video.playerSize[0] : Array.isArray(e.sizes) && 0 < e.sizes.length && Array.isArray(e.sizes[0]) && 1 < e.sizes[0].length && (i = e.sizes[0]), i; } var n = []; return Array.isArray(t.sizes) ? n = t.sizes : void 0 !== g.deepAccess(e, "mediaTypes.banner.sizes") ? n = s(e.mediaTypes.banner.sizes) : Array.isArray(e.sizes) && 0 < e.sizes.length ? n = s(e.sizes) : g.logWarn("Rubicon: no sizes are setup or found"), S(n); } function s(e) { return g.parseSizesInput(e).reduce(function (e, r) { var t = parseInt(f[r], 10); return t && e.push(t), e; }, []); } function c(e) { return "object" === x(g.deepAccess(e, "params.video")) && void 0 !== g.deepAccess(e, "mediaTypes.".concat(u.d)); } function m(e, r) { var t = 1 < arguments.length && void 0 !== r && r; return c(e) ? -1 === ["outstream"https://r.search.yahoo.com/,"instream"].indexOf(g.deepAccess(e, "mediaTypes.".concat(u.d, ".context"))) ? void (t && g.logError("Rubicon: mediaTypes.video.context must be outstream or instream")) : A(e, "video").length < 2 ? void (t && g.logError("Rubicon: could not determine the playerSize of the video")) : (t && g.logMessage("Rubicon: making video request for adUnit", e.adUnitCode), "video") : 0 === A(e, "banner").length ? void (t && g.logError("Rubicon: could not determine the sizes for banner request")) : (t && g.logMessage("Rubicon: making banner request for adUnit", e.adUnitCode), "banner"); } function S(e) { var n = [15, 2, 9]; return e.sort(function (e, r) { var t = n.indexOf(e), i = n.indexOf(r); return -1 < t || -1 < i ? -1 === t ? 1 : -1 === i ? -1 : t - i : e - r; }); } function C(e) { var r = parseInt(g.deepAccess(e, "params.video.size_id")); return isNaN(r) ? "outstream" === g.deepAccess(e, "mediaTypes.".concat(u.d, ".context")) ? 203 : 201 : r; } function j(e) { return { ranges: { low: [{ max: 5, increment: .5 }], medium: [{ max: 20, increment: .1 }], high: [{ max: 20, increment: .01 }], auto: [{ max: 5, increment: .05 }, { min: 5, max: 10, increment: .1 }, { min: 10, max: 20, increment: .5 }], dense: [{ max: 3, increment: .01 }, { min: 3, max: 8, increment: .05 }, { min: 8, max: 20, increment: .5 }], custom: e.getConfig("customPriceBucket") && e.getConfig("customPriceBucket").buckets }[e.getConfig("priceGranularity")] }; } function k(r) { var t = !0, e = Object.prototype.toString.call([]), i = Object.prototype.toString.call(0), n = { mimes: e, protocols: e, maxduration: i, linearity: i, api: e }; return Object.keys(n).forEach(function (e) { Object.prototype.toString.call(g.deepAccess(r, "mediaTypes.video." + e)) !== n[e] && (t = !1, g.logError("Rubicon: mediaTypes.video." + e + " is required and must be of type: " + n[e])); }), t; } function T(e) { var r = !1, t = ["asi"https://r.search.yahoo.com/,"sid"https://r.search.yahoo.com/,"hp"]; return e.nodes && ((r = e.nodes.reduce(function (e, r) { return e ? t.every(function (e) { return r[e]; }) : e; }, !0)) || g.logError("Rubicon: required schain params missing")), r; } function w(e, r) { return "rp_schain" === e ? "rp_schain=".concat(r) : "".concat(e, "=").concat(encodeURIComponent(r)); } var R = !1; Object(i.registerBidder)(h); } }, [677]); pbjsChunk([93], { 719: function _(e, t, r) { e.exports = r(720); }, 720: function _(e, t, r) { "use strict"; Object.defineProperty(t, "__esModule", { value: !0 }), r.d(t, "spec", function () { return o; }), r.d(t, "_isInbounds", function () { return a; }), t._getPlatform = v; var n = r(1), y = r(0), i = r(2), c = r(3), g = r(10), d = r(44); function h(e, t) { return function (e) { if (Array.isArray(e)) return e; }(e) || function (e, t) { if ("undefined" == typeof Symbol || !(Symbol.iterator in Object(e))) return; var r = [], n = !0, i = !1, s = void 0; try { for (var o, a = e[Symbol.iterator](); !(n = (o = a.next()).done) && (r.push(o.value), !t || r.length !== t); n = !0) { ; } } catch (e) { i = !0, s = e; } finally { try { n || null == a.return || a.return(); } finally { if (i) throw s; } } return r; }(e, t) || function (e, t) { if (!e) return; if ("string" == typeof e) return s(e, t); var r = Object.prototype.toString.call(e).slice(8, -1); "Object" === r && e.constructor && (r = e.constructor.name); if ("Map" === r || "Set" === r) return Array.from(e); if ("Arguments" === r || /^(?:Ui|I)nt(?:8|16|32)(?:Clamped)?Array$/.test(r)) return s(e, t); }(e, t) || function () { throw new TypeError("Invalid attempt to destructure non-iterable instance.nIn order to be iterable, non-array objects must have a [Symbol.iterator]() method."); }(); } function s(e, t) { (null == t || t > e.length) && (t = e.length);
for (var r = 0, n = new Array(t); r < t; r++) { n[r] = e[r]; } return n; } function u() { return (u = Object.assign || function (e) { for (var t = 1; t < arguments.length; t++) { var r = arguments[t]; for (var n in r) { Object.prototype.hasOwnProperty.call(r, n) && (e[n] = r[n]); } } return e; }).apply(this, arguments); } function p(e, t, r) { return t in e ? Object.defineProperty(e, t, { value: r, enumerable: !0, configurable: !0, writable: !0 }) : e[t] = r, e; } var b = "sonobi", l = Object(y.generateUUID)(), o = { code: b, supportedMediaTypes: [i.b, i.d], isBidRequestValid: function isBidRequestValid(e) { if (!e.params) return !1; if (!e.params.ad_unit && !e.params.placement_id) return !1; if (!Object(y.deepAccess)(e, "mediaTypes.banner") && !Object(y.deepAccess)(e, "mediaTypes.video")) return !1; if (Object(y.deepAccess)(e, "mediaTypes.banner")) { if (!Object(y.deepAccess)(e, "mediaTypes.banner.sizes") && !e.params.sizes) return !1; } else if (Object(y.deepAccess)(e, "mediaTypes.video")) { if ("outstream" === Object(y.deepAccess)(e, "mediaTypes.video.context") && !e.params.sizes) return !1; if ("instream" === Object(y.deepAccess)(e, "mediaTypes.video.context") && !Object(y.deepAccess)(e, "mediaTypes.video.playerSize")) return !1; } return !0; }, buildRequests: function buildRequests(e, t) { var r = e.map(function (e) { var t = function (e) { if (e.params.ad_unit) return e.params.ad_unit; return e.params.placement_id; }(e); return /^[/]?[d]+[[/].+[/]?]?$/.test(t) ? (t = "/" === t.charAt(0) ? t : "/" + t, p({}, "".concat(t, "|").concat(e.bidId), "".concat(f(e)).concat(m(e)))) : /^[0-9a-fA-F]{20}$/.test(t) && 20 === t.length ? p({}, e.bidId, "".concat(t, "|").concat(f(e)).concat(m(e))) : void Object(y.logError)("The ad unit code or Sonobi Placement id for slot ".concat(e.bidId, " is invalid")); }), n = {}; r.forEach(function (e) { u(n, e); }); var i = { key_maker: JSON.stringify(n), ref: t.refererInfo.referer, s: Object(y.generateUUID)(), pv: l, vp: v(), lib_name: "prebid", lib_v: "3.23.0", us: 0 }; c.b.getConfig("userSync") && c.b.getConfig("userSync").syncsPerBidder && (i.us = c.b.getConfig("userSync").syncsPerBidder), d.a.canBidderRegisterSync("iframe", b) ? i.ius = 1 : i.ius = 0, Object(y.deepAccess)(e[0], "params.hfa") && (i.hfa = Object(y.deepAccess)(e[0], "params.hfa")), e[0].params.referrer && (i.ref = e[0].params.referrer), t && t.gdprConsent && (i.gdpr = t.gdprConsent.gdprApplies ? "true" : "false", t.gdprConsent.consentString && (i.consent_string = t.gdprConsent.consentString)); var s = function (t) { var e = function () { var e = window.DigiTrust && (c.b.getConfig("digiTrustId") || window.DigiTrust.getUser({ member: t })); return e && e.success && e.identity || null; }(); if (!e || e.privacy && e.privacy.optout) return null; return e; }("fhnS5drwmH"); s && (i.digid = s.id, i.digkeyv = s.keyv), e[0].schain && (i.schain = JSON.stringify(e[0].schain)), Object(y.deepAccess)(e[0], "userId") && 0 < Object.keys(e[0].userId).length && (i.userid = JSON.stringify(e[0].userId)); var o = e[0].params.keywords; if (o && (i.kw = o), t && t.uspConsent && (i.us_privacy = t.uspConsent), Object(y.isEmpty)(n)) return null; var a = "https://apex.go.sonobi.com/trinity.json"; return Object(y.deepAccess)(e[0], "params.bid_request_url") && (a = Object(y.deepAccess)(e[0], "params.bid_request_url")), { method: "GET", url: a, withCredentials: !0, data: i, bidderRequests: e }; }, interpretResponse: function interpretResponse(e, l) { var f = e.body, m = [], v = l.data.ref; return 0 === Object.keys(f.slots).length || Object.keys(f.slots).forEach(function (e) { var t = f.slots[e], r = e.split("|").slice(-1)[0], n = function (e, t) { for (var r = 0; r < e.length; r++) { if (e[r].bidId === t) return e[r]; } }(l.bidderRequests, r), i = null; "video" === t.sbi_ct && (i = "video"https://r.search.yahoo.com/,"outstream" === Object(y.deepAccess)(n, "mediaTypes.video.context") && (i = "outstream")); var s, o, a, c, d, u, p, b = j(i, v); t.sbi_aid && t.sbi_mouse && t.sbi_size && (a = void 0 === (o = (s = h(t.sbi_size.split("x"), 2))[0]) ? 1 : o, d = void 0 === (c = s[1]) ? 1 : c, u = { requestId: r, cpm: Number(t.sbi_mouse), width: Number(a), height: Number(d), ad: b(f.sbi_dc, t.sbi_aid), ttl: 500, creativeId: t.sbi_crid || t.sbi_aid, aid: t.sbi_aid, netRevenue: !0, currency: "USD" }, t.sbi_dozer && (u.dealId = t.sbi_dozer), "video" === i ? (u.mediaType = "video", u.vastUrl = b(f.sbi_dc, t.sbi_aid), delete u.ad, delete u.width, delete u.height) : "outstream" === i && n && (u.mediaType = "video", u.vastUrl = b(f.sbi_dc, t.sbi_aid), u.renderer = function (e, t) { var r = 2 < arguments.length && void 0 !== arguments[2] ? arguments[2] : {}, n = g.a.install({ id: t.aid, url: "https://mtrx.go.sonobi.com/sbi_outstream_renderer.js", config: r, loaded: !1, adUnitCode: e }); try { n.setRender(O); } catch (e) { Object(y.logWarn)("Prebid Error calling setRender on renderer", e); } return n.setEventHandlers({ impression: function impression() { return Object(y.logMessage)("Sonobi outstream video impression event"); }, loaded: function loaded() { return Object(y.logMessage)("Sonobi outstream video loaded event"); }, ended: function ended() { Object(y.logMessage)("Sonobi outstream renderer video event"); } }), n; }(n.adUnitCode, u, Object(y.deepAccess)(n, "renderer.options")), p = Object(y.deepAccess)(n, "params.sizes"), Array.isArray(p) && Array.isArray(p[0]) && (p = p[0]), p && (u.width = p[0], u.height = p[1])), m.push(u)); }), m; }, getUserSyncs: function getUserSyncs(e, t) { var r = []; try { e.pixelEnabled && t[0].body.sbi_px.forEach(function (e) { r.push({ type: e.type, url: e.url }); }); } catch (e) {} return r; } }; function f(e) { return Object(y.deepAccess)(e, "mediaTypes.video") ? "" : e.params.sizes ? Object(y.parseSizesInput)(e.params.sizes).join(",") : Object(y.deepAccess)(e, "mediaTypes.banner.sizes") ? Object(y.parseSizesInput)(Object(y.deepAccess)(e, "mediaTypes.banner.sizes")).join(",") : e.sizes ? Object(y.parseSizesInput)(e.sizes).join(",") : void 0; } function m(e) { return e.params.floor ? "|f=".concat(e.params.floor) : ""; } var j = function j(i, s) { return function (e, t) { return "video" === i || "outstream" === i ? (r = t, n = s, "https://".concat(e, "apex.go.sonobi.com/vast.xml?vid=").concat(r, "&ref=").concat(encodeURIComponent(n))) : '';
var r, n;
};
};
var a = function a(e) {
var r = 0 < arguments.length && void 0 !== e ? e : window; return function () { var e = 0 < arguments.length && void 0 !== arguments[0] ? arguments[0] : 0, t = 1 < arguments.length && void 0 !== arguments[1] ? arguments[1] : Number.MAX_SAFE_INTEGER; return r.innerWidth >= e && r.innerWidth < t; }; }; function v() { var e = 0 < arguments.length && void 0 !== arguments[0] ? arguments[0] : window, t = a(e), r = 992, n = 768; return t(0, 768) ? "mobile" : t(n, r) ? "tablet" : "desktop"; } function O(i) { i.renderer.push(function () { var e = h(i.getSize().split("x"), 2), t = e[0], r = e[1], n = new window.SbiOutstreamRenderer(); n.init({ vastUrl: i.vastUrl, height: r, width: t }), n.setRootElement(i.adUnitCode); }); } Object(n.registerBidder)(o); } }, [719]); pbjsChunk([85], { 741: function _(e, r, t) { e.exports = t(742); }, 742: function _(e, r, t) { "use strict"; Object.defineProperty(r, "__esModule", { value: !0 }), t.d(r, "spec", function () { return n; }); var a = t(1), d = t(0), p = 12, o = 11, c = 0, u = 22, n = { code: "teads", supportedMediaTypes: ["video"https://r.search.yahoo.com/,"banner"], isBidRequestValid: function isBidRequestValid(e) { var r, t, a = !1; return void 0 !== e.params && (r = i(d.getValue(e.params, "placementId")), t = i(d.getValue(e.params, "pageId")), a = r && t), a || d.logError("Teads placementId and pageId parameters are required. Bid aborted."), a; }, buildRequests: function buildRequests(e, r) { var t = e.map(I), a = { referrer: function (e) { var r = ""; e && e.refererInfo && e.refererInfo.referer && (r = e.refererInfo.referer); return r; }(r), data: t, deviceWidth: screen.width, hb_version: "3.23.0" }; e[0].schain && (a.schain = e[0].schain); var n, d, i, s = r.gdprConsent; return r && s && (n = "boolean" == typeof s.gdprApplies, d = "string" == typeof s.consentString, i = n ? function (e, r, t) { var a = p; e ? function (e, r) { return e && 1 === r ? e.hasGlobalScope || e.hasGlobalConsent : !(!e || 2 !== r) && !e.isServiceSpecific; }(r, t) && (a = o) : a = c; return a; }(s.gdprApplies, s.vendorData, s.apiVersion) : u, a.gdpr_iab = { consent: d ? s.consentString : "", status: i, apiVersion: s.apiVersion }), r && r.uspConsent && (a.us_privacy = r.uspConsent), { method: "POST", url: "https://a.teads.tv/hb/bid-request", data: JSON.stringify(a) }; }, interpretResponse: function interpretResponse(e) { var t = []; return (e = e.body).responses && e.responses.forEach(function (e) { var r = { cpm: e.cpm, width: e.width, height: e.height, currency: e.currency, netRevenue: !0, ttl: e.ttl, ad: e.ad, requestId: e.bidId, creativeId: e.creativeId, placementId: e.placementId }; e.dealId && (r.dealId = e.dealId), t.push(r); }), t; } }; function I(e) { var r, t = {}, a = d.getValue(e.params, "placementId"), n = d.getValue(e.params, "pageId"); return t.sizes = (r = e, d.parseSizesInput(function (e) { var r = d.deepAccess(e, "mediaTypes.video.playerSize"), t = d.deepAccess(e, "mediaTypes.video.sizes"), a = d.deepAccess(e, "mediaTypes.banner.sizes"); return d.isArray(a) || d.isArray(r) || d.isArray(t) ? [a, t, r].reduce(function (r, e) { return d.isArray(e) && (d.isArray(e[0]) ? e.forEach(function (e) { r.push(e); }) : r.push(e)), r; }, []) : e.sizes; }(r))), t.bidId = d.getBidIdParameter("bidId", e), t.bidderRequestId = d.getBidIdParameter("bidderRequestId", e), t.placementId = parseInt(a, 10), t.pageId = parseInt(n, 10), t.adUnitCode = d.getBidIdParameter("adUnitCode", e), t.auctionId = d.getBidIdParameter("auctionId", e), t.transactionId = d.getBidIdParameter("transactionId", e), t; } function i(e) { return 0 < parseInt(e); } Object(a.registerBidder)(n); } }, [741]); pbjsChunk([76], { 761: function _(r, e, t) { r.exports = t(762); }, 762: function _(r, e, t) { "use strict"; Object.defineProperty(e, "__esModule", { value: !0 }), t.d(e, "tripleliftAdapterSpec", function () { return s; }); var n = t(2), i = t(1), o = t(0), u = t(3); function p(r) { return function (r) { if (Array.isArray(r)) return d(r); }(r) || function (r) { if ("undefined" != typeof Symbol && Symbol.iterator in Object(r)) return Array.from(r); }(r) || function (r, e) { if (!r) return; if ("string" == typeof r) return d(r, e); var t = Object.prototype.toString.call(r).slice(8, -1); "Object" === t && r.constructor && (t = r.constructor.name); if ("Map" === t || "Set" === t) return Array.from(r); if ("Arguments" === t || /^(?:Ui|I)nt(?:8|16|32)(?:Clamped)?Array$/.test(t)) return d(r, e); }(r) || function () { throw new TypeError("Invalid attempt to spread non-iterable instance.nIn order to be iterable, non-array objects must have a [Symbol.iterator]() method."); }(); } function d(r, e) { (null == e || e > r.length) && (e = r.length);
for (var t = 0, n = new Array(e); t < e; t++) { n[t] = r[t]; } return n; } var a = !0, c = null, s = { code: "triplelift", supportedMediaTypes: [n.b], isBidRequestValid: function isBidRequestValid(r) { return void 0 !== r.params.inventoryCode; }, buildRequests: function buildRequests(r, e) { var t, n = "https://tlx.3lift.com/header/auction?", i = function (r) { var e = {}, t = r[0].schain; e.imp = r.map(function (r, e) { return { id: e, tagid: r.params.inventoryCode, floor: r.params.floor, banner: { format: r.sizes.filter(l).map(function (r) { return { w: r[0], h: r[1] }; }) } }; }); var n = [].concat(p(function (r) { return f(r, "tdid"https://r.search.yahoo.com/,"adserver.org"https://r.search.yahoo.com/,"TDID"); }(r)), p(function (r) { return f(r, "idl_env"https://r.search.yahoo.com/,"liveramp.com"https://r.search.yahoo.com/,"idl"); }(r)), p(function (r) { return f(r, "criteoId"https://r.search.yahoo.com/,"criteo.com"https://r.search.yahoo.com/,"criteoId"); }(r))); 0 < n.length && (e.user = { ext: { eids: n } }); t && (e.ext = { schain: t }); return e; }(r); return n = o.tryAppendQueryString(n, "lib"https://r.search.yahoo.com/,"prebid"), n = o.tryAppendQueryString(n, "v"https://r.search.yahoo.com/,"3.23.0"), e && e.refererInfo && (t = e.refererInfo.referer, n = o.tryAppendQueryString(n, "referrer", t)), e && e.timeout && (n = o.tryAppendQueryString(n, "tmax", e.timeout)), e && e.gdprConsent && (void 0 !== e.gdprConsent.gdprApplies && (a = e.gdprConsent.gdprApplies, n = o.tryAppendQueryString(n, "gdpr", a.toString())), void 0 !== e.gdprConsent.consentString && (c = e.gdprConsent.consentString, n = o.tryAppendQueryString(n, "cmp_cs", c))), e && e.uspConsent && (n = o.tryAppendQueryString(n, "us_privacy", e.uspConsent)), !0 === u.b.getConfig("coppa") && (n = o.tryAppendQueryString(n, "coppa", !0)), n.lastIndexOf("&") === n.length - 1 && (n = n.substring(0, n.length - 1)), o.logMessage("tlCall request built: " + n), { method: "POST", url: n, data: i, bidderRequest: e }; }, interpretResponse: function interpretResponse(r, e) { var t = e.bidderRequest; return (r.body.bids || []).map(function (r) { return function (r, e) { var t = {}, n = e.width || 1, i = e.height || 1, u = e.deal_id || "", o = e.crid || ""; 0 != e.cpm && e.ad && (t = { requestId: r.bids[e.imp_id].bidId, cpm: e.cpm, width: n, height: i, netRevenue: !0, ad: e.ad, creativeId: o, dealId: u, currency: "USD", ttl: 300, tl_source: e.tl_source }); return t; }(t, r); }); }, getUserSyncs: function getUserSyncs(r, e, t, n) { var i = function (r) { if (!r) return; if (r.iframeEnabled) return "iframe"; if (r.pixelEnabled) return "image"; }(r); if (i) { var u = "https://eb2.3lift.com/sync?"; return "image" === i && (u = o.tryAppendQueryString(u, "px", 1), u = o.tryAppendQueryString(u, "src"https://r.search.yahoo.com/,"prebid")), null !== c && (u = o.tryAppendQueryString(u, "gdpr", a), u = o.tryAppendQueryString(u, "cmp_cs", c)), n && (u = o.tryAppendQueryString(u, "us_privacy", n)), [{ type: i, url: u }]; } } }; function f(r, e, t, n) { return r.map((o = e, function (r) { return r && r.userId && r.userId[o]; })).filter(function (r) { return !!r; }).map((i = t, u = n, function (r) { return { source: i, uids: [{ id: r, ext: { rtiPartner: u } }] }; })); var i, u, o; } function l(r) { return 2 === r.length && "number" == typeof r[0] && "number" == typeof r[1]; } Object(i.registerBidder)(s); } }, [761]); pbjsChunk([75], { 763: function _(e, r, t) { e.exports = t(764); }, 764: function _(e, r, t) { "use strict"; Object.defineProperty(r, "__esModule", { value: !0 }), t.d(r, "spec", function () { return v; }); var m = t(0), s = t(1), o = t(10), c = t(2), f = "Bid from response has no auid parameter - ", l = "Bid from response has no adm parameter - ", p = "Array of bid objects is empty", g = "Can't find in requested bids the bid with auid - ", u = "Seatbid array from response has empty item", y = "Response is empty", b = "Response has empty seatbid array", h = "Seatbid from response has no array of bid objects - ", v = { code: "trustx", supportedMediaTypes: [c.b, c.d], isBidRequestValid: function isBidRequestValid(e) { return !!e.params.uid; }, buildRequests: function buildRequests(e, r) { var a, o, p = [], u = {}, c = {}, f = {}, l = "net"; (e || []).forEach(function (e) { "gross" === e.params.priceType && (l = "gross"), o = e.bidderRequestId; var r = e.params.uid, t = e.adUnitCode; p.push(r); var s, n = m.parseSizesInput(e.sizes); a || m.isEmpty(e.params.keywords) || (0 < (s = m.transformBidderParamKeywords(e.params.keywords)).length && s.forEach(E), a = s), c[r] || (c[r] = {}); var d = c[r]; d[t] ? d[t].bids.push(e) : d[t] = { adUnitCode: t, bids: [e], parents: [] }; var i = d[t]; n.forEach(function (e) { f[e] = !0, u[r] || (u[r] = {}), u[r][e] ? u[r][e].push(i) : u[r][e] = [i], i.parents.push({ parent: u[r], key: e, uid: r }); }); }); var t = { pt: l, auids: p.join(","), sizes: m.getKeys(f).join(","), r: o, wrapperType: "Prebid_js", wrapperVersion: "3.23.0" }; return a && (t.keywords = JSON.stringify(a)), r && (r.refererInfo && r.refererInfo.referer && (t.u = r.refererInfo.referer), r.timeout && (t.wtimeout = r.timeout), r.gdprConsent && (r.gdprConsent.consentString && (t.gdpr_consent = r.gdprConsent.consentString), t.gdpr_applies = "boolean" == typeof r.gdprConsent.gdprApplies ? Number(r.gdprConsent.gdprApplies) : 1), r.uspConsent && (t.us_privacy = r.uspConsent)), { method: "GET", url: "https://sofia.trustx.org/hb", data: m.parseQueryStringParameters(t).replace(/&$/, ""), bidsMap: u }; }, interpretResponse: function interpretResponse(e, r, t) { var s = 2 < arguments.length && void 0 !== t ? t : o.a; e = e && e.body; var n, d = [], i = r.bidsMap, a = r.data.pt; return e ? e.seatbid && !e.seatbid.length && (n = b) : n = y, !n && e.seatbid && e.seatbid.forEach(function (e) { !function (e, d, r, t, s) { if (!e) return; var n; e.auid || (n = f + JSON.stringify(e)); { var i, a, o, p, u; e.adm ? (i = d[e.auid]) ? (a = "".concat(e.w, "x").concat(e.h), i[a] && (o = i[a][0], p = o.bids.shift(), u = { requestId: p.bidId, bidderCode: v.code, cpm: e.price, width: e.w, height: e.h, creativeId: e.auid, currency: "USD", netRevenue: "gross" !== r, ttl: 360, dealId: e.dealid }, "video" === e.content_type ? (u.vastXml = e.adm, u.mediaType = c.d, u.adResponse = { content: u.vastXml }, p.renderer || p.mediaTypes && p.mediaTypes.video && "outstream" !== p.mediaTypes.video.context || (u.renderer = function (e, r) { var t = r.install({ id: e.id, url: e.url, loaded: !1 }); try { t.setRender(w); } catch (e) { m.logWarn("Prebid Error calling setRender on renderer", e); } return t; }({ id: p.bidId, url: "https://acdn.adnxs.com/video/outstream/ANOutstreamVideo.js" }, s))) : (u.ad = e.adm, u.mediaType = c.b), t.push(u), o.bids.length || o.parents.forEach(function (e) { var r = e.parent, t = e.key, s = e.uid, n = r[t].indexOf(o); -1 < n && r[t].splice(n, 1), r[t].length || (delete r[t], m.getKeys(r).length || delete d[s]); }))) : n = g + e.auid : n = l + JSON.stringify(e); } n && m.logError(n); }(function (e) { e ? e.bid ? e.bid[0] || m.logError(p) : m.logError(h + JSON.stringify(e)) : m.logError(u); return e && e.bid && e.bid[0]; }(e), i, a, d, s); }), n && m.logError(n), d; }, getUserSyncs: function getUserSyncs(e) { if (e.pixelEnabled) return [{ type: "image", url: "https://sofia.trustx.org/push_sync" }]; } }; function E(e) { var r; r = e.value, m.isArray(r) && 0 < r.length && "" === e.value[0] && delete e.value; } function w(e) { e.renderer.push(function () { window.ANOutstreamVideo.renderAd({ targetId: e.adUnitCode, adResponse: e.adResponse }); }); } Object(s.registerBidder)(v); } }, [763]); pbjs.processQueue(); }, {}]; window.modules["via.legacy"] = [function(require,module,exports){"use strict"; DS.service("via", function () { "use strict"; // remove `via` from url, to be used after amplitude logs it to prevent users from sharing such urls function removeFromLocation() { var url = new URL(location.href); url.searchParams.delete("via"); history.replaceState(null, "", url.toString()); } // and add `via` param to any outbound links function addViaToUrl(href, via) { if (!href || href.substr(0, 1) === "#") { return href; // don't add to jumps on the current page, e.g. "Skip to main content" } var url = new URL(href); var apexDomain = new URL(location.href).hostname.split(".").slice(-2).join("."); if (url.hostname.indexOf(apexDomain) === -1) { return href; // don't add it to external links } url.searchParams.set("via", via); return url.toString(); } // keys correspond to "page_types" in editable_components.yml var PREFIXES = { article: "article", homepage: "homepage", "vertical front": "section", "rubric front": "rubric" }; var pageType; function setPageType(amplitudePageType) { pageType = PREFIXES[amplitudePageType]; } var DELIMITER = "_"; function concatVia(node, via) { var tag = node.dataset && node.dataset.via; if (tag) { via = (via.length ? tag + DELIMITER : tag) + via; } return via; } function addToClickedLinks() { document.documentElement.addEventListener("click", function (e) { var a; var via = ""; // detect link nodes and collect via directives to append to the href var node = e.target; // the element where this event originated may have been removed from the dom, e.g. in the case of the OIL CMP which disappears after you interact with it while (node && node !== e.currentTarget) { if (node.tagName === "A") { a = node; } via = concatVia(node, via); node = node.parentNode; } if (a && via) { if (pageType) { via = pageType + DELIMITER + via; } a.href = addViaToUrl(a.href, via); } }); } function addToSubmittedForms() { document.documentElement.addEventListener("submit", function (e) { var form = e.target; // collect via directives var via = ""; var node = e.target; while (node !== e.currentTarget) { via = concatVia(node, via); node = node.parentNode; } if (via) { if (pageType) { via = pageType + DELIMITER + via; } // dynamically create a hidden input for the form url var input = document.createElement("input"); input.type = "hidden"; input.name = "via"; input.value = via; form.appendChild(input); } }); } // start listening only once, when first injected addToClickedLinks(); addToSubmittedForms(); return { setPageType: setPageType, removeFromLocation: removeFromLocation }; }); }, {}]; window.modules["visibility.legacy"] = [function(require,module,exports){"use strict"; DS.service("$visibility", ["$document"https://r.search.yahoo.com/,"$window"https://r.search.yahoo.com/,"_throttle"https://r.search.yahoo.com/,"Eventify", function ($document, $window, _throttle, Eventify) { var list = [], Visible, VisibleEvent; /** * @param {number} a * @param {number} b * @returns {*} * @see http://jsperf.com/math-min-vs-if-condition-vs/8 */ function min(a, b) { return a < b ? a : b; } /** * @param {number} a * @param {number} b * @returns {*} * @see http://jsperf.com/math-min-vs-if-condition-vs/8 */ function max(a, b) { return a > b ? a : b;
}
/**
* Fast loop through watched elements
*/
function onScroll() {
list.forEach(updateVisibility);
}
/**
* updates seen property
* @param {Visble} item
* @param {{}} evt
* @fires Visible#shown
* @fires Visible#hidden
*/
function updateSeen(item, evt) {
var px = evt.visiblePx,
percent = evt.visiblePercent; // if some pixels are visible and we're greater/equal to threshold
if (px && percent >= item.shownThreshold && !item.seen) {
item.seen = true;
setTimeout(function () {
item.trigger("shown", new VisibleEvent("shown", evt));
}, 15); // if no pixels or percent is less than threshold
} else if ((!px || percent < item.hiddenThreshold) && item.seen) { item.seen = false; setTimeout(function () { item.trigger("hidden", new VisibleEvent("hidden", evt)); }, 15); } } /** * sets preload property * @param {Visible} item * @param {{}} evt * @param {Number} innerHeight * @fires Visible#preload */ function updatePreload(item, evt, innerHeight) { if (!item.preload && item.preloadThreshhold && shouldBePreloaded(evt.target, evt.rect, item.preloadThreshhold, innerHeight)) { item.preload = true; setTimeout(function () { item.trigger("preload", new VisibleEvent("preload", evt)); }, 15); } } /** * Trigger events * @param {Visible} item */ function updateVisibility(item) { var rect = item.el.getBoundingClientRect(), innerHeight = $window.innerHeight || $document.documentElement.clientHeight, px = getVerticallyVisiblePixels(rect, innerHeight), percent = px / (rect.height || innerHeight), evt = { target: item.el, rect: rect, visiblePx: px, visiblePercent: percent }; updateSeen(item, evt); updatePreload(item, evt, innerHeight); } /** * Return normalized viewport height * @return {number} */ function getViewportHeight() { return $window.innerHeight || $document.documentElement.clientHeight || $document.body.clientHeight; } /** * Return normalized viewport width * @return {number} */ function getViewportWidth() { return $window.innerWidth || $document.documentElement.clientWidth || $document.body.clientWidth; } /** * make sure an element isn't hidden by styles or etc * @param {Element} el * @return {Boolean} */ function isElementNotHidden(el) { return el && el.offsetParent !== null && !el.getAttribute("hidden") && getComputedStyle(el).display !== "none" && getComputedStyle(el).visibility !== "hidden"; } /** * Apparently the fastest way... * @param {Element} el * @returns {boolean} * @example if (!$visibility.isElementInViewport(el)) { ... } */ function isElementInViewport(el) { var rect = el.getBoundingClientRect(); return rect.top >= 0 && rect.left >= 0 && rect.bottom <= ($window.innerHeight || $document.documentElement.clientHeight) && rect.right <= ($window.innerWidth || $document.documentElement.clientWidth); } /** * @param {Element} el * @param {ClientRect} rect * @param {Number} preloadThreshhold * @param {Number} innerHeight * @return {Boolean} */ function shouldBePreloaded(el, rect, preloadThreshhold, innerHeight) { return rect.top <= innerHeight + preloadThreshhold && isElementNotHidden(el); } /** * Create a one-dimensional spacial hash of x * @param {number} x * @param {number} stepSize * @param {number} optimalK * @param {number} base * @return {number} */ function getLinearSpacialHash(x, stepSize, optimalK, base) { var index = Math.floor(x / (stepSize || 1)), remainder = x % stepSize, result = index.toString(base); if (optimalK > 1) {
result += getLinearSpacialHash(remainder, Math.floor(stepSize / base), optimalK – 1, base);
}
return result;
}
/**
* @param {ClientRect} rect
* @param {number} innerHeight
* @returns {number}
*/
function getVerticallyVisiblePixels(rect, innerHeight) {
return min(innerHeight, max(rect.bottom, 0)) – min(max(rect.top, 0), innerHeight);
}
/**
* Get offset of element relative to entire page
*
* @param {Element} el
* @returns {{left: number, top: number}}
* @see http://jsperf.com/offset-vs-getboundingclientrect/7
*/
function getPageOffset(el) {
var offsetLeft = el.offsetLeft,
offsetTop = el.offsetTop;
while (el = el.offsetParent) {
offsetLeft += el.offsetLeft;
offsetTop += el.offsetTop;
}
return {
left: offsetLeft,
top: offsetTop
};
}
/**
* Create a new Visible class to observe when elements enter and leave the viewport
*
* Call destroy function to stop listening (this is until we have better support for watching for Node Removal)
* @param {Element} el
* @param {{shownThreshold: number, hiddenThreshold: number}} [options]
* @class
* @example this.visible = new $visibility.Visible(el);
*/
Visible = function Visible(el, options) {
options = options || {};
this.el = el;
this.seen = false;
this.preload = false;
this.preloadThreshhold = options && options.preloadThreshhold || 0;
this.shownThreshold = options && options.shownThreshold || 0;
this.hiddenThreshold = options && min(options.shownThreshold, options.hiddenThreshold) || 0;
list.push(this);
updateVisibility(this); // set immediately to visible or not
};
Visible.prototype = {
/**
* Stop triggering.
*/
destroy: function destroy() {
// remove from list
list.splice(list.indexOf(this), 1);
}
/**
* @name Visible#on
* @function
* @param {'shown'|'hidden'} e EventName
* @param {function} cb Callback
*/
/**
* @name Visible#trigger
* @function
* @param {'shown'|'hidden'} e
* @param {{}}
*/
};
Eventify.enable(Visible.prototype);
VisibleEvent = function VisibleEvent(type, options) {
var _this = this;
this.type = type;
Object.keys(options).forEach(function (key) {
_this[key] = options[key];
});
}; // listen for scroll events (throttled)
$document.addEventListener("scroll", _throttle(onScroll, 200)); // public
this.getPageOffset = getPageOffset;
this.getLinearSpacialHash = getLinearSpacialHash;
this.getVerticallyVisiblePixels = getVerticallyVisiblePixels;
this.getViewportHeight = getViewportHeight;
this.getViewportWidth = getViewportWidth;
this.isElementNotHidden = isElementNotHidden;
this.isElementInViewport = isElementInViewport;
this.Visible = Visible;
}]);
}, {}];
require=(function e(t,n,r){function s(o,u){if(!n[o]){if(!t[o]){var a=typeof require=="function"&&require;if(!u&&a)return a(o,!0);if(i)return i(o,!0);var f=new Error("Cannot find module '"+o+"'");throw f.code="MODULE_NOT_FOUND",f}var l=n[o]={exports:{}};t[o][0].call(l.exports,function(e){var n=t[o][1][e];return s(n?n:e)},l,l.exports,e,t,n,r)}return n[o].exports}var i=typeof require=="function"&&require;for(var o=0;o