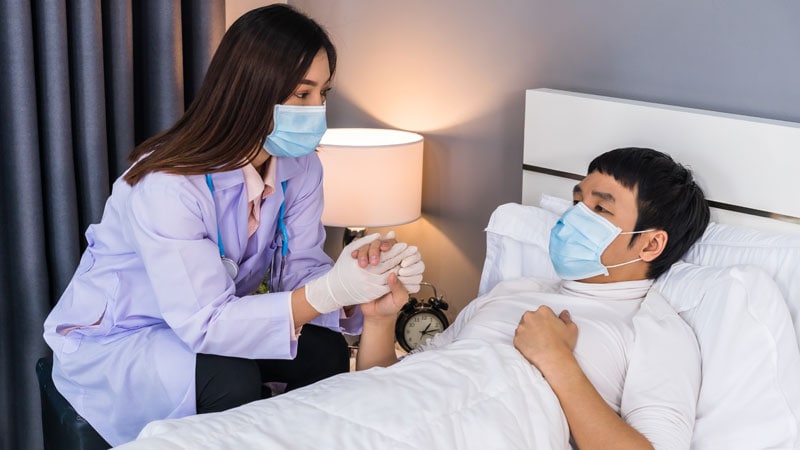 'Hospital at Home' Increases COVID Capacity in Large Study
Editor's note: Find the latest COVID-19 news and guidance in Medscape's Coronavirus Resource Center. A
Editor's note: Find the latest COVID-19 news and guidance in Medscape's Coronavirus Resource Center.
A "hospital at home" (HaH) program at Atrium Health, a large integrated delivery system in the Southeast, expanded its hospital capacity during the early phase of the COVID-19 pandemic by providing hospital-level acute care to COVID-19 patients at home, according to a new study in Annals of Internal Medicine.
"Virtual hospital programs have the potential to provide health systems with additional inpatient capacity during the COVID-19 pandemic and beyond," write Kranthi Sitammagari, MD, from the Atrium Health Hospitalist Group, Monroe, North Carolina, and colleagues.
Whereas most previous HaH programs have relied on visiting nurses and physicians, the new study uses telemedicine to connect with patients. Advocate Health Care researchers published the only other study using the telemedicine-powered model in 2015.
The new Atrium Health study evaluated 1477 patients who received care in the HaH program between March 23 and May 7 of this year after having been diagnosed with COVID-19. The program provided home monitoring and hospital-level care in a home-based virtual observation unit (VOU) and a virtual acute care unit (VACU).
Patients were tested for the virus in Atrium emergency departments, primary care clinics, urgent care centers, and external testing sites. Those who tested positive were invited to be cared for either in the VOU, if they had mild-to-moderate symptoms, or in the VACU, if they were sick enough to be admitted to the hospital.
Patients Hop Onboard
Nearly all COVID-positive patients tested in these sites agreed to be admitted to the hospital at home, coauthor Stephanie Murphy, DO, medical director of the Atrium Health HaH program, told Medscape Medical News.
Patients with moderate symptoms were glad to be monitored at home, she said. When they got to the point where the nurse supervising their care felt they needed escalation to acute care, they were asked whether they wanted to continue to be cared for at home. Most opted to stay home rather than be admitted to the hospital, where their loved ones couldn't visit them.
Low-acuity patients in the VOU received daily telemonitoring by a nurse to identify disease progression and escalate care as needed. For those who required more care and were admitted to the VACU, a team of paramedics and registered nurses (RNs; mobile clinicians) visited the patient's home within 24 hours, setting up a hospital bed, other necessary medical equipment, videoconferencing gear, and a remote-monitoring kit that included a blood pressure cuff, a pulse oximeter, and a thermometer.
Dedicated hospitalists and nurses managed patients with 24/7 coverage and monitoring, bringing in other specialties as needed for virtual consults. Mobile clinician and virtual provider visits continued daily until a patient's condition improved to the point where they could be deescalated back to the VOU. After that, patients received mobile app-driven symptom monitoring and telephone follow-up with a nurse until they got better.
Few Patients Go to Hospital
Overall, patients had a median length of stay of 11 days in the VOU or the VACU or both. The vast majority, 1293 patients (88%), received care in the VOU only. In that cohort, just 40 patients (3%) required hospitalization in an Atrium facility. Sixteen of those patients spent time in an ICU, seven required ventilator support, and two died in the hospital.
A total of 184 patients (12%) were admitted to the VACU. Twenty-one (11%) required intravenous fluids, 16 (9%) received antibiotics, 40 (22%) required inhaler or nebulizer treatments, 41 (22%) used supplemental oxygen, and 24 (13%) were admitted to a conventional hospital. Of the latter patients, 10 were admitted to an ICU, one required a ventilator, and none died in the hospital.
Sitammagari, a hospitalist and comedical director for quality at Atrium Health, told Medscape Medical News that, overall, the outcomes for patients in the system's HaH were comparable to those seen in the literature among other COVID-19 cohorts.
Augmenting Hospital Capacity
The authors note that treating the 160 VACU patients within the HaH saved hospital beds for other patients. The HaH maintained a consistent census of between 20 and 30 patients for the first 6 weeks as COVID-19 cases spread.
Since last spring, Murphy said, the Atrium HaH's daily census has grown to between 30 and 45 patients. "We could absorb 50 patients if our hospitals required it."
How much capacity does that add to Atrium Health? While there are 50 hospitals in the health system, the HaH was set up mainly to care for COVID-19 patients who would otherwise have been admitted to the 10 acute-care hospitals in the Charlotte, North Carolina, area. In the 4 weeks ending November 16, these facilities carried an average daily census of around 160 COVID-19 patients, Murphy noted. "During that time, the Atrium Health HaH has carried, on average, about 20-25% of that census."
If the pandemic were to overwhelm area hospitals, she added, "the structure would support flexing up our staffing and supplies to expand to crisis capacity," which could be up to 200 patients a day.
For the nurses who make most of the phone calls to patients, patients average about 12 to 15 per RN, Murphy said, and there's one mobile clinician for every six to nine patients. That's pretty consistent with the staffing on med-surg floors in hospitals, she said.
The physicians in the program include hospitalists dedicated to telemedicine and some doctors who can't work in the regular hospital because they're immunocompromised. The physicians round virtually, covering 12 to 17 HaH patients per day, according to Murphy.
Prior Planning Paid Off
Unlike some other healthcare systems that have launched HaH programs with the aid of outside vendors, Atrium Health developed its own HaH and brought it online just 2 weeks after deciding to launch the program. Atrium was able to do this, Sitammagari explained, because before the pandemic its hospitalist program was already developing an HaH model to improve the care of high-risk patients after hospital discharge to prevent readmission.
While Atrium's electronic health record (EHR) system wasn't designed for hospital at home, its health information technology department and clinicians collaborated in rewriting some of the workflows and order sets in the EHR. For example, they set up a nursing questionnaire to administer after VACU admission, and they created another form for automatic admission to the HaH after a patient tested positive for COVID-19. Atrium staff also modified a patient-doctor communications app to help clinicians monitor HaH patients, Murphy noted.
Other hospital systems have gotten up to speed on HaH pretty quickly by using platforms supplied by outside vendors. Adventist Health in Los Angeles, California, for example, started admitting patients to its hospital at home just a month after approaching a vendor called Medically Home.
COVID vs Non-COVID Patients
Atrium's decision to focus its HaH effort on COVID-19 patients is unusual among the small but growing number of health systems that have adopted the HaH model to increase their capacity. (Atrium is now transferring some hospitalized patients with other conditions to its HaH, but is still focusing mainly on COVID-19 in its HaH program.)
Bruce Leff, MD, a professor of health policy and management at Johns Hopkins Bloomberg School of Public Health who is a leading expert on the HaH model, agrees that it can increase hospital capacity significantly.
Leff praised the Atrium Health study. "It proves that within an integrated delivery system, you can quickly deploy and implement a virtual hospital in the specific use case of COVID, and help patients and help the system at scale," he said. "They took a bunch of people into the virtual observation unit and thereby kept people from overwhelming their [emergency department] and treated those people safely at home."
Leff had no problem with Atrium's focus on patients with COVID-19 rather than other conditions. "My guess is that they have the ability to take what they developed and apply it to other conditions. Once you have the ability to do acute care at home, you can do a lot at home."
The biggest barrier to the spread of hospital at home remains the lack of insurer coverage. Murphy said that health plans are covering virtual physician consultations with patients in the HaH, as well as some other bits and pieces, but not the entire episode of acute care.
Leff believes that this will start changing soon. COVID-19 has altered the attitudes of physicians and hospitals toward telehealth, he noted, "and it has moved policy makers and payers to start thinking about the new models — home based care in general and hospital at home in particular. For the first time in 25 years, payers are starting to get interested."
Most of the authors are employees of Atrium Health. In addition, one coauthor reports being the cofounder of a digital health company, iEnroll, LLC, and receiving grants from The Heineman Foundation. Leff is an  advisor to Medically Home, which provides support to hospital at home programs.
For more news, follow Medscape on Facebook, Twitter, Instagram, and YouTube.