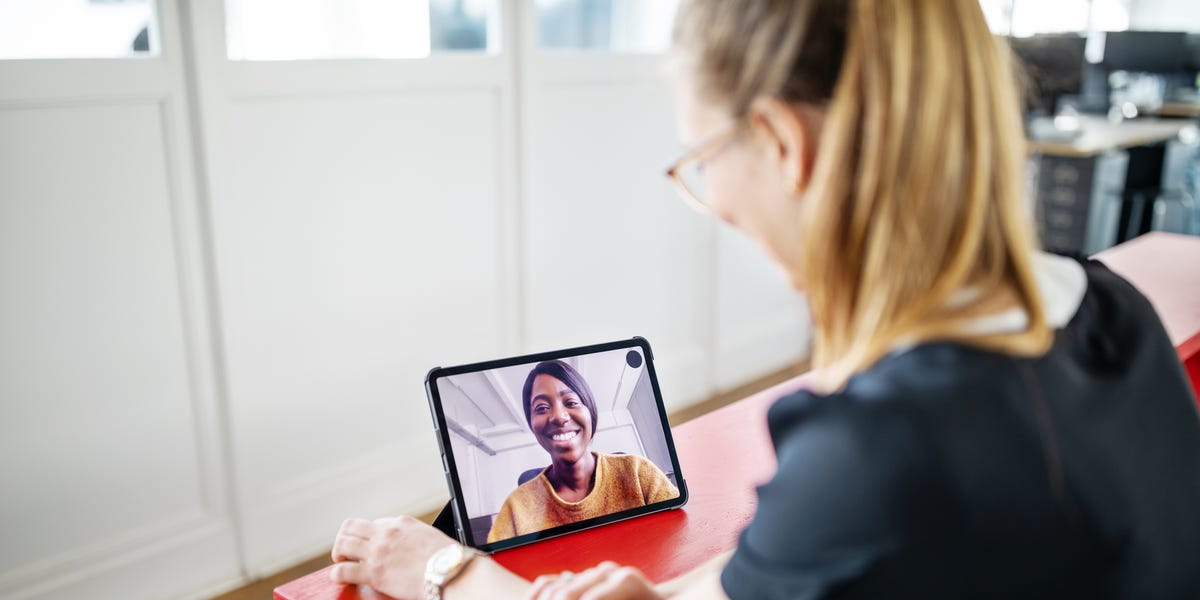 how to access online therapy
With the effects of social isolation, financial worries, and the wellbeing of our loved ones
With the effects of social isolation, financial worries, and the wellbeing of our loved ones weighing heavy on our minds, the mental impact of the coronavirus pandemic can't be understated.
From downloading one of the many mental health apps available, to accessing virtual sessions via video chat, audio call or instant messaging, online therapy has emerged as a viable alternative to traditional face-to-face treatment.
Here, experts explain how online therapy works, assess the benefits and limitations of virtual sessions, and share tips for making the most of your time with a therapist.
What types of therapy are available online?
With the advent of stable conferencing platforms such as Skype, Zoom, WhatsApp and Facebook Messenger, virtually any therapy that does not involve physical touch can be conducted online, says specialised trauma and abuse therapist Sarah Griffiths.
This might be through a video call, over the phone, or through a secure messaging platform. 'The strategies are really exactly the same as for face-to-face therapy,' she explains. 'All that changes is the setting – the methodologies, tools and techniques remain the same.'
---
---
Benefits and limitations of online therapy
Online therapy brings plenty of advantages compared to traditional treatment setting. More flexibility, convenience, and accessibility (for those in remote areas), and for some, greater anonymity and privacy. It also means the session is conducted in a familiar setting, which can be comforting for those seeking therapy for the first time.
'The patient is at home and this can be helpful for some as they are in their usual surroundings and more relaxed,' outlines Dr Paul McLaren, consultant psychiatrist at Priory's Hayes Grove Hospital and its Wellbeing Centres in London. 'It saves on time and travel for the patient and allows more flexibility in terms of timings. In the current situation, it allows for social distancing.'
With that said, some people may find online therapy less impersonal than a face-to-face session. 'It is true that some non-verbal information will be lost in terms of some body language,' Dr McLaren acknowledges. 'Some patients may find the increased social distance inhibiting and connections not always perfect depending on location and available bandwidth. It can be more tiring for some than a face-to-face session, but many do like it because of the convenience of it.'
---
---
How to prepare for online therapy
Before your first session, make sure you're well-acquainted with the equipment or conference platform you're using, so things run smoothly. For video or audio sessions, consider having a test-run with a friend or family member first, to make sure the microphone and camera work.
'Identify a location within the house where you feel secure enough to discuss confidential information,' says Dr McLaren. 'That might be easier if you use headphones with a microphone attached, so you don't have to speak too loudly to be heard.
'A common issue with video-link sessions is that where there are homes with other family members around, a patient may fear they will be overheard, which limits what they can say,; he continues. 'It's also worth checking the lighting and setting the camera with illumination coming from behind it.'
Starting therapy with an idea around what you'd like to get out of the process can help steer the direction and make sure the focus rests on the areas of your life that are most important to you, says consultant psychologist Dr Elena Touroni, co-founder of My Online Therapy.
'However, it's also completely fine if you're not sure,' she says. 'Some people seek therapy precisely because they're looking for that clarity – and that's ok, too. A quiet, private space and good WiFi are the only things you need.'
---
---
What can I expect from an online therapy session?
It really depends on your therapist and the type of therapy they work with – a Cognitive Behaviour Therapy (CBT) session may have a different approach to a hypnotherapy session, for example. However, during your first meet, they will primarily want to get to know you – and your personal objectives for seeking professional help – a little better.
'Your psychologist will want to get an idea of the main things you're looking to get out of therapy,' says Dr Touroni. 'Are there any immediate surface issues you're looking for help with? Maybe you're looking for help working through a relationship issue or you're having difficulties sleeping – or perhaps you just feel like something's up and you can't put your finger on it. These are all things worth bringing up in your first session.'
When it comes to how an online therapy session might be structured, it's very similar to face-to-face – the therapist introduces the session, checks if the patient has any questions about them or the process, outlines the agenda for the session and starts, says Dr McLaren.
'In addition, they should take time at the start to check that the patient can see and hear them comfortably, and gently ask the patient to make any adjustments they need to make at their end to optimise sound and vision,' he says. 'With services busy these days, it's useful for the therapist to suggest a contingency plan for loss of connection. They should initiate the reconnection rather than risking both trying to do it at the same time.'
---
Tips to make the most of your online therapy session
Ask questions
'Coming prepared with a few questions will help you get to know your psychologist better and understand all the different ways they might be able to help you,' says Dr Touroni.
Don't hold back
Treating your online therapy sessions like physical face-to-face appointments. Allow yourself to become fully immersed and get things off your chest.
Be open and upfront
'The healing process is a collaboration between therapist and client, and the therapist relies on the clients' honesty to help them bring about a result,' says Griffiths. 'Get clarification on what you do not understand.'
Mute your devices
To avoid getting distracted, make sure you mute or hide any notifications that may pop up on your phone, tablet or whichever device you're using for the online therapy.
Track your progress
'Before starting therapy, keep a journal to allow you to identify patterns in behaviour and thoughts,' says Griffiths. 'Note changes in how you are thinking and feeling.'
---
---
Last updated: 20-05-2020
This content is created and maintained by a third party, and imported onto this page to help users provide their email addresses. You may be able to find more information about this and similar content at piano.io
This commenting section is created and maintained by a third party, and imported onto this page. You may be able to find more information on their web site.