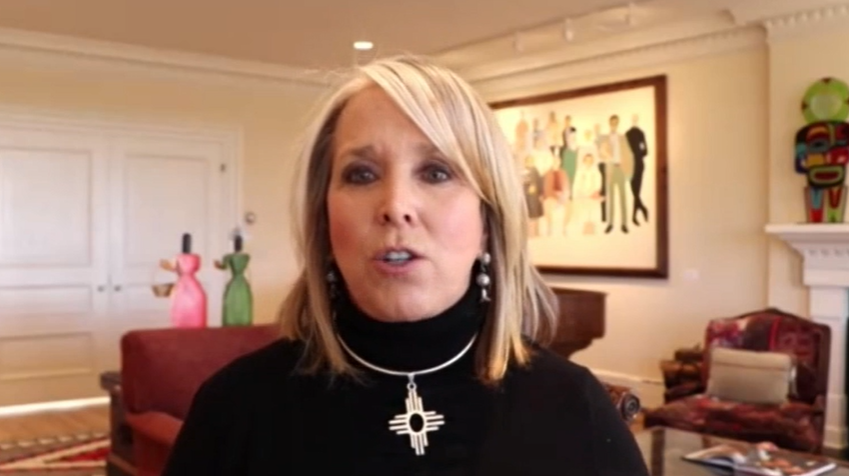 Instead of shutdown, governor announces new techniques to stop COVID-19 spread
Instead of shutdown, governor announces new techniques to stop COVID-19 spread Updated: 2:46 PM MDT
Instead of shutdown, governor announces new techniques to stop COVID-19 spread

Hide Transcript
Show Transcript
right. Thank you. And good afternoon, Governor. Good afternoon, Lieutenant Governor. Dr Grace, and everyone watching. I'm going Thio Talk a little bit about rapid response. Here are numbers. Um, I should just explain first that the New Mexico Environment Department while you may have come to know us again for air water waste protections, many of you now know us as the OSHA program for the state of New Mexico, where we work with employers and make sure that they are keeping their employees safe on In that vein, we also are working extensively on the rapid response is making sure that Kobe is not in the workplace as that is an occupational hazard. As we do that we track rapid responses. That's where we go out to businesses and ensure that it is not spreading in the workplace. Thes rapid responses you can see over the past six weeks have significantly increased. We're now 832 rapid responses for the period of October 12th through 18th, and we've managed as a state over 4800 rapid responses since we started tracking in May. The sheer volume is confirming what doctors grace talked about is that the numbers air indicating the cove. It is definitely traveling through communities as well as workplaces. Nor we could go to the next slide. So what? We're what are we doing about it? What's changing? And here's what. Here's how I would explain what we're doing And this slide, while a little bit busy, I think depicts exactly what is happening as we move forward. Starting today, the New Mexico Environment Department is publishing a rapid response co vid 19 watch list. Um, once a business goes through a rapid response, Um as they get their second rapid response, they will appear on this watch list. The watch list is designed to make information more transparent, more easy to access, to get it into communities. And to that, to that end, we're going to be publishing this list, sending it out to the media, tweeting about it, placing it on social media trying toe let uM, communities know which businesses have high numbers of rapid responses. So while the goal here is to stay home, if you need to go out to one of these businesses, you will have the tools in an easy to find way. As to where Cove it is in the workplace, in your community, so that's the first thing we're doing. The second thing we're doing is after you pass your second rapid response in the period of 14 days, you'll make it to a third or fourth. When you hit that number of four rapid responses within 14 days, certain businesses will now have to cease operations and shut down for a period of two weeks. Thes air largely the businesses like restaurants and, um, salons and gyms and places like that. Lodging, etcetera, uh, non essential businesses, if you will, will have to shut down for that period of time to to stop the spread of co bid within the workforce. And again, the goal here is is exactly that. To stop the spread of co bid, um, and to recognize that while many businesses air doing their due diligence and implementing CSP scope, it's a practices on a daily basis. There is that occasion where a business will experience a rapid response. If you're not experiencing those in a frequent way in that period of 14 days, you you then have the ability toe stay open and continue to serve the public for those that are having more struggle with this concept and get to that for in 14 days. That's where the period of shutdown begins. Governor, I will pass this back over to you and thank you, Governor. You're still muted. I'm so sorry. We're all having technical difficulties. Thank you, Nora, for reminding me. My apologies, everyone. So I'm gonna go over then the operational izing off our new measures and our our effort to crack down on this virus. And I really want to make sure that that's the language that we're using that we're not shutting down because we're trying to learn toe live with the virus during what's coming, which is even tougher winter months. So we're having a tough fall, by all likelihood and all of the advice and information we're getting from national experts on our own modeling team that the winner could pose even mawr challenges to New Mexico. And I want to frame it with three quick, more things. And let's talk about what changes one. The Mexico has a third less hospital in health care capacity per capita than any other state in the country. That means we have to get it right on. Do we have to do everything we can to make sure people can get routine care that mama's can deliver their babies safely in the hospital when they're going to the hospital to deliver those babies? That if, God forbid, we have a trauma or an accident or someone injured in a fire, that we have the health care system that's ready and available to do that? And it gets really stretched when you have any kind of an issue, whether that's a flu epidemic or a significant flu season, but with a pandemic and a deadly virus that becomes moment to moment if we can't stabilize transmission to the number of cases, as you saw as you saw is exponential. There were some days over the several last several where our positivity rate was eight and a little above What does that mean? That means that far too many people that were testing are showing that they have the virus that along with the rate of infection or two ways that we track how prevalent this virus is, it's prevalent in the state, and third, we wanna make sure that as we're protecting our health care resource is and we're protecting New Mexicans, right that we're saving lives in that design while also recognizing that we're trying toe right, have some sense of normalcy in the state of New Mexico. All right, so effective Friday, the 23rd. That's this Friday what Secretary Kenny was saying If a business records for rapid responses in a 14 day period, that business must close for two full weeks so that we can reset right basically where we are, where we've got a particular outbreak. This applies to food and drink establishments, retail establishments, places of lodging and any close contact businesses as defined in the public health. Where Secretary Kenny said that already gyms and salons or other examples, it's basically everyone all right, This is how we can crack down on where the virus is spreading. Businesses are not spreading the virus. People coming to businesses are spreading the virus on giving it to employees at that business. So this is a way for us to minimize that spread and deal with outbreaks. We want to do that s so that we don't have wholesale economic disruption. We believe this one effort is significant enough that we will be focusing on locations and high risk communities so that we can get folks back to the whole state managing the virus and limiting the spread. All right, next slide. All right now, we're gonna also require additional very strict safety measures for indoor dining on. I know that this is an area that we all struggle with because we want our restaurants to succeed. It is already incredibly hard. Winter is coming, and 25% occupancy or limited occupancy in indoors is not a sustainable model. Economically, we also want people to be safe. You can't wear a mask while you eat on your indoors, which means the virus stays in that indoor setting. So we really have to find better ways to do this more effectively. We think this strategy, which got great input and I want to say thank you from the restaurant association by other businesses and restaurants on by the Economic Recovery Counsel that if food and drink establishments work to do New Mexico safe certification, which is a free certification that goes through what's required, the training, how to protect your employees, how to keep it, Aziz sanitized as possible and how toe deal with the flow of traffic so that you're minimizing spread. We're gonna ask everyone to do that. If you don't do that, you can't keep off. You can't keep doing any indoor dining. Let me say that again for food and drink establishments, restaurants, breweries. If you don't complete the New Mexico Safe Certification Training program, which is free and it's online and it's quick you cannot continue toe offer indoor dining at 25%. You must also consent to spot testing of employees. What that means is state health officials will target businesses for testing in our high risk counties, where the health data shows that the spread is the worst. Um, we also want food and drink establishments to keep a logbook of customers who dine on site for three weeks to support contact. Tracing food and drink establishments will have until the end of the month almost October 30th to become certified. Those that are not certified after that date would not be able to offer indoor dining, food and drink establishments remain a top source, as I talked about of possible exposure, according to state contact tracers, and we have to find a way to safely operate indoor dining and lower the spread and rate of infection. Because again, winter is coming. And if we don't figure it out, there will never be an opportunity to increase indoor dining. And we know that we need to find a way to do that. We think these structures and these strict covitz safe practices are the prudent way forward. And I want to say one more thing about this slide. State provides the support at no cost of the business. The state shows up to provide the testing where appropriate, in high risk areas at no cost to the business. We want to make sure that you are safely operating that you have access to the resource is of the state so that you can stay open. That is the goal here and showing that these standards work well enough that we can make, I hope mawr positive arrangements moving forward. Okay, next slide. Um, these air additional measures that we think will slow the spread while keeping the economy viable. So also effective. Friday, October 23rd. All retail spaces must close by 10 PM every night. Remember, we're trying toe limit where people are going now, I want to make clear that this is excluded. Retail is not pharmacy, right? So anybody who needs those services, no matter what time it is, those air still available. So this is basic retail shopping. Healthcare and necessary supplies would be exempt from the standard, and it's really intended to minimize what's happening and where people are going. So if you were to food establishment, you chose that instead of retail shopping at a potential largely 24 hour big box store now, and I said it ahead of the slide. This aligns with our 10 p.m. Closing time for food and drink. So we're trying to minimize where people are going. We're trying to make sure that these air applied fairly on DWI think this also is an effective measure. We're also asking the Mexicans Please try and shop alone. Do not bring your family. Consider ordering online do curbside pickup and delivery We're working with retailers and grocery stores and big box stores toe help make this easier and the even think about having hours that are specific to single heads of households, so single parents who don't have any other options here, Um, and for seniors again to really minimize risk to maximize controlling the rate of spread off the virus. Effective Friday, October 23rd, state operated museums and historical sites are gonna close now That's something that we can do that again, keeps us in that triangle, and we are optimistic. I really want people to hear that we are in a very difficult place. Currently, in the state of New Mexico, the virus is winning. We have the opportunity. It's the fourth quarter. The virus doesn't have to win. We can win, we can manage it. We can come back down to a 2% positivity rate. And I'm optimistic that these efforts working in partnership with our business is that we can make these differences as long as new Mexicans support these by wearing your masks, keeping socially distanced and staying home. So I want to talk about our triangle for success, which I believe is my next slide. Yeah, we really believe because right duration and mobility and indoors outdoors, whether you wear a mask and all those things that we used to talk about in that Johns Hopkins model. Really, if we figure out a way. So notice that these air mass safely wearing your masks, that if we can minimize without creating harm to ourselves or our families by making sure that we're getting necessary medical care, that where we're required to do in person work. Of course, we do that, that where you need self care to run an errand, where you need childcare assistance, that we, of course, need to go to those places. But if we can try to make this triangle work, don't go more than three places a day. And if you have the ability to go nowhere several days in a row without those hardships or issues or precautions that I mentioned about keeping your family safe, and the virus can't use you as a vehicle to move around and we don't have much time. If we don't attack and snuff out the virus right now, by working collectively with businesses and each other, then the virus will win. And it leaves us very little opportunity to save lives and to keep our health care system for being overrun. And that other tool causes widespread economic disruption. Our North Star is still saving lives and making sure that our health care system is an overrun, but we still believe in the modeling team and using science mitigation measures that we can win. We can manage the virus, so I really need folks to help us. Last couple of things, it really is spreading exponentially. Please remember what doctors Grace said. New Mexico went from one of the best states in the nation to one of the states. It's in the most trouble in the nation, and its really because we let our guard down because it is a vicious, invisible enemy. It is an exhausting process with very little tools except modifying our behavior to attack. But attack it, we must.
Instead of shutdown, governor announces new techniques to stop COVID-19 spread
On Tuesday Gov. Michelle Lujan Grisham announced a variety of updates in the state's effort to stop the spread of COVID-19. The news comes as the state has seen cases skyrocket amid an alarming spread rate. We break down the updates below:RAPID RESPONSE WATCHLISTSee the latest watchlist here >>TARGETING HOT SPOTS If a business records four rapid responses within 14 days, businesses must close for two full weeks This applies to food and drink establishments, retail establishments, places of lodging and close contact businesses as defined by the public health order (gyms, salons etc…) INDOOR DINING RULESAny restaurant that wants to continue indoor dining MUST:Complete the New Mexico Safe Certification Training program (these businesses have until Oct. 30 to complete the training)Consent to spot testing of employeesKeep a logbook of customers who dine on-site for three weeks to support contact tracingOTHER CHANGES Effective Oct. 23:All retail spaces must close by 10 p.m. every nightState operated museums and historical sites will close
ALBUQUERQUE, N.M. —
On Tuesday Gov. Michelle Lujan Grisham announced a variety of updates in the state's effort to stop the spread of COVID-19.
The news comes as the state has seen cases skyrocket amid an alarming spread rate.
We break down the updates below:
RAPID RESPONSE WATCHLIST
TARGETING HOT SPOTS
If a business records four rapid responses within 14 days, businesses must close for two full weeks
This applies to food and drink establishments, retail establishments, places of lodging and close contact businesses as defined by the public health order (gyms, salons etc…)
INDOOR DINING RULES
Any restaurant that wants to continue indoor dining MUST:

Complete the New Mexico Safe Certification Training program (these businesses have until Oct. 30 to complete the training)
Consent to spot testing of employees
Keep a logbook of customers who dine on-site for three weeks to support contact tracing
OTHER CHANGES
Effective Oct. 23:

All retail spaces must close by 10 p.m. every night
State operated museums and historical sites will close