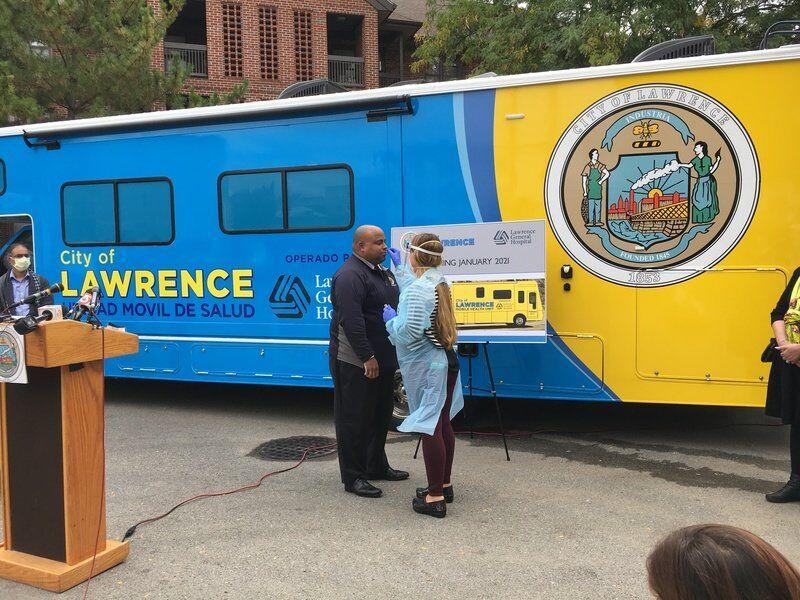 Lawrence launches $225K mobile testing unit | Merrimack Valley
LAWRENCE — Interested in receiving a COVID test in the city? Soon, residents won't need to
LAWRENCE — Interested in receiving a COVID test in the city?
Soon, residents won't need to pick up the phone to schedule an appointment or wait in a long drive-up line for a nasal swab. They'll just have to look out their living room window for the bright blue-and-yellow 41-foot mobile testing vehicle offering tests right in their neighborhood free of charge.
Through a new partnership with Lawrence General Hospital, Mayor Daniel Rivera said Tuesday he hopes to test as many as 600 residents daily as the unit, which cost $225,000, travels to every neighborhood in the city.
"We're only 6.7 square miles, but the reality is, our people have great need," Rivera said.
"If they're not at work, at church or at school, hopefully they're in their neighborhood," he added. "We want to meet them there and say, 'Look, this is important enough that we have brought this to you.' Regardless of what's being said at the national level, getting tested is important. Wearing a mask is important. And if we don't do that, I think people will go without being tested."
The mobile unit is part of a $1 million investment Rivera and city officials made in May to get Lawrence residents tested to help stop the spread of coronavirus.
In addition to the mobile unit, residents can also be tested at a site behind the Everett Mills at 70 General St. and at one of eight drive-through lanes at Lawrence General Hospital.
"It's a crazy effort and we've never done this, but it is important to test people to find out who has it, isolate them, and find out who doesn't have it," Rivera said. "We have money because we've been fiscally responsible in putting our money away for a rainy day — and it's raining."
On Tuesday, the mobile unit made its first appearance outside the Merrimack Court Housing Development run by the Lawrence Housing Authority, giving the 296 families the opportunity to be tested. The unit will conduct testing Wednesday through Friday from 9 a.m. to 5 p.m., the mayor's office said. Residents can track where the unit is headed next by visiting www.cityoflawrence.com.
"People can go outside their homes, without fear, and get tested," Rivera said. "They already have to deal with job loss, remote learning (during the pandemic). We're trying to make it easier." 
To receive a test, residents only need to supply their name and phone number to be contacted with their results. An email address may also be supplied if residents wish to receive results through Lawrence General Hospital's online patient portal. Results are expected within 24 to 36 hours.
"This is not the first time our community has risen to a challenge like this,"  Lawrence General's President and CEO Deborah J. Wilson said. "And we are advancing every conceivable method available to us to stop the spread,"
According to Wilson, once the mobile unit is up and running, flu testing will also be offered, as well as an eventual COVID-19 vaccine.
Those associated with the mobile testing unit say Lawrence is taking a step in the right direction to help stop the spread. 
"Coming into the neighborhoods is extremely significant. We can't expect people to incur any other burdens to testing, be it financial or transportation (related). We have to do this and make people comfortable in creating a consciousness around COVID-19," said Lawrence City Council President Kendrys Vasquez.
Rivera continues to urge personal responsibility as Lawrence's coronavirus numbers sit squarely in the red, high-risk zone.
"If the Commonwealth catches a cold, we (in Lawrence) catch pneumonia," the mayor reasoned of the densely populated city of 85,000 he oversees. "People are still talking about not wearing masks. Wear your masks in public. Stop going to work sick. Stop traveling without quarantining. Stop being comfortable with people around them just because you know them. And by God, get tested. If you want us to go back to school and work and have some semblance of our old life, we have to stop (the spread)."