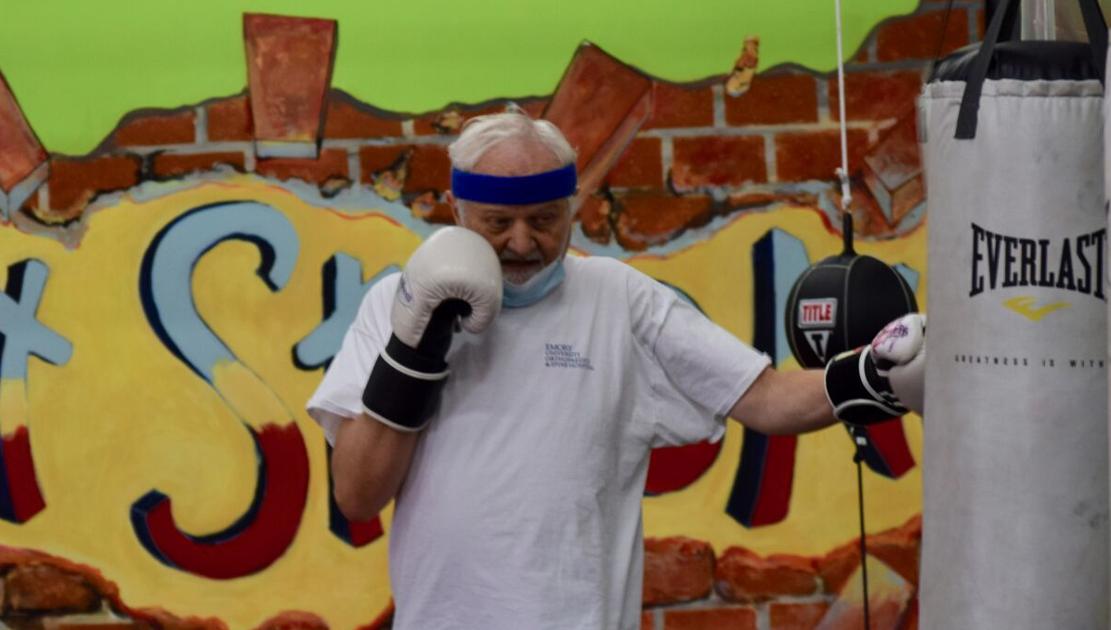 Local nonprofit Day One Fitness helps people with Parkinson's, Alzheimer's disease fight back | Sunday Best
Inspiration sparked by a magazine article has now helped around 120 people with Parkinson's and
Inspiration sparked by a magazine article has now helped around 120 people with Parkinson's and Alzheimer's diseases in the Aiken area.
Day One Fitness is a nonprofit in Beech Island established in 2015 that helps people with chronic disease or disability, both physically and mentally, through exercise and boxing.
Proceeds from an ongoing golf tournament, called Birdies for Brain Health, will allow the organization to continue providing that help. The Birdies for Brain Health tournament is a socially-distanced, self-led tournament at Woodside Plantation Country Club from Oct. 29 until Nov. 11. 
Tambra Wilkerson, the executive director and founder of Day One Fitness, founded the organization after she read a magazine article about a young mother named Jennifer Parkinson who was diagnosed with early onset Parkinson's disease and turned to boxing to help.
"Her story is incredibly inspiring, but more than that, it introduced me to the concept that there was something out there that could help people who were struggling with this difficult disease (Parkinson's disease), and actually allow them to have an improved quality of life," Wilkerson said.
Wilkerson said the boxing training helps slow the progression of symptoms of the disease.
"I have always enjoyed fitness, and I felt this incredible passion about wanting to combine that passion of mine with serving other people. Once I started down this path, it was so much more than my passion that helped Day One Fitness become a reality," Wilkerson said.
"I have never felt more strongly that God was leading my path exactly where he planned for me to be. Doors opened wide where needed, while other doors slammed shut when it was time. Although every step of our journey may not have always felt like a blessing at the time, I always had faith that God had a plan."
She said that was "never more obvious" than when the organization left the facility in which it began.
The organization was holding classes at a local MMA facility in the morning before it opened for its own classes each day. When that arrangement fell through, Day One Fitness had 30 days to find an alternative.
"Augusta First Assembly of God stepped forward and offered us a building for use. They allowed us to go in and knock down walls, raise ceilings, and remove carpeting to make the space usable for our needs. A group of their members showed up on the first workdays to help us do all these projects. We started this project one week before we had to leave our other facility, and we were able to complete all the projects in time so that we never missed a day of classes," she said.
They held classes there for around two years. They have since moved to a permanent facility in Beech Island.
That facility was funded through a capital campaign and fundraising events like Birdies for Brain Health, Wilkerson said.
Suzanne Denmark, one of the coaches at Day One Fitness, said the physical activity is "like medicine" for the people who take the classes.
They work on strength, balance and agility. Boxing is a big part of it, but not the only part.
"Boxing requires a combination of endurance, strength, power, speed, agility, flexibility, durability, hand-eye coordination, and the ability to react appropriately to strategic situations," Wilkerson writes on the organization's website.
"Boxing improves balance and stability by forcing movements in all planes of motion. The rapid movements involved in jumping and punching increases overall muscle fire ability."
Parkinson's disease manifests in every person differently, Denmark said.
She said, with the disease, everything gets smaller, like a person's voice and movements, and it affects things like their handwriting. So they work on manual dexterity for handwriting and do vocal exercises, such as counting out loud or doing tongue-twisters.
Sometimes during class, coaches will have attendees do mental exercises to sharpen cognitive skills, such as counting backwards by threes, or multitasking and doing a puzzle.
"You're really addressing all the issues they have," Denmark said.
Wilkerson said rigidity is a physical symptom that people with Parkinson's often experience, and said it causes difficulty with person hygiene, getting dressed and accomplishing tasks around the home.
She mentioned one man in the program who came up about a week after joining and said he was washing his hair and suddenly realized he was using both hands, and that he hadn't been able to reach above his shoulders with one arm for over two years.
Wilkerson mentioned another participant who has been able to postpone her use of a walker because she is active in Day One Fitness programs.
"One gentleman had lost so much strength in his arm and hand that he could no longer cut his own steak. Because he needed the assistance of his wife for this task, he had stopped ordering steak at restaurants," she said.
Then on a Monday after Father's Day, he came to Wilkerson and told her that his family had taken him to Outback to celebrate, and he had ordered steak and cut it himself for the first time in six months.
Another benefit for those attending classes is camaraderie and being able to speak with folks who are going through similar issues. 
"What's a big plus is them being together and being able to talk with people that have the same thing, because no one else understands," Denmark said.
"Their spouse doesn't understand, their family doesn't understand, but they do, so that's a big part of it."
She said whenever people come in for her classes, she backs up so they can talk, and said before and after class, attendees will talk about ideas, what they're going through, what their doctor said.
"They all are here to work, and they all work really hard. You don't hear anyone grumbling about it. They want to be here; they know it's important. They come with a great attitude, and they work as hard as they can," she said.
Day One Fitness will be launching new programs for people recovering from stroke later this month and in 2021 will launch new programs for people with Multiple Sclerosis. The organization will also be offering A Matter of Balance programs to seniors over 60.
"This evidence-based program is a program designed to reduce the fear of falling and increase activity levels among older adults. Those will be offered online beginning first quarter of 2021, as well," Wilkerson said. "All of these programs were set to launch in mid-2020, but were postponed due to COVID-19."
Wilkerson said she is thankful she is able to walk the journey with fighters at the gym. 
"Imagine being diagnosed with an incurable, progressive, degenerative disease. The devastation can be profound, and suddenly all your future plans and dreams are in question. Our vision is that, on day one of diagnosis, people find out about our programs and benefits; and that on day one of stepping into our facility, they feel empowered to fight back. We hope they leave knowing that it was day one of the rest of their lives," Wilkerson said.