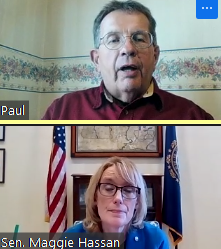 Local officials seek direct COVID-19 aid | Coronavirus
City, county and law enforcement officials urged Sen. Maggie Hassan, D-NH, to make sure the
City, county and law enforcement officials urged Sen. Maggie Hassan, D-NH, to make sure the next COVID-19 relief package includes direct aid to local governments.
Berlin Mayor Paul Grenier also used an online dialogue session with Hassan Monday to call upon Gov. Chris Sununu to order a mask mandate for all of New Hampshire.
"It would really be simplified if the governor would just come out and support it. He made daily press conferences or weekly press conferences when he had $1.25 billion to spread the money around," Grenier said.
"The governor is invisible; he needs to get up in front of the room and swallow the same pills that local people are swallowing."
After months of few COVID-19 cases, Coos County has had a significant spike that included a major outbreak in the Coos County Nursing Hospital in West Stewartstown.
"We're in trouble and people are voluntarily wearing face masks right now because when you get to this point, it's too late," said Grenier who is also a Coos County commissioner. "While it is manageable is the time you need to be wearing face coverings."
Grenier proposed a citywide mask mandate that the Berlin City Council is expected to discuss for a second time at its next meeting.
Sununu has said city and town governments have adopted mask mandates; he said there was a high rate of compliance with the state's recommendation that people wear face coverings in public if they are unable to socially distance.
Hassan said she agreed with Grenier about masks.
"There is increasing evidence; in terms of mask mandates, counties that do have them have lower spread, lower caseloads than counties that don't. That is national data now," Hassan said.
Sununu was recently critical of Grenier's financial management in Berlin and called for a forensic audit of city finances, saying he didn't understand how the city is spending all of the state dollars it receives.
The CARES Act of COVID-19 relief that Congress passed last March gave money directly to cities with at least 500,000 people.
Hassan said the next relief package should provide this direct aid and give states "more flexibility" in how governors and state lawmakers decide money should be spent.
Sen. Chuck Grassley, R-Iowa, supports that effort, Hassan said.
"I am hopeful we can break this logjam and get a compromise offer of some sort from Senator (Mitch) McConnell," Hassan said referring to the Senate majority leader.
Strafford County Sheriff David Dubois said he had to lay off 10 of his staff after court administrators for months suspended in-person court sessions.
He and Sheriff-Elect Mark Brave said they fear additional layoffs could be necessary early in 2021.
Cheshire County Administrator Chris Coates said the prospect of future layoffs without additional federal aid could become more clear after cities and towns report local property tax payments to the state in mid-December.
"Financially, we are OK for 2020; there are the unknowns for what is going to happen in 2021," Coates said.
Lebanon City Manager Shaun Mulholland said the virus caused a shortfall of about $450,000 for his city as revenue dropped from ambulance fees, landfill disposal, the local airport and other sources.
The city has had three layoffs so far, he said.
"There is no relief on the horizon as you know," Mulholland said.