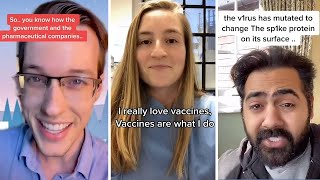 Meet the scientists tackling vaccine misinformation on TikTok
It's a vital role. Since the start of the pandemic, wild claims about Covid-19, including
It's a vital role. Since the start of the pandemic, wild claims about Covid-19, including suggestions that Bill Gates has bugged vaccines with microchips, have troubled the internet.
It's become such a concern that Dr Tedros Adhanom Ghebreyesus, head of the World Health Organization, has repeatedly warned that a dual pandemic of disease and misinformation has infected the world.
The real-world harm of such conspiracy theories cannot be underestimated. Extremist movements born on social media shook America this week. Meanwhile, Britain has had to contend with its equal share of anti-maskers and lockdown skeptics who have been radicalised by unsubstantiated claims published across various platforms.
Professor Heidi Larson, director of the Vaccine Confidence Project at the LSHTM, said a "tsunami" of misinformation has likewise contributed to rising levels of vaccine hesitancy across the world.
"For every new piece of information about vaccines, there was I would say almost tenfold of all kinds of interpretations of it, and misinterpretations, and purposeful diversions," she told a Royal Society of Medicine webinar on Thursday.
TikTok is not immune to this sort of discourse and the fact that videos can amass hundreds of thousands of views within hours makes it all the more difficult to control the spread of misleading claims, says American TikToker Dr Morgan Noc, who uses a pseudonym on the app.
"One thing that's particularly challenging is that myths and conspiracy theories are just inherently much more viral than scientific information," he tells The Telegraph.
"You can debate over whether people should be getting their health information from TikTok or from other social media, regardless of what you think they should, they are," he adds.