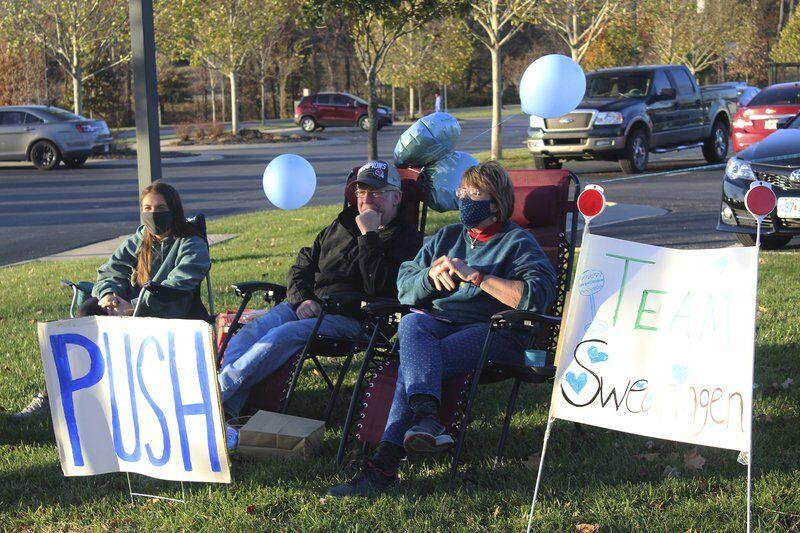 Mercy parking lot takes place of waiting room in pandemic | Coronavirus updates
A sliver of Mercy Hospital Joplin's parking lot was all cheers Thursday afternoon as the
A sliver of Mercy Hospital Joplin's parking lot was all cheers Thursday afternoon as the birth of a baby boy brought a celebratory end to a unique vigil that, for all intents and purposes, resembled a tailgate party.
Throughout most of the day, Lynn and Steve Onstot sat waiting for the moment when their oldest daughter, Sarah, gave birth to their grandson.
It's a common enough scene played out across untold hospital waiting rooms each year. Except for 2020, that is. Thanks to the COVID-19 pandemic, in which patients — yes, even expecting mothers — are allowed just a lone visitor with them, Lynn, Steve and their youngest daughter, Monica, had to do their nail biting in a nontraditional location: the hospital's parking lot.
From their vantage point — bundled up against the cold wind, sitting in their folding chairs — they could peer up at the fourth-floor window of their daughter's hospital room. By using binoculars, Lynn could periodically see their son-in-law, Jerrod Swearingen, waving to them from the window.
The idea to tailgate in the hospital's parking lot was Monica's idea, after she watched a family do something similar in an online video.
"We already knew at the beginning of the summer that just one person could be in the room with Sarah, so that's when I sent the idea to (Lynn and Steve)," Monica said. "I sent it mostly as a joke at first — it seemed like something my family would do. And they ended up liking the idea.
"We knew what room she was in, and so we picked a spot where we knew she could (look down) and see us," she Monica said.
They found out about Sarah's pregnancy in early March, right as the initial COVID-19 wave was sweeping across America's major cities. Nine months later, with a second wave washing over the area, the Joplin family has had to adapt to the so-called "new norm."
Sure, they could have awaited the news from the comfort of their home, Lynn said, "but we're as close as we can get other than the waiting room. This is our waiting room."
They'd tied blue balloons to their chairs and had placed several signs out in front with messages ranging from, "You got this," to, "Team Swearingen." A third sign simply instructed Sarah to push. People walking past would offer the trio congratulations, while passing cars honked their horns in support.
"We're in it for the long haul," Lynn said at around 4 p.m. Thursday. She'd been sitting at her spot since 10 a.m. Steve and Monica had joined her a few hours later. If the birth didn't take place until, say, 2 a.m. Friday, so be it, Lynn said with a shrug.
"We'll still be here," Steve said.
Thankfully, they ended up not having to do that. Around 4:30 p.m. Thursday, Sarah gave birth to a healthy baby boy. Her parents and sister learned about it via text and pictures sent to their phones from within the hospital.
"We screamed and hugged — jumped a little, too," Lynn said Friday morning via email. "There were some happy tears."
Later on, after the medical staff did what they needed to do after his birth, "(Jerrod) brought him to the window — and of course we had binoculars so we all took a turn at seeing him for the first time," she said, adding that Sarah was healthy and happy.
"We didn't really have time to get out all the goodies I packed or get cold or anything," Lynn said. "It truly was a great day. (We're) so blessed."
According to Kathy Schoech, director of the women's and children's services at Mercy, this was the first time since the pandemic had struck that she's seen a family bring in their lawn chairs and hold a tailgate-like, baby watch party. Other grandparents have sat out in the parking lot inside vehicles waiting for the big moment to arrive — that has become quite common. What the Onstot family did Thursday, she said, was in one word, "awesome." In fact, throughout the day, the Onstots' party was "really the talk of the entire hospital."
"We're in the process of designating a tailgate zone — we're having sign made up … (encouraging) families to come out and celebrate like this," Schoech said. The tailgate zone will be located in the eastern side of the Mercy building, she said. "Some people may actually bring their grills out; we just want people to make great excitement, lots of fun and good memories out of this. Our goal is for (people) to routinely look outside and see this."
There's a lot of stress and lot of unhappiness taking place inside a hospital at any given moment — what took place on Thursday, Schoech said, "really brings out a lot of joy for everyone. It's fun for the people to watch."