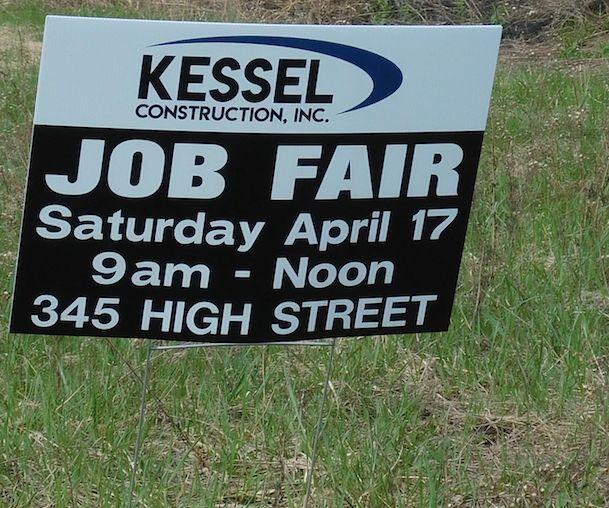 More and more businesses of all kinds face employee shortages | News
The 'help wanted' and 'job fair' signs have been more abundant throughout the community and
The 'help wanted' and 'job fair' signs have been more abundant throughout the community and region in recent months as many employers at a number of businesses, schools, nursing homes and industries have been short-handed.
The employee vacuum has been so dire that some fast food restaurants and coffee shops have had to scale back on their opening hours due to a lack of workers to run the businesses.
Ron Hammersley, Pa CareerLink site administrator for McKean and Potter counties, said employee shortages are widespread.
"It's not a local thing, it's a statewide issue, it's happening across the state and probably across the country, as well," Hammersley said of employee shortages. "We're part of the Northcentral Region with six counties and all the CareerLinks in those counties are associated under Workforce Solutions," an employment agency. He said the CareerLinks has had dialogue with state senators and representatives to find solutions for the current dilemma.
"Everybody is having that same discussion," Hammersley remarked. "Probably the most difficult thing is there isn't just one cause — there's a myriad of items that are all contributing" to the shortage.
This includes people who have to care for someone else, parents who have to care for children who are in school one week — and out the next week due to pandemic shut-downs or quarantines. There are also those who receive unemployment and stimulus checks that help pay the bills and make employment seem unnecessary.
"We all are working with a lot of companies and we're having hiring events in McKean and Potter" counties, Hammersley added. "Even when we do our outreach, there aren't a lot of large numbers (of people) right now" showing up for jobs.
For example, CareerLinks held a job fair at Mama Janes Eatery in Bradford this week, but didn't net interested candidates.
"People just aren't responding," he lamented. "Whether they perceive there isn't a need to go and get a job or whatever it is. That's what we're working on right now, we're trying to communicate to people right now that this is the best time (to look for work.) There are a few people right now taking advantage of this because you can write your own ticket right now."
He said CareerLinks not only can help people find the right fit with a job, but also help them write resumes or pursue training.
"Whenever this (pandemic) ends the competition is going to be thick," he surmised. "It will be interesting then, but we'll be able to take it head-on, as well."
For more information on job searches, those interested may call 844-PACALINK for a quick menu of PA CareerLInk offices in the region.
Local businesses contacted included Mama Jane's Eatery, where owner Paula Webster is also facing shortages with help. She noted the job fair this week didn't provide new hires.
"I think people are getting paid extra money to stay home (by the government) and that's cozy," she said. "And we've had a lot of people" with children who can't find childcare.
Additionally, some employees with school-age children have to leave work when their children are quarantined from school.
"But everybody is in the same position," Webster added. "I think you have to just keep plugging away and pray things will change."
At Dunkin' Donuts in Bradford, manager Kaitlyne Freer said the business had to shorten its hours of operation this past week when two of the afternoon shift employees were unable to work. There were no replacements for them, but she said they expect to be back on track with employees to resume normal hours of operation.
Another manager at a drive-through restaurant in Bradford, who asked that his name or business not be identified, said the business also has had to shorten its hours due to fewer employees.
"In general, we're struggling and a lot of it has to do with the stimulus (and unemployment check) issues," he said. "Nobody wants to work, why come back to work."
Tim Asinger, president of Kessel Construction in Bradford, said the company held a job fair last week and did pretty well. While the company had a dozen or more solid candidates show up for the event, in past years, that number was doubled.
He also noted that his conversations with other business owners in the area reveal the same story regarding the employee search.
"It doesn't matter if you're working construction or at the dentist office, it seems like everybody is having the same challenge of finding people in general," he commented. "And if you need them skilled or to understand a specific skill or trade, that's even more difficult to get."
Asinger said his company is trying to attract more young people to the business and the industry by working with area school districts.
"We're getting more students tuned into the industry, technical trades in general" at an earlier age, Asinger said, explaining students in middle school are the new target group.
In addition, the Associated Builders and Contract group (ABC) has partnered with Workforce Solutions to provide virtual core training for construction. The online free program offers training in 10 areas of study for everything from basic math to construction.The training is offered to the young as well as adults who are seeking a career change. Information on this program or others can also be obtained through CareerLinks.