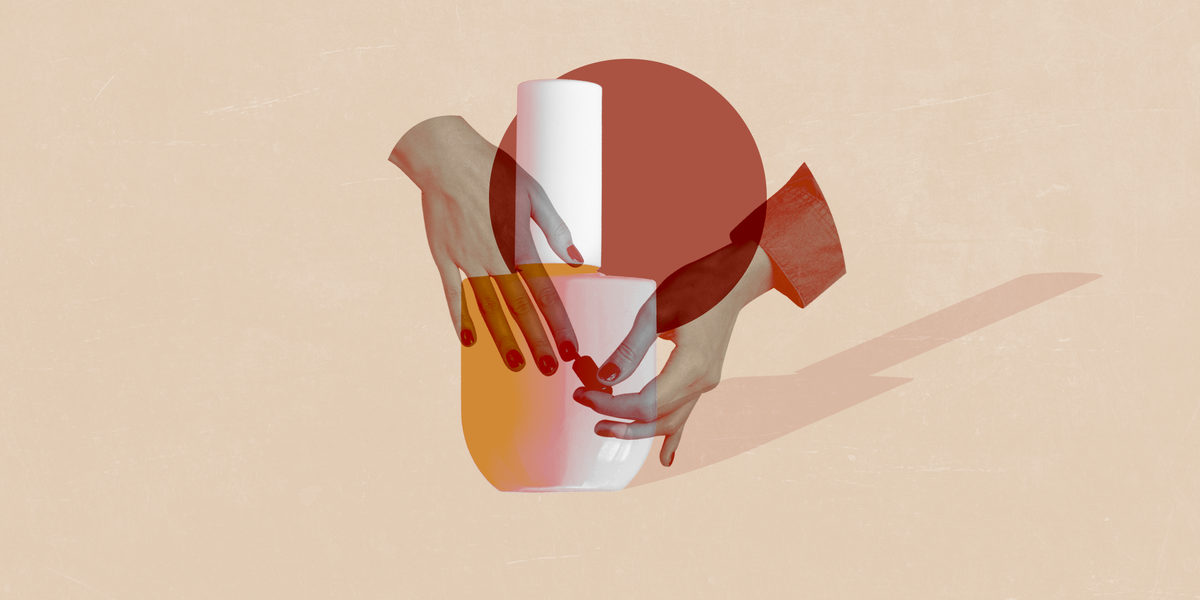 Nail Salons Are on the Brink of Collapse COVID-19 Pandemic
Just west of Melrose and La Brea in Los Angeles, tucked behind an Argentine restaurant
Just west of Melrose and La Brea in Los Angeles, tucked behind an Argentine restaurant in a small parking lot is where they sit: more than a dozen masked nail technicians diligently working on clients between plastic partitions during Southern California's hottest summer on record. Paired with consistently unhealthy air quality due to several forest fires raging across the West, this isn't the luxurious nail experience American women are used to, but it hasn't slowed business. "It's very busy, people will wait for two hours," Amy*, who works at Pampered Hands, tells BAZAAR.com.
For Amy and her team, staying closed through the pandemic wasn't an option. "The last closure was three months, and it was hard," Amy says, referring to a recent change that allowed nonessential businesses to offer their services outdoors to generate business-saving revenue. "We don't want to stay home and wait for someone to say, 'Okay, now you can support your family.' We wear masks, use plastic barriers, and do pedicures using buckets with fresh liners each time."
On top of that, she says that clients wear gloves to pick their colors, everyone gets a temperature check, and they maintain a six-foot distance as best they can, although that's not always maintained, clients say. Still, it's a better setup than most salons can manage: Pampered Hands' landlord was eager to rent the lot after another business in the strip mall shuttered, affording the salon an opportunity to open within a stone's throw of its temporarily closed brick-and-mortar.
Similar setups can be found all over the region. From Hollywood to the South Bay to the Inland Empire, tables, chairs, and masked technicians dot sidewalks and parking lots with customers lining up for their polish fix. Meanwhile, technicians with loyal customers and reliable transportation are offering house calls in droves, pushing cuticles and painting nails on balconies and kitchen tables. Further, nail brands are reporting skyrocketing product sales that show an increased interest in doing one's own nails in isolation. In short, everything we know about manicures has changed.
This content is imported from Instagram. You may be able to find the same content in another format, or you may be able to find more information, at their web site.
Thanks to the COVID-19 pandemic, nail techs and salon owners across the country have been forced to go to extreme lengths to pay their rents and keep their salons open, while customers used to having freshly lacquered hands have been faced with an uncomfortable question: How far will you go to get your nails done?
Parking Lot Polishing
Though it may seem silly, even irresponsible, to an outsider to even think of prioritizing a manicure during a global pandemic that has killed more than 215,000 Americans so far, a holistic look at the sidewalk pedicures and booming underground economy of house call manis paints a more nuanced picture. For Americans, nice nails are more than nice nails—they're a sign of success, a creative outlet, how we're judged by prospective partners and employers, and a weather vane for how well we take care of ourselves.
There are roughly 54,000 nail salons in the United States that are partially fueling this obsession, though that number has been steadily falling in recent years. Now in the wake of a health crisis and the aftermath of a haphazard response to the pandemic, this uniquely American industry is more than struggling, it's on the brink of a collapse that could cost hundreds of thousands of workers their jobs and their savings.
The desire to have nice nails can be seen all across the world, but the drive to get a manicure by any means necessary doesn't totally translate. In places like London, Melbourne, and Auckland, outdoor manicures were either not permitted or never took off—but that doesn't mean people weren't jonesing for polish.
"Lockdown has brought a deeper level of appreciation for the well-being effects that these treatments have on our mental and physical health," says Sherrille Riley, founder of London's Nails & Brows Mayfair, who notes that appointments have picked right back up after reopening in July after lockdown. Although, she notes that customers have a much higher expectation of cleanliness and personal space.
It feels similar in New Zealand, Hillary Eaton, an American food journalist who relocated to Auckland earlier this year, tells us. "The day people could go back to salons [after lockdown], they were instantly all booked out," she says. "No one seems to be too worried from either side, and besides the masks, it feels quite normal. I go in regularly for my gel extensions and biweekly back fills."
Places like Australia, however, remain relatively closed, and outdoor manicures are illegal. "As anyone that gets their nails done regularly knows, it's about so much more than a manicure … it's a ceremony of sorts," says Victoria Fox, founder of MISS FOX Melbourne, who is optimistic for a busy reopening despite not knowing when that will be.
Stateside, many business owners are at the end of their ropes. Tran Wills, the cofounder of a chain of salons across Colorado and California called Base Coat, permanently closed the Downtown L.A. location due to the pandemic. She was one of many salons owners critical of outdoor operations but had to eventually take part. "It's unsustainable, unsafe, and unhygienic for both salon workers and guests," she says, noting that she held out as long as her business could manage before opening a hotel rooftop pop-up that abides by hygiene standards much stricter than required. "We can go shopping for nonessential items, have brunch with friends, fly on a plane, visit the dentist for a routine cleaning, and go to the beach. We can literally do anything today but work," she says.
Michelle Saunders, a celebrity nail artist who owned her dream nail shop, Saunders & James, in Oakland earlier this year wasn't even open two months when the pandemic hit but doesn't have the space to open outdoors. "The landscape for nail salon future is still tainted by this pandemic, and we can never get this lost time back, financially or emotionally," she says. "I have no idea what the future holds for my nail salon."
This content is imported from Instagram. You may be able to find the same content in another format, or you may be able to find more information, at their web site.
Paint It Yourself
Closures could be one reason why online nail product sales are skyrocketing. "In the five months since lockdown began, our online sales have increased by 200 percent and our U.S. retail sales are up by 125 percent, compared to the same period last year," says Thea Green, founder of Nails.INC, noting that the growth hasn't slowed. Green says that, since the beginning of the summer, online sales have risen by 400 percent in comparison to the same time frame last year.
Similarly, Orly reports an 800 percent year-to-date increase in online sales, including an unprecedented boost in sales of its at-home Gel Removal Kit and the best sales numbers for its fall collection in recent years. Sally Hansen has also seen its stock rise—literally. A rep for the brand tells BAZAAR.com that the company has had "triple-digit e-commerce growth" and its new Miracle Gel shiny top coat launch exceeded expectations, delivering $1.75 million in its first nine weeks.
This is partially fueled by consumers like Kristen*, who still feel unsure about heading to their local salons, even after opening indoors. "I used to go every three to four weeks to get a pedicure and gel manicure," she says about her go-to shop in Philadelphia. "My salon reopened, but I've been debating on going, I might wait another month or two."
Chelsea Moser, an L.A.-based designer, has used this time to experiment with new products, like nail stickers. "I've gotten my nails done religiously every two to three weeks for probably the past 10 years—I never did them myself," she says, noting that she's too nervous to head to an outdoor salon in the pandemic. "I actually had a moment of empowerment a month into the pandemic and took it into my own hands to learn how to do them myself. I'm not sure if I'll go back to a nail salon ever. I'm also saving myself a ton of money."
But it doesn't come as easy to everyone. "When the pandemic hit, I tried everything," Taylor* says, adding that her results weren't up to the standards she's set for herself getting monthly manicures for the last several years. But her first appointment back after reopening wasn't great either. "I felt wired," she says, noting how nervous and uncomfortable she felt even behind a plastic partition, opting instead for the house call route. "I know my technician, and it was a less stressful experience overall. And after, I felt great. I felt back to my normal self."
For many manicurists, it's a difficult decision to enter someone's home. "At a certain point of time, you have to do what's best for you and your family," says one technician. "If I was in a position where I didn't need to work for six months, it would be different." To balance her worries, she takes only three house calls per week and charges $250 per appointment.
Another nail tech who also asked to be anonymous adds, "When unemployment wasn't coming in, I had to make money. By late April, I started getting calls and DMs from people I didn't know, but they were willing to pay the house call price, so that made it easier for me to put myself out there." Her minimum is $75, and she takes only one client every other day. She estimates that she's seen between 60 and 75 clients in their homes since March, but it hasn't exactly been fun skirting the law. She's now in the process of changing careers to something more reliable—and pandemic proof.
Taylor says that her house calls have been painless, but that she's still hit with a little guilt—just not enough to keep her from going bare-nailed. "My mom's local salon is doing outside appointments, so maybe I'll try that," she says. "I'm open for any modifications to keep the industry running without feeling like I'm doing something shady."
But even in cities that are fully open, things feel different. "It's changed everything in the nail industry," says Jenny Duranski, owner and founder of Chicago's Lena Rose Beauty. "People are still coming in for nail services … [but] the frequency has certainly shifted. Clients who used to come in once a month are now coming once a season or will only come twice in a year." That more closely aligns with the national average, which is about one manicure per season, according to Statista.
This content is imported from Instagram. You may be able to find the same content in another format, or you may be able to find more information, at their web site.
Despite booming sales, lines at outdoor salons, and house calls becoming more and more common, other consumers have had a shocking realization: They've gotten used to their bare nails. "This pandemic has opened my eyes to how much I was spending to never actually be fully satisfied with my real bare nails!" Moser adds. "It's like I've been covering them up for so long because I didn't like them."
On September 22, California nail salons began reopening indoor operations in certain counties, but Amy isn't planning to abandon Pampered Hands' outdoor operation. "I assume we'll have to operate with 25 percent capacity like hair salons for a while, but that's just a guess," she says. With flu season looming and a probable potential spike in new COVID-19 cases coming in the cooler months, the back and forth is likely to continue. "Even with that, we'd have to be open 24 hours a day to stay in business," Amy adds. "I think we're going to be outside for a long time."
*Some names have been changed to protect the sources' privacy.
This content is created and maintained by a third party, and imported onto this page to help users provide their email addresses. You may be able to find more information about this and similar content at piano.io