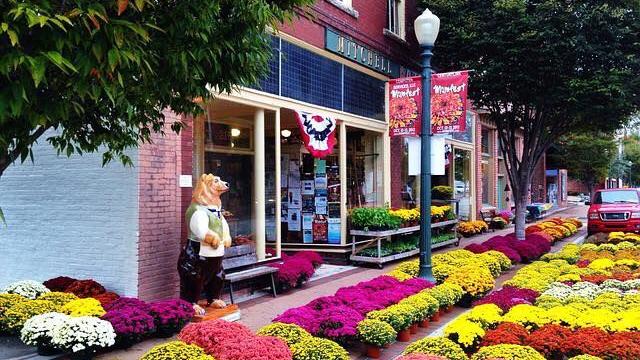 New Bern knows how to capitalize on history: Tourism comes roaring back in 'Bear Town' | Local News
NEW BERN — Despite being surrounded by more than 300 years of American history, what
NEW BERN — Despite being surrounded by more than 300 years of American history, what first-time visitors to this colonial town often ask about is barely older than a decade.
But it's easy to see why these life-size fiberglass statues bear watching. Bear Town Bears, created for New Bern's tercentennial in 2010, today can be tracked all across the city. There are 80 of them — at city hall, the convention center, the library, the police department and the farmer's market. Perhaps it should surprise no one to see hand-painted bears standing outside a hardware store or dentist's office in a place where bear symbols can be found everywhere from the city seal to a high school football field.
But bears are more than a mascot; they are part of the heritage of North Carolina's second oldest town. "Bern," an old Germanic word for bear, is the symbol of Bern, Switzerland, the hometown of a group of settlers that founded New Bern in 1710. That European city passed along the emblem to its sister city across the Atlantic, which would later serve as North Carolina's first state capital from 1770 to 1792.
To this day, New Bern knows how to capitalize on its history, boasting more than 150 sites included in the National Register of Historic Places. Within its borders are the reconstructed governor's mansion Tryon Palace, the birthplace of Pepsi and the home of best-selling novelist and screenwriter Nicholas Sparks.
Still, recent years have introduced difficult chapters to the Craven County seat, where the Neuse and the Trent rivers meet. Hurricane Florence in 2018 brought devastating flooding that left the convention center and many of its neighbors closed for more than a year. Not even six months after reopening, it shut down again due to the coronavirus pandemic.
But today, tourism is roaring back.
"I'm so proud," said Melissa Riggle, executive director of the Craven County-New Bern Tourism Development Authority. "We used all of that down time to the fullest capacity, to our advantage. We used it to repair, to renovate, to revitalize ourselves. … We're welcoming everybody and just showing off and so proud of our brand new little town."
Riggle a New Bern native and East Carolina University graduate, said her hometown did not lose any businesses downtown as a direct result of COVID-19. In fact, the district has seen growth with additions to what some refer to as the "Brew-muda" (or Beermuda) Triangle, three downtown breweries.
"We're appealing to and attracting more of a younger demographic as well as the active retiree market," she said.
Street dining, which began in 2020 to give restaurant-goers more outdoor options due to COVID-19, became so popular that it continued even after establishments were able to reopen at 100 percent capacity. When weather permits, weekend nights find people sitting down to dinner in the middle of Middle Street, which is closed to vehicle traffic from 5-9 p.m. Fridays and Saturdays.
Signature events are starting to make a comeback as well. Plans are underway for the return of October's Mumfest, which last year was changed to "Mum-Feast" and spread out over a month to avoid crowding. Also returning is the Great Trent River Raft Race, scheduled for Aug. 28 at Union Point Park. A popular event in the 1970s and early '80s, the event made a successful comeback in June of 2018 before Florence and then COVID caused organizers to have to change course.
Tryon Palace
Even some of New Bern's oldest destinations are unveiling new attractions in 2021. Just this month, Tryon Palace, 529 S. Front St., introduced "Life on the Lesser Stairs," a tour designed to introduce visitors to the people who kept the mansion operating.
"Our main goal here is to make sure people know the stories of what was happening at Tryon Palace," said Krystal Eldred, historic interpeter/blacksmith. "We talk about the governors and we talk about the upper class, but a lot of times the servants get left behind."
The new tour is an effort to change that by answering questions about enslaved and free, black and white people who spent their lives laboring at the palace.
"There were actually a large variety of servants," Eldred said. "There were paid (workers) that could have lived in town. There were also paid that lived on the site. A lot of people think of Tryon Palace, and they get it confused with plantations. We're very different from a plantation."
The tour, which includes not only the palace but also the stables and the kitchen, is quite literally a different approach. Instead of beginning at the front door where visitors might expect to enter, it starts in the cellar, where much of the work was done.
Historians drew information from letters and other writings to describe what daily life might have been like for those who served the governor's family and guests. Few names of servants are known, although research continues.
Eldred said the new option is something staff members have been hoping to offer for a while, but shutdowns due to COVID provided time to work on developing content for the tour.
"This is unique. We mention the servants on our (other) tours but we don't really get into their lives," she said, adding that even people who have visited the palace more than once should learn something new.
"Life on the Lesser Stairs" tours are offered at 10:30 a.m. Thursdays. Tours last 45 minutes to one hour. Tickets are $20 for adults and $10 for youth and include access to the palace gardens. Visit tryonpalace.org, call [email protected] or call 639-3524.
Pepsi
The Birthplace of Pepsi, 256 Middle St., marks the site where Caleb Bradham invented the now-famous drink in his pharmacy.
Ayden's Minges Bottling Group opened the location in 1998 to commemorate the 100th anniversary of the soda's being marketed as Pepsi. The birthplace is more of a gift shop than a full-fledged museum, but that does nothing to stop the flow of tourists.
Inside, in addition to being able to buy a cold soda — in a glass bottle if that's appealing — Pepsi fans can read a timeline of the sequence of events from the time the cola was referred to as "Brad's Drink." A century's worth of Pepsi memorabilia is displayed in showcases throughout the building.
"People love it," Riggle said, adding that the city is considering an expansion in the future to create a more comprehensive museum. "It's just that iconic nostalgia."
Hours are 10 a.m. to 6 p.m. Mondays-Saturdays and noon to 4 p.m. Sundays. Visit pepsistore.com or call 636-5898.
Nicholas Sparks
New Bern's place in Pepsi's history makes its way into Sparks' novel, "A Bend in the Road," published in 2001. The author's home of about three decades, New Bern is featured in several of his other books, including "The Notebook, "The Wedding" and 2020's "The Return."
The "Walk to Remember" tour (aptly but ironically named, since that is the title of a Sparks book set in Beaufort) features more than a dozen stops in New Bern, including the Masonic Theater, Union Point and The Chelsea restaurant.
Although Sparks' upcoming release, "The Wish," due to be released in September, is set in Ocracoke, Riggle said fans will continue to flock to New Bern not only to visit Sparks' novel settings but also with the hope of catching a glimpse of the author himself.
"They are interested in taking a river tour to go by his personal home," she said. "There's a lot of interest in just him being from here."
While self-guided walking tours remain popular, Riggle said the city has sometimes scheduled trolley tours, Valentine's getaways and other events geared toward Sparks' fans.
Other offerings
Riggle said that the pandemic, in part, has helped to increase the popularity of self-guided tours and other outdoor experiences. She pointed to New Bern's Civil War Heritage and African American Heritage tours as good examples. Last month, the city, in conjunction with Juneteenth, dedicated panels installed on its African American Heritage tour.
"Our infrastructure for tourism has poised us to come back really strong in the wake of COVID," Riggle said. "We've got these great assets, and we are just ready and excited to welcome everybody in."
New Bern's Visitor Center, open from 9 a.m. to 5 p.m. Mondays through Fridays, is at 316 S. Front St. Call 800-437-5767 or go online to visitnewbern.com.