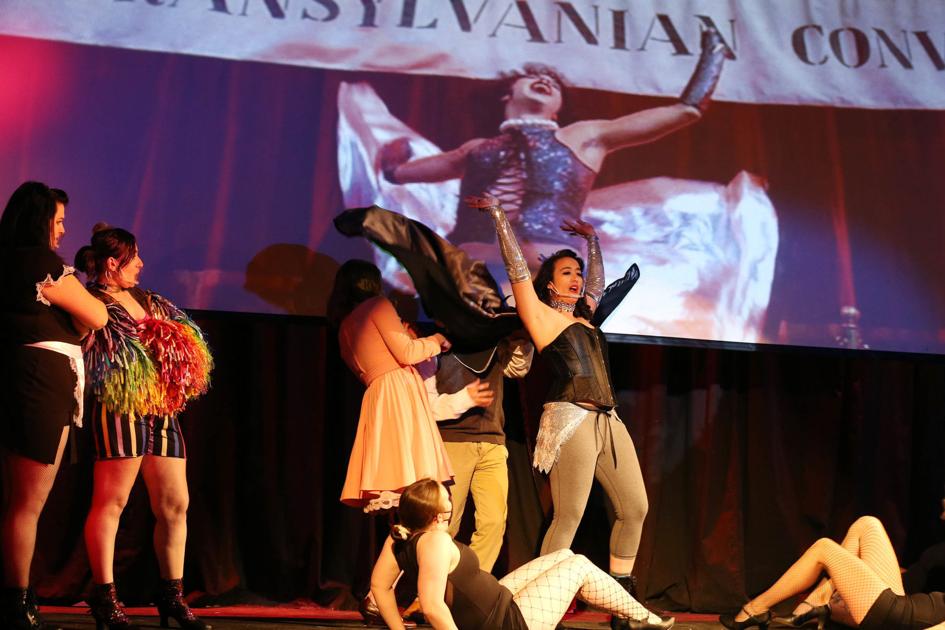 New director adds more glitz and glam to CLTP's "Rocky Horror" | To Do
Julia Preston-Fulton, as Frank N. Furter, throws off her cloak while performing during a dress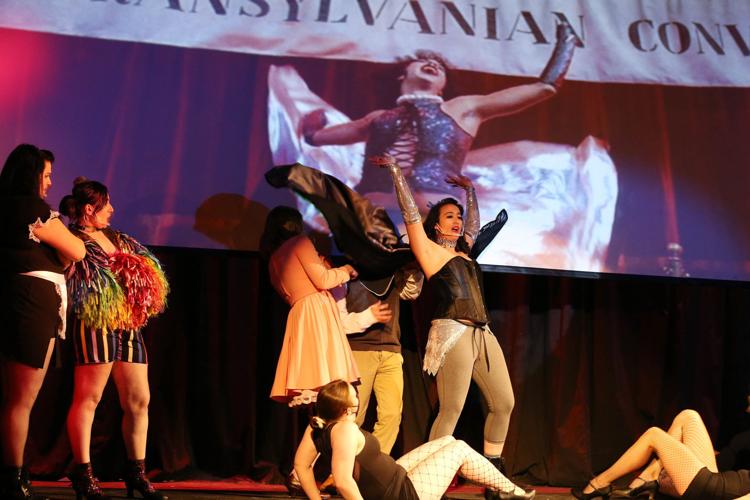 "It's astounding.
Time is fleeting.
Madness takes its toll" – during the COVID-19 pandemic, especially.
The opening lines of "The Rocky Horror Picture Show"'s most famous song, "The Time Warp," couldn't be more fitting for the era we're currently living through. But first-time "Rocky Horror" director Emm Englebert wants to offer an escape to everyone who comes to see Cheyenne Little Theatre Players' shadow cast production of the film.
"It's going to be so shiny and so glittery, which is what the world needs right now," Englebert said.
It all started a few years ago, when Englebert and a friend decided to make a 40-before-40 bucket list, and Englebert's included performing the cancan onstage. After she checked that off her list, she had the confidence boost she needed to get even farther out of her shell and audition for "Rocky Horror."
Being part of the production gave her a new perspective on the show, and that perspective continued to evolve the next couple years when she experienced the show as an audience member. Each time she'd find things that she loved, but thought could be improved, and this year she decided to try to make her vision a reality.
"It's the one show that the theater does every single year," Englebert said. "And going year after year, to be honest, we see the same costumes and the same choreography. It's still a very fun show to do, but this year I wanted to give those people who come every year something extra and something to look forward to next year."
Englebert holds a degree in concept art, so she's quite familiar with dreaming up ideas and then conceptualizing them on the drawing board, and that's exactly what she did with "Rocky Horror." Over the summer, she started thinking about the changes she wanted to make to the set, lighting, costumes and makeup, but it wasn't until the show was cast in August that she was able to put these elements to the test.
The COVID-19 pandemic – to the surprise of no one – made the process more challenging, especially when the first month or so of rehearsals went virtual, but Englebert said she's beyond impressed by how quickly the cast and crew adapted. There were also some surprising benefits to rehearsing over Zoom, she added, such as being able to play the film on her computer and flip the screen while everyone lip synched along from their respective homes. This avoided the potential distraction, Englebert said, of actors turning around to watch the film during an in-person rehearsal to make sure they were singing in time with the movie.
Another challenge since starting in-person rehearsals has been logistics. Because the Atlas Theatre had to close for several months and has only reopened to limited-capacity shows, CLTP has been renting it to several small private events, such as weddings, to make up for some of the lost income. That means the rehearsal schedule is all over the place, and lately has only been twice a week. But again, Englebert said, the cast and crew has been nothing but flexible.
Everyone who walks into the theater for those in-person rehearsals has to take their temperature and complete an online health questionnaire the moment they step in the door, and once they turn it in and grab their face mask, they're permitted to enter (through a specific door, and they have to exit through a different one). This is where Englebert's self-professed "strict" directing style comes in handy, because she isn't afraid to enforce those rules for the health of everyone involved – especially as someone who's been practicing medicine for close to 15 years. She also makes sure the theater is properly sanitized after each rehearsal.
This year's group is nearly double the size of previous "Rocky Horror" productions, and Englebert herself is a performer in one of the new aspects of the show, which she affectionately refers to as the "Transylvanian hype girls." This group of three women perform several brand-new dance numbers and are in charge of much of the heavy lifting of set pieces throughout the show.
Much of the new choreography was developed by Englebert, but she said the more technical pieces were created by En Avant Dance Studio teacher Sarah Wessenberg.
"I've watched the film from the normal viewer perspective, so when I really started to break down the script and the film, I noticed there is a dance number every five minutes," Englebert said. "And I was like, 'Oh my gosh, this is really a musical, but it doesn't get the credit of being a musical.' When I pitched it (to CLTP), I said I wanted to get people to look at it a little differently – although it's fun to throw things at a screen, there is more to it, like actually choreographed dancing."
In addition to the new dance numbers, repeat audience members will notice a different overall aesthetic to the show, which will be evident in the new costumes (most of which are being hand-sewn by a local costumer) and makeup (which will be done by a professional makeup artist from Virginia who does makeup for New York Fashion Week).
"The first one I looked at differently was for Columbia, because in every single production, the costume is the exact same, and so I was like how can that be changed," Englebert said. "She actually has a sort of Harley Quinn thing going on, so I was like 'What if we could turn her into a nod to a comic book style?' Make her brighter and crazy looking … Eventually what I did was recreate each character to make them more similar to comic books, so each one has a DC comic parallel."
Englebert said to expect the same show everyone knows and loves, but bigger, brighter and with much more glitter.