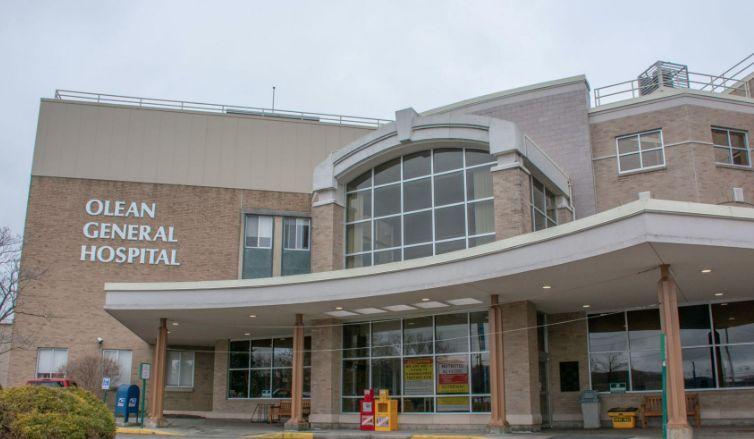 New program at OGH is connecting patients with loved ones | News
OLEAN — Over the past several months, patients at Olean General Hospital have been limited
OLEAN — Over the past several months, patients at Olean General Hospital have been limited on visits with loved ones in their rooms because of the COVID-19 pandemic.
It was with that in mind that hospital administrators and the Olean General Hospital Foundation, arrived at a plan to provide 12 iPad devices and software for virtual visits funded through the generosity of three donors, Greg Chiapuso, Laurie Branch and Amy Branch.
"It's a great service to be able to offer as these times are hard enough for everyone, but especially for those who can't see their loved ones in the hospital," said Janene Coldren, communications specialist with Upper Allegheny Health System, which operates Olean General, Bradford (Pa.) Regional Medical Center and Cuba Memorial Hospital.
Steve Jackson, president of the foundation, said the donors approached the hospital and said they wanted to help the facility during the COVID crisis.
"We had a trial (use of devices) when COVID first hit, but this is a brand new service that we're offering" for patients and their loved ones, Jackson said. "We recognized that we had to reduce our visitations to do our part with helping slow the pace of any kind of COVID issues. But we wanted to make sure the patients had a way to communicate (with loved ones.) It's really a cool tool, and nurses and family doctors who want to communicate with the family" can use the device to communicate with family, as well.
"It gives them another tool in their tool belt to help them communicate with the care of that patient," Jackson continued. "The interesting thing is that the donors asked what the nurses needed during this COVID time. The nurses responded with wanting to help a lot of those patients communicate with their families. They recognize that the social piece with families is just as much a part of (patient) care as the clinical side or medicine they need, as well."
Instrumental in implementing the program were Gail Bagazzoli, chief nursing officer, and Jen Ruggles, director of patient care clinical services.
"They really spent their time making sure that (the program is operational), they didn't just place it in the laps and say 'Here you go,'" Jackson said. "They went to the departments and they put together a steering committee to make sure everything was well-organized. That being said, everybody was a part of it, not just the nurses."
For example, clinical education is part of the program, as the department posted an informational video on the hospital website for patients and their loved ones to access if more help is needed for connecting online. The pastoral team at the hospital is also assisting with the program.
"We all recognize the power of loved ones being able to communicate directly and appropriately," Jackson added.
Coldren said patients can ask pastoral care or a nurse about connecting with loved ones through virtual visits, or video calls, which are facilitated through the Webex platform.
She said a valid email address is needed for the person who wants to connect from outside the facility.
Jackson added another thought on the new program, noting the donations are "a testament of our community.
"We are fortunate to have those community members in this case," he remarked. "They didn't know what (to fund) but they knew they wanted to help … It's a wonderful thing — it takes a village and a community for something like this."