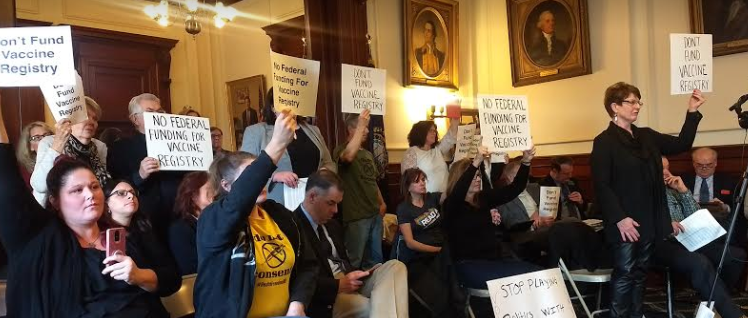 New state registry will track COVID-19 vaccines |
State health officials say they expect a long-delayed immunization registry will be in place by
State health officials say they expect a long-delayed immunization registry will be in place by the time the first COVID-19 vaccines are approved, produced and ready for distribution in New Hampshire.
The new registry will help providers make sure their patients are getting the vaccinations they need to protect themselves, health experts say. That will be especially critical for tracking which COVID-19 vaccines people receive.
While COVID-19 vaccines are still in clinical trials, medical providers here already are planning how to make them available to patients most vulnerable to the illness, in some cases offering drive-through and mobile clinics.
All this is taking place in a climate of political partisanship and public skepticism. Even as President Donald Trump promised last week that a vaccine will be available "momentarily," a recent survey found most Granite Staters would not take a COVID-19 vaccine if it were "available today."
New Hampshire is the only state without a vaccination registry. Although lawmakers approved rules to administer such a program many years ago, its implementation has run into political and technical snags.
The project, funded with a $1.5 million grant from the U.S. Centers for Disease Control and Prevention, has drawn criticism from parents and others who have concerns about the safety of vaccines. Finally in May, at the peak of the coronavirus pandemic, the Executive Council unanimously approved a contract to build an "immunization information system" to register those who receive vaccines. Patients will have the right to "opt out" of the registry.
Last week, Beth Daly, chief of the bureau of infectious disease control at the Department of Health and Human Services, told a roundtable hosted by Sen. Maggie Hassan, D-N.H., that different versions of COVID-19 vaccines likely will be approved, and some are expected to require more than one dose.
It will be critical for providers — physicians' offices, community health centers, pharmacies and mobile clinics — to track which vaccines their patients have received, Daly said. "Once you start with one type of vaccine, you have to finish the series with that vaccine," she said.
That's where the new registry comes in.
"The system will include information on the availability of COVID-19 vaccines, ordering information, and a component where residents can make sure they are up to date on their COVID-19 vaccination," Jake Leon, director of communications for DHHS.
Distributing the vaccine
Dr. Antonia Altomare, hospital epidemiologist and infectious disease physician at Dartmouth-Hitchcock Health, called vaccination "the cornerstone to public health."
"It is the most cost-effective way of preventing infectious disease," she said last week. Recent measles outbreaks offer "a perfect testament to what happens when there's not enough people who have immunity to diseases," she said.
Dartmouth-Hitchcock has been offering "drive-by" flu shots this year. After a patient makes an appointment, Altomare said, "You just line up in your car, roll up your sleeve and you'll be vaccinated."
"We're planning to use a similar model with the COVID vaccine when it is ready," she said.
Gregory White, CEO of Lamprey Health Care, said his clinics also are offering drive-through flu shots this year, and the agency has deployed community health workers to hold flu clinics at athletic clubs, homeless shelters and other locations.
This winter, White said, "We will deploy a mobile health van to the community to offer a broad array of services, including flu shots, COVID testing and hopefully a COVID immunization when it gets here."
Public health officials say they know they'll have to overcome some public skepticism over a COVID-19 vaccine. And it's not just "anti-vaxxers" who might be reluctant to get the shots.
"I think because it's been going through this at warp speed, if you will, there's a lot of mistrust about whether the vaccine is going to be safe," DHH's Altomare said.
Abby Bownas, manager of the Adult Vaccine Access Coalition, told Hassan it's important that the vaccines be provided free of charge and that providers are reimbursed properly.
In order to have the public's confidence, she said, "What we're really going to need is the technology to help us make sure the right people are getting the right vaccine at the right time, without confusion."
Overcoming skepticism
In a recent Granite State Poll by the University of New Hampshire's Survey Center, only 40% of those surveyed were open to taking a COVID-19 vaccine if it were "available today," and only 19% said they would "definitely" take the vaccine.
In the poll, conducted online between Sept. 24 and 28, 27% said they would "definitely not" take a vaccine, and another 21% said they would "probably not" do so.
Andrew Smith, director of the Survey Center, said he was surprised to see that young people 18 to 34 were most likely to say they would take a COVID-19 vaccine (52%), compared with 49% of those 65 and older, 31% of those 35 to 49, and 27% of those 50 to 64.
Men were more likely (48%) than women (32%) to say they would get the vaccine. Self-identified Democrats (48%) were more likely to say they would get a COVID-19 vaccine than Republicans (38%) or independents (28%).
The Granite State Poll also found that 53% of those surveyed in September said they know someone who has contracted COVID-19, compared with 34% in May.
Daly said those results show there's work to be done. "This is going to be an area where we're all going to have to partner together to address the concerns of the public around the safety and efficacy of the vaccine," she told the roundtable last week.
Hassan said the public needs to understand that the process has been sped up only on the vaccine manufacturing and production side, "not on the research and clinical safety side of this."
"The science has remained the same, the vigorous and rigorous science we've always used," she said. "The manufacturing side of the process is what we're focused on accelerating."
Hassan and senators Lisa Murkowski, R-Alaska, and Mike Braun, R-Ind., recently sponsored the Safe Authorization for Vaccines during Emergencies (SAVE) Act, which mandates safeguards and transparency in the vaccine approval process.
"We're going to take the gold standard processes that the FDA and CDC have used for decades now in approving vaccines, and we are going to put them into statute so there's no doubt," Hassan said.
Transparency around vaccine trial results will be critical to build public confidence, Hassan said. "This is an all-hands-on-deck moment in New Hampshire and across the country and, frankly, across the globe," Hassan said.
Addressing shortages
Initially, there won't be enough COVID-19 vaccines for everyone, so public health experts here will look at the national guidance for prioritizing which populations are most vulnerable and should get the vaccines first, Daly said. "Then we'll decide what works for New Hampshire," she said.
Daly said the state expects to face challenges with storing and handling the forthcoming COVID-19 vaccines. Those in trials now will require at least refrigeration, Daly said, something that most hospitals and other health care providers already have. But it could be more challenging if the vaccines have to be stored in deep-freeze freezers, she said.
Providers also will need generators in case of power failures, "to make sure the vaccine is not compromised," she said.
Meanwhile, some providers said they're worried about a shortage of syringes as flu season and COVID collide this fall and winter.
Daly said the health department has been told that the COVID vaccines will arrive with their own syringes and needles, but the shortage of syringes could cause problems in delivering other vaccines.
"So that certainly is another area we're watching and concerned about as well," she said.
Health experts stress that getting a flu shot is more important than ever this year because of the coronavirus pandemic.
"Influenza and COVID have very similar symptoms, and it's going to be really hard to know what someone has without rapid diagnosis," DHH's Altomare said. "What we do know is COVID is more fatal than influenza. But the two together and combined will put extra stress not only on the medical system but on the population at large and on individuals."