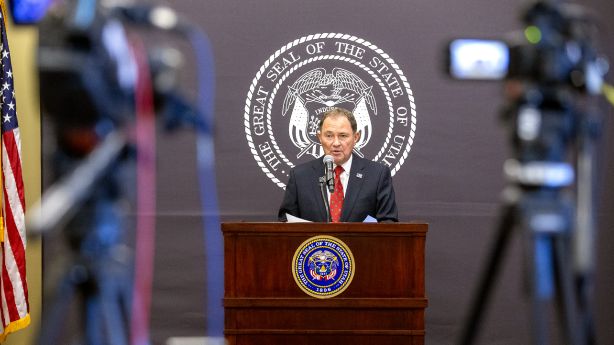 Officials provide context after photos of Utah governor at an event without a mask circulate online, draw criticism
SALT LAKE CITY — After photos shared online appeared to show Gov. Gary Herbert maskless
SALT LAKE CITY — After photos shared online appeared to show Gov. Gary Herbert maskless at a party, officials are now providing context to the event.
In multiple social media posts shared over the last few days, people — including former Salt Lake City police officer and founder of Utah Business Revival Eric Moutsos — accuse the governor of breaking his own social distancing and mask-wearing guidance, saying Herbert was at a large party with no masks.
According to Anna Lehndart, communications director for the governor's office, Herbert attended a "private event" in Springville to honor veterans on Wednesday evening.
"He wore his mask throughout the event until it was his turn to speak," Lehndart said. "He removed the mask during his remarks, and the group pictured in the video was invited up for a photo immediately afterward."
Additionally, Lehndart said Herbert did wear a face covering for the majority of the event and over the course of the 4 1/2-hour event, Herbert's mask was off for only a few minutes.
"Mask wearing does not come naturally to any of us, but every day we bring a mask with us when we leave the house, we get a little better at it," Lehnhdart said. "In this case, practice can make perfect, for all of us."
In some videos and photos of the event, it appears several attendees did not comply with the invitation's request to wear a mask at all times, Lehnhdart noted.
In a video posted to Facebook, Moutsos acknowledges that everyone can be a hypocrite at times, including himself. But he noted those in higher positions, whose mistakes impact more people, need to be held accountable.
Moutsos told KSL.com on Friday the governor needs to apologize being hypocritical.
"He has set a standard that nobody can follow, even himself," he said.
Moutsos, who personally doesn't believe in the science of wearing a mask, says it should be up to individuals whether or not they participate in recommended health guidelines.
"I don't care if people wear a mask, I'm not going to shame them. But I'm not going to (wear a mask)," he continued.
He feels it's important for residents to have a choice and practice personal freedoms. He said those who are at higher risk of dying from COVID-19 can choose to self-quarantine, thus allowing those not considered high-risk to gain herd immunity and keep the economy going.
This concept goes against guidance from the Centers for Disease Prevention and Control, which implores everyone to practice social distancing and wear a mask to prevent the spread of COVID-19. However, Moutsos says he feels scientists aren't basing their findings in fact.
"The science is not proven, they're guessing," he said, citing the example of the CDC changing its recommendation on face coverings and Dr. Anthony Fauci saying masks don't work in an interview.
However, in the 60-minute interview in reference, the government's top infectious disease expert explained masks aren't effective at keeping healthy people from getting sick — instead, they are effective at preventing a sick person from infecting others.
At the time of the interview, health and government officials were also worried about causing a mask-shortage for medical workers on the frontlines.
Fauci told the Associated Press in April that the goal of recommending face masks was not to "take away from the availability of masks that are needed for the health care providers who are in real and present danger of getting infected from the people that they're taking care of."
The CDC changed its guidelines on mask-wearing in April, saying people should wear them in public after new research showed asymptomatic and pre-symptomatic spread could transmit the virus.
Recent studies have found wearing a face covering is the most effective way to prevent the spread of COVID-19, and health experts have repeatedly urged the public to wear masks.
Utah's largest organization of doctors recently called on Herbert to implement a statewide mask mandate, saying they are crucial.
"Face coverings reduce transmission of the virus, which in turn will allow our state economy to remain more open and allow people to more safely interact," said Utah Medical Association CEO Michelle S. McOmber. "That benefits everyone."
While it's true the country's top scientists and health experts have changed recommendations over the course of the pandemic, they attribute those changes to the discovery of new information.
However, to others — like Moutsos — it seems they are playing a guessing game and making recommendations with little evidence to back up the claims, he said.
In recent weeks, Utah's number of COVID-19 cases has risen significantly and with record-breaking single-day increases.
State health officials have largely attributed the spike to college-aged individuals in Provo and Orem.
Utah's death rate remains low with 474 reported deaths from the virus since the start of the pandemic, out of 75,157 total confirmed cases in the state.
While Moutsos said the deaths in Utah are tragic and his goal wasn't to discredit them, he feels the other impacts from the pandemic — including the economic and mental health toll — will lead to more deaths.
Rather than implementing mask mandates, Moutsos instead thinks all citizens should be given the choice to social distance and wear masks.
Herbert has continually declined to implement a statewide mask mandate, saying it would be "overkill" and instead has left it up to local governments whether or not they implement them. The governor supports wearing a mask and has frequently called on Utahns to "do better" about wearing them.
Additionally, Herbert has enacted a statewide mask requirement for K-12 schools.
Moutsos called Herbert hypocritical for making children wear masks in school and advising Utah County residents to follow health guidelines, while it seemed he didn't follow those rules at an event in the same county.
"There's nothing right about it," Moutsos said.
Springville is currently under yellow restrictions of the state's phased reopening guidelines.
The town is in Utah County, where a recent spike in COVID-19 cases has been centered. Provo and Orem have both been moved back under orange restrictions in response to rising case numbers.
Utah County also recently implemented a countywide mandatory mask mandate.
Under yellow restrictions, gatherings of 50 people or fewer are permitted and physically distancing from others is still recommended.
When physically distancing isn't feasible, it's recommended under state guidelines that individuals wear a mask.
Under yellow restrictions, events of more than 50 people are permitted if special permission is granted. Those hosting larger events must complete an event management template which then must be available for inspection by the local health department. A spokesperson for the governor told KSL.com Wednesday's event had complied with this rule.
"Organizations must make sure everyone at the event practices physical distancing as much as possible and attendees wear a face covering when they can't practice physical distancing," the state's plan reads.
In a video posted to Facebook, Moutsos said there were more than 100 people at the event; however, a spokesperson couldn't confirm exactly how many people were in attendance.
"We strongly encourage people to abide guidance of the CDC and local health authorities," a spokesperson with the governor's office reiterated.
×
More stories you may be interested in