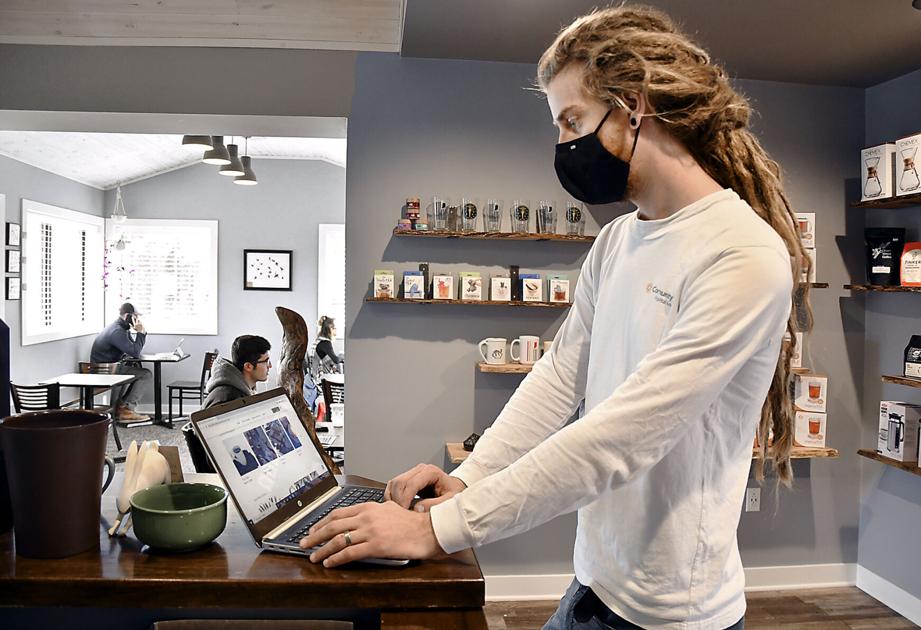 Pandemic spurs local businesses' efforts to connect with customers online | Business
ANDERSON — As the coronavirus pandemic worsened during the late spring and early summer months,
ANDERSON — As the coronavirus pandemic worsened during the late spring and early summer months, some tables and chairs at Jackrabbit Coffee on the city's near west side disappeared.
Pandemic-related restrictions recommended by state and local health officials meant social distancing and occupancy limits, and owner Ben Orcutt knew that, with fewer customers coming through the doors, he would still need to find ways of moving the coffee shop's signature locally roasted beans, organic teas and other merchandise.
"We needed to fill that space with something, so we decided to do retail," Orcutt said.
Co-owner and general manager Josh Stafford went to work overhauling the store's website so that the brick-and-mortar store's products would also be available online. Orcutt said virtually every item in their inventory is now available online, along with the ability to pre-order food and drink items for pickup or have them shipped anywhere.
"We had an informational website pre-COVID, but we had no store interface," Orcutt said. "So we built that all out — not with the holidays necessarily in mind, but obviously the pandemic prompted that."
Orcutt and Stafford's experience is one that other local businesses are attempting to duplicate in order to stay competitive — or in some cases, stay afloat — during a holiday season in which records are expected to be shattered for online sales. The bottom line, many experts agree, is that giving the customer a seamless online shopping experience may make the difference between profit and loss this year.
"There is an opportunity for small businesses to reach captive digital audiences," said Yael Zlatin, director of Ecommerce for Adtaxi, an ad agency that researches trends in digital marketing. "Still, at the crossroads of a monumental election and a uniquely challenging holiday shopping season, marketers will have their work cut out for them to break through the noise."
The agency recently commissioned a survey to examine consumers' attitudes toward holiday shopping during the pandemic and other issues. A majority of those who responded said they would do all of their shopping online if it were possible, and nearly three-quarters of them expressed a goal of shopping exclusively at locally owned small businesses this year. But in what some analysts see as a disconcerting sign, those who said they would not go out of their way to shop locally cited inconvenience as a top reason.
"The main message that we're trying to get out there is that in the COVID era, our businesses have to become as competitive as possible with the behemoths like Amazon," said Clayton Whitson, president and CEO of the Madison County Chamber of Commerce.
Whitson said that in 2020, more than ever, those battles are won and lost in the digital space.
"There's a fairly large demographic that is still hesitant to go out and go into a store, even with social distancing and mask wearing," he said. "Those folks are still going to spend money on Christmas gifts. We know that. We just have to provide opportunities, because I still believe that people like the message of shop small, shop local."
Zlatin added: "While consumers are hesitant when it comes to in-store shopping, an overwhelming majority want to support small businesses, and many would prefer to do so online. With so many small businesses relying on holiday shopping to make ends meet, this is not an opportunity to be missed."
For many small business owners, moving merchandise and services more exclusively online may have been prompted by the pandemic, but the practice seems likely to become entrenched even after the pandemic subsides.
"I knew it was something that I needed to do eventually, but never really had that punch," Orcutt said. "That's what this summer has been. We've invested in software on both sides to help make it happen. Anybody that really wants to grow, that's going to have to be part of the equation."
Follow Andy Knight on Twitter @Andrew_J_Knight, or call 765-640-4809.