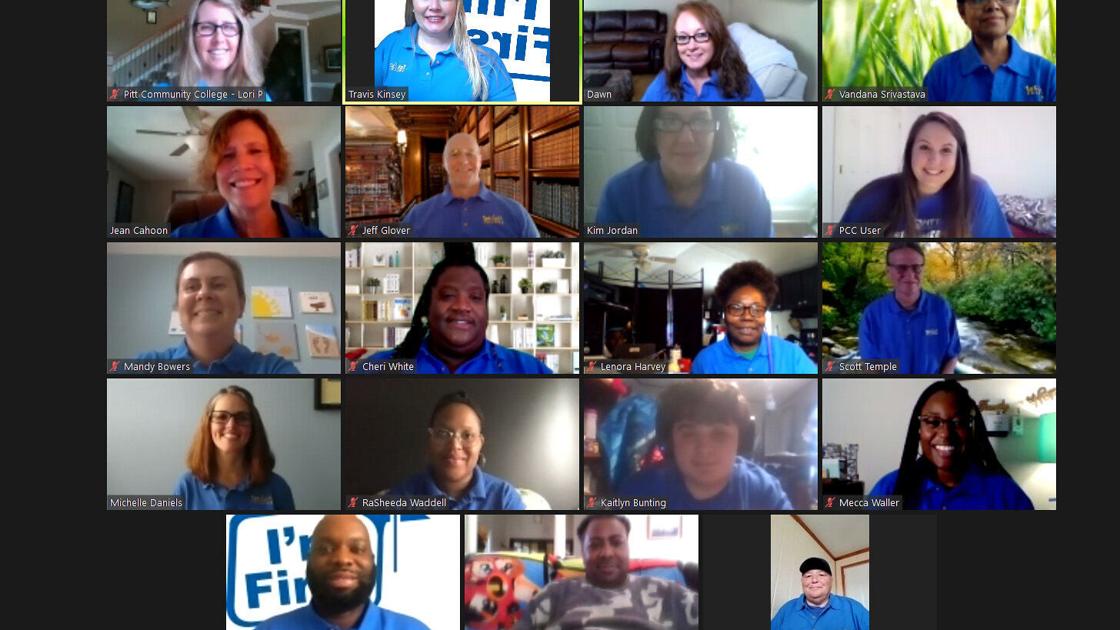 PCC Notes: Mentoring program part of focus on serving first-generation students | News
WINTERVILLE — Pitt Community College's efforts to improve the experiences and outcomes of first-generation college
WINTERVILLE — Pitt Community College's efforts to improve the experiences and outcomes of first-generation college students took another step forward last month, when the college's First-Gen Fellows Mentoring Program held a virtual meet-and-greet for participants.
According to PCC Student Success adviser Amelia Bain, who co-chairs the mentoring program with admissions counselor Mecca Waller, 13 new student mentees met with their mentors Sept. 23 to "connect with the program and learn a little bit more" about each other. The event took place online, she said, due to health safety concerns associated with the coronavirus pandemic.
"We are really excited to have our First-Gen Fellows Program continue this year, as many students are seeming to need more support than ever before," Bain said. "This program allows the students to have a direct connection to someone on campus they come to trust, who can help guide them with campus life and resources."
Bain said mentors will meet virtually with mentees twice a month to discuss such topics as self-discovery, participating in campus activities, goal-setting, utilizing campus resources, and developing leadership skills. She said the meetings also give mentors a chance to identify and help eliminate barriers that first-generation students encounter in their pursuit of higher education.
PCC administrative assistant Kim Jordan said she became a mentor to teach first-generation students how to make the most of resources available to them.
"(Students) don't have to have all of the answers; they just need to know how to find them," she said. "I am hoping that, as a mentor, I will be able to help my mentee learn this and it will be helpful to him throughout life."
For PCC psychology instructor Jean Cahoon, mentoring is a way for her to contribute to the campus community outside of the classroom.
"I became involved, because it is important to give back in the community you live in and extend ourselves to students in a non-academic way," she said.
Spearheaded by its TRiO programs, PCC began working two years ago to build a stronger campus community for students who are the first members of their families to attend college. To get the ball rolling, PCC TRiO Programs Director Travis Kinsey said the college organized the "IamFirstGen Campaign" to give first-generation students a chance "to build an invaluable network of peers."
Several months into the campaign, which featured everything from career shadowing to monthly cultural enrichment activities for students to interact with faculty and staff, the Center for First-Generation Student Success selected PCC as part of its inaugural First Forward national cohort. Pitt was one of 80 colleges and universities to earn "First Forward Institution" designation from the organization for its long-term commitment to serving the needs of first-generation students.
Spring registration opens for new students Oct. 12
Spring registration is underway at PCC for currently-enrolled students and will soon begin for newcomers as well.
On Thursday, PCC registrar Angela Cline said students taking courses this fall began signing up for the 2021 Spring Semester on Oct. 5. She said registration for new, first-time freshmen will open Monday at 8 a.m. Though new students are strongly encouraged to attend a New Student Orientation session prior to registering online with their academic advisors, she said it is not required.
All students who register between Oct. 5 and Nov. 30 must pay for their courses by Dec. 3 at 5 p.m. to prevent their schedules from being deleted. Cline said students can pay online through their myPittCC accounts, adding that an installment plan through Nelnet Business Solutions may be a payment option for some to explore.
Students who have applied for financial aid for the 2021 Spring Semester must have a finalized award in place by the Dec. 3 payment deadline in order to secure their schedules, Cline said. Those who do not, she said, must pay out-of-pocket and wait for reimbursement through financial aid, if it is approved.
Due to ongoing health safety concerns associated with the coronavirus pandemic, most of PCC's spring classes will be taught virtually, which includes internet, hybrid and synchronous online instruction. College officials say virtual synchronous classes offer more structure than other online courses and operate very much like the traditional, in-person classes they replace.
"It's a virtual classroom," said Tom Gould, PCC vice president of academic affairs and student development. "Synchronous classes meet at a particular time on particular days, and students have to attend class, just as they would if they were taking it in person."
For classes that necessitate face-to face interaction — many in the areas of health sciences and construction and industrial technology — PCC has taken measures to enhance safety, including facial mask requirements, hand sanitizing stations, social distancing, frequent cleaning of 'high-touch' surfaces, and thorough sanitization by nighttime cleaning crews.
Spring classes at PCC begin on Jan. 7. Additional registration information is available by calling the PCC Student Coronavirus Hotline at 493-7245.