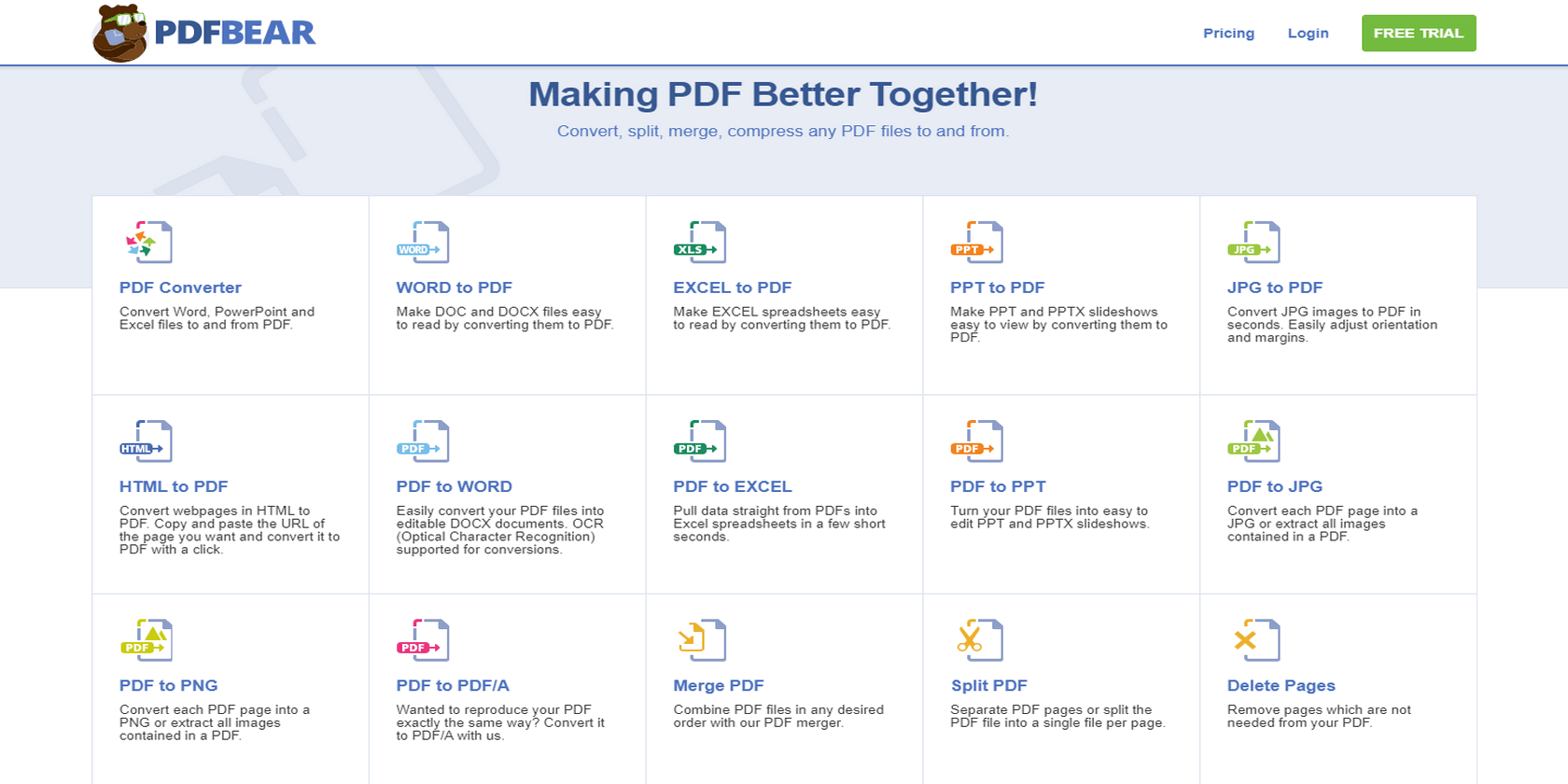 PDFBear is an Online PDF Converter for Doing Everything with PDF
How to Make PDF Workflow and Conversion Easier with PDFBear When you create a PDF
How to Make PDF Workflow and Conversion Easier with PDFBear
When you create a PDF document containing any type of data, it'll always display the data in exactly the same way no matter which device you're using. Modern browsers have all the essential PDF technologies to display and navigate PDF's easily.
With so many apps available, why should we bother with another tool called PDFBear? This simple one-page site holds 25 utilities and converters that can save you a lot of time. Think of PDFBear as a Swiss Army knife for your PDF workflow. Let us investigate the details of this deal.
Do It All Within the Browser
PDFBear has a simple and intuitive interface. All the PDF utilities are neatly arranged in a single webpage with functions they perform. Here are some of the details of the tools and converters.
Office files to PDF Converter: The app supports both old and new Office file format extensions, including DOC, DOCX, XLS, XLSX, PPT, and PPTX.
JPG to PDF: You can upload multiple JPEG's and combine them into a single PDF. It's also possible to adjust orientation and margins.
HTML to PDF: Copy and paste the URL of the page you want and convert it to PDF with a click. The quality remains the same on conversion.
PDF to Office Files: Convert your PDF files into editable documents. PDFBear uses the Solid Documents Framework for converting files.
PDF to Image Files: Convert each PDF into an image or extract all the images contained in a PDF. You can save the pictures to your computer.
Merge and Split PDF: PDFBear lets you combine multiple PDFs in any desired order from the browser. If the document is huge, you can choose the pages and export them into individual PDF's.
Compress PDF: Reduce the size of your PDF online so that you can share them easily. There is an option to select your compression level.
Repair PDF: Repair a damaged PDF and recover data from it. The built-in PDF Repair kit tries its best to recover and repair the file, but there is no 100 percent guarantee.
Add Watermark: Stamp an image or text over your PDF in seconds. You can even customize the typography and transparency of the watermark as you need.
eSign PDF: PDFBear makes it simple to sign your document. Create your signature, sign the PDF, and request people to sign. Several options are available for creating a signature.
No Complicated Steps
Each tile for a specific tool lets you set options and customize the PDF process as per your needs. The PDF to Word conversion involves OCR for accurate detection of headers, paragraphs, lists, and more. For PDF to Excel, it requires the detection of tables based on table borders.
PDFBear simplifies the PDF conversion process without any tools. The process doesn't overwhelm you with too many options. Drag-and-drop files from the computer and give it a few seconds to complete depending on the file size. Then, save it as an editable document.
To ensure your privacy, the files get encrypted with 256-bit SSL security. Also, it permanently removes your original file from the servers after an hour.
PDF conversions are often tricky because it depends on — PDF library used, the layout of the document, format, and delimitation of page elements. The Pro version of PDFBear removes the upload size limit for conversion, process unlimited OCR, unlimited storage for supported files, and more.
Try out for a free 14-day PDFBear trial and see if it fits your needs. The deal is for the lifetime subscription for only $70.
Use This Trick to Convert Any Image to PDF on Windows 10
Converting images to PDFs on Windows 10 machines couldn't be easier. You don't even need third-party apps or programs!
About The Author