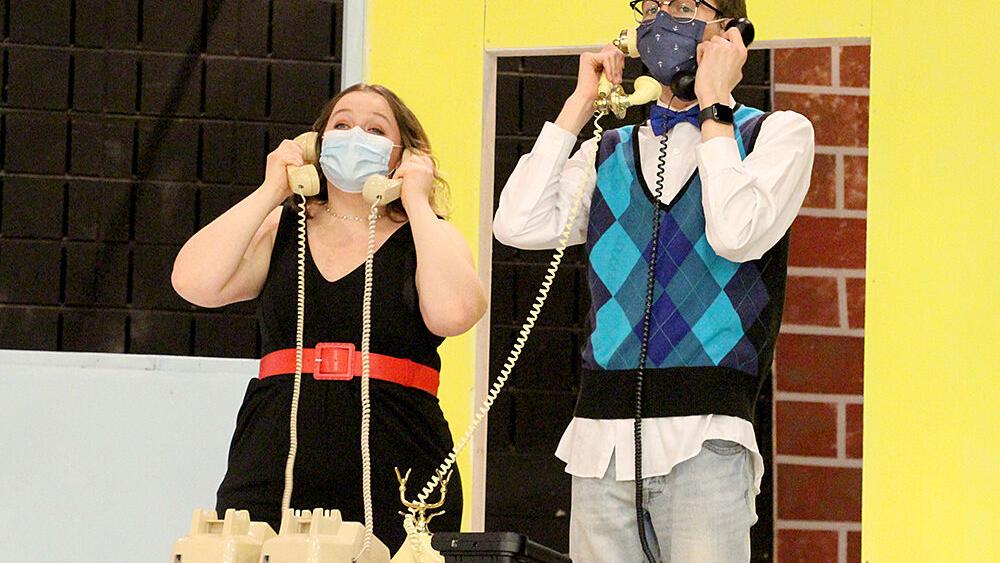 Pierz prepares to present 'Little Shop of Horrors' | Morrison County Record
It's a line theatre fans and movie buffs have known for decades. Soon, it will
It's a line theatre fans and movie buffs have known for decades. Soon, it will play out live on stage in Pierz.
Pierz Healy High School will present "Little Shop of Horrors" at 7 p.m. Friday and Saturday, March 26-27, with a 2 p.m. Sunday matinée on March 28. It is the first live production the school has been able to put together since the COVID-19 pandemic shut down schools and associated activities for much of the past year. As most things are in the age of COVID-19, one of the performances will also be live-streamed online. Cast and crew members will have that information.
COVID-19 has still made its presence felt in the fact the performers have to wear masks on stage when they can't be at least six feet apart from their cast mates. It also will limit the crowd size to 150 people for each performance — tickets are available only by contacting a member of the production. Seniors get four tickets, everyone else gets three. But all of that is secondary to the fact the students are back in theatre.
"I think there's definitely a sense of just excitement that we're doing something, that a lot of those COVID things that otherwise do feel really exhausting are kind of canceled out because they're just so excited to be making art again," said Director Iris Kolodji, a first-year vocal music teacher at Pierz. "It's been a really long time, I think, since anyone has really done this."
Perhaps the biggest challenge the performers on stage have had to face has been conveying emotions while wearing a mask. Kolodji said much of an actor's expression comes from the bottom half of their face. Though they have tried working with clear masks and other methods of the performers being able to show their faces, they have only been moderately successful.
"We're really reliant on, like, our eyebrows and our faces that we make with our eyes and our voices a lot," said senior Tori Mitchell, who plays the female lead, Audrey, in the play. "It's really easy to talk monotone and have a lot of faces. We have to really rely on just our eyes and our voices. It's also a struggle to be able to hear us and sing easily and breathe while dancing. It's been a challenge, but we're overcoming it, we're facing it every single day. It's been a challenge, but we can do it."
Senior Jaron Gross, who plays the lead role of Seymour Krelborn, estimated he has been in roughly 25 – 30 plays in Pierz since he was in fourth grade. Though it scared him when he was really young, he said he grew up watching the 1986 film version of "Little Shop of Horrors" with his family. As such, he said it is a play in which he's always wanted to perform, and landing the coveted role of Seymour only makes it that much better.
As the last play he will perform in while still a student at Pierz, he said it would hold a special place in his heart regardless of the circumstances. However, the adversity he and his classmates have faced during the pandemic have made this show that much more special.
"I think now, especially, having gone through quarantine and COVID and everything it really, really means a lot to us," Gross said. "Everything was taken away so quickly, and we lost everything in the blink of an eye. We finally are getting back, over a year and a half later, and this is something that I know I'm going to remember for the rest of my life."
Kolodji said the pandemic also played a role in why "Little Shop of Horrors" was chosen as this spring's musical. Its relatively small cast and orchestra allowed for more social distancing on stage. That is not to say, however, that the story and music in the play are secondary.
A mash-up from the genres of science fiction and comedy, "Little Shop of Horrors" tells the story of Seymour Krelborn, an impoverished flower shop employee living on "Skid Row" in New York City. Orphaned as a child, he toils long hours for his adoptive father and shop owner, Mr. Mushnik. He longs to get out of Skid Row, and for the love of his coworker, Audrey, who is in an abusive relationship with a sadistic dentist.
Seymour's lot in life changes when he finds a mysterious plant that brings him fame and fortune, but the plant comes with its own set of horrific complications.
"I'm super, super excited," said Mitchell, who has been performing at Pierz since seventh grade. "I'm very sad that it's going to be my last show, especially since we couldn't do a show this fall, but I'm so looking forward to it. I think it's going to be really, really good. It's going to all come together and be a really good show."
Everyone involved has been working hard for months already preparing for their big performances. Kolodji said they have rehearsal five nights per week and sometimes on Saturdays. On March 9, less than three weeks before opening night, the performers were undergoing their first dress rehearsal.
Kolodji said she was really proud of the work her students had put in, as well as how well they had adapted to the challenges presented by COVID-19. On the night of the first dress rehearsal, everyone involved was pleased with where the production was headed.
"We are, by far, better off than I've ever seen a production here be," Gross said. "I think that's a huge credit to Miss Kolodji. She has put in so much work, and it really should be applauded. I'm very, very proud of this cast and I could not be happier to be performing alongside everyone in the cast, pit, crew — everyone involved has been amazing."
"I'm super proud of them," Kolodji said of her students. "I think, as an educator, we get the wonderful place in all of this to see the growth. Through the lens of growth, they are doing so good.
"I think they've been able to tap into some of the deeper themes and human aspects of this silly, goofy, sci-fi kind of a show," she continued. "We've worked really hard on that."
The cast for "Little Shop of Horrors" is Gross (as Seymour Krelborn), Mitchell (as Audrey), Colby Hecimovich (as Mr. Mushnik), Michael Faust (as the voice of the plant), Jaden Lindeman (as Orin Scrivello D.D.S.), Connor Kruse (the plant puppeteer), Ellie Fischer, McKayla Misbe, Abby Skwira, Breanna Storkamp, Hailey Koch and Bre Luberts (as The Girls), Ethan Thesing (as Skip Snip and the customer), Trent Juetten (as Mr. Bernstein) and Emily Sadlovsky (as Mrs. Luce and the interviewer).
The orchestra consists of Kaylee Becker, Courtney Kroll, Caleb Kuske, Abby Nelson, Kiara Olesch, Jazmine Dickmann, Alyssa Thesing, Lance Otremba, Kaleah Olesch, Landon Schomer, Jacob Hyatt, Joan Novak, Creo Block and Michelle Mennis.
"I'd like to mention that the pit crew, the orchestra, they're usually by far the most overlooked people in the production," Gross said. "They put in so much work. They put in, probably, more work than we do. We've got kids in the pit playing six, seven instruments at a time and they put in hours and hours of work. I really want people to recognize that."
The crew consists of Payton Stangl, Adriana Hastings, Marissa Otremba, Erin Thesing, Maya Thesing, Eden Andres, Layla Bestinger, Levi Steiner, Kylee Andria, Keira Gray, Connor Happke, Megan Schlegel, Kaitlyn Smude, Daizy Dickmann and Bre Luberts
Though quirky in several aspects, the show does touch on some heavy issues such as greed, domestic violence and poverty, to name a few. Kolodji said she hopes the audience connects with the serious aspects of the play, but also has fun in the process.
"I hope people who come can find something to connect to," she said. "I also just hope that they enjoy the dancing and singing, because musical theater is awesome. When else are you going to dance and sing on stage? And rhyme, just rhyme all the time. So I hope people can think, but also just really enjoy themselves, because I think that's what theatre can do for us — a little escape."