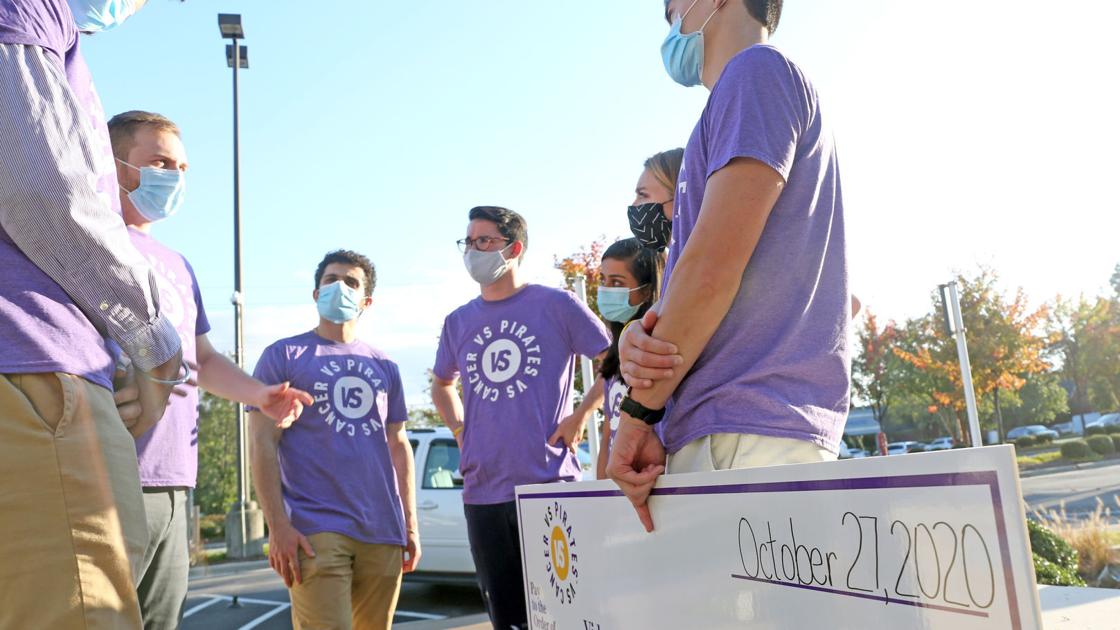 Pirates vs.Cancer: Pandemic fails to cut out student fundraising effort | News
Not everyone who got an in-home haircut in the spring did so out of desperation
Not everyone who got an in-home haircut in the spring did so out of desperation due to closures. Some did it out of dedication to a cause.
Without barbers or hairdressers and minus the fanfare of what has been recognized as the best student organization-hosted event on campus, many ECU health sciences students took a little — or a lot — off the top in April for charity. On Tuesday, Pirates vs. Cancer donated more than $23,000 in support of pediatric cancer patients at James and Connie Maynard Children's Hospital at Vidant Medical Center.
"It's certainly not as much as a normal year, but it's still quite a bit of money," said event founder Trevor Hunt, a fourth-year student at ECU's Brody School of Medicine. "We were on track for another record-breaking year before the event had to be canceled.
"It's definitely different, but we're trying to look on the bright side of everything."
Six months ago, Hunt and other participants were struggling to make the cut. Shutdowns prompted by the coronavirus pandemic challenged their ability to make good on their commitments to cut their hair — or even shave their heads — to raise money for pediatric cancer.
"It was definitely tricky," Hunt said. "Some people were able to go to a friend who had barbering equipment and do that and send in some pictures."
That's what Hunt did, shaving his head for the seventh time as part of a cancer charity benefit.
Pirates vs. Cancer President Lauren Moore didn't have as much luck shedding her locks. Moore, a second-year student at Brody, had been growing her hair since October 2019 with hopes of both raising money for pediatric cancer and donating her hair to be used for a wig.
But as restrictions on cosmetologists remained in place, no stylists were able to lend a hand. Still, Pirates vs. Cancer participants didn't want to cut back on its fundraising, which is directed exclusively to cancer programs and services at the local children's hospital.
"We could pause the event all we wanted and keep it to the next year," Moore said. "But, in the end, there are still patients in the hospital that could benefit from this fundraising. Their disease isn't going to stop, and the way that they can use the money isn't going to stop just because of the pandemic."
Pirates vs. Cancer has generated more than $100,000 and has become one of the largest and fastest-growing interdisciplinary student organizations on the ECU Health Sciences Campus since it started in 2017.
Hunt, then a first-year medical student, had started shaving his head his freshman year at Wake Forest University in honor of a high school friend who died from cancer.
"I kind of went out on a limb; I had never done anything crazy like that before," he said. "I was certainly scared because I had always had kind of long hair but I signed up for it because I thought it would be very meaningful. … It really made me feel connected to the cause and my friend who I had lost."
About 20 people took part the first year that he brought the charity effort to ECU, and the head-shaving event generated $7,000, more than three times the fundraising goal. The following year, Pirates vs. Cancer raised $25,000.
"It started as something I personally wanted to do," Hunt said. "But it became much more about what can ECU as a family do to do, something good for our community and for the local patients being treated here."
By the time Moore joined last year, the event had grown exponentially, generating more than $50,000.
A Farmville native, Moore has been raising money for cancer charities since she was a child. Her mother was diagnosed with breast cancer when Moore was 7. Susan Moore died when her daughter was 15.
"That prompted me to not only get into medicine but also any time I can get involved with such a cause as Pirates vs. Cancer, it's kind of a motivator for me," Moore said.
She is co-founder of Spike It for Life, a charity volleyball event at The Oakwood School, her alma mater, and helped organize a beach volleyball tournament as a breast cancer benefit during her undergraduate years at the University of North Carolina at Wilmington.
Shutdowns due to COVID-19 began just seven days into this year's Pirates vs. Cancer campaign, leaving organizers to wonder how fundraising would fare in a pandemic. Although the event, for the first time in its history, did not surpass the previous year's fundraising level, Moore was pleased with the effort.
"Just to look online in the middle of a pandemic and see people still giving back to this cause, that was so refreshing to me, especially in such a dark time," she said. "Where everything's being shut down, businesses were closing and people were still finding ways to give to this cause, that was just so inspiring. … It's not the number that we wanted, but just to be able to raise that much with the circumstances, we were all blown away."
Hunt said the effort, which has grown to include not only medical students but also students from ECU's nursing and dental school programs, will continue after he graduates.
"It was never the intention for our event to become this really interdisciplinary, interprofessional kind of melting pot on campus," he said. "I think it really took the creation of an event like this to realize how little the different programs interacted before.
"It's become this really nice way for the whole campus to come together in one spot, physically and kind of ideologically."
Moore said organizers are making plans for virtual and in-person scenarios next year so that Pirates vs. Cancer won't be in danger of being canceled. Until then, she may just hang onto her extra hair.
"I just got a trim done instead of getting it all chopped off," she said. "I had high hopes that we were going to have a fall event, and that didn't happen. I keep holding off to chop it off until I can actually donate a lot to the cause."