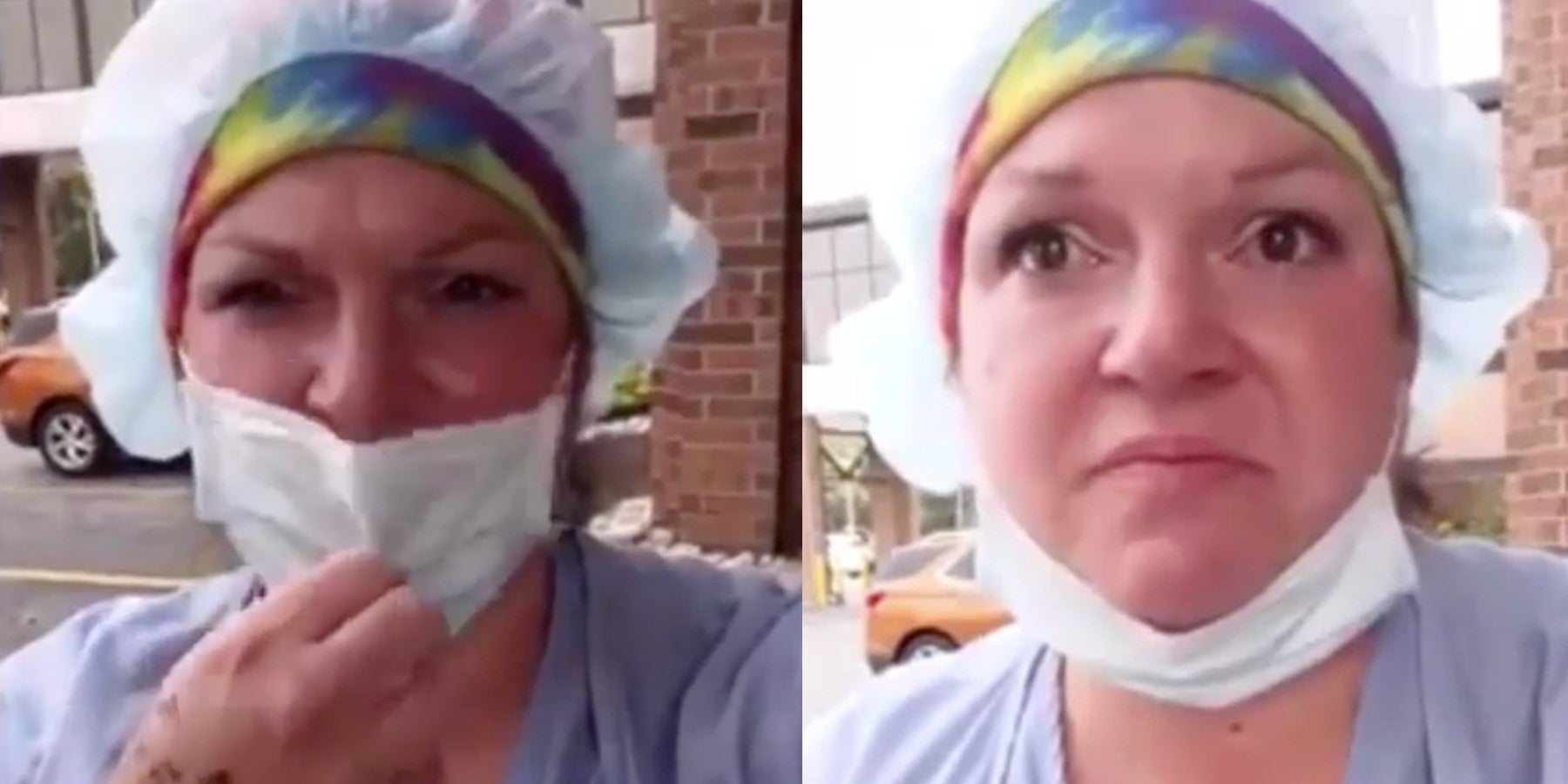 Respiratory Therapist Says She's Tired of Seeing People Die
A viral video shows yet another healthcare provider having a breakdown on camera due to
A viral video shows yet another healthcare provider having a breakdown on camera due to her frustration over anti-maskers. 
An ICU respiratory therapist, whose video was posted to Reddit by user u/jcepiano on Monday, expressed her anger about people not wearing masks, ending up in the intensive care unit, and dying. "I don't wanna have to sit here and cry with you about how you're probably not gonna make it," the nurse says as she tears up.
She says she has seen more "60-year-old men" cry and "80-year-old grandmas" dying than she's ever seen before. She painted an especially painful picture of grandmothers who "have to have their birthdays through the window—and they die the next day."
The video, a little over a minute long, begins with her calling an unnamed political rally "disgusting" for proposing an event "so that people can eat and you can make money."
"We're running out of room; there's patients in the hallways," she says. "What people don't understand is this is very real. Just because you don't get to see it doesn't mean it's not happening."
"Just wear the damn mask," she says while tearing up. "Let's all live, let's all make it through this because it's garbage: utter disregard for human life."
It's not clear which hospital or city she's in, and the Reddit user did not respond to the Daily Dot's request for further details. However, she mentions an unnamed "rally," and the video was uploaded as President Donald Trump attended a campaign rally in Sanford, Florida, a little over a week after leaving the hospital for contracting the coronavirus.  
The respiratory therapist isn't alone in her frustration. As healthcare professionals confront some of the gravest realities of the pandemic, it's becoming common for them to share their grievances online. A Seattle nurse's video went viral last week after she condemned the president for downplaying the coronavirus after he urged people to not be afraid of it. 
Redditors who watched the respiratory therapist's video expressed frustration in the thread. 
"You know the world has gone to hell in a hand basket when wearing a face mask in the middle of a fucking pandemic becomes the center point for controversy," one commenter wrote. 
"It really pisses me off how many people don't care about their fellow (wo)man and wanting to keep other people safe," wrote a nurse from the cardiac unit who said she has to often send many of her patients to the ICU. "They flat out don't give a shit until it affects them. Unfortunately, I don't see it getting better any time soon. Whether Trump wins again or not, this country will never be the same for a long time."
---
Today's top stories
*First Published: Oct 13, 2020, 4:27 pm
Samira Sadeque

Samira Sadeque is a New York-based journalist reporting on immigration, sexual violence, and mental health, and will sometimes write about memes and dinosaurs too. Her work also appears in Reuters, NPR, and NBC among other publications. She graduated from Columbia Journalism School, and her work has been nominated for SAJA awards. Follow: @Samideque