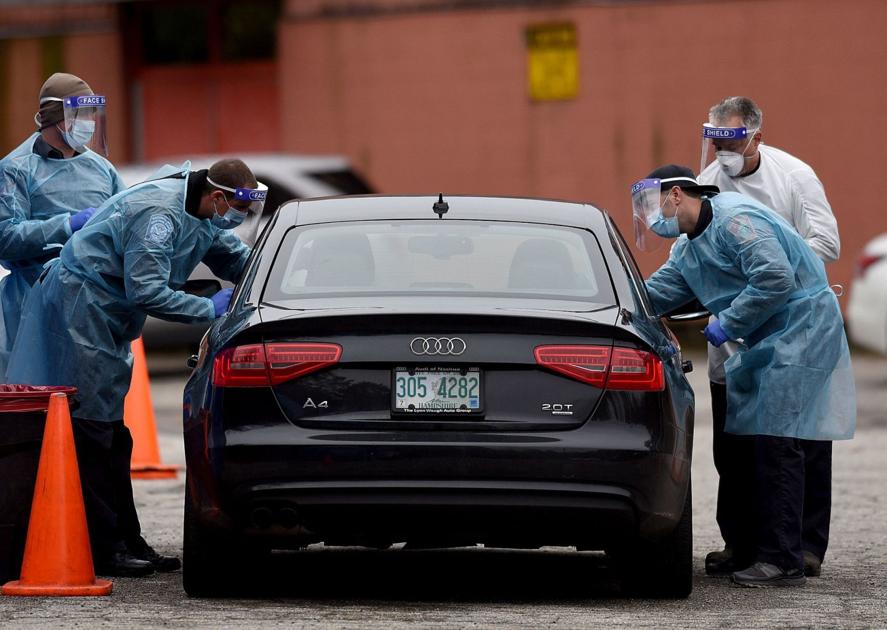 Risk of COVID-19 spread now 'substantial' in NH | Coronavirus
T HE "SECOND WAVE" of COVID-19 infections that public health experts have been warning about
T HE "SECOND WAVE" of COVID-19 infections that public health experts have been warning about for months has crashed into New Hampshire. On Saturday, the state health department made the chilling announcement that 205 new cases of the illness have been identified — the highest number by far since the pandemic began in March.
What happens next, health experts say, depends a lot on the choices we all make about the people we spend time with, the activities we participate in, and even how we celebrate the holidays.
The state Department of Health and Human Services now lists the statewide risk for community transmission of the deadly virus as "substantial," the highest of three levels. New Hampshire has seen an average of 124 new COVID-19 cases a day for the past week, and the numbers are rising.
Last spring, most people getting infected with COVID-19 here had risk factors associated either with travel or with a cluster or outbreak, especially at long-term care facilities, according to Dr. Benjamin Chan, the state's epidemiologist.
"We're seeing more people being diagnosed with COVID-19 who are reporting close contact with somebody else diagnosed with COVID-19," Chan said.
An increasing number of people report no identifiable risk factors, "meaning we believe they likely acquired it in the community from an unknown source."
That's an unsettling trend, but one Chan believes he can explain.
"People are getting tired of this pandemic and the social distancing and other public health recommendations and community mitigation measures, and are letting their guard down," he said. "And it's the close contacts, the social interactions, that we believe are really driving a lot of the increase in this pandemic."
Hospitalizations and deaths here remain low, but medical experts worry that those too will rise as the COVID-weary public heads indoors for the winter.
March 4: The state Department of Health and Human Services announces guidance from the Centers for Disease Control and Prevention, warning travelers from China, Iran, Italy and South Korea to stay home and monitor their health for 14 days after returning to the U.S., due to a novel coronavirus causing outbreaks overseas. DHHS reveals that two people have tested positive here.
The daily updates from the state health department now resemble those from the peak of the crisis last April and May. On Thursday, the state announced 131 new cases and four deaths, all women from Hillsborough County who were 60 or older. On Friday, 126 new cases were reported.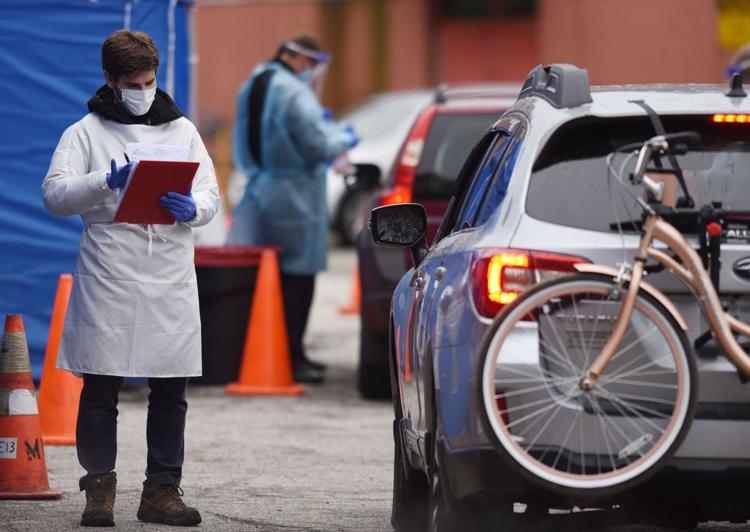 While New Hampshire's test positivity rate remains relatively low compared with other regions of the country, each new case identified is someone who could have been walking around infecting others, even without realizing it.
"The fact that more people across the state really are being diagnosed with COVID-19 is an indication that it is spreading more within our communities, and it's not simply because we are doing more testing that the numbers are going up," Chan said.
Four counties — Merrimack, Rockingham, Hillsborough and for the first time Coos — and the state's two largest cities, Nashua and Manchester, now show up in red on the state's interactive COVID-19 dashboard. That means a "substantial" risk of community transmission exists in those places. Only Cheshire and Carroll counties are at "minimal" risk.
March 23: DHHS announces 23 new cases and the first death related to COVID-19, a man from Hillsborough County who was over 60 years old and had multiple underlying health issues. "We express our sympathies to this person's family and friends," DHHS says.
Dr. Michael Calderwood, an epidemiologist who is associate chief quality officer at Dartmouth-Hitchcock Medical Center, has been watching with concern as the numbers rise. Since August, he said, "We've had a sevenfold increase in the number of new daily cases."
The average number of cases "seems to be going up every day," he said.
Much of the spread of the virus this fall seems to be coming from smaller gatherings, Calderwood said. People have gotten accustomed to wearing masks to go to the grocery store or to local school events, he said, "but if we have people over to our home or invite guests in from out of town, we may not always wear that mask, and that's where some of that transmission is occurring."
Chan said he is concerned that the increasing community transmission will lead to a rise in the number of outbreaks and clusters among vulnerable populations, which in turn will translate into more hospitalizations and deaths. "We're already seeing some of those numbers beginning to creep up," he said.
The state's current COVID-19 caseload is 1,338, with 42 in the hospital. DHHS on Saturday announced the death of a Hillsborough County woman, bringing the death toll to 483.
May 1: DHHS announces 164 new cases and nine deaths, all individuals 60 or older. The cumulative caseload is 2,310 and 81 people (4%) have died, 270 have been hospitalized (12%), and 980 (42%) have recovered.
According to the DHHS dashboard, there are 144 active cases in Manchester, 86 in Nashua and 60 in Concord. The North Country, spared in the first wave of the pandemic in the spring, has 55 active cases, most of them in Berlin and Colebrook.
But those case counts have their limits.
Even with thousands of tests being performed each day, Calderwood cautioned, "We're not capturing everyone."
Some models indicated that last spring, for every case reported, there were seven to nine infections in the community, he said. With more testing now, that number is probably closer to three to four, he said.
"And so if we're saying that there are 100 new cases per day getting reported, the reality seems to be there are 300 to 400 that are actually out there in the community," he said.
All those people, even if they're asymptomatic, can spread the virus to close contacts, he said.
June 2: DHHS announces 65 new cases and 11 deaths. There are 1,422 current cases and 97 people are in the hospital. The total caseload hits 4,749. The death toll stands at 256.
The rising case numbers here underscore the importance of wearing masks in public, the medical experts said.
"If you are out and about and really can't maintain a 6-foot distance from someone else, we all should be wearing masks," Calderwood said. "In fact, if we had everyone wearing a mask, we could do a much better job getting this under control."
Changing behavior is difficult but essential, Chan said. "This is a virus primarily transmitted through close contact through a person's respiratory droplets," he said. "So the steps we still have to prevent this virus from spreading between people are aimed at preventing close contact, and preventing spread of a person's respiratory droplets and secretions to someone else."
That means social distancing, wearing cloth face coverings and avoiding what Chan called "the three Cs" — crowds, close contact and confined spaces indoors where the virus can easily spread.
July 1: DHHS announces 20 new cases, bringing the total to 5,802, and two deaths, both women from Hillsborough County who were 60 or older. Thirty-two people are in the hospital, 4,491 people have recovered from the illness, and 373 have died.
In addition to tracking new and active cases daily, the state's online COVID-19 dashboard also calculates the relative rate of infection within communities, counties and statewide. On Saturday, the statewide rate for new cases over 14 days rose to 109.4 per 100,000 population.
Coos County has the highest rate of new cases, 170.9 cases per 100,000 population. Cheshire County has the lowest, 45.8 per 100,000.
The rates can vary widely from one community to the next, especially in those with smaller populations. For example, Bedford's 46 active cases translate to a rate of 184 cases per 100,000 population. But Warner's 43 cases equate to a terrifying 1,149 cases per 100,000.
So how are we supposed to think about the relative risks in surrounding communities?
DHMC's Calderwood said it makes sense that larger population centers will have more cases, so it may be harder to avoid exposure. In rural areas with smaller populations, he said, "Their caseload will translate into a larger rate, but it may be easier for those people to remain physically distanced."
Aug. 16: Just eight new cases are announced. Thirteen people are in the hospital, and 6,287 have recovered from COVID-19 (90% of the 6,988 total cases).
This crisis is not over, health experts warn.
COVID-19 can infect anyone, Chan stressed, and there's still a lot doctors don't know. There are reports of "long COVID," patients who suffer from longer-term symptoms, such as breathing issues, heart inflammation, chronic fatigue and other neurological symptoms, Chan said.
"We're still understanding the long-term health impacts from infection from COVID-19, even in young and healthy people," he said.
Calderwood said he is worried about that, too. He also is concerned about what lies ahead as people spend more time indoors in colder weather.
In his view, activities such as college or high school sports, especially involving travel, pose too great a risk. "What we have seen is when we have large tournaments that bring people together across state lines, this is just a recipe for disaster," he said.
Calderwood understands that's not what people want to hear.
"COVID has changed so much, and we will eventually get back to a period where we can do that, but this is not the year," he said.
Sept. 11: As New Hampshire and the nation mark the anniversary of the terror attacks that killed nearly 3,000 Americans, the state announces 48 new COVID-19 cases, five in kids under 18. The total caseload stands at 7,620, with a death toll of 434 (6%). Seven people are in the hospital.
Public health leaders say it's time to recommit to the safety precautions most of us adopted when the pandemic first hit. That means avoiding large crowds and close contact with others, wearing face masks and practicing good hand hygiene, Chan said.
"Those are still the primary ways we have to control this virus until we can find a safe and effective vaccine and until we can distribute that vaccine at a population level," he said. "And that is going to be months away."
As the holidays approach, Calderwood said people need to be careful. Larger gatherings, contact with out-of-state guests and being indoors all increase risk, he said.
He suggests bringing a meal to elderly relatives or neighbors this year instead of dining together. "We're going to let them know we're here for them, but we're not going to go eat with them and put them at risk," he said.
At last week's COVID-19 media briefing, Gov. Chris Sununu said he is not planning to get together with his large extended family for Thanksgiving, to avoid the risk to his octogenarian parents.
After Saturday's case spike was announced, Sununu called the situation "very serious" and said, "We must all remain vigilant in our daily lives."
Oct. 10: DHHS announces 123 new cases, including 35 associated with an outbreak at a long-term care facility, and 20 among kids under 18. Five more people have died: two men and two women from Hillsborough County and one man from Belknap County; all were 60 or older. There are now 692 active cases here and 21 people in the hospital. The total caseload stands at 9,092 and the death toll at 455.
Wearing a mask protects other people, Chan stressed, by preventing the spread of respiratory droplets by someone who might be infected and not even realize it. "We have a collective responsibility to protect those around us in our communities," he said.
Calderwood said he understands wearing a mask may be uncomfortable, just as donning extra personal protective equipment can hamper his ability to communicate with his patients.
"But this is what we do to keep ourselves and others safe," he said. "So we have to understand that there are sacrifices that we need to make, that those sacrifices are necessary for the greater good, for our recovery, and for the safety and well-being of our fellow community members."
"We will get through this," he said. "But we will get through this in a better fashion if we all come together as a single community."