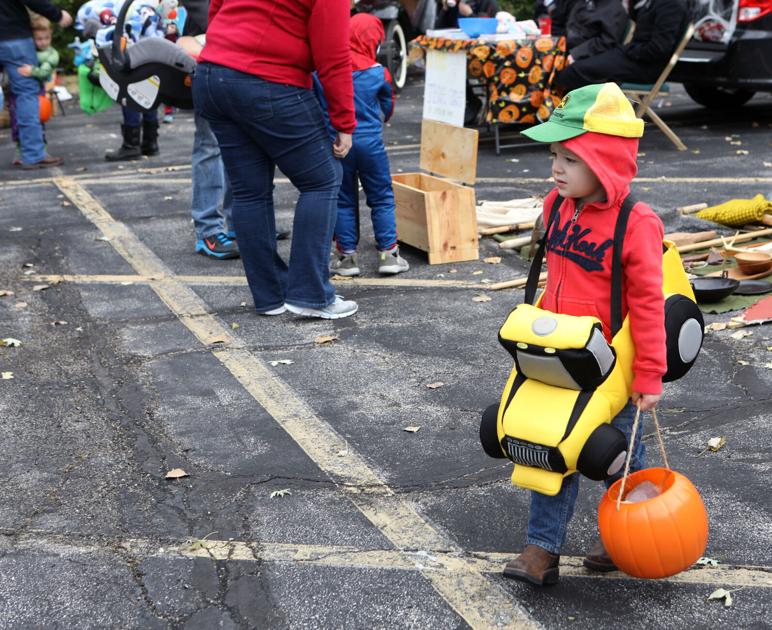 Safety Tricks to Make Halloween Night a Treat | Features People
Halloween might be dressed up a little differently this year due to the COVID-19 pandemic,
Halloween might be dressed up a little differently this year due to the COVID-19 pandemic, but there are still ways to treat yourself to a celebration that doesn't feel like the ghost of years past. The CDC guidelines split many classic activities into three categories based on health risk, but within each category there are steps to lessen risk.
Stay Home — Low Risk 
Posing almost no health risk at all are the activities that, even in non-COVID-19 years, are best enjoyed at home. Cozying up with a mug of cider and watching a classic Halloween movie with family while eating candy corn and caramel apples until your teeth hurt can make for a fun evening. 
That's how Downtown Washington Inc. Executive Director Tyler King plans to spend his Saturday. King and his wife, Amber, will enjoy a quiet evening at her sister's house watching movies and playing with their 1-year-old son, Carter, who will be dressed as the Cookie Monster. 
"Halloween is my wife's favorite holiday," King said.
Virtual Halloween activities also are an option, especially for families with young children. Schnuck Markets will host a family-oriented virtual cooking class with four recipes for Halloween-themed treats. The $35 event will be active all day Thursday, Oct. 29. For questions call 314-909-1704. 
The Missouri History Museum in St. Louis also will hold an online celebration, this one for Dia de los Muertos. Log on for a series of videos on traditional cemetery ceremonies, paper-flower making and food and dance traditions Oct. 28 through Nov. 8, at mohistory.org/dia-de-los-muertos. 
Outdoor Parties and Pumpkin Patches — Moderate Risk
Linus van Pelt of Charles Schulz' "Peanuts" comics isn't the only one who can spend his holiday at the pumpkin patch. Pin Oak Farms in Washington and Geisert Farms in New Haven both offer a treasure trove of the plump orange staples and other seasonal produce. The spacious outdoor settings easily allow for social distancing, and the fun can continue at home when families start carving their jack-o'-lanterns.
Brookdale Farms in Eureka also offers a pumpkin patch, as well as the largest corn maze in Missouri. 
Another option would be to show off costumes in a small group setting. Marybeth Brock of Johnnie Brock's Dungeon Party Warehouse, a locally owned costume shop in St. Louis and Washington, said the store's Halloween decor sales have been up over last year because more people are planning house parties.
Although COVID-19 hit the store's bottom line hard in the beginning, Brock said costume sales are about on par with last year. Popular choices include classic favorites such as Spiderman, Batman, Scooby Doo and Harry Potter, as well as trendier options such as Donald Trump or Joe Biden, or someone from Netflix's "Tiger King." "One thing people learned from COVID-19 was to shop locally," Brock said. "We've had strong support from Washington."
Traditional Trick-or-Treating and Indoor Parties — High Risk
The CDC considers traditional trick-or-treating a high-risk activity, but suggests modifications to make it safer. Patrons should wash hands frequently and wear a mask when giving out candy. If possible, forgo the candy bucket for a tray or plate — something that will allow trick-or-treaters to touch only the candy they intend to take. 
Other high-risk activities, according to the CDC, include crowded costume parties, close-contact trunk-or-treats and indoor haunted houses. The Washington Area Chamber of Commerce canceled the 2020 Pumpkin Palooza.
Some large activities proceeded with safety recommendations for patrons. 
The American Legion hosted its Tank-or-Treat Oct. 24, and guests had plenty of room to space out as they collected goodies from the vehicles. St. Paul Lutheran Church, Union, also hosted a Trunk-or-Treat Oct. 25. 
Indoor haunted houses also can be swapped for open air experiences. The Eureka Fear Farm, the largest haunted attraction in the St. Louis area, is hosting haunted hayrides and a corn maze massacre.
Another activity the CDC classifies as high-risk is traveling to a large festival outside the community. The guidelines suggest swapping the crowded festival for an outdoor Halloween-themed scavenger hunt or even a hunt for hidden treats inside your home.