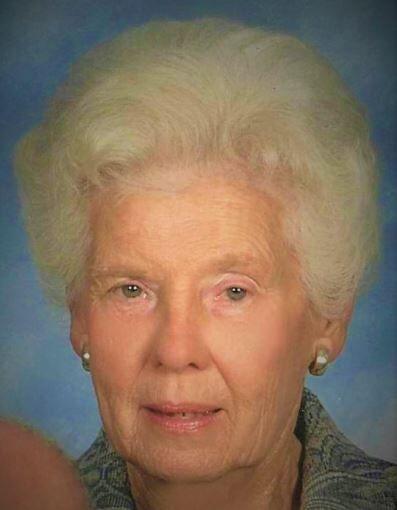 Sally Saras | Obituaries | yakimaherald.com
Smith Funeral Home Sally Saras, age 86, of Sunnyside, Washington, died December 1, 2020, at
Smith Funeral Home
Sally Saras, age 86, of Sunnyside, Washington, died December 1, 2020, at Astria Sunnyside Hospital following a stroke. Sally was born on March 18, 1934, at St. Elizabeth Hospital in Yakima, Washington, to parents Reese and Pauline (Kanzler) Brown.
After spending her youth in the Wapato, WA area working on the family farm – which she loved – Sally graduated from Wapato High School in 1952. Following high school, Sally enrolled at Central Washington College of Education and completed her four-year education degree in three years, graduating in 1955.
Sally soon began her teaching career in Sunnyside, WA. She spent the majority of her professional years at Sunnyside High School where she taught PE and Health and coached numerous girls sports. A few years after starting to work, on June 29, 1957, she married fellow teacher, John Saras, at The Cathedral of St. John the Evangelist in Spokane, WA. Together, Sally and John became actively involved in the community, devoting years of service to their students, the Holy Trinity Episcopal Church, and the Sunnyside Historical Museum.
Sally was a kind and humble soul, one who deferred credit to others and listened intently to all. As a long-term Sunday school teacher, she lived and taught her faith. Her life served as a living example of the Bible verse, Micah 6:8: "You have been told, O mortal, what is good, and what the Lord requires of you: Only to do justice and to love goodness, and to walk humbly with your God."
Sally was preceded in death by her husband John, her parents: Reese and Pauline Brown, two brothers-in-law: Sam and Raymond Saras, two sisters-in-law: Imogene and Teresa Saras, one nephew: Michael Saras, and one niece: Margaret Saras. She is survived by her sister: Roberta (Charles) Copeland of Yakima, WA, her first cousins: William Brown of Tucson, AZ, Victor Benzel of Yakima, WA, and Gary Benzel of Kent, WA, numerous nieces and nephews, and many cherished friends.
The Copeland, Brown, and Saras families would like to thank friends and family for their frequent visits and loving support of Sally and John over the years.
Because of COVID, a small, private burial service will be held to honor Sally's exceptional life. Those wishing to make memorial donations may do so to the Sunnyside Historical Museum, 704 S. 4th St., Sunnyside, WA 98944, or to a charity of your choice. Those wishing to sign Sally's online memorial book may do so at www.funeralhomesmith.com. Smith Funeral Home is in care of arrangements.