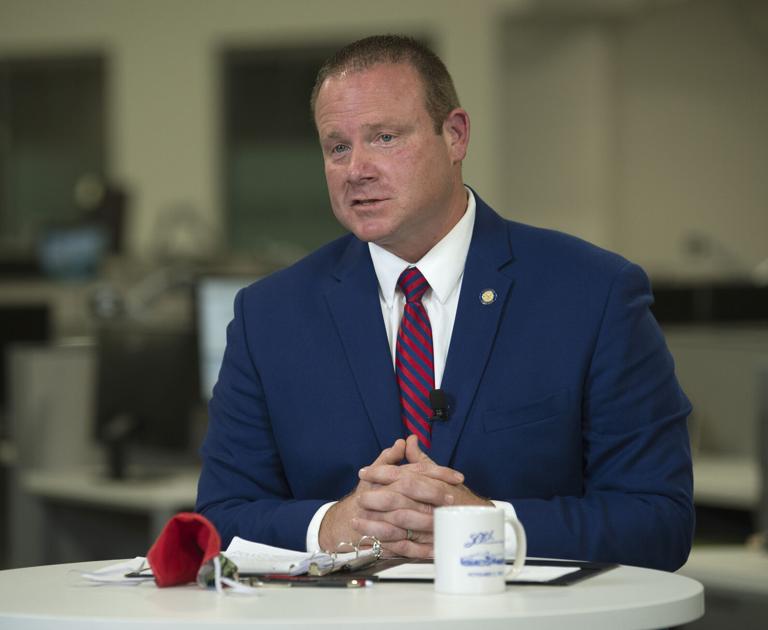 Sen. Scott Martin, challenger Janet Diaz spar over pandemic response, budget and healthcare in debate | PA Power and Policy: Pennsylvania State News
Republican state Sen. Scott Martin and Democratic challenger Janet Diaz faced off in their first
Republican state Sen. Scott Martin and Democratic challenger Janet Diaz faced off in their first and only debate Thursday, clashing sharply over Pennsylvania's response to the COVID-19 pandemic and how lawmakers should address the state's dismal financial picture.
Martin, seeking his second four-year term in Harrisburg, repeatedly criticized Democratic Gov. Tom Wolf's administration for lockdown measures that he said unfairly closed some businesses and kept others open, and for moving infected elderly patients from hospitals into vulnerable nursing homes.
Diaz, a stroke registrar at Penn Medicine Lancaster General Health, said Wolf "did what needed to be done." She often took aim at Martin for not supporting the creation of a county health department, which she said would have allowed for a quicker and more comprehensive virus response.
"Politicians have been desensitized," said Diaz, 54, of Lancaster city, where she's been a city council member since 2018. "They don't feel what you're going through."
Martin, 48, of Martic Township, leaned often on his previous two terms as a Lancaster County commissioner and spoke about the 19 bills — from strengthening DUI laws to helping raise funds for pediatric cancer research — that he's helped pass in the last four years.
"I promised when I ran four years ago that I would do everything in my power to be a different kind of legislator. I promised that I will break through partisan gridlock," Martin said.
The matchup is one of the most closely watched and expensive state Senate races in Pennsylvania this fall. Half of the 50-member chamber is up for election, and Democrats need to flip four seats to secure control of the Senate for the first time in nearly three decades.
Observers say flipping four Republican seats is a stretch, and that the Lancaster County seat is the most difficult one on Democrats' list.
In the 13th District that covers Lancaster city, many of its suburbs and everything south to the Maryland border, there are about 12,000 more registered Republicans than Democrats, giving the GOP a 7-percentage-point edge. In 2016, President Donald Trump won over voters here by 6 percentage points as Martin out-performed him with a 16-point victory over his Democratic opponent.
Democrats saw an opening after the 2018 midterms, though. Wolf and U.S. Sen. Bob Casey won the district by 8% and 3% respectively in their 2018 reelection campaigns. And Democratic congressional candidate Jess King narrowly beat out U.S. Rep. Lloyd Smucker in the district in the same year.
Those mixed results have led to hundreds of thousands of dollars in spending on television, digital ads and mailers this year from Martin, Diaz and outside groups supporting them. Some ads veer into personal attacks —like the conservative group Commonwealth Leaders Fund's criticisms of Diaz as an "extremist" while applauding Martin's "Lancaster County values"; or the Pennsylvania Democratic Party's accusation that Martin is "in the pocket of big developers and real estate special interests."
Asked about those attacks, Diaz and Martin both criticized the outside groups, though they continued some of the messages.
"We already have enough development as it is in Lancaster," Diaz said while claiming Martin is "more interested in bringing developers here" than preserving farmland.
Martin responded that he's worked to make the county the largest in the country in terms of farmland preservation. Development, he said, "isn't a dirty word," and it's needed to address the housing affordability problems in the county.
Health care and the pandemic remained the most frequent themes of the night. If the Affordable Care Act is struck down in a coming Supreme Court case and the issues fall to the state, Martin emphasized he would not vote for any bill that doesn't protect coverage for preexisting conditions. Regarding a potential county health department, Martin said the six counties that had them also faced tremendous issues.
Diaz often brought up her daily work with doctors at LGH. Health care is the number one issue in the district and it's imperative now, she said, when some are not even getting COVID-19 tests or coming into the hospital for fears of the costs.
"How is it that he could say that people have quality health care when there's so many people without health care? They're falling through the cracks," she said.
And with the steps taken to combat the virus continuing to deepen Pennsylvania's budget hole, Martin said he is hoping that the federal government will lift restrictions on roughly $1 billion in unspent federal stimulus funds. Expanding and regulating more forms of gambling, marijuana legalization and a natural gas severance tax — all possibilities that Diaz said she'd support — should be off the table, Martin said.
"To think that we're going to raise taxes in the middle of this kind of deep economic recession that we're in because of that virus would do unfathomable damage to Pennsylvania's economy and drag it out even further," Martin said.
The 90-minute debate, hosted by LNP Media Group, featured questions from four journalists with LNP | LancasterOnline, The Caucus, La Voz and Lancaster Farming. Voters can rewatch the forum in full here.