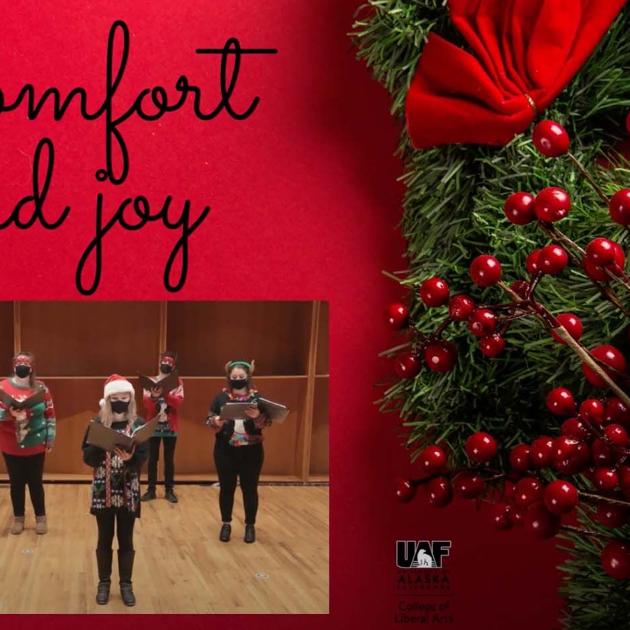 Songs of the season go virtual: Alaska Singers record Christmas carols to share with seniors during pandemic | Local News
A group of University of Alaska Fairbanks singers is taking the holidays virtual, spreading Christmas across
A group of University of Alaska Fairbanks singers is taking the holidays virtual, spreading Christmas across the internet and into senior centers throughout the state. Now, the singers want to go national.
The group, made up of students who study under UAF music professor Jaunelle Celaire along with some members of the Choir of the North, is putting the holiday wrapping on a series of videos featuring classic Christmas carols. The videos — each featuring singers in festive holiday attire — are being uploaded to a Google drive document, which Celaire and the group are sharing with Alaska's retirement homes and senior centers. The idea behind the project is to spread the Christmas spirit to those who aren't able to leave their homes because of the pandemic. Since the singers can't go into retirement facilities to sing in person, they decided to take their music digital.
"It's been rewarding in ways I can't even describe," Celaire said. "That one person who will see this gift of music, it's going to be a smile, and that's the gift, that's the reward."
Most of the singers take private lessons from Celaire and are members of the Celaire Studio. One of the studio's goals each year, in addition to the art of song, is a service project. This year, with the COVID-19 pandemic altering our world and keeping so many traditional holiday activities at bay, members of the studio started brainstorming ways to reach the community. The idea emerged to record Christmas songs, do some video editing, put the carols online, and make them accessible to Alaska's retirement communities. So far, they've been shared with retirement centers in Fairbanks, North Pole, Nome, Bethel, Haines and Anchorage.
Now the singers are reaching out to senior facilities in the Lower 48 and Canada, offering the link to those who might be interested in viewing their own personal carolers. Each singer contacted two to three homes in all 50 states, inquiring about interest in receiving the musical gift.
The project comes from a personal place for Celaire, who likened it to music therapy programs. Music therapy is a type of therapy that uses music and song for health purposes, including improving cognitive functions or bettering physical rehabilitation. When her father was dying of a brain tumor, Celaire said she watched as a music therapist played guitar for him while he was in his final days. When he heard the music, he opened his eyes and something shifted in him, she said. 
"When this guitar was playing, my dad's eyes came together and he focused, and I thought it was pretty damn cool," she said. "It was because of the music."
With the pandemic effecting senior citizens in terms of increased loneliness and mental health issues, the caroling videos could help to alleviate some of that.
"It's about community service and making sure mental health is where it needs to be," Celaire said. "We're trying to be creative in any way possible."
Madeline Andriesen, a UAF senior from Haines majoring in voice performance and music education, also referenced the benefits of music therapy as a reason she wanted to partake in the video caroling. She's performed in a threshold choir before — that's a choir that sings to individuals who have severe dementia or who are in Hospice care — and Andriesen said you can visibly see changes in patients when they hear music.
"I thought this was a very similar thing and thought it would be cool to get it out to the centers around the state and country," she said. "Our intent is to bring joy to these communities, and they might have a moment of maybe some spiritual or emotional healing. It's still bringing that Christmas cheer and community to them. It's why I love music and why I'm pursuing it. To bring that kind of happiness right now is really important."
Jenna Dreydoppel, a senior from North Pole majoring in voice performance and music education, likened it to a small gesture that has a big impact.
"Especially in the time we're in with COVID-19 and what's going on in 2020, people need something to look forward to and to get their minds off things," she said. "One thing music has been able to do is cross barriers, be it language or culture. What's great for our community, although we can't go to the Pioneers' Home or the hospital or out in public and sing, is we can still share this with people. It's incredible to still hear live music."
For the singers, it's a chance to keep their voices heard — something else that's been stymied by the pandemic as live music events have become fewer since March. With more aspects of life shifting to online, that's something musicians are exploring as well.
"Nationwide, music is being shut down but they're making it work," Celaire said of orchestras, symphonies, bands and music groups shifting to online formats. "We're going to make it work in the world of voice, too. You still have a place in the world as a musician."
To request access to the videos, which are on a Google drive document, email Celaire at [email protected] The document currently includes 16 videos, to which more may be added in coming days. 
Contact Features Editor Gary Black at 459-7504 or twitter.com/FDNMfeatures.