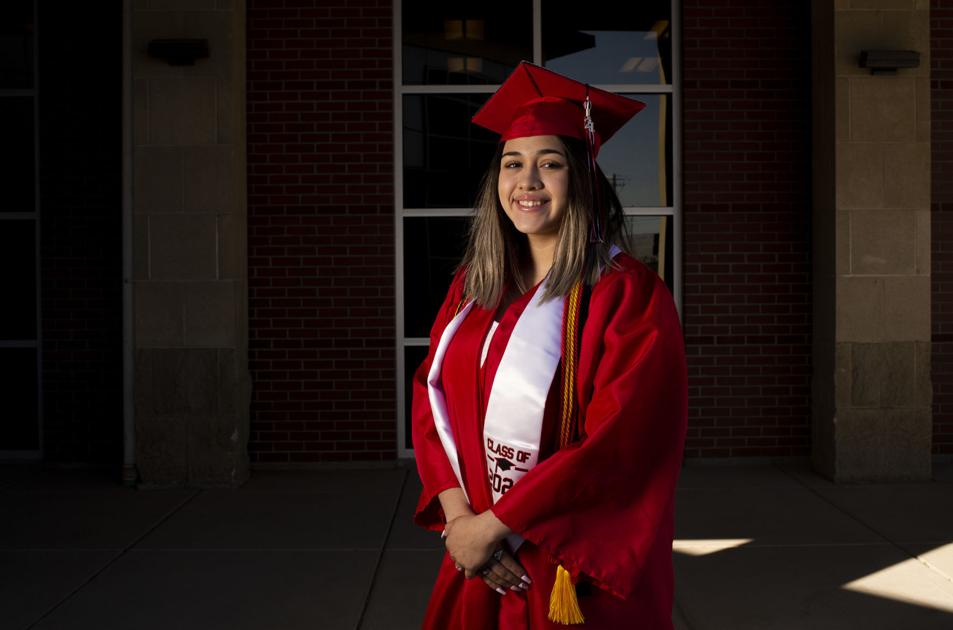 Sunnyside graduate relished role on cheer team as she coped with anxiety, depression | Local
You would never guess that anything could be going wrong in Karicia Villafan's life. Throughout
You would never guess that anything could be going wrong in Karicia Villafan's life. Throughout high school, she dedicated her Fridays to cheering at football games, her Saturdays to helping at Special Olympics bowling, and her weekday afternoons to making signs for pep club. She served as a student leader and led by example. Her genuine and kind nature made her approachable to peers and the younger girls who she mentored on the cheer team.
The last thing you might suspect is that Villafan has anxiety and depression.
"You would just never think that she's going through anything because she's such a positive and peppy personality," said Alejandra Ramos, cheer coach at Sunnyside High School. "For someone who's dealing with those challenges, you just don't see it in her every day."
Villafan began suffering from anxiety during her sophomore year at Sunnyside. She was once walking around at a football game while looking at the hundreds of people around her and became extremely nervous.
"Sophomore year I really didn't know what was going on," Villafan said. "(I would ask myself) 'What is this feeling?' I just never knew what it was."
During sophomore and junior year, Villafan experienced several panic attacks at school during lunch. She turned to her cheer coach for support since Ramos worked in the counseling center at Sunnyside High School. Ramos suggested that it might be anxiety and referred Villafan to the mental health counselor at school.
"It clicked in my head that maybe it's social anxiety," Villafan said. "But I'm super social and I love talking to people and I love meeting new people, so I didn't know what was going on."
At that same time, Villafan was working to establish her role on the cheer team. Freshman year, Villafan found herself on the sidelines at games and assemblies watching the rest of the team cheer. She had not memorized enough cheers and routines to perform yet.
"When I came in my freshman year, I was so shy," she said. "Every time I talked, I would turn bright red. Now, I'm super proud of getting myself out there and becoming a super spirited person and people person."
Villafan fought through her shyness and decided to make it a goal her sophomore year to perform with the cheer team. By senior year, she became a co-captain on the team and also served as business manager for the associated student body. She also made the cut for the winter cheer competition three years in a row.
"She is not a quitter. She worked super hard and would come to practices even when she wasn't cheering yet," Ramos said. "She shows up. You can count on Karicia, always."
Mental health journey
Villafan wants to share about her mental health journey to help others.
She researched the symptoms she was experiencing and continued to meet with the counselor on campus. She developed tools to use when she felt like she was about to have a panic attack, like using fidget toys or establishing things to focus on.
"I think she knows and trusts the process," said Ramos. "Sometimes the hardest part is getting a student to open up and really be able to figure out what's causing the mental illness they're struggling with. For (Villafan), I think she trusted the process and maybe she trusted me. That helped her at least be able to take that first step and say, 'I need help.' "
Villafan experienced a decline in her mental health during the pandemic in her senior year and witnessed her peers experience similar feelings of anxiety. By then, Villafan knew she could find support from her parents, friends, cheer coach, associated student body adviser and mental health counselor.
"This year being stuck at home and doing Zoom classes online was super mentally draining," she said. "I had a lot of depressive episodes and panic attacks. You would think that online school is so much easier, but it's so much harder (to find the motivation) to go to class."
Villafan continued with all her activities this past year while devoting the most time to cheer. This spring, she attended three games each week with football and basketball back-to-back due to delayed sports seasons. But even though she could juggle it all, Villafan knew it was time to ask for help again.
"One of the things that makes me feel good is that I believe she will now advocate for herself, and she recognizes the signs of, 'Now I need help,' " said Ramos.
Villafan's grandmother was an important figure in her life. Her grandmother was a source of support and helped her through some of her panic attacks. Villafan plans to pursue a career as a dental hygienist because of her grandmother's encouragement.
"I remember my mom telling me that my grandma always thought I was going to be a dentist," Villafan said. "She passed away my sophomore year and ever since then I felt like I had to pursue it, not just for her, but it sparked an interest when my mom told me that."
She has been inspired by dentistry since she was growing up and used to play pretend dentist with her younger brother. Villafan plans to attend a local college in the fall.
She has a dream to help those experiencing homelessness as well. After noticing many people living outside her local Walmart, Villafan decided she wants to make a difference in their lives.
"I know it's hard for people who are homeless to find a job because they need an address, so I want to give them an address," she said. "You never know what anybody is going through, even if they are just in need of some stability."