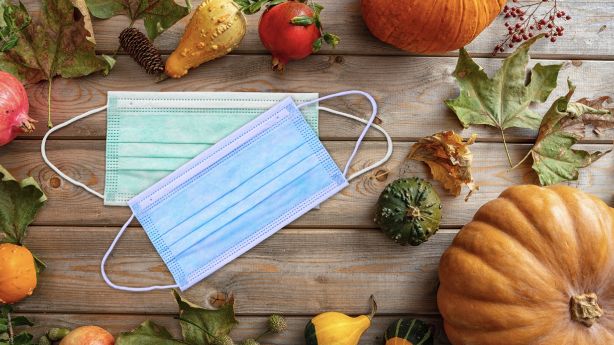 Thanksgiving spread: How to make sure coronavirus isn't served up at holiday gatherings
SALT LAKE CITY — With Halloween in the rearview mirror and some Christmas lights already
SALT LAKE CITY — With Halloween in the rearview mirror and some Christmas lights already shining brightly here and there, the holiday season is quickly approaching.
But will this holiday season be a jolly one?
Utah's COVID-19 situation has worsened in recent weeks, prompting Gov. Gary Herbert to issue a state of emergency order over concerns that the state's hospitals are on the brink of becoming overrun. It went into effect Monday and runs through at least Nov. 23, which is the week leading into Thanksgiving.
Some measures of the emergency, such as the new statewide mask mandate, are expected to extend further than Nov. 23, and Herbert said Thursday that he plans to release recommendations for the upcoming holidays in the near future.
"We are working with our health care experts to find out what are the recommendations that we should give to people with the upcoming holiday season," the governor said. "We know it's traditional for families to get together."
Herbert explained the state will likely provide guidelines based on advising risk more than anything else. He later added that part of the idea behind the timing of declaring a mandate is to change individual behaviors ahead of the holiday season so that they don't further spread the virus.
Public health experts are already gearing up for what could be a difficult holiday season, beginning with Thanksgiving on Nov. 26. During an online question-and answer-session last week, Dr. Eddie Stenehjem, an infectious disease physician for Intermountain Healthcare, said the state's health care systems are expecting even more COVID-19 transmission based on ongoing trends.
"If you get together with a group of people that's large, the chance of transmission of COVID-19 is very, very high," Stenehjem said. "We really need to think about that as we go into Thanksgiving, just because our health system can't tolerate any more than it is currently receiving right now."
Officials at the U.S. Centers for Disease Control and Prevention also updated their Thanksgiving guidelines this week.
How to safely celebrate Thanksgiving
Some people celebrate Thanksgiving with dinners and other festivities that bring together extended members of the family such as siblings, grandparents, aunts and uncles, cousins, or possibly friends and neighbors. Experts advise keeping Thanksgiving gatherings much smaller this year — or to move gatherings online altogether.
That may be extra important in Utah. Utah Department of Health data shows a sharp increase of new COVID-19 cases spread from known contacts as a part of the uptick in cases since September. Many of those cases are tied to household transmission or from social gatherings.
"We know that if you have large family gatherings we will see transmission of COVID-19," Stenehjem said. "It sucks because this is a time to get together with family and give thanks, and that's what we all love to do with Thanksgiving and Christmas. And right now, that's not something we can do safely; and we really need to think twice about those family gatherings."
For physical gatherings, experts say the safest bet is to have a Thanksgiving celebration among members of the same household.
The CDC recommends any other gathering to be small, outdoor event with a limited number of family and friends who live in your community. If the celebration is indoors, hosts are advised to open windows to allow for better air circulation.
Neither option may be appetizing for Utahns.
"The challenge is going to be that sometimes Thanksgiving — outside isn't really pleasant," Stenehjem said. "Take a look at last year. We had a major snowstorm on Thanksgiving weekend. That's not a time to be celebrating outside on a deck, and so we're really going to be limited by weather. We can hope for nice weather, then we can go outside and that'd be great. But we can't count on it."
If everyone is sharing the same food in a traditional setting, it's encouraged that one person serves food. Single-use options, like utensils that can be thrown away before grabbing seconds or single-use dressing and condiment packages, are encouraged. Otherwise, outside household guests are encouraged to bring their own plates, cups and utensils — and possibly even their own food and drinks.
Gathering hosts are encouraged to limit the number of people in a food preparation area at one time, while guests are advised to avoid staying out of the food preparation areas.
Stenehjem recommended that people consider separating tables by household and keep tables at least 6 feet apart. He added that people should limit possible exposure to COVID-19 in the two weeks leading into the holiday so that it's less likely to spread the virus at any gathering.
Traveling? There are guidelines for that
AAA Utah officials said Thursday that they expect holiday travel will be down slightly in 2020. The organization anticipates nearly 3.9 million Thanksgiving travelers within Utah and seven other intermountain West states, which is a 6.9% decrease from 2019. Nearly all travel is expected to be conducted by road this year with only some 146,000 traveling by airline.
Travel is anticipated to be down 10% nationally.
Both AAA and the CDC have provided tips for safe travel for those still planning to go elsewhere this holiday season:
Anyone planning to travel is advised to check travel restrictions before they go anywhere. Different areas of the country and world have different ways of handling the coronavirus. With COVID-19 numbers rising nationally and globally, new restrictions are being announced regularly.
It's also recommended that people keep face coverings on at all times when in public settings or public transportation, like at the airport or on an airplane.
Black Friday shopping
Of course, Thanksgiving weekend is also synonymous with Black Friday and holiday shopping. Some stores prepared for the holiday season by beginning sales early. Still, the CDC recommends that people play it safe by shopping online and using contactless services. The agency otherwise recommends people shop in open-air markets.
Tips that cover all the bases
Whether it's a Thanksgiving gathering, holiday travel or shopping, the CDC advises that people continue to follow the basics:
Wear a mask that fits over the mouth and nose, but is also secure and fits against the sides of your face. This includes when inside during a family gathering with people outside of your household.
Stay at least 6 feet from others who you don't live with. That includes extended family. People don't need to have symptoms to spread the coronavirus or other viruses like the flu.
Wash your hands with soap and water for at least 20 seconds or use hand sanitizer with at least 60% alcohol.
Anyone exposed to COVID-19 during a gathering is encouraged to stay home for 14 days and stay away from others while checking for symptoms. If it's impossible to stay home or avoid others for two weeks, it's advised for that person to stay at least 6 feet from others, wear a mask at all times, and wash their hands frequently.
What's coming up
Thanksgiving is just the start of the holiday season. More traditional gatherings are expected with holidays like Christmas, Hanukkah, Kwanzaa and New Year's just around the corner.
There will likely be changes to normal customs. Many organizations have already announced plans to move events online this year to avoid further spread of the virus. The Church of Jesus Christ of Latter-day Saints, for example, announced Thursday that it will continue to light up Temple Square with thousands of Christmas lights this year, but that access to Temple Square grounds won't be provided and events will be held virtually.
Many of the COVID-19 related guidelines aren't expected to change by then.
×
Related Stories
More stories you may be interested in