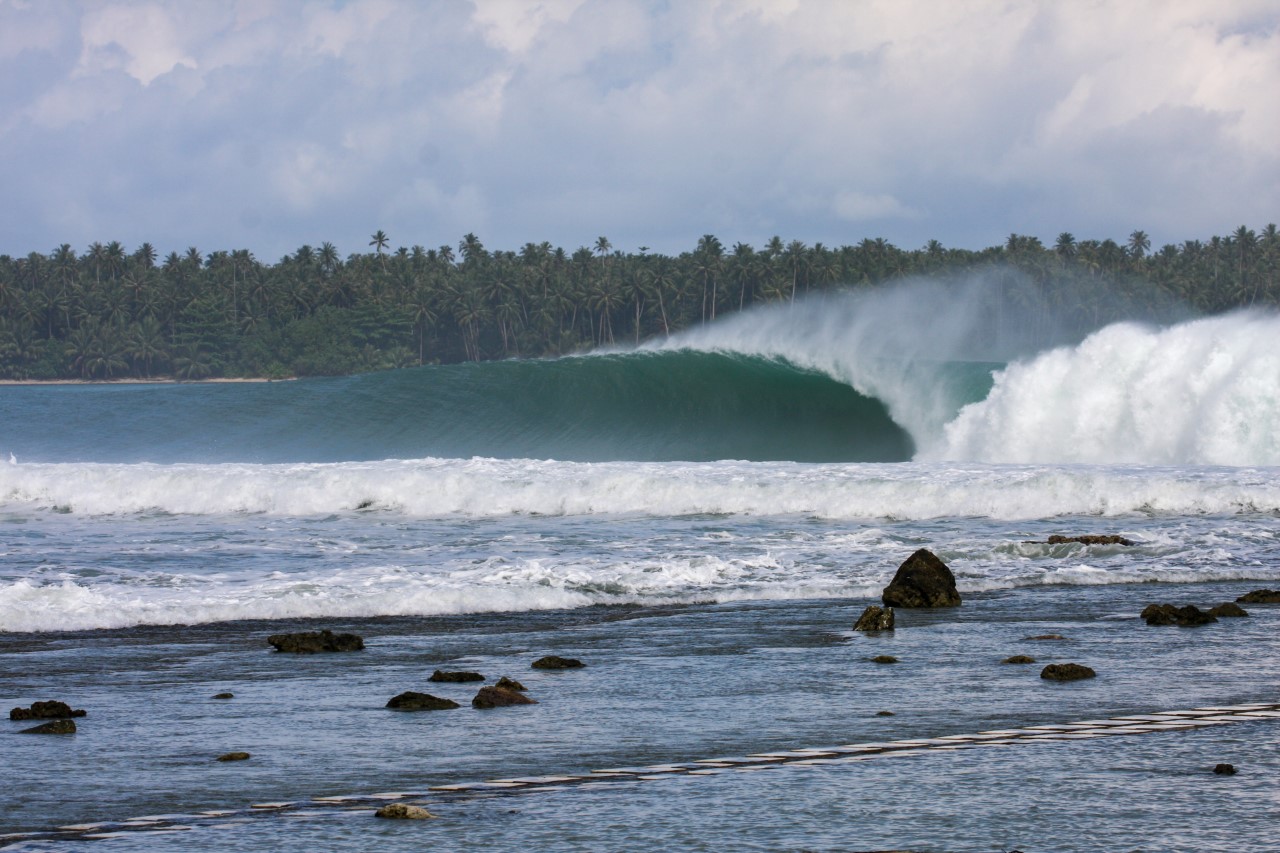 "This Is What the 1970s Must've Been Like in Indo."
A handful of months and many tubes ago, Patrick Reilly had a decision to make.
A handful of months and many tubes ago, Patrick Reilly had a decision to make. Did he get on the first flight home, or did he stay in Indonesia as the coronavirus pandemic began to surge, and travel became questionable?
"Everyone at home was freaking and telling me that I should get back to the States immediately with my daughter," said Reilly, who had his 14-year-old, Emma, with him on Nias. "At that point I knew if we left, we wouldn't be able to come back, and we would be missing a once-in-a-lifetime chance to be here with no crowds."
So, they stayed.
RELATED: When (and How) Will it Be Safe to Take a Surf Trip?
What followed was a surreal experience of waiting out the pandemic, hosting virtual classes in the night for his job as a schoolteacher back in San Diego, and navigating fatherhood while on a remote island – all while scoring perhaps the most uncrowded Nias in history, or at least since Australians first showed up at Sorake Beach in 1975. And yeah, Reilly and his daughter are still there, still scoring.
"Emma and I are so grateful for the sincere hospitably shown to us by the Indonesians," said Reilly. "We are guests in their land and consider ourselves some of the luckiest people on the planet to be here scoring surf and hanging with the locals. I still can't believe it."
In our ongoing series of dispatches from COVID surf refugees – see Indo here, Maldives here, and the Mentawais here and here – we caught up with Reilly to hear what it's been like.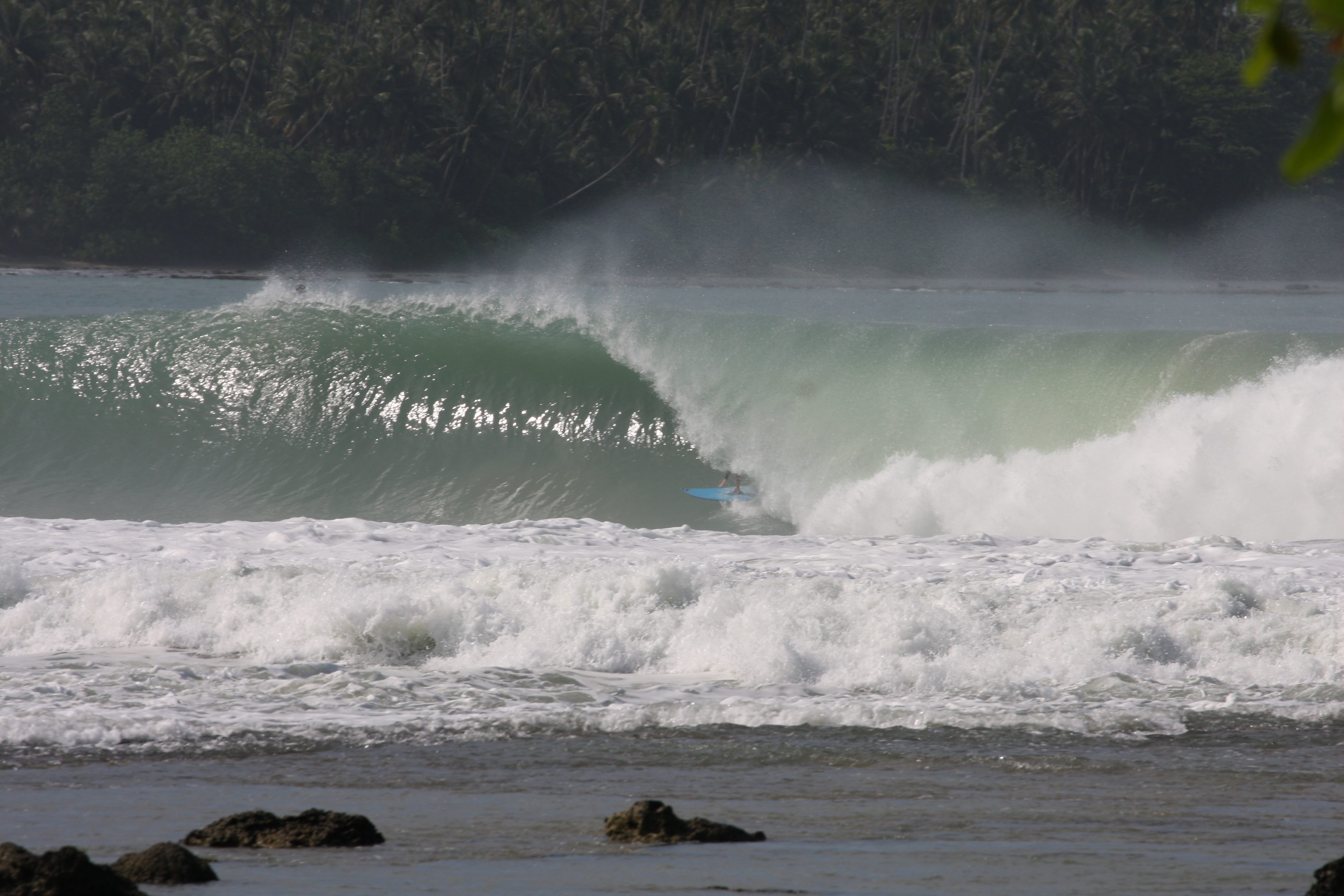 How long have you been in Indo?
We have been over here for about 16 months now.
Did you decide to stay, or are you stuck there? 
We were here for last season, and I took some time off from my teaching job to stay a bit longer and that turned into the year. Then, in about March when things started getting serious with COVID, everyone at home was freaking and telling me that I should get back to the States immediately with my daughter. At that point I knew if we left, we wouldn't be able to come back, and we would be missing a once-in-a-lifetime chance to be here with no crowds. My family and friends weren't too keen with me keeping my kid here, but we are healthy and live a low-key life here, so I decided to roll the dice and stay.
What's the vibe been like on the ground? 
The vibe has been super mellow, but you can feel the financial pain of the locals. Overall, I think the lack of people over here has slowed everyone way down – from the locals to the few tourists here. I know it is cliché to say, but this is what the 1970s must have been like in Indo. The COVID tension is here, but overall, it has been an extremely peaceful and friendly time. In my 25 years of coming over here, I have never experienced such a drama-free, smile and laughter-filled time.
From what you've seen, how has COVID and the lack of visiting surfers impacted the local economy? 
In Nias, there are about 35 homestays. This season only about five of those had a few guests. COVID has totally decimated the local surf tourism revenue stream. These summer months are when they make their money to live for the rest of the year, so it will get tougher for them in the months to come. It has been a mess for all of them – from the driver who picks you up at the airport to the kids selling coconuts. There are just no customers.
Have you been scoring? How's the crowd been? 
If I told you, you wouldn't believe me. It has been nuts. I have had eight-foot proper Nias all alone at times. The crowd has been very small. There was only about 10 of us for summer and it was about a 50/50 split of males and females. The last swell, a few people showed up from Bali, but we were all happy to surf with new people. Everyone in the water is as friendly as can be. I don't think I have ever heard so many people say, "no you go on this one," in my life. Everyone is just sharing and cheering each other on. Wave and tube count is probably 20 times of what a normal season would yield. I still can't believe it.
Have you been traveling around Indo at all, or just hunkered down at Nias? 
We were in Bali for most of the wet season and spent some time in Lakey Peak. Then they closed all of Indo, so we were stuck in Bali for a few more months than originally planned. Not a bad place to be stuck – Bali was and still is empty. Uncrowded Bali is truly paradise. We were finally able to get up to Nias in June as soon as domestic travel was allowed.
You're a teacher and have been doing virtual classes in the night due to the time difference, right? How has that been going? 
I have been working my job in San Diego since June and my hours are 11pm until 5am. When the waves are good, I don't sleep much. It gets light about an hour after I quit work and I am frothing so hard that I can't sleep, and then I tend to surf all day. After a great day of waves come the celebratory sunset Bintangs, and then I squeeze in a few hours of sleep before class starts. I will have plenty of time to sleep when this dream run is over.
Your 14-year-old daughter has been there with you, too. What's the experience been like for her? 
She is pretty good at catching waves when Nias is crowded, but this year she is like the rest of us and been getting so many waves. She charges, and this year without the crowd and the pressure of blowing a big one with 30 guys in the water, she has been pushing her limits and going on anything. She has had a few 8-foot beasts on her 5'5".  But as a teenager, she hasn't really liked how quiet it is here. She usually has a crew of Australian friends that come up to Nias that she hangs out with, but this year there is no one. She has some local friends she cruises with, but she digs the energy when there are more people here. However, she is enjoying the online learning and doing whatever she wants all day lifestyle – total Tom Sawyer life for her over here.
Where have you and your daughter been staying? 
I have been staying with the same family in Nias for decades, so being with them is like being with family. They have a homestay and we stay in the front house overlooking the wave and the family lives in the back in their own house. In Bali, we stay in Bingin…paradise.
Do you have any regrets for staying that long? 
Only regret I have is I didn't bring more wax to Nias. I pissed a lot of loved ones off when I made the selfish surfer decision to stay, but it is the best decision I have ever made.
"Wave and tube count is probably 20 times of what a normal season would yield," said Reilly, as evidenced by the above edit. Vid: @_JoshSaunders_
Any problems while you've been over there? 
I have had a few issues in the last few months. My wallet went missing and it is a disaster trying to deal with my bank in San Diego and get new cards over here. Also, Emma got hit by a board and had to get stitches and staples in her leg and was out of the water for a bit.
But the craziest thing that happened was I got ran over by a police truck. Seriously, I was cruising on my motorbike in Nias and a police truck tried to pass me and clipped me. I went flying off the bike got injured bad. I came to on the ground and there were so many people around me screaming. They carried me into a store and laid me down. My helmet was cracked, and I was bloody. But my head was ok, and no bones were sticking out, so I just wanted to get out of there.
They were trying to get me to go to the hospital, but I just wanted to get home. I ended up going home and realized I was pretty injured. My ankle and foot were totally swollen, my hip and knee were trashed. Bummer was that there was a solid swell coming in a few days, so I didn't get out of bed for four days. I just laid there and iced my injuries as much as I could. The swell came and it was perfect. People were laughing at me and still laugh at me when they talk about me hobbling to the water to surf. I could barely walk but I would make it down to the water and paddle out and I managed to get a few good ones but was in some serious pain. Damn police car!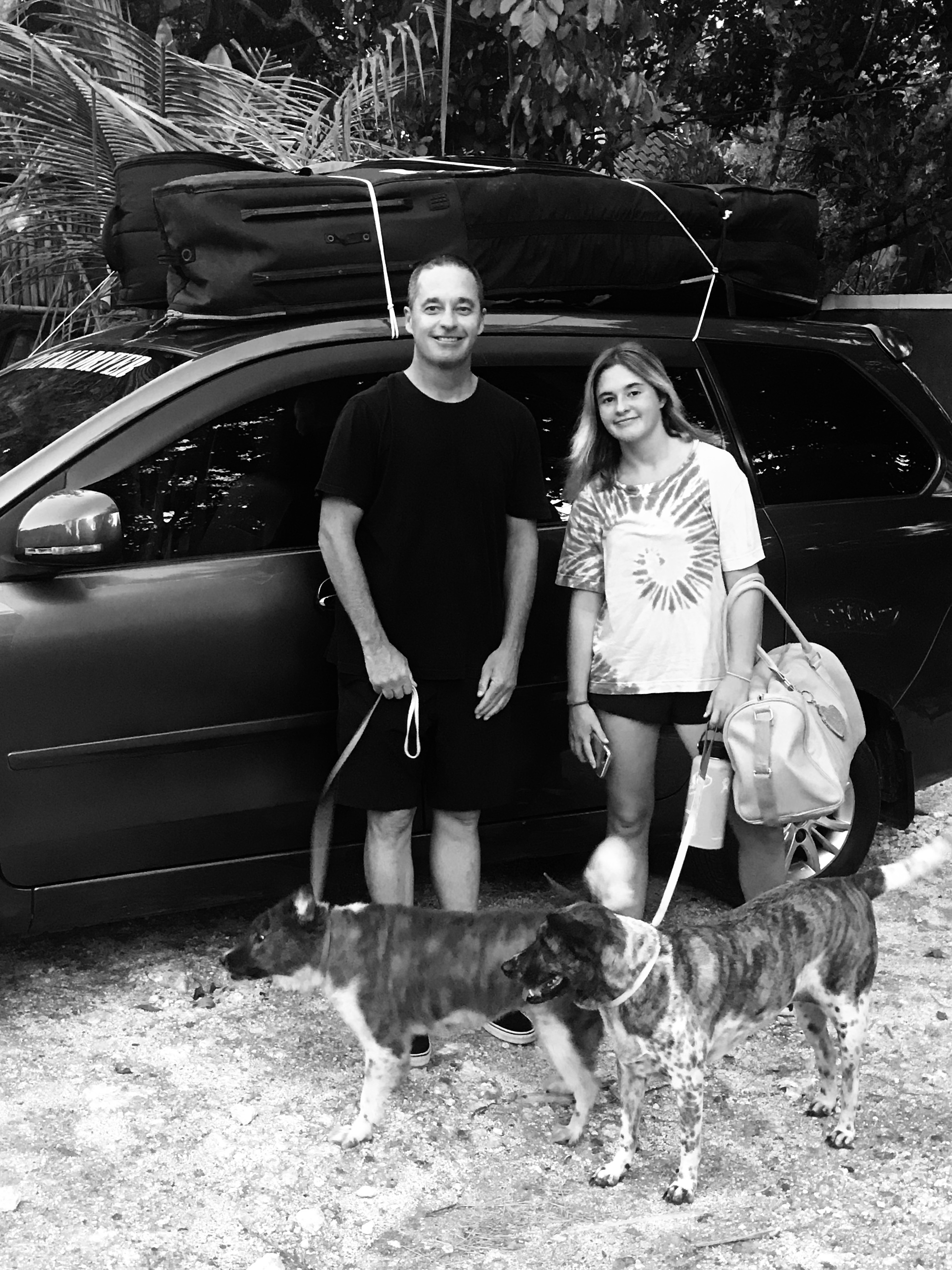 Any plans to come back anytime soon? 
COVID has my school online for the first semester, so no plans to come home. I am hoping for one or two more swells and then a good wet season. I do miss surfing Blacks in the winter and good Mexican food, but I think we will stay put for as long as we can and keep surfing empty waves.