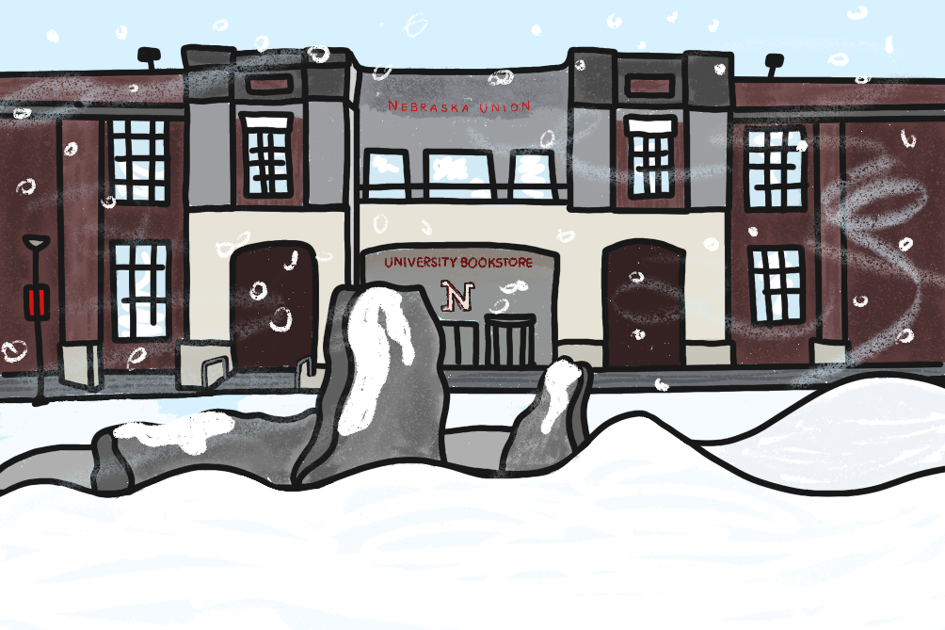 What winter may look like during the pandemic | Covid-19
With the upcoming cold winter months, university leaders have been working to make sure the
With the upcoming cold winter months, university leaders have been working to make sure the University of Nebraska-Lincoln community is prepared for the spring semester. 
At outdoor testing sites, heat lamps have been set up until testing pods are built. A testing pod might be installed near the University Health Center to offer another drive-up option for those who do not want to battle the cold weather, according to Dr. Heather Eberspacher, medical director of UHC. 
"The problem is that we as people, which are the vectors for it, behave differently, because we're cold," Eberspacher said. "We automatically seek indoor, warmer, not as well ventilated, more crowded types of situations, which then the virus is going to be able to spread much easier and much faster that way."
Additionally, the university has made changes to the 2021 spring semester calendar to help reduce the spread of the virus and so students do not return during the peak of the annual influenza season. 
Spring break was eliminated to reduce the possibility of spreading COVID-19 through traveling to other locations and coming in contact with others, Leslie Reed, director of public affairs for the Office of University Communication, said in an email. 
The semester will begin virtually with an optional three-week mini session. The regular semester will officially begin on Jan. 25.
"Campus leadership decided upon the compressed schedule for the spring semester to minimize COVID-19 risks to the university community," Reed said. "The idea is to avoid the height of the winter cold and flu season for in-person learning."
Class sizes will be decreased and ventilation will be improved for the spring semester. Classes will be held in-person, via synchronous web conferencing platforms, like Zoom, or classes will be fully online asynchronously.
"For the classrooms, we're making sure there's a cross-breeze of fresh air that is coming through all the 6-foot spacing that they've already put in and limiting class sizes," Eberspacher said. "Even dividing [classes] into several different classrooms, or moving it into a larger auditorium has already been put in place."
Eberspacher said the UNL community should avoid indoor large gatherings unless there is a good ventilation system. The coronavirus will present itself the same, despite the change of weather, Eberspacher said, and if people aren't careful, the virus will spread. 
These precautions are meant to prevent COVID-19, the winter cold and the flu from mixing, Eberspacher said. 
"If we're getting both [COVID-19 and influenza] at the same time, you're going to get much sicker people," Eberspacher said. "[The university is] trying to safeguard the students by keeping them out of the closed environments and [limit] forced contact with each other during the higher flu part with COVID still going around."
As the weather gets colder, Eberspacher said to listen to your body and pay attention to any symptoms. 
"Don't automatically brush it off as is just another common cold or 'it's just my allergies'," Eberspacher said.
In addition to checking symptoms, Eberspacher emphasized checking in on others' mental health. 
"Mental health is going to be a much bigger issue this winter," Eberspacher said.
She said the pandemic adds another problem to mental health, so UHC and Counseling and Psychological Services will be working to reach out to students more.
"We all have a little bit of a seasonal mood that will affect us. Everybody always gets a little more ramped up when spring happens," Eberspacher said. "When the weather starts to get more cold and it's dreary outside and overcast more often, everything's brown and gray. It's not something that makes everybody really feel good about everything in life."
Eberspacher stressed the importance of planning ahead and being cautious of others.
"Really try to be diligent and think ahead to social gatherings," Eberspacher said. "Those that are at higher risk cannot get entirely isolated and walled off from each other. With holidays, that's when we are always trying to visit with family and trying to reconnect. And those are a high-risk group that you can unintentionally wind up bringing back to them."